AICF World Cup Qualifier R1-7: Four-way lead at 5.0/7
Seven rounds of AICF World Cup Qualifier have been played and there are four players at 5.0/7. They are Surya Sekhar Ganguly, Narayanan S L, Gukesh D and Sethuraman SP. Ten more rounds to go and time control is of Rapid, 15 mins + 10 seconds which means the tournament is open for anyone to win. GM Iniyan P and IM Raja Rithvik R are at 4.5/7 each, followed by GM Deep Sengupta at 4.0/7. Among the top players, Adhiban is struggling a bit as he has scored only 3.5/7. Tomorrow also there will be four rounds. Catch the live commentary by IM Sagar Shah on ChessBase India youtube channel tomorrow from 11:15 a.m. IST. Photo: Niklesh Jain
Ganguly wins four in-a-row
Second day of World Cup Qualifiers had four rounds of games instead of the previous day's three. Surya Sekhar Ganguly won all four of them as he beat IM Raja Rithvik R, IM P Saravana Krishna, GM Deep Sengupta and GM Sethuraman S P. The winning streak came at the heels of a loss against India's youngest GM Gukesh D in Round 3.
GM Narayanan S L is close on the heels of Ganguly. He is one of the two players who is still unbeaten and at 5.0/7. The India no.10 has already faced three GMs out of seven possible he can face in the event and scored 2.0/3 which shows that he is in good form.
GM Gukesh D is also undefeated and currently shares the four-way lead with 5.0/7. He has already defeated Ganguly in Round 3 and drew with GM Deep Sengupta in Round 7. That definitely shows that he is ready to give all other contenders a run for their money - in this case a spot for the FIDE World Cup 2021.
The fourth player who is also at 5.0/7 is GM Sethuraman SP. After winning four games in-a-row, he lost to GM Surya Sekhar Ganguly in Round 7.
Two youngsters GM Iniyan P and IM Raja Rithvik R are at 4.5/7. They are definitely capable of causing any kind of upsets on any given day.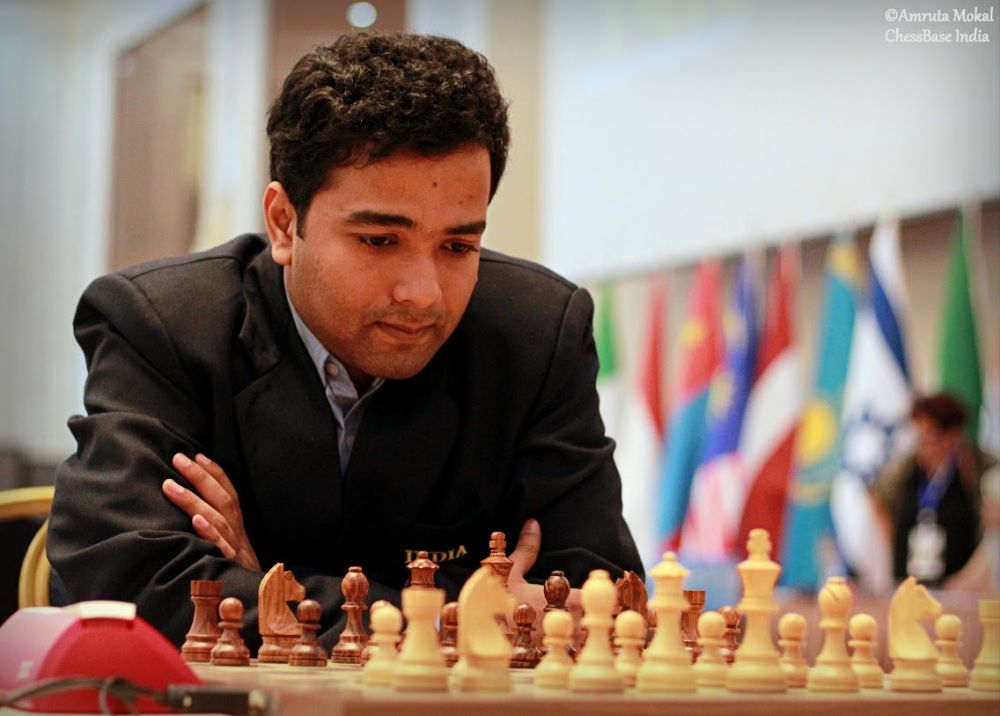 Replay Round 1-7 games
Round 4-7 results
Round 4 on 2021/05/27 at 1000 hrs
Bo.
No.
Rtg
Name
Result
Name
Rtg
No.
1
12
2408
IM
Rithvik R Raja
0 - 1
GM
Sekhar Ganguly Surya
2625
10
2
13
2312
IM
Krishnan P Saravana
0 - 1
IM
Krishna Crg
2478
9
3
14
2527
GM
Sengupta Deep
1 - 0
FM
Singhania Vatsal
2371
8
4
15
2644
GM
S.p Sethuraman
1 - 0
GM
Vasanthan Perumal Vishnu Prasanna
2476
7
5
16
2660
GM
Baskaran Adhiban
1 - 0
IM
Swaminathan Soumya
2351
6
6
17
2305
FM
Vinay Kumar Matta
0 - 1
GM
S.L Narayanan
2624
5
7
1
2463
IM
Srivatshav Peddi Rahul
1 - 0
GM
P Iniyan
2506
4
8
2
2381
IM
S. Nitin
1 - 0
IM
Mittal Aditya
2438
3
9
11
2578
GM
Gukesh D
0
bye
0
-1
Round 5 on 2021/05/27 at 1100 hrs
Bo.
No.
Rtg
Name
Result
Name
Rtg
No.
1
4
2506
GM
P Iniyan
1 - 0
IM
S. Nitin
2381
2
2
5
2624
GM
S.L Narayanan
½ - ½
IM
Srivatshav Peddi Rahul
2463
1
3
6
2351
IM
Swaminathan Soumya
1 - 0
FM
Vinay Kumar Matta
2305
17
4
7
2476
GM
Vasanthan Perumal Vishnu Prasanna
1 - 0
GM
Baskaran Adhiban
2660
16
5
8
2371
FM
Singhania Vatsal
0 - 1
GM
S.p Sethuraman
2644
15
6
9
2478
IM
Krishna Crg
½ - ½
GM
Sengupta Deep
2527
14
7
10
2625
GM
Sekhar Ganguly Surya
1 - 0
IM
Krishnan P Saravana
2312
13
8
11
2578
GM
Gukesh D
½ - ½
IM
Rithvik R Raja
2408
12
9
3
2438
IM
Mittal Aditya
0
bye
0
-1
Round 6 on 2021/05/27 at 1200 hrs
Bo.
No.
Rtg
Name
Result
Name
Rtg
No.
1
13
2312
IM
Krishnan P Saravana
0 - 1
GM
Gukesh D
2578
11
2
14
2527
GM
Sengupta Deep
0 - 1
GM
Sekhar Ganguly Surya
2625
10
3
15
2644
GM
S.p Sethuraman
1 - 0
IM
Krishna Crg
2478
9
4
16
2660
GM
Baskaran Adhiban
1 - 0
FM
Singhania Vatsal
2371
8
5
17
2305
FM
Vinay Kumar Matta
1 - 0
GM
Vasanthan Perumal Vishnu Prasanna
2476
7
6
1
2463
IM
Srivatshav Peddi Rahul
0 - 1
IM
Swaminathan Soumya
2351
6
7
2
2381
IM
S. Nitin
½ - ½
GM
S.L Narayanan
2624
5
8
3
2438
IM
Mittal Aditya
0 - 1
GM
P Iniyan
2506
4
9
12
2408
IM
Rithvik R Raja
0
bye
0
-1
Round 7 on 2021/05/27 at 1300 hrs
Bo.
No.
Rtg
Name
Result
Name
Rtg
No.
1
5
2624
GM
S.L Narayanan
1 - 0
IM
Mittal Aditya
2438
3
2
6
2351
IM
Swaminathan Soumya
0 - 1
IM
S. Nitin
2381
2
3
7
2476
GM
Vasanthan Perumal Vishnu Prasanna
0 - 1
IM
Srivatshav Peddi Rahul
2463
1
4
8
2371
FM
Singhania Vatsal
1 - 0
FM
Vinay Kumar Matta
2305
17
5
9
2478
IM
Krishna Crg
½ - ½
GM
Baskaran Adhiban
2660
16
6
10
2625
GM
Sekhar Ganguly Surya
1 - 0
GM
S.p Sethuraman
2644
15
7
11
2578
GM
Gukesh D
½ - ½
GM
Sengupta Deep
2527
14
8
12
2408
IM
Rithvik R Raja
1 - 0
IM
Krishnan P Saravana
2312
13
9
4
2506
GM
P Iniyan
0
bye
0
-1
Standings after Round 7
| | | | | | | | | | | |
| --- | --- | --- | --- | --- | --- | --- | --- | --- | --- | --- |
| Rk. | SNo | | Name | FED | Rtg | Pts. | TB1 | TB2 | TB3 | TB4 |
| 1 | 10 | GM | Sekhar Ganguly Surya | IND | 2625 | 5,0 | 0,0 | 18,00 | 5 | 3 |
| 2 | 5 | GM | S.L Narayanan | IND | 2624 | 5,0 | 0,0 | 15,25 | 3 | 1 |
| 3 | 11 | GM | Gukesh D | IND | 2578 | 5,0 | 0,0 | 14,75 | 4 | 3 |
| 4 | 15 | GM | S.p Sethuraman | IND | 2644 | 5,0 | 0,0 | 11,25 | 4 | 2 |
| 5 | 4 | GM | P Iniyan | IND | 2506 | 4,5 | 0,0 | 13,00 | 4 | 2 |
| 6 | 12 | IM | Rithvik R Raja | IND | 2408 | 4,5 | 0,0 | 9,00 | 4 | 2 |
| 7 | 14 | GM | Sengupta Deep | IND | 2527 | 4,0 | 0,0 | 8,00 | 3 | 1 |
| 8 | 1 | IM | Srivatshav Peddi Rahul | IND | 2463 | 3,5 | 0,0 | 11,50 | 3 | 1 |
| 9 | 2 | IM | S. Nitin | IND | 2381 | 3,5 | 0,0 | 8,50 | 3 | 1 |
| 10 | 16 | GM | Baskaran Adhiban | IND | 2660 | 3,5 | 0,0 | 8,25 | 2 | 0 |
| 11 | 3 | IM | Mittal Aditya | IND | 2438 | 2,5 | 0,0 | 6,25 | 2 | 1 |
| 12 | 6 | IM | Swaminathan Soumya | IND | 2351 | 2,5 | 0,0 | 5,75 | 2 | 1 |
| 13 | 13 | IM | Krishnan P Saravana | IND | 2312 | 2,5 | 0,0 | 3,25 | 2 | 1 |
| 14 | 9 | IM | Krishna Crg | IND | 2478 | 2,0 | 0,0 | 6,25 | 1 | 1 |
| 15 | 7 | GM | Vasanthan Perumal Vishnu Prasanna | IND | 2476 | 1,0 | 0,0 | 3,50 | 1 | 0 |
| 16 | 8 | FM | Singhania Vatsal | IND | 2371 | 1,0 | 0,0 | 1,00 | 1 | 0 |
| | 17 | FM | Vinay Kumar Matta | IND | 2305 | 1,0 | 0,0 | 1,00 | 1 | 0 |
---