P Shyam Nikhil triumphs Pandit Shiv Kumar Khamparia Memorial Blitz Rating Open 2022
IM P Shyam Nikhil scored an unbeaten 8.0/9 to win Pandit Shri Shiv Kumar Khamparia Memorial Blitz Rating Open 2022. IM Ratnakaran K made 7.5/9. He was placed second. Six players finished at 7.0/9 - GM Visakh N R, IM Himal Gusain, Abhishek Das, IM Akshat Khamparia, IM Nitin S and Amardeep Bartakke. They were placed third to eighth according to tie-breaks. The tournament had a total prize fund of ₹101000 with the first prize being ₹15000, ₹10000 for second and ₹7000 for third. Top three prizes had a trophy each. The tournament was organized in memory Late Pandit Shiv Kumar Khamparia (12/02/1911 - 01/12/2001) who was IM Akshat Khamparia's grandfather. Photo: Vivek Vishwakarma
Ratnakaran secures sole second place
All GM and IMs taking part in the event finished in top nine places. The youngest player to finish in top 15 was 12-year-old Sneha Halder. She scored 6.0/9 and was placed 15th. The tournament was conducted on the following day after the completion of All India Inter-Railway Team and Individual championship at the same venue.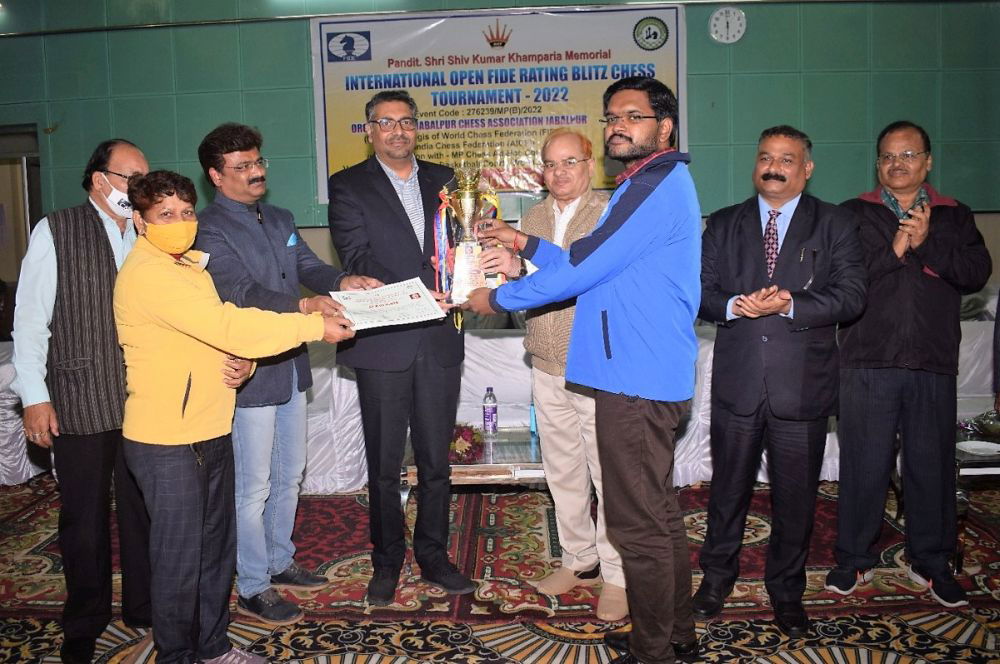 Chief Guest Mr.Vishwa Mohan, Industrialist and Social Worker, with Special Guest Arjun Awardee Madhu Yadav, Sr.Sports Officer WCR and Khamparia Family, Mr. Anil Kumar Khamparia, Nirmal Khamparia and Vikram Khamparia were present at the prize distribution ceremony. The entire prize money was sponsored by the Khamparia family. It was held in the memory of Pandit Shiv Kumar Khamparia (Freedom Fighter and Educationist).
The tournament was inaugurated by Mr. Nirmal Khamparia, Retired Officer MP Government, in the presence of Mr. O P Yadav, Secretary of Jabalpur District Chess Association, IA Dharmendra Kumar and IM Akshat Khamparia, Convenor MP Chess Ad-Hoc Committee.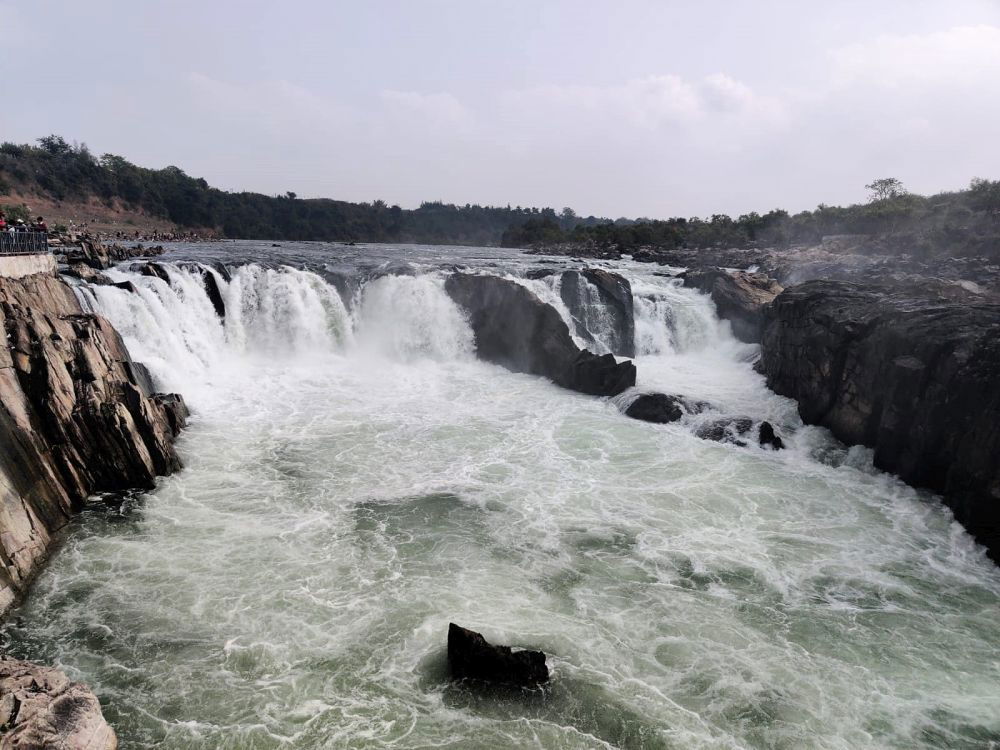 The tournaments were organized by Jabalpur Chess Association President Mr. Brijbhusan Dubey and Secretary Mr. O P Yadav on 11th January 2022 at Railway Stadium Basketball Court, Jabalpur, Madhya Pradesh. A total of 105 players including a GM and six IMs took part in the event. The time control for the tournament was 3 minutes + 2 seconds increment each from move no.1.
Final standings
| | | | | | | | | | | | | | |
| --- | --- | --- | --- | --- | --- | --- | --- | --- | --- | --- | --- | --- | --- |
| Rk. | SNo | | Name | Typ | sex | Gr | FED | Rtg | Club/City | Pts. | TB1 | TB2 | TB3 |
| 1 | 7 | IM | Shyaamnikhil P | | | | IND | 2292 | ICF | 8,0 | 51,0 | 55,5 | 48,25 |
| 2 | 4 | IM | Ratnakaran K. | | | | IND | 2391 | SRLY | 7,5 | 52,5 | 56,5 | 45,50 |
| 3 | 1 | GM | Visakh N R | | | | IND | 2454 | ICF | 7,0 | 52,0 | 57,0 | 41,50 |
| 4 | 6 | IM | Gusain Himal | | | | IND | 2307 | WRLY | 7,0 | 50,0 | 53,5 | 39,50 |
| 5 | 9 | | Abhishek Das | | | | IND | 2236 | JH | 7,0 | 48,5 | 52,5 | 40,00 |
| 6 | 8 | IM | Akshat Khamparia | | | | IND | 2237 | WRLY | 7,0 | 48,5 | 52,5 | 38,25 |
| 7 | 2 | IM | Nitin S. | | | | IND | 2417 | SRLY | 7,0 | 48,0 | 53,0 | 40,00 |
| 8 | 15 | | Bartakke Amardeep S. | | | | IND | 2038 | WRLY | 7,0 | 44,0 | 47,5 | 35,00 |
| 9 | 3 | IM | Vignesh N R | | | | IND | 2395 | SRLY | 6,5 | 47,5 | 51,5 | 34,50 |
| 10 | 13 | | Basu Suman | | | | IND | 2102 | SER | 6,5 | 45,0 | 48,5 | 33,00 |
| 11 | 11 | | Sharma Harish | | | | IND | 2167 | NRLY | 6,0 | 49,0 | 54,0 | 33,00 |
| 12 | 12 | | Tiwari Arjun | | | | IND | 2163 | SCR | 6,0 | 47,0 | 50,0 | 29,00 |
| 13 | 10 | CM | Vinod Kumar Sharma | | | | IND | 2173 | CT | 6,0 | 46,5 | 50,5 | 30,50 |
| 14 | 22 | | Awadh Chaitanya | | | | IND | 1851 | MP-J | 6,0 | 45,5 | 49,5 | 28,50 |
| 15 | 62 | | Sneha Halder | U14 | w | | IND | 1214 | WB | 6,0 | 45,0 | 46,0 | 26,25 |
---