Prakhar Bajaj and Cera Dagaria score 100% to win Madhya Pradesh State Sub-Junior 2021 Boys and Girls
Prakhar Bajaj (Katni) and Cera Dagaria (Indore) scored 100% in the Boys and Girls section to become Madhya Pradesh State Sub-Junior Boys and Girls champion. They scored 7.0/7 and 6.0/6 each respectively. Ayush Sharma (Khandwa), scored an unbeaten 4.5/5 to win the Madhya Pradesh State Junior title. Navya Goyal, Madhvendra Pratap Sharma and Kavyansh Agrawal scored 6.0/7 each. They were placed second to fourth based on tie-breaks. Avika Panwar (Indore) and Siya Kushwah (Ujjain) secured second and third place in Sub-Junior Girls. Top four finishers of each group won ₹2000 and a trophy each. Total 40 prizes were given to the top ten finishers of each category. Check out a pictorial report of the tournament. Photo: IA NI Sunil Soni
Ayush Sharma and Varshita Jain clinch State Junior Boys and Girls
IM-norm holder Ayush Sharma 4.5/5 conceded the sole draw against CM Ojasva Singh (Gwalior). He secured second place in the State Junior scoring 4.0/5. Both Darsh Kansal (Indore) and Shivansh Tiwari (Mandla) scored 3.5/5 each. They were placed third and fourth respectively according to the tie-breaks. Varshita Jain (Indore) 5.0/6, Avika Panwar (Indore) 5.0/6 and Mandakani Mishra (Jabalpur) 4.5/6 secured the first, second and third places in the State Junior Girls.
Sub-Junior Girls Top 3: 3rd Siya Kushwah 4.0/6, 2nd Varshita Jain 5.0/6 and 1st Cera Dagaria 6.0/6 | Photo: IA NI Sunil Soni
The tournament was inaugurated Dr. Sunil Somani, Oriental University Vice Chancellor, and Dr. Vivek Singh Kushwaha in presence of IM FT Akshat Khamparia and Anil Fatehchandani.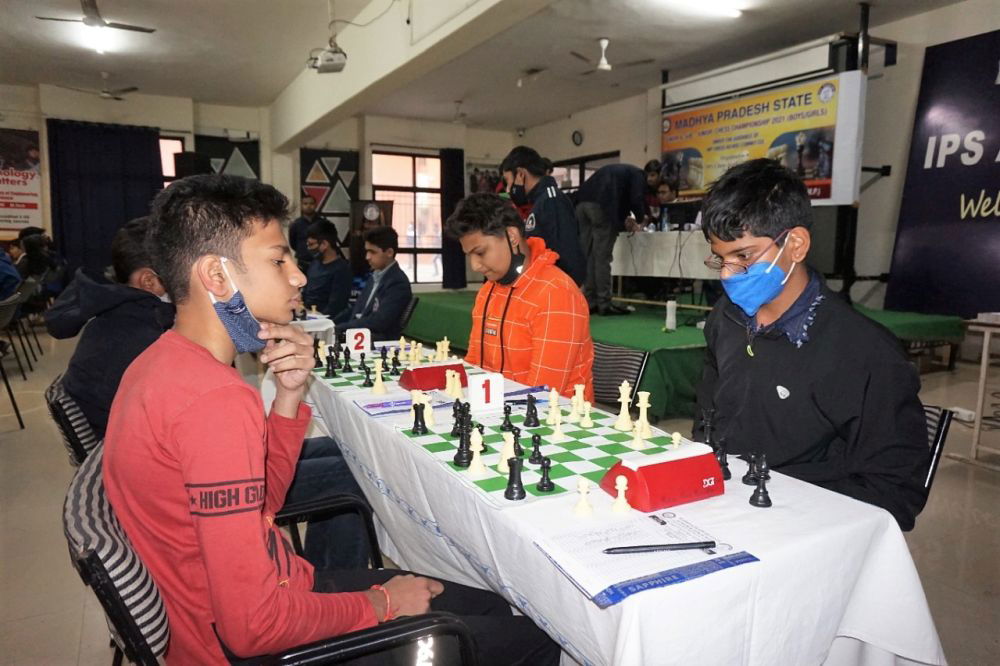 The tournament was organized by IPS Academy on 24th and 25th December 2021 at IPS Academy in Indore, Madhya Pradesh. A total of 123 players combining three events took part from various districts across Madhya Pradesh in the Swiss league Rapid tournament, which had a time control of 30 minutes + 30 seconds increment. Top four from each category got selected for the respective Nationals.
Final standings in Sub-Junior Boys
| | | | | | | | | | | |
| --- | --- | --- | --- | --- | --- | --- | --- | --- | --- | --- |
| Rk. | SNo | | Name | FED | Rtg | Club/City | Pts. | TB1 | TB2 | TB3 |
| 1 | 1 | | Bajaj Prakhar | IND | 1663 | Katni | 7,0 | 33,0 | 33,00 | 0,0 |
| 2 | 4 | | Navya Goyal | IND | 1439 | Indore | 6,0 | 36,5 | 29,50 | 0,0 |
| 3 | 5 | | Madhvendra Pratap Sharma | IND | 1345 | Bhopal | 6,0 | 31,0 | 25,00 | 0,0 |
| 4 | 3 | | Kavyansh Agrawal | IND | 1569 | Bhopal | 6,0 | 31,0 | 24,00 | 0,0 |
| 5 | 2 | | Mishra Kamad | IND | 1606 | Jabalpur | 5,5 | 34,0 | 24,75 | 0,0 |
| 6 | 80 | | Vivaan Jain | IND | 0 | Indore | 5,5 | 26,0 | 18,50 | 0,0 |
| 7 | 71 | | Shivam Joshi | IND | 0 | Ujjain | 5,5 | 26,0 | 18,25 | 0,0 |
| 8 | 79 | | Vishwaditya Awasthi | IND | 0 | Chhindwara | 5,0 | 30,5 | 18,50 | 0,0 |
| 9 | 14 | | Anmol Dhakre | IND | 0 | Jhabua | 5,0 | 30,0 | 18,00 | 0,0 |
| 10 | 11 | | Agrawal Saksham | IND | 0 | Satna | 5,0 | 29,0 | 17,50 | 0,0 |
Final standings in State Sub-Junior and Junior Girls
| | | | | | | | | | | |
| --- | --- | --- | --- | --- | --- | --- | --- | --- | --- | --- |
| Rk. | SNo | | Name | FED | Rtg | Club/City | Pts. | TB1 | TB2 | TB3 |
| 1 | 1 | | Cera Dagaria | IND | 1535 | Indore | 6,0 | 22,0 | 22,00 | 0,0 |
| 2 | 2 | | Varshita Jain | IND | 1491 | Indore | 5,0 | 21,0 | 15,00 | 0,0 |
| 3 | 5 | | Avika Panwar | IND | 1165 | Indore | 5,0 | 20,0 | 14,00 | 0,0 |
| 4 | 3 | | Mandakani Mishra | IND | 1350 | Jabalpur | 4,5 | 18,5 | 12,75 | 0,0 |
| 5 | 26 | | Siya Neeraj Kushwah | IND | 0 | Ujjain | 4,0 | 26,0 | 15,00 | 0,0 |
Final standings in State Junior
| | | | | | | | | | | |
| --- | --- | --- | --- | --- | --- | --- | --- | --- | --- | --- |
| Rk. | SNo | | Name | FED | Rtg | Club/City | Pts. | TB1 | TB2 | TB3 |
| 1 | 1 | | Ayush Sharma | IND | 2302 | Khandwa | 4,5 | 14,5 | 12,50 | 0,0 |
| 2 | 2 | CM | Singh Ojasva | IND | 2141 | Gwalior | 4,0 | 15,0 | 11,00 | 0,0 |
| 3 | 3 | | Darsh Kansal | IND | 1835 | Indore | 3,5 | 14,0 | 8,50 | 0,0 |
| 4 | 4 | | Tiwari Shivansh | IND | 1829 | Mandla | 3,5 | 12,5 | 7,50 | 0,0 |
| 5 | 7 | | Tawar Abhirajsingh | IND | 1339 | Indore | 3,0 | 14,5 | 7,00 | 0,0 |
---