Ayush Sharma dominates 1st Scindia Cup Rapid Rating Open 2023
Madhya Pradesh's very own, IM Ayush Sharma scored an unbeaten 8.5/9 to win 1st Scindia Cup Rapid Rating Open 2023. He finished a half point ahead of the competition. Harish Sharma, CM Vaibhav Jayant Raut and Kamad Mishra scored 8/9 each. They were placed second to fourth respectively according to tie-breaks. Harish and Vaibhav remained undefeated. Vaibhav was the sole person to hold Ayush to a draw in the penultimate eighth round. The total prize fund for the tournament was ₹350000. The top three prizes were ₹40000, ₹25000 and ₹15000 along with a trophy each. This was Ayush's second tournament triumph of the year, first after becoming one of the latest International Master of India. Photos: Manas Mukhoti/The Scindia School
Ayush's second triumph of the year
IM Ayush Sharma had a sole lead heading into the final round. Nine players were trailing him by a half point at 7/8 each. Ayush defeated GM Laxman R R to become a clear champion. Harish Sharma and CM Vaibhav Jayant Raut won against Gopalakrishnan G and Sachi Jain respectively to secure second and third place respectively. 9-year-old Madhvendra Pratap Sharma scored an incredible unbeaten 7.5/9 to finish seventh and gained 95.6 Elo rating points in the process. He is the youngest finisher among the top ten.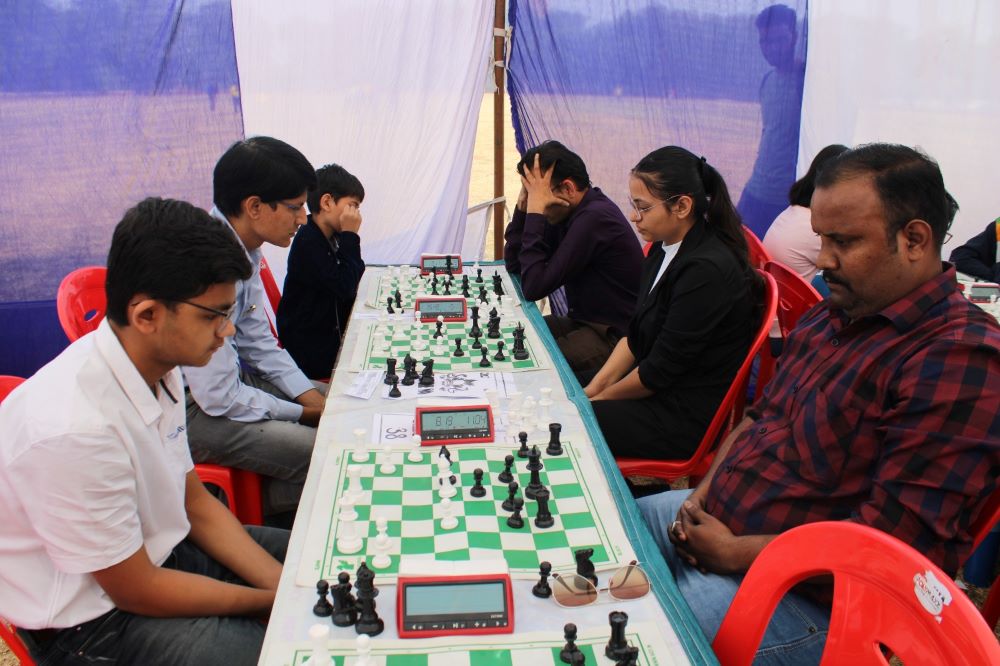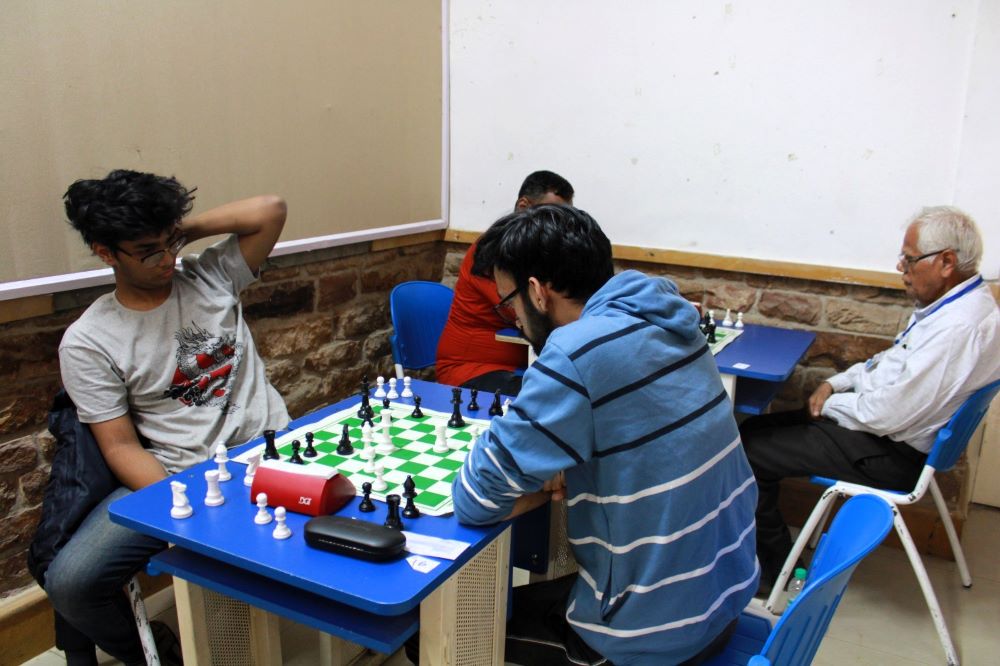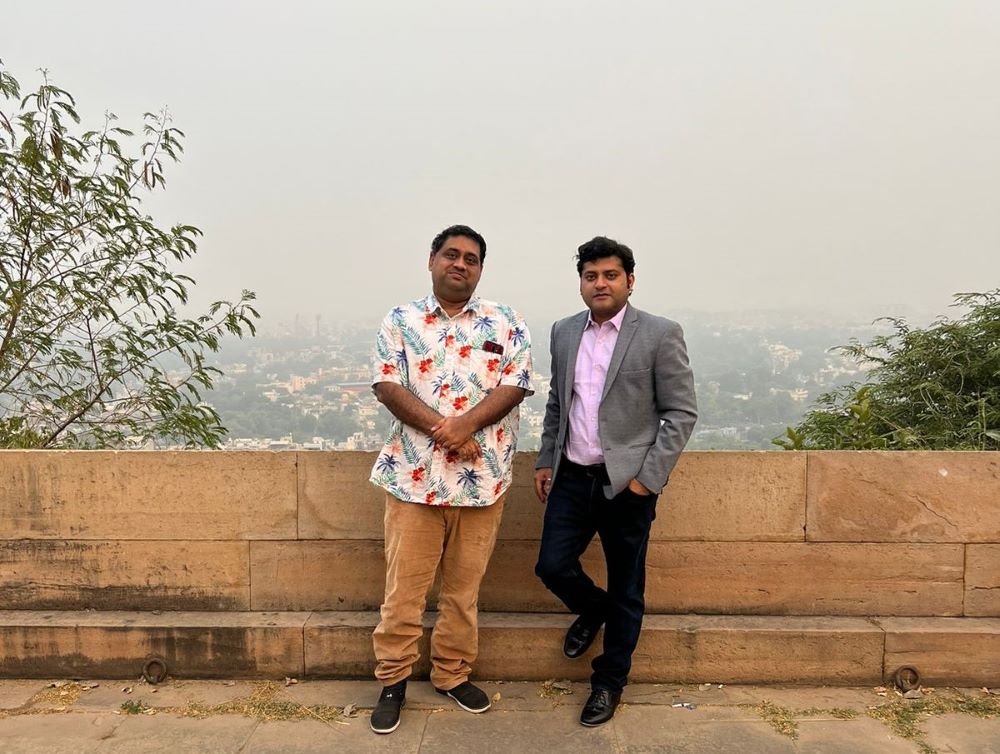 IM Akshat Khamparia shares - Scindia school is one of the best schools of India. It has a 500 acre campus Fort. The persons behind the success of the tournament - Mrs. Garima Garg and Mr. Rajesh Chhari, both are chess parents.
A total of 435 players including a GM and an IM took part from various places all over the country in this two-day nine round Rapid Rating Open tournament. It was organized by and at The Scindia School, Fort, Gwalior in Gwalior, Madhya Pradesh on 5th and 6th November 2023. The time control of the event was 25 minutes + 10 seconds increment per move.
Final standings
| Rk. | SNo | | | Name | Typ | sex | FED | Rtg | Club/City | Pts. | TB1 | TB2 | TB3 | TB4 | TB5 |
| --- | --- | --- | --- | --- | --- | --- | --- | --- | --- | --- | --- | --- | --- | --- | --- |
| 1 | 4 | | FM | Ayush, Sharma | | | IND | 2120 | MP | 8,5 | 53,5 | 57 | 53,00 | 0 | 8 |
| 2 | 10 | | | Sharma, Harish | | | IND | 1837 | DEL | 8 | 51,5 | 55,5 | 48,50 | 0 | 7 |
| 3 | 3 | | CM | Vaibhav, Jayant Raut | | | IND | 2157 | MAH | 8 | 51,5 | 54 | 46,00 | 0 | 7 |
| 4 | 17 | | | Mishra, Kamad | U17 | | IND | 1640 | MP | 8 | 49,5 | 52,5 | 47,00 | 0 | 8 |
| 5 | 7 | | FM | Garv, Gaur | U17 | | IND | 1957 | Har | 7,5 | 57 | 61 | 48,75 | 0 | 7 |
| 6 | 2 | | FM | Aaryan, Varshney | | | IND | 2216 | DL | 7,5 | 52 | 55 | 44,00 | 0 | 7 |
| 7 | 16 | | | Madhvendra, Pratap Sharma | U11 | | IND | 1653 | MP | 7,5 | 51 | 55 | 43,75 | 0 | 6 |
| 8 | 12 | | | Yashpal, Arora | | | IND | 1752 | MP | 7,5 | 49,5 | 51,5 | 41,25 | 0 | 7 |
| 9 | 6 | | | Kant, Rupesh | | | IND | 2020 | MP-G | 7,5 | 48,5 | 50,5 | 40,00 | 0 | 7 |
| 10 | 21 | | | Vedant, Bhardwaj | | | IND | 1616 | MP | 7,5 | 46 | 50 | 41,25 | 0 | 7 |
| 11 | 45 | | | Ravi, Palsule | | | IND | 1351 | MP | 7,5 | 43 | 47 | 39,00 | 0 | 7 |
| 12 | 1 | | GM | Laxman, R.R. | | | IND | 2217 | ICF | 7 | 56 | 59 | 42,75 | 0 | 6 |
| 13 | 59 | | | Sanyam, Srivastava | U13 | | IND | 1280 | UP | 7 | 54,5 | 59,5 | 44,00 | 0 | 7 |
| 14 | 40 | | | Borkhetariya, Devarsh M | U17 | | IND | 1384 | GUJ | 7 | 54 | 58 | 42,75 | 0 | 6 |
| 15 | 9 | | | Daksh, Goyal | U15 | | IND | 1894 | DEL | 7 | 52,5 | 55 | 39,00 | 0 | 7 |
| 16 | 13 | | | Sachi, Jain | F15 | w | IND | 1698 | DL | 7 | 50,5 | 53,5 | 38,50 | 0 | 7 |
| 17 | 23 | | | Kavyansh, Agrawal | U17 | | IND | 1567 | MP-G | 7 | 49,5 | 53 | 38,50 | 0 | 7 |
| 18 | 8 | | FM | Rathore, S.K. | S55 | | IND | 1910 | MP | 7 | 49,5 | 51,5 | 37,50 | 0 | 7 |
| 19 | 18 | | | Arnab, Kumar Mullick | | | IND | 1636 | TEL | 7 | 49 | 53 | 38,50 | 0 | 7 |
| 20 | 19 | | | Kanwal, Om Prakash | | | IND | 1626 | MP | 7 | 48,5 | 52,5 | 37,50 | 0 | 7 |
Links
---