Mitrabha Guha wins Buddhibal Kreeda Trust Fischer Random Online Blitz Open
Babysnake (IM Mitrabha Guha) scored an unbeaten 8.0/9 to win Buddhibal Kreeda Trust Fischer Random Online Blitz Open. He fought against all odds and won ₹11000 cash for his efforts. Peruvian IM Terry Renato, GM Raunak Sadhwani and IM Aronyak Ghosh, three players finished at 7.5/9, they were placed second, third and fourth respectively according to their tie-break scores. The tournament witnessed the participation of 30 GMs, 23 IMs, 3 WGMs and 5 WIMs from all across countries across the world including India. This was the third ever Fischer Random event hosted by ChessBase India on Playchess and it was the champion's first ever Chess960 in his career. Photo: Niklesh Jain
Babysnake wins his maiden ChessBase India Online Blitz event
IM Mitrabha Guha of India scored an unbeaten 8.0/9 to win Buddhibal Kreeda Trust Fischer Random Online Blitz Open 2020. He defeated Praggnanandhaa in the last round to win the tournament and receive ₹11000 cash prize. Three players IM Renato Terry of Peru, GM Raunak Sadhwani and IM Aronyak Ghosh finished with 7.5/10 each and they were placed second, third and fourth respectively. While Terry won ₹6000, Raunak bagged ₹4000 cash prize.
The tournament witnessed the participation of total 135 players including 30 GMs, 23 IMs, 3 WGMs and 5 WIMs from all over the world, organized by Buddhibal Kreeda Trust.
Three days before the event, Cyclone Amphan devastated the majority of West Bengal which resulted in over $13 Billion (over ₹1 lac crore) damage in terms of loss. Even I myself was unable to attend as there was no internet along with several other people throughout the state. I decided to ask Mitrabha on his first ChessBase India Online Blitz triumph which was quite poetic considering the circumstances.
"High speed internet in my PC was not available. The network of the mobile operator I use was down. I had to use my father's mobile (different operator) internet to connect to my laptop to play the tournament which was pretty slow." - Mitrabha on how he managed to play the tournament when the majority in the state had no internet. Being a man of few words, Mitrabha described his feeling towards his triumph as 'great!!' He also mentioned that, "This was my first Fischer Random tournament ever." When he was asked about his favorite game of the tournament, he replied - "The game with Praggnanandhaa in the last round." "Before the last round I was quite optimistic of winning the round but was not sure of winning the tournament since there were other players in the same point." - The 18-year-old lad from Kolkata on his thoughts before the final round. "Usually I am ok without increment but I believe the increment helped me in the last round since the internet was slow." - The champion's parting words on the increment added in the tournament.
Domination started with J2d
In Round 2, Babysnake (IM Mitrabha Guha) faced j2d (GM Deepan Chakkravarthy). It was a complex game. In the middle game, Mitrabha allowed his opponent to seize decisive advantage which he missed and then Mitrabha did not slip, played solid and capitalized on his opponent's mistake to win the game.
Babysnake - J2d, Round 2
Find out the best continuation for black after 23.Qa4
Escape against Srinath
For the better part of the game against NSRINATH (GM Srinath Narayanan), Babysnake (IM Mitrabha Guha) was worse. Srinath missed a good opportunity and eventually he blundered in the end probably under time pressure and lost the game.
NSRINATH - Babysnake, Round 3
White is ahead by an exchange. How should white realize the material advantage?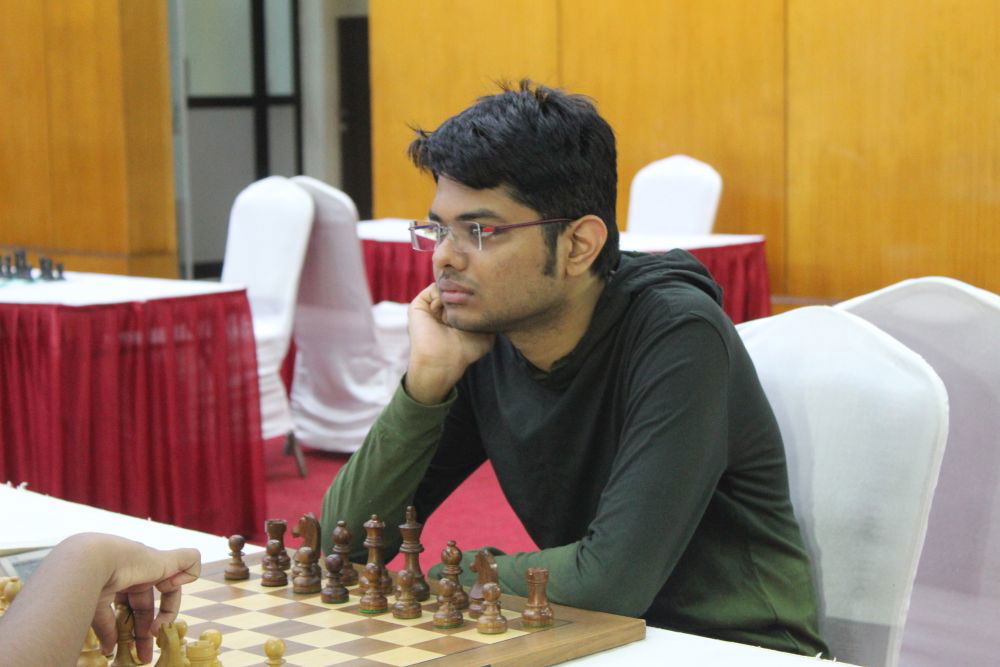 A missed win against Sivaji
After a beautiful combination against Sivaji (GM Venkatesh M R), Babysnake missed a few opportunities in the winning Rook endgame and eventually made a draw.
Babysnake - Sivaji, Round 5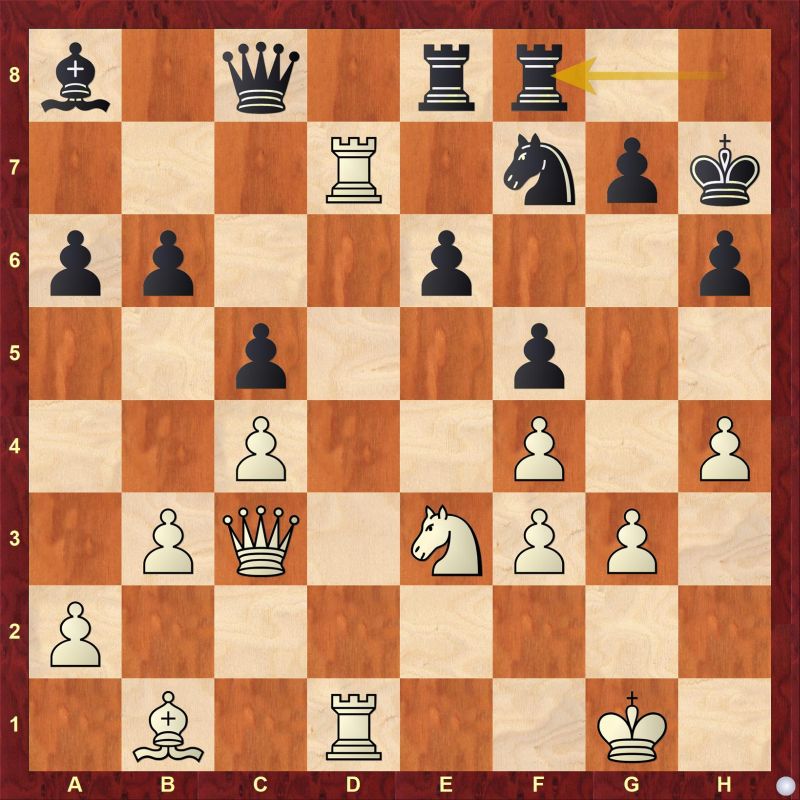 White has all his pieces focused on black's king. Can you find out how white can start the beautiful combination here?
A miniature against Fidodido
Babysnake picked up his quickest victory against Fidodido (GM Vishnu Prasanna) in Round 6.
A quick win against Devyatkin
Babysnake scored another quick victory against ADevyatkin (GM Andrei Devyatkin) of Russia in just 24 moves after the latter blundered a piece in an already difficult position.
A roller coaster ride with Praggnanandhaa
After making a quick draw with Uzbektiger95 (GM Jakhongir Vokhidov), Babysnake got a comfortable position against Chessworld1 (GM R Praggnanandhaa) in the final round. He was cruising towards victory.
Babysnake - Chessworld1, Round 9
White continued with 31.Ra8+, what was the better continuation for white?
Black has one last threat left on the board preceded by 37...d5. How can white stop it?
Find out why 38.Ne2 is a big mistake and how should black capitalize on it.
The game continued with 52...Kh7. Now of course it is safe to assume that both players are in incredible time pressure which resulted in inaccuracies but what was the correct way for black to maintain the decisive advantage here?
IM Terry Renato of Peru who has become a regular at ChessBase India Online Blitz events, scored 7.5/9 to finish at second position.
Terry's destruction against Diptayan
In Round 6, TerryR (IM Renato Terry of Peru) defeated GM Diptayan Ghosh after the latter blundered a pawn first and then a piece.
Taming the Uzbek Tiger
In the final round of the event, Terryr (IM Renato Terry) of Peru was paired against UzbekTiger95 (GM Jakhongir Vokhidov). Although early in the opening the UzbekTiger95 missed a very good opportunity.
TerryR - Uzbektiger95, Round 9
Now these types of mistakes occur mostly in Fischer Random games as there is no opening theory. Can you find out why 7.c4 is a mistake?
After 21.Bxd5, black gambled with 21...fxe3 and much to the chagrin of black, it did not yield as much as he could ask for. What was the better simple alternative for black here?
GM Raunak Sadhwani also scored 7.5/9 to finish third according to his tie-break score.
Superb win against Sethuraman
Devil1234 (GM Raunak Sadhwani) defeated Piscean (GM Sethuraman S P) in the third round with some outrageously attacking chess.
Piscean - Devil1234, Round 3
The tricks Devil1234 has up his sleeve was to play aggressive by making first six moves of the pawn when his opponent castled on the third move in front of his Rook and Queen.
When the Devil tamed The Beast
In Round 5, Devil1234 (GM Raunak Sadhwani) faced Phoenix92 (GM Adhiban Baskaran). Phoenix92 made an early sacrifice which didn't pay off and eventually lost the game.
Devil1234 - Phoenix92, Round 5
Will you be brave enough to take the knight at g4 against Adhiban here?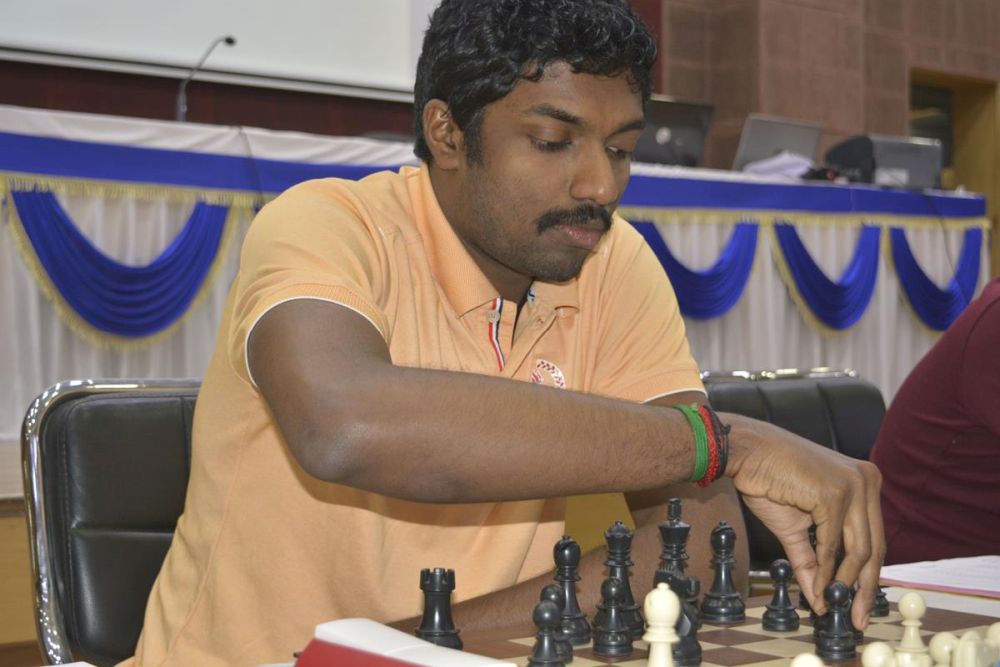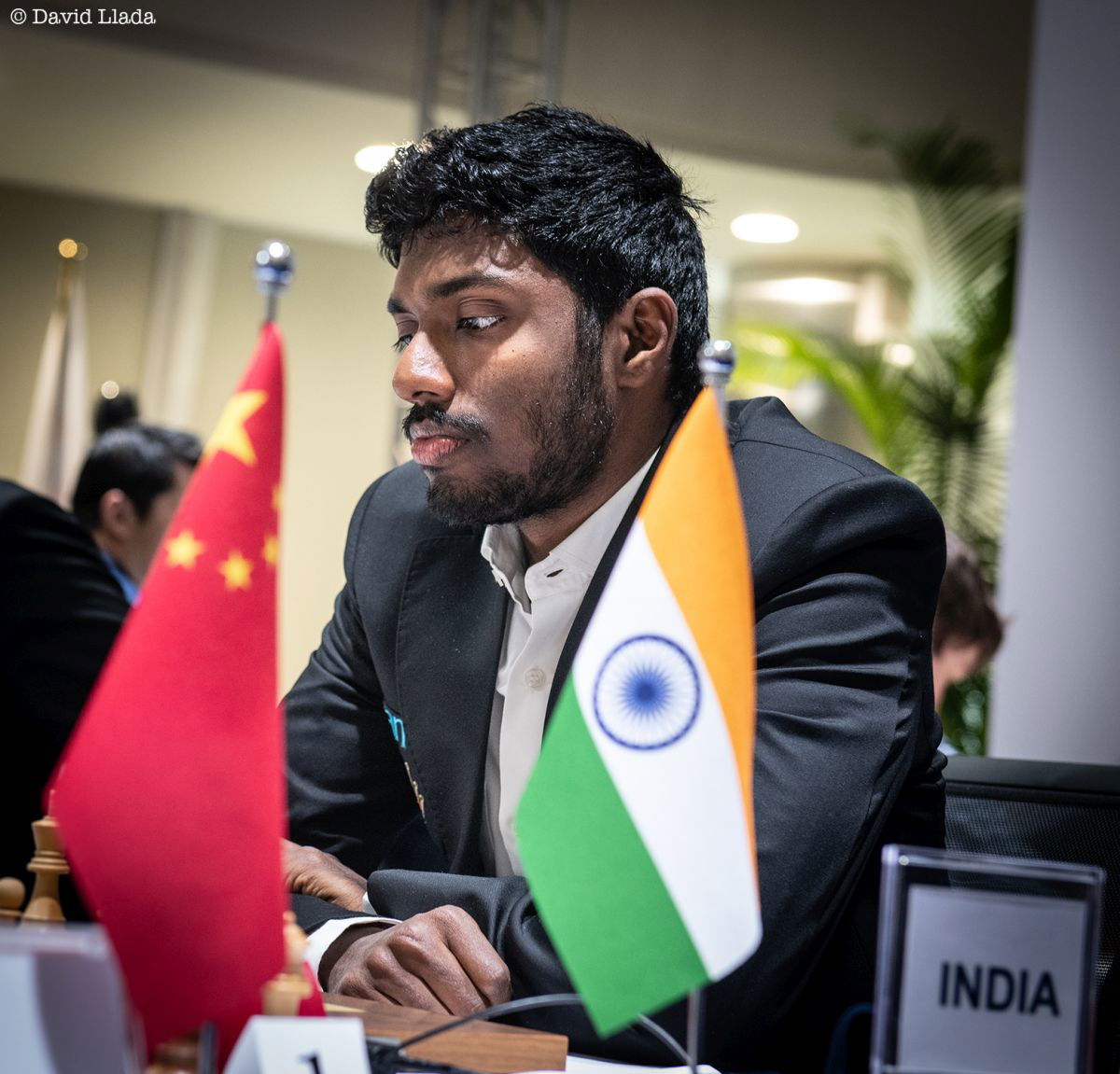 IM Aronyak Ghosh is the third player who also finished at 7.5/9. He was placed fourth according to his tie-break score.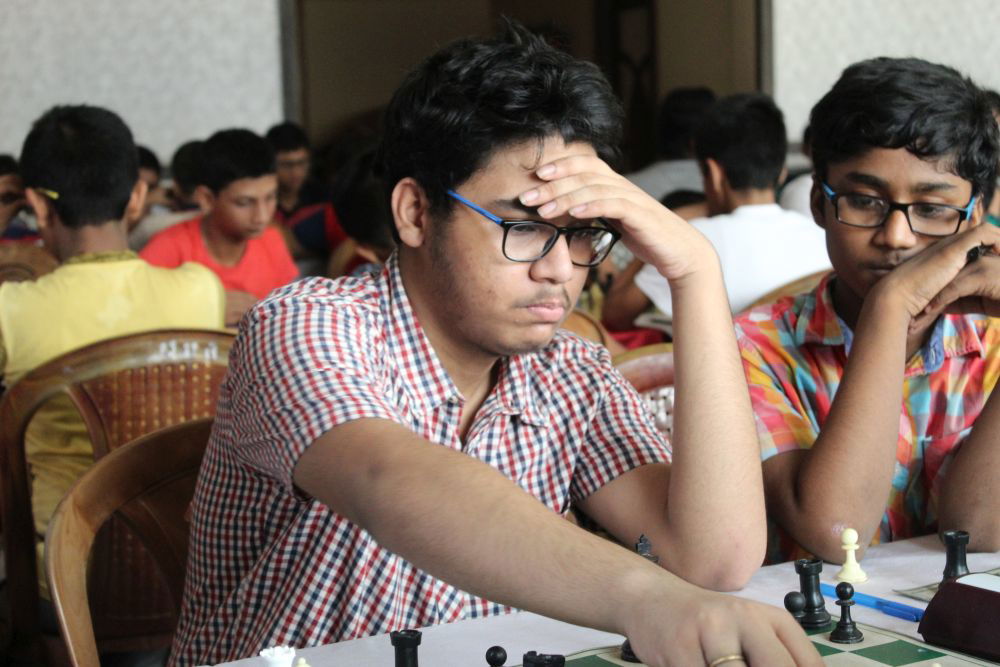 A Strange encounter with Chessworld1
STRANGE (IM Aronyak Ghosh) scored a convincing victory over Chessworld1 (GM R Praggnanandhaa) in Round 2.
Gritty win against Piscean
It was not like STRANGE (IM Aronyak Ghosh) was dominating against Piscean (GM Sethuraman S P), in fact he had to endure difficult position against the former Asian Champion for the majority of the game. Only in the end, a blunder cost Piscean the game and STRANGE walked away with full point.
A miniature win against Narayanan
It is no secret that GM Narayanan S L has been in tremendous form in all Online Blitz events lately. However in Round 5 he made a dubious sacrifice against STRANGE and eventually he resigned in just 17 moves.
Strange draw with the Devil
In Round 6, STRANGE (IM Aronyak Ghosh) drew with Devil1234 (GM Raunak Sadhwani) in a hard fought game. Eventually in the end, first STRANGE blundered a piece which he recovered shortly and his opponent Devil1234 was forced to repeat moves to salvage a draw.
Icarus against Irus1997
In the final round, STRANGE (IM Aronyak Ghosh) faced Irus1997 (GM Vaibhav Suri). Despite losing the ability to castle early in the game and bad connection, STRANGE managed to overcome difficult position and eventually win the game.
Final Standings: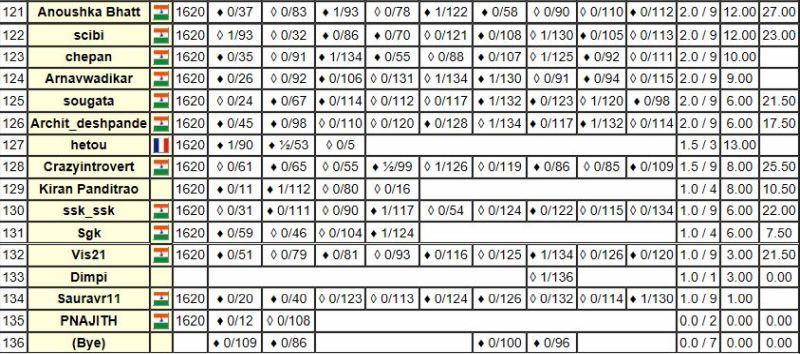 Main Prize winners (Top 15)
| | | | |
| --- | --- | --- | --- |
| Rank | Name | Score | Prize money |
| 1 | IM Mitrabha Guha | 8 | ₹11000 |
| 2 | IM Terry Renato | 7.5 | ₹6000 |
| 3 | GM Raunak Sadhwani | 7.5 | ₹4000 |
| 4 | IM Aronyak Ghosh | 7.5 | ₹3000 |
| 5 | GM Jakhongir Vokhidov | 7 | ₹2000 |
| 6 | GM Abhimanyu Puranik | 7 | ₹1000 |
| 7 | GM R Praggnanandhaa | 7 | ₹800 |
| 8 | GM Andrei Devyatkin | 6.5 | ₹700 |
| 9 | GM Vaibhav Suri | 6.5 | ₹500 |
| 10 | GM Dusan Popovic | 6.5 | ₹500 |
| 11 | GM Aravindh Chithambaram | 6.5 | ₹500 |
| 12 | IM V S Rathanvel | 6.5 | ₹500 |
| 13 | GM Narayanan S L | 6.5 | ₹500 |
| 14 | GM Deepan Chakkravarthy | 6.5 | ₹500 |
| 15 | GM Jose Eduardo Martinez Alcantara | 6.5 | ₹500 |
Best Women
| | | | |
| --- | --- | --- | --- |
| 1 | WGM R Vaishali | 6.5 | ₹600 |
| 2 | WIM Divya Deshmukh | 6.5 | ₹400 |
Rating Category: 1501-1799
| | | | |
| --- | --- | --- | --- |
| 1 | Prakhar Bajaj (1663) | 5 | ₹600 |
| 2 | Nanal Arnav (1631) | 5 | ₹400 |
Rating Category: 0-1500
| | | | |
| --- | --- | --- | --- |
| 1 | Padmaesh M K (1293) | 4 | ₹600 |
| 2 | Kaavya G S (1030) | 4 | ₹400 |
Replay all games

Links
---