Sunilduth Lyna Narayanan wins March Masters Online Blitz 2020
The biggest online event by ChessBase India in March was hosted in Playchess on 29th March 2020 which was won by GM Sunilduth Lyna Narayanan. He scored an unbeaten 8.0/9 to win the tournament, receive 10000 cash and finished a half point ahead of the competition. Both GM Diptayan Ghosh and GM Harsha Bharathakoti scored 7.5/9 and they were placed second and third to earn ₹8000 and ₹6000 respectively. The tournament witnessed 150 players including 25 GMs, 35 IMs, 2 WGMs and 7 WIMs fighting for total ₹50000 prize fund. Playchess and ChessBase India Blitz regular GM Laxman R R made a generous contribution of ₹15000 to the total prize fund of the tournament. Photo: ChessBase India archives
S L Narayanan wins his maiden ChessBase India Online Blitz event
The event witnessed 150 players including 25 GMs, 35 IMs, 2 WGMs and 7 WIMs from India, Armenia, Algeria, Azerbaijan, Colombo, England, France, Singapore and USA. There were ten above 2600 rated players, 68 players above the rating of 2300 and 109 players out of 150 were rated above 2000. That's not all, the tournament was so strong that top seed GM Adhiban Baskaran scored 5.0/9 and he was placed 50th.
Kerala's GM S L Narayanan scored an unbeaten 8.0/9 to win March Masters Online Blitz in association GM Laxman R R. He finished a half point ahead of the remaining podium finisher. GM Diptayan Ghosh and GM Harsha Bharathakoti scored 7.5/9 each to secure second and third position respectively.
The Gamechanger64 could have changed the game
Narayanansl (GM S L Narayanan) was held to a draw by Gamechanger64 (IM Muthaiah Al) in as early as Round 2. Muthaiah had a golden opportunity to change the course of the tournament in the Rook endgame.
Gamechanger64 - Narayanansl, Round 2
A first glance at this position gives us a feeling that white can get more than a draw. Of course neither player can be faulted here because they were both playing under time pressure and there was no increment. So inaccuracies were obvious. White continued with 59.Rf7, however there was a better continuation which would have led to a victory for white. Can you find it?
Narayanansl eventually escaped with a draw as White had a Rook to deliver the checkmate but he did not have enough time.
Hard-hitting endgame with the Hitter1999
S L Narayanan defeated Hitter1999 (GM Aravindh Chithambaram) in Round 5 after Narayanan got a favorable endgame.
Hitter1999 - Narayanansl, Round 5
Well there is no good way to save the e4-pawn and even if white goes with 38.e5 then Nf5 will cost the d4-pawn. White continued with 38.Kf3 and after g4+, white lost much more than a pawn and the game.
Pin to win against Pabh
Narayanansl beat Pabh (GM Abhimanyu Puranik) in Round 6 after the latter blundered into a pin.
Narayanansl - Pabh, Round 6
An eccentric win against Elshad
In a topsy-turvy game where evaluation changed multiple times, Narayanansl eventually came out at the top aganst GMAbadi (GM Elshan Moradiabadi) after the latter missed capitalizing on his opportunity and allowed his opponent to get back in the game.
GMAbadi - Narayanansl, Round 7
White could have continued with either 40.Ra6 or Kf3, both would have been correct way for white to inch closer towards victory, however 40.Ke3 allowed black to get back into the game. Can you find out why 40.Ke3 is a mistake which reduces white's advantage significantly?
Double trouble with Diptayan
In the penultimate round, Narayanansl faced the eventual runner-up Diptayan (GM Diptayan Ghosh). Diptayan had a favorable endgame, but he allowed his opponent to equalize which Narayanansl missed initially, however a second mistake by Diptayan allowed his opponent to turn things around in his favor and eventually score the full point.
Diptayan - Narayanansl, Round 8
Diptayan played the inaccurate 38.Rc1. Can you find out why it is a mistake? Black missed the opportunity and played 38...Rb4 to allow white to get back in the game.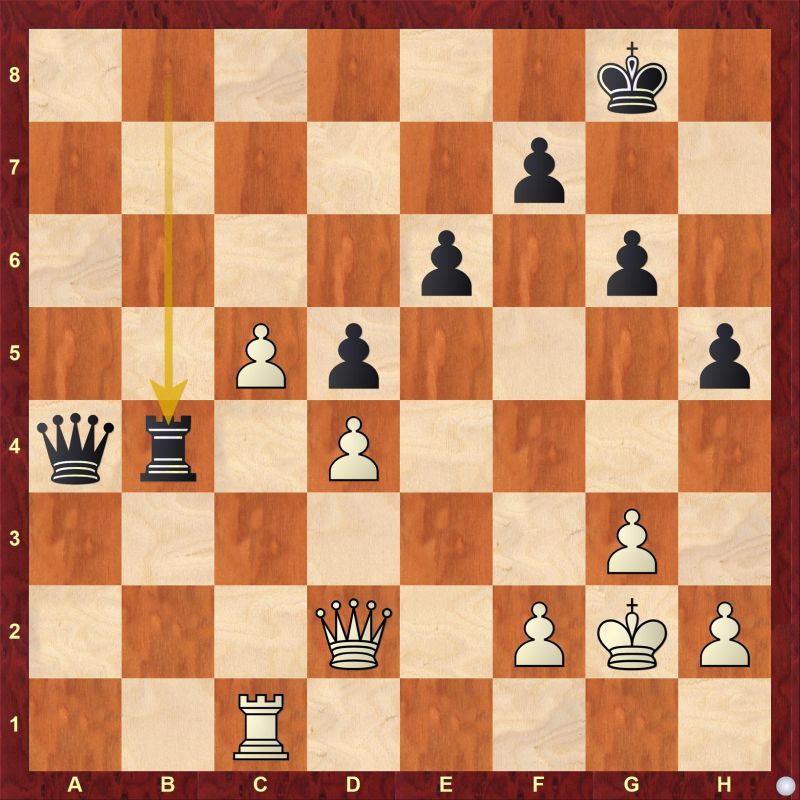 Diptayan got another opportunity but he misplayed with 39.c6, can you find out the better continuation for white after 38...Rb4 ?
In the final round Narayanansl made a quick draw in just 21 moves against the eventual second runner-up RACEKING (GM Harsha Bharathakoti).
Diptayan duped Donchenko
Diptayan (GM Diptayan Ghosh) defeated second seeded Le_Petit_Prince (GM Alexander Donchenko) in Round 5 after the latter blundered a checkmate in one move in an already minus position.
Rematch with same result
The rematch from the 1st Saturday Blitz event, between Diptayan and GMAbadi (GM Elshan Moradiabadi) in Round 6 again ended up in another draw.
Anji annihilated
Diptayan had a fantastic position against Anji (GM M R Lalith Babu) in Round 7, but he missed it initially.
Anji - Diptayan, Round 7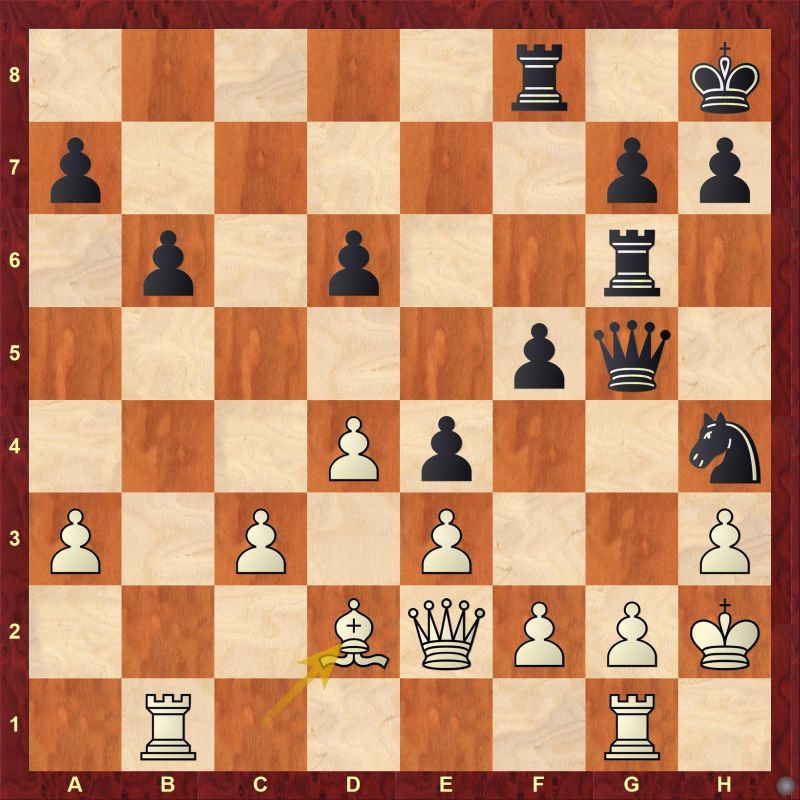 Black missed the best continuation and played 26...Qf6 instead. Eventually white blundered a couple of pawns on the queenside in a Bishop vs. Knight endgame which gave Diptayan a decisive advantage.
Harsha races to a podium finish
RACEKING (GM Harsha Bharathakoti) scored his best win against Phoenix92 (GM Adhiban Baskaran) in Round 5. Early in the opening, he gained a pawn which he had no trouble converting into a victory. However in the Queen ending, Harsha made a premove which allowed his opponent to capture his queen, except Adhiban did not anticipate the mistake and made another premove which allowed Harsha to escape with the full point.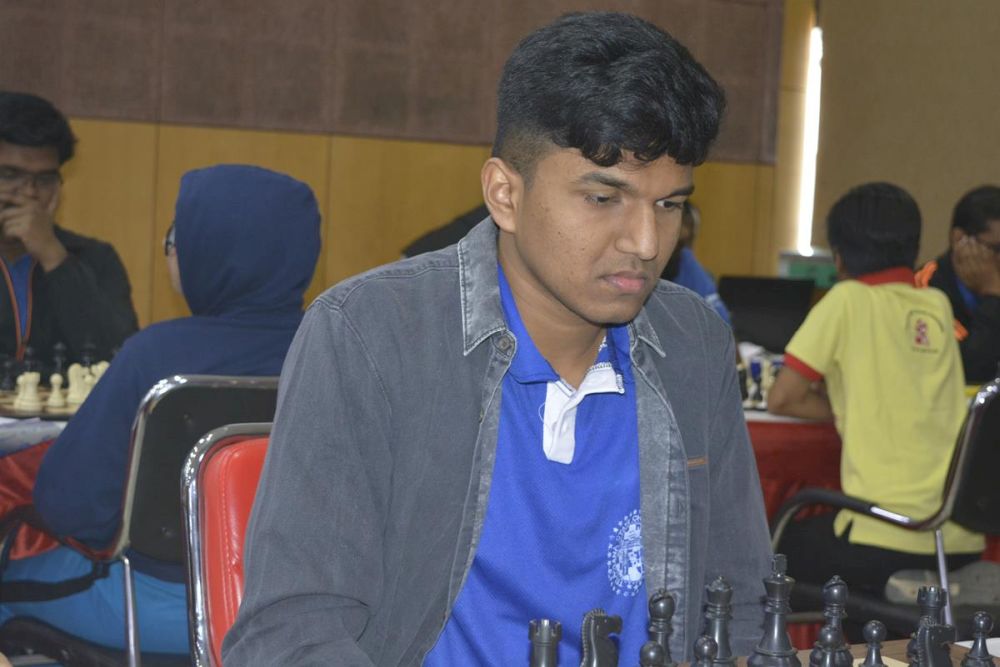 Babysnake bites
The only IM to finish in top 5 was Babysnake (IM Mitrabha Guha). He scored 7.0/9. His biggest win of the tournament was against Phoenix92 (GM Adhiban Baskaran) in Round 3.
Babysnake - Phoenix92, Round 3
Black had several chances to make a draw by perpetual check, even 45...Ke8 would have been better than the game continuation. Find out why 45...Kg8 is a mistake.
White is well on his way to victory but of course black will not give up without putting up a fight. White made the mistake of playing 51.f4 which is a mistake. Can you find out how 51.f4 allows black to get back in the game?
Among the Women, both Bestluck (IM Bhakti Kulkarni) and WIM Priyanka Nutakki finished at 5.5/9 each, they were placed 37th and 38th overall, they won Best Woman first and second prize respectively.
Despite starting with 1.5/4, Bhakti made a strong comeback and finished with 5.5/9. Her best win was against Boobyfisher (IM Leon Luke Mendonca) in the final round after the latter blundered a one move checkmate in an already minus position.
Priyanka also had a similar start like Bhakti, she made a start with 1.5/4. Her best win was against WIM Bhagyashree Thipsay in Round 5.
Laxman's Note
Playchess and ChessBase India Online Blitz regular GM Laxman R R contributed ₹15000 to the prize fund, this is what he had to say:
The event witnessed the glorious presence of a whopping 150 participants inclusive of many titled players all over the globe. The fact that I started as the 46th seed elicited and enhanced the true stature of the event in my perspective. Happy with the pleasant ambience generated by so many friends and well wishers including players from other nations as well. I will always cherish pleasant memories going forward in the forthcoming years. Hats off to the evergreen and chess friendly Chessbase India team for their sustained, optimistic and strenuous endeavour to promote Indian chess further.
Final Standings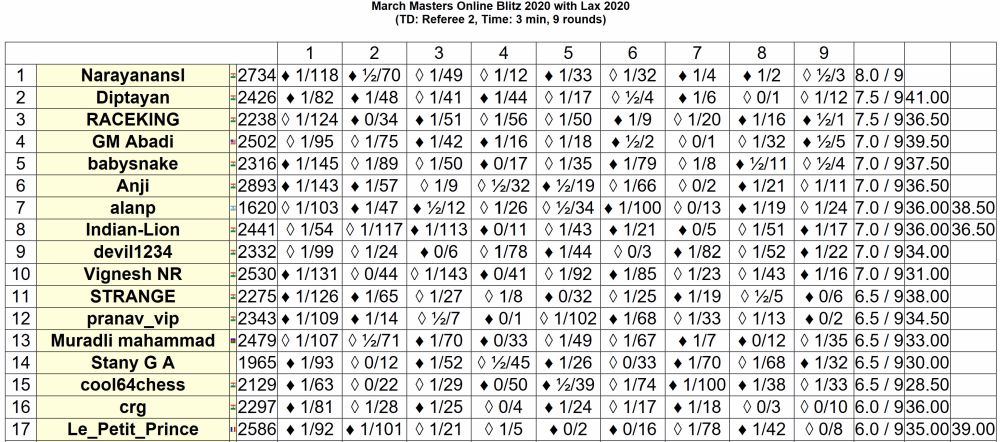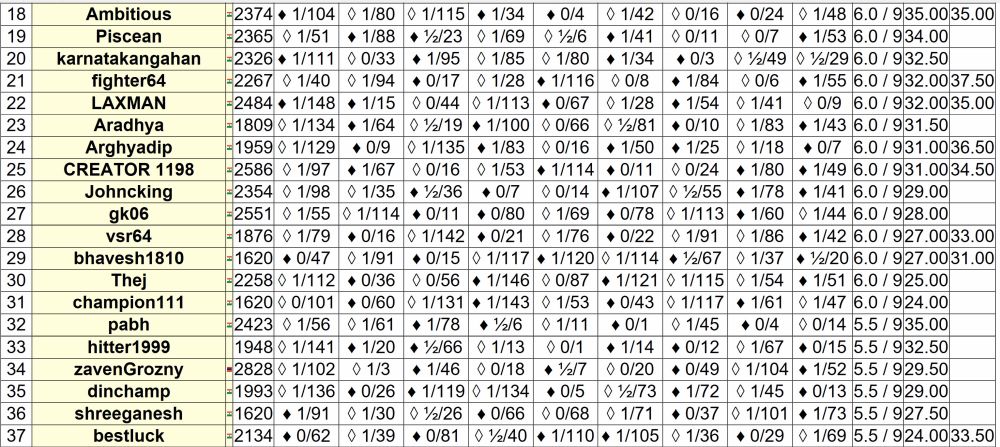 Replay all games
Feedback of the participants
IM Krishna Teja
It was great!
Prajesh R
It was great!
GM Gabriel Flom, France
Thank you very much. Not familiar to play on internet but enjoyed a lot.
IM Anuj Shrivatri
The tournament was excellent as usual.
GM Mikhail Kobalia, coach of IM Volodar Murzin
Everything is ok, except that I don't like control without increment. At one moment it became not chess, but just making stupid moves to cut your flag.
GM Alan Pichot, Argentina no.1
I would like to sign up for the tournament on Saturday, since I really liked playing last Sunday!
Arjun Gupta
It was great!
---