Aravindh wins Letsup MCA GP Blitz 5
by Shahid Ahmed - 13/07/2020
Reigning National Triple Crown champion GM Aravindh Chithambaram scored 8.5/10 to win Letsup MCA GP Blitz 5. This is his first ever championship held by ChessBase India on Playchess. IM Terry Renato of Peru finished second with 8.0/10, followed by World no.1 in Under-16 GM Nodirbek Abdusattorov of Uzbekistan finishing third with 7.5/10. GM Vaibhav Suri won the entire GP with a score of 31/40. He was consistent throughout the GP. Abdusattorov secured second position with 28/40, followed by GM Vugar Rasulov of Azerbaijan at third position with 26/40. Photo: This concludes Letsup MCA Grand Prix. Amruta Mokal
Aravindh wins his maiden ChessBase India Online Blitz event
GM Aravindh Chithambaram won his maiden ChessBase India Online Blitz event as he scored 8.5/10 and won Letsup MCA GP Blitz 5 on 8th July 2020. He finished a half point ahead of the runner-up IM Terry Renato of Peru 8.0/10. World no.1 in Under-16 GM Nodirbek Abdusattorov delivered a stellar performance throughout the GP. In Blitz 5, three players Abdusattorov, IM Aronyak Ghosh and IM Giuseppe Leiva of Peru also finished at 7.5/10. Due to a better tie-break score, Abdusattorov was placed third. GM Vaibhav Suri won the entire GP with his consistent performance with a score of 31/40. He won ₹10000 cash for winning the Letsup MCA Grand Prix. GM Nodirbek Abdusattorov secured second place with 28/40 and earned ₹8000 cash, followed by GM Vugar Rasulov at 26/40 who will receive ₹6000. Peruvians IM Terry Renato and GM Jose Eduardo Martinez Alcantara bagged ₹4000 and ₹2000 for scoring 24/40 and 15/40 respectively.
Total 89 players including 15 GMs, 15 IMs, a WGM and 5 WIMs from India, Chile, Indonesia, Ireland, Peru, Russia, Serbia, USA and Uzbekistan took part in this 10-Round event.
GM Aravindh Chithambaram on his first ever ChessBase India Online event victory - "Thank you! The feel you get when you haven't won a single tournament and finally you win is something which cannot be explained in words! Just more than happy."
A miniature win
Hitter1999 (GM Aravindh Chithambaram) scored a fantastic win over GM Dusan Popovic of Serbia in a 20-move miniature.
Hitter1999 - DusanPopovic, Round 8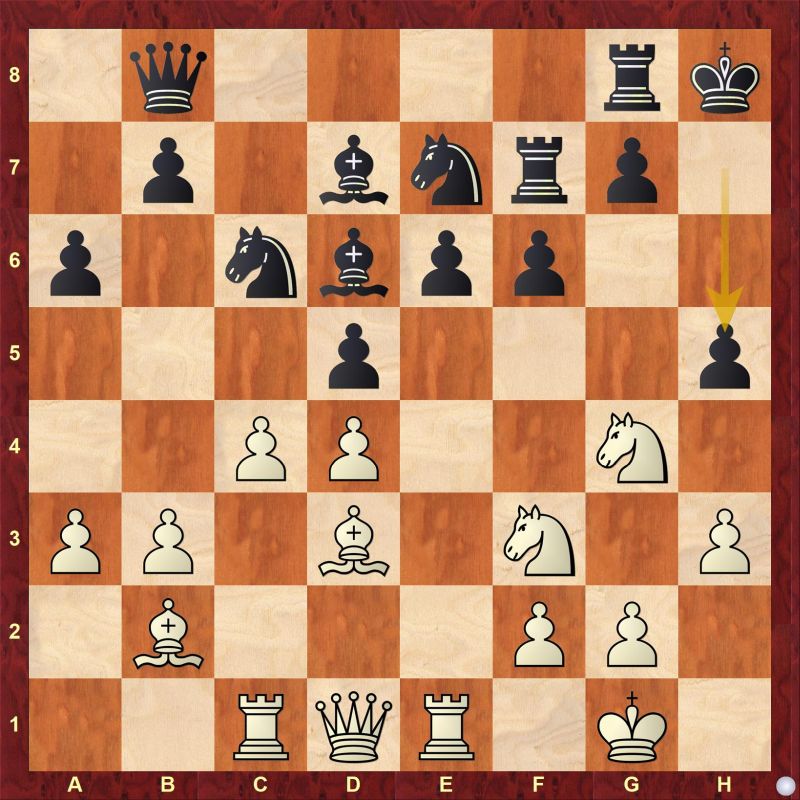 In an already difficult position, black blundered with 18...h5. Find out why it is a blunder.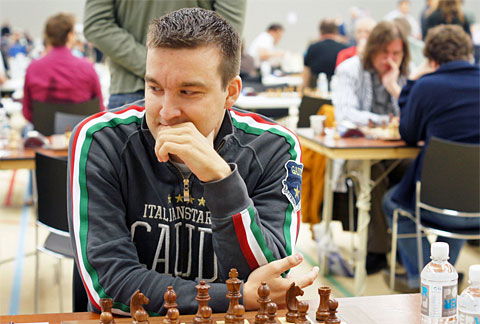 Terrific Terry
TerryR (IM Terry Renato) of Peru continued his impressive performance as he beat Aravindh in Round 6.
Diptayan was danger close
After suffering a loss in Round 6, Aravindh was on the brink of another loss in Round 7 against GM Diptayan Ghosh. Unfortunately for Diptayan, he missed it.
Diptayan - Hitter1999, Round 7
The game continued with 25.Rb4. Find out the winning continuation for white here.
A well-balanced fight
Generally we find draws to be uninteresting, however that was not the case when Aravindh faced Keramin (GM Nodirbek Abdusattorov) of Uzbekistan. Both of them tried to gain the upper hand yet neither player slipped even for a moment in a 76-move long draw.
Vaibhav Suri wins Letsup MCA Grand Prix
Vaibhav has performed consistently in the GP. He started with three consecutive podium finishes, then he secured sixth position in the Blitz 4 event. Although in the last event Vaibhav secured 22nd place, it didn't count as the final GP standings would only take the score of best four out of five events. Thus resulting in GM Vaibhav Suri securing the GP title with 31/40.
Vaibhav's best win in the final event of the GP was against Chillax (GM Shyamsundar M) in Round 2.
Priyanka consistent in the GP
Despite making a slow start of 1.0/3, WIM Priyanka Nutakki won her next five games and took the score to 6.0/8. Her best win in the tournament was against IM S Nitin in Round 7.
Final Standings

Final GP Standings after Blitz 5
Main Prize winners (Top 20)
| | | | |
| --- | --- | --- | --- |
| Rank | Name | Score | Prize money |
| 1 | GM Aravindh Chithambaram | 8.5 | ₹6500 |
| 2 | IM Terry Renato | 8 | ₹4000 |
| 3 | GM Nodirbek Abdusattorov | 7.5 | ₹2500 |
| 4 | IM Aronyak Ghosh | 7.5 | ₹2000 |
| 5 | IM Giuseppe Leiva | 7.5 | ₹1000 |
| 6 | GM Elshan Moradiabadi | 7 | ₹800 |
| 7 | GM Dusan Popovic | 7 | ₹700 |
| 8 | GM Harsha Bharathakoti | 7 | ₹600 |
| 9 | IM Mitrabha Guha | 7 | ₹500 |
| 10 | GM Girish A Koushik | 7 | ₹500 |
| 11 | IM Raja Rithvik R | 7 | ₹500 |
| 12 | GM Laxman R R | 7 | ₹400 |
| 13 | GM Shardul Gagare | 6.5 | ₹400 |
| 14 | IM Mohammad Nubairshah Shaikh | 6.5 | ₹400 |
| 15 | GM Diptayan Ghosh | 6.5 | ₹300 |
| 16 | IM Sankalp Gupta | 6.5 | ₹300 |
| 17 | CM Kushagra Mohan | 6.5 | ₹300 |
| 18 | GM D Gukesh | 6.5 | ₹300 |
| 19 | Aradhya Garg | 6.5 | ₹300 |
| 20 | GM Vugar Rasulov | 6.5 | ₹300 |
Best Women
| | | | |
| --- | --- | --- | --- |
| 1 | WIM Priyanka Nutakki | 6 | ₹700 |
| 2 | Potluri Saye Srreezza | 6 | ₹500 |
Best Unrated
| | | | |
| --- | --- | --- | --- |
| 1 | Shikhar Karn | 3 | ₹700 |
| 2 | Ishwar Lal Patel | 3 | ₹500 |
GP Final Standings
| | | | |
| --- | --- | --- | --- |
| 1 | GM Vaibhav Suri | 31 | ₹10000 |
| 2 | GM Nodirbek Abdusattorov | 28 | ₹8000 |
| 3 | GM Vugar Rasulov | 26 | ₹6000 |
| 4 | IM Terry Renato | 24 | ₹4000 |
| 5 | GM Jose Eduardo Martinez Alcantara | 15 | ₹2000 |
Replay all games
Links
---
Related news
:
Raceking Harsha Bharathakoti finishes first in Capablanca Chess School 5th Anniversary Online Blitz Open

@ 09/04/2021 by Shahid Ahmed (en)
Last call to register for this Saturday's Capablanca Chess School 5th Anniversary Online Blitz Open

@ 31/03/2021 by Shahid Ahmed (en)
Praggnanandhaa dominates Yugam 2021 International Online Blitz Open

@ 26/03/2021 by Shahid Ahmed (en)
Capablanca Chess School 5th Anniversary Online Blitz Open on Saturday 3rd April

@ 24/03/2021 by Shahid Ahmed (en)
Last call to register for this Sunday's Yugam 2021 International Online Blitz Open

@ 17/03/2021 by Shahid Ahmed (en)
Yugam 2021 - International Online Blitz Open with ₹100000 prize fund

@ 07/03/2021 by Shahid Ahmed (en)
Blitz Challenge with India's latest GM Leon Mendonca

@ 08/01/2021 by Shahid Ahmed (en)
Mitrabha Guha dominates 16th Maheshwaranand Saraswati Memorial Online Blitz Open

@ 29/11/2020 by Shahid Ahmed (en)
Last call to register for this Sunday's 16th Maheshwaranand Saraswati Memorial Online Blitz Open

@ 20/11/2020 by Shahid Ahmed (en)
16th Maheshwaranand Saraswati Memorial Online Blitz Open with ₹60000 prize fund

@ 09/11/2020 by Shahid Ahmed (en)
Blitz Challenge with Iniyan

@ 06/11/2020 by Frederic Friedel (en)
Ilamparthi, Mounika and Arunava triumph in Make Your Move Fundraiser Below 2100 Blitz

@ 06/11/2020 by Shahid Ahmed (en)
Make Your Move Fundraiser Blitz Below 2100 Qualifier Schedule revealed

@ 23/10/2020 by Shahid Ahmed (en)
Make Your Move and get a chance to play against Vishy Anand

@ 07/10/2020 by Shahid Ahmed (en)
Vugar Rasulov wins Play for Durgesh Fundraiser Open

@ 25/09/2020 by Shahid Ahmed (en)
Chess Community raises over 11 lacs for coach Durgesh

@ 20/09/2020 by Sagar Shah (en)
Rs.566583 raised for coach Durgesh, Play for him this Saturday

@ 16/09/2020 by Shahid Ahmed (en)
Rs.267,165 raised in two days for coach Durgesh; The fight continues

@ 10/09/2020 by Sagar Shah (en)
GoodEarth Online Blitz Open on 5th September with a total prize fund of ₹60000

@ 17/08/2020 by Shahid Ahmed (en)
Gukesh scores 6.0/6 in his blitz challenge on Playchess

@ 15/08/2020 by Sagar Shah (en)
Blitz Challenge with GM D.Gukesh

@ 07/08/2020 by Sagar Shah (en)
Jakhongir Vakhidov wins The Knighthood Online Blitz | A total of Rs.211226 raised

@ 06/08/2020 by Shahid Ahmed (en)
Last call for The Knighthood Online Blitz Open this Saturday 1st August

@ 30/07/2020 by Shahid Ahmed (en)
Girish Koushik Glorious in M D Bhagwat Memorial Chess960 Online Blitz Open

@ 24/07/2020 by Shahid Ahmed (en)
8 Reasons why you shouldn't miss the Chess960 event tonight on ChessBase India

@ 18/07/2020 by Sagar Shah (en)
Dhulipalla Bala Chandra Prasad wins 1st Leelavathi Memorial Open

@ 17/07/2020 by Shahid Ahmed (en)
Late M D Bhagwat Memorial Chess960 Online Blitz Open with ₹50000 prize fund

@ 11/07/2020 by Shahid Ahmed (en)
Shardul Gagare wins Letsup MCA GP Blitz 4

@ 05/07/2020 by Shahid Ahmed (en)
Gukesh wins Late Shailesh Nerlikar Memorial Online Blitz Open

@ 04/07/2020 by Shahid Ahmed (en)
Letsup MCA GP Blitz 4 rescheduled to 1st July, Total Prize fund increased by 20%

@ 25/06/2020 by Shahid Ahmed (en)
Abdusattorov wins Letsup MCA GP Blitz again

@ 22/06/2020 by Shahid Ahmed (en)
Vaibhav Suri leads Letsup MCA GP, Blitz 4 on 24th June

@ 18/06/2020 by Shahid Ahmed (en)
Nodirbek Abdusattorov triumphs in Letsup presents MCA GP Blitz 2

@ 15/06/2020 by Shahid Ahmed (en)
Late Shailesh Nerlikar Memorial Online Blitz Open on 27th June

@ 11/06/2020 by Shahid Ahmed (en)
28 GMs, 30 IMs will be seen in action in Letsup MCA GP Blitz 3

@ 11/06/2020 by Shahid Ahmed (en)
Vugar Rasulov wins Letsup presents MCA GP Blitz 1

@ 08/06/2020 by Shahid Ahmed (en)
29 GMs, 26 IMs have confirmed for Letsup MCA GP Blitz 2

@ 04/06/2020 by Shahid Ahmed (en)
Mitrabha Guha wins Buddhibal Kreeda Trust Fischer Random Online Blitz Open

@ 28/05/2020 by Shahid Ahmed (en)
Maharashtra Chess Association organizes Letsup presents Blitz GP 2020

@ 28/05/2020 by Shahid Ahmed (en)
Rs.35,000 Fischer Random event by Buddhibal Kreeda Trust on 23rd of May 2020

@ 17/05/2020 by Shahid Ahmed (en)
Andrew Tang wins Sultan Khan Cup

@ 13/05/2020 by Shahid Ahmed (en)
Checkmate Covid-19 Online Blitz Open raises ₹451650

@ 07/05/2020 by Shahid Ahmed (en)
Have you registered for the biggest online ChessBase India event on 9th of May 2020?

@ 06/05/2020 by Sagar Shah (en)
Checkmate Covid-19 Fundraiser Online Blitz by Chess Kerala on 2nd May 2020

@ 24/04/2020 by V Saravanan (en)
Biggest ever online blitz on ChessBase India: Sultan Khan Cup 2020 with a prize fund of Rs.101,000

@ 23/04/2020 by ChessBase India (en)
Praggnanandhaa wins 5th Saturday Online Blitz Open 2020

@ 22/04/2020 by Shahid Ahmed (en)
Indian-Lion GM Arjun Erigaisi Roars again

@ 15/04/2020 by Shahid Ahmed (en)
Aravindh, Gukesh and Arjun are the top seeds in 5th Saturday Online Blitz Open 2020

@ 12/04/2020 by Shahid Ahmed (en)
Rs. 2,43,243 raised at the "Let's fight Corona Together" online blitz

@ 10/04/2020 by Sagar Shah (en)
Announcing the Buddhibal Kreeda Trust online blitz on 14th of April 2020

@ 08/04/2020 by Shahid Ahmed (en)
Indian chess community comes together to fight the Corona virus, raises Rs.1,68,000 in 72 hours

@ 08/04/2020 by Sagar Shah (en)
Diptayan dominates 3rd Saturday Online Blitz Open 2020

@ 07/04/2020 by Shahid Ahmed (en)
Aravindh, Narayanan and Gukesh are the top seeds in 4th Saturday Online Blitz Open 2020

@ 05/04/2020 by Shahid Ahmed (en)
"Let's fight Corona together" fundraiser online blitz on 9th of April 2020

@ 04/04/2020 by Shahid Ahmed (en)
Sunilduth Lyna Narayanan wins March Masters Online Blitz 2020

@ 02/04/2020 by Shahid Ahmed (en)
ChessBase for classroom chess instruction

@ 02/04/2020 by Alexey Root (en)
The Indian-Lion tames all in 2nd Saturday Online Blitz Open 2020

@ 01/04/2020 by Shahid Ahmed (en)
Organize your online events with the ChessBase India team on Playchess

@ 31/03/2020 by Sagar Shah (en)
How to start a training broadcast on Playchess.com

@ 30/03/2020 by ChessBase (en)
Adhiban, Jumbayev and Aravindh are the top seeds in 3rd Saturday Online Blitz 2020

@ 30/03/2020 by Shahid Ahmed (en)
Guseinov, Aravindh and Pragg star in strong 2nd Saturday Blitz Tournament 2020

@ 27/03/2020 by Shahid Ahmed (en)
Pragg stands on top of "Chessworld"

@ 24/03/2020 by Elshan Moradiabadi (en)
Donchenko, Sethuraman, Aravind and more in action in March Masters Online Blitz 2020

@ 24/03/2020 by Shahid Ahmed (en)
Guseinov, Pragg, Gukesh and more will fight in 2nd Saturday Online Blitz 2020

@ 22/03/2020 by Shahid Ahmed (en)
Nihal, Pragg and Andriasian headline the 1st Saturday Online Blitz tournament

@ 20/03/2020 by Shahid Ahmed (en)
Wanna battle with Gukesh, Visakh, Laxman and others in ChessBase Online Blitz Tournament?

@ 16/03/2020 by Shahid Ahmed (en)
ChessBase India presents five Saturday online Blitz events starting from 21st of March

@ 15/03/2020 by Shahid Ahmed (en)
How to improve your online chess strength

@ 10/03/2020 by GM Avetik Grigoryan (en)
Indian chess players raise Rs.33121 in 'Let's Rebuild Odisha' fundraiser tournament

@ 16/05/2019 by Shahid Ahmed (en)
92 Indian Chess players raise Rs.1,01,973 for Pulwama terror attack Martyrs

@ 25/02/2019 by Shahid Ahmed (en)
Diptayan, Aravindh and Rathnakaran are the winners of Vishy Anand 49 Online Blitz 2018

@ 07/01/2019 by Shahid Ahmed (en)
Your last chance to play with the best in Indian chess!

@ 25/12/2018 by Shahid Ahmed (en)
An explosive line-up for Vishy Anand 49 online blitz 2018

@ 23/12/2018 by Sagar Shah (en)
Online blitz tournament to celebrate Vishy Anand's 49th birthday

@ 12/12/2018 by Sagar Shah (en)
Amonatov, Martirosyan, Idani, Nihal, Pragg! What a mouth watering blitz event!

@ 24/11/2018 by Shahid Ahmed (en)
Diptayan Ghosh wins Gujarat-Goa Online Blitz 2018

@ 05/09/2018 by Shahid Ahmed (en)