Indian-Lion GM Arjun Erigaisi Roars again
by Shahid Ahmed - 15/04/2020
Indian-Lion - GM Arjun Erigaisi scored 8.0/9 to win 4th Saturday Online Blitz Open. He finished a half point ahead of the competition. Three players finished at 7.5/9, they are GM Jakhongir Vakhidov of Uzbekistan, GM Raunak Sadhwani and Pranav V. They were placed second, third and fourth respectively according to their tie-break score. The third edition of the weekly tournament witnessed the participation of 196 players comprising of 12 GMs, 23 IMs, 3 WGMs and 5 WIMs from India, Algeria, Bangladesh, Colombia, England, France, Romania, Singapore, USA and Uzbekistan. Diptayan maintained his lead of the Circuit standings at 28 points. GM Arjun Erigaisi jumped to second spot with 20 points, this was also his second Saturday Online Open triumph. GM Raunak Sadhwani is at third place with 18 points. The 5th Saturday Online Blitz Open will take place this Saturday 18th April. Photo: Puneet Jaiswal
Arjun Erigaisi wins Saturday Online Blitz for the second time
GM Arjun Erigaisi scored 8.0/9, finished a half point ahead of the remaining podium finishers to win 4th Saturday Online Blitz Open. Arjun had already won the 2nd edition two weeks before winning the 4th edition. GM Jakhongir Vakhidov of Uzbekistan, GM Raunak Sadhwani and Pranav V, all three of them finished at 7.5/9 each and they were placed second, third and fourth respectively. With this win Arjun has brought himself closer to winning the Circuit. Diptayan currently leads the Circuit standings with 28 points followed by GM Arjun Erigaisi at 20 points and GM Raunak Sadhwani at 18 points. Praggnanandhaa went out of the Circuit contention as he had to miss the fourth edition due to prior commitments. With this win GM Arjun Erigaisi currently has the highest number of ChessBase India Online Blitz Open victories at four.
The MBA chase by Mbachez90
17-year old Indian-Lion (GM Arjun Erigaisi) is far from MBA but his opponent Mbachez90 (IM P Saravana Krishnan) got him in vice grip which he could not maintain for long in Round 4.
Mbachez90 - Indian-Lion, Round 4
Despite having a stronghold for the better part of the middlegame, white was unable to make the correct recapture. Well maybe things could have turned out differently. We always need to remember that all these were played with 3 mins each with no increment, so it is very much possible that both players were short on time.
Uzbek Tiger hunts Indian-Lion
Uzbektiger95 (GM Jakhongir Vakhidov) was the only one to beat Indian-Lion. After declining a draw offer as early as move number nine, Arjun continued the game and eventually reached to a seemingly equal Rook-Bishop vs. Rook-Knight endgame.
Indian-Lion - Uzbektiger95, Round 6
After playing 40.Kg1 Ne2+ and repeating the position once, White declined the repetition draw and continued with 42.Re5+. Anyway this loss did not affect Arjun, but it helped his opponent Vakhidov secure second position eventually.
Indian-Lion was too strong for Babysnake's venom
Babysnake (IM Mitrabha Guha) tried to create some trouble for Indian-Lion by forcing his king out in the open. In reality, Black's king was never in any real danger, well except for once where white had some half-chance which he needed to seize to stir up some real danger.
Babysnake - Indian-Lion, Round 7
White continued the game with 15.c5+ which is incorrect and eventually white lost the game. Can you find the better continuation?
The Devil Slayer
In the final round, Indian-Lion made a short work of Devil1234 (GM Raunak Sadhwani). Make no mistake Raunak is a strong blitz player and he finished at third position despite losing the last round game.
Indian-Lion - Devil1234, Round 9
Tiger had a shaky start against Man of Mass
Uzbektiger95 (GM Jakhongir Vakhidov) had a shaky start against ManofMass (Vignesh B) in the opening round of the tournament.
Uzbektiger95 - ManofMass, Round 1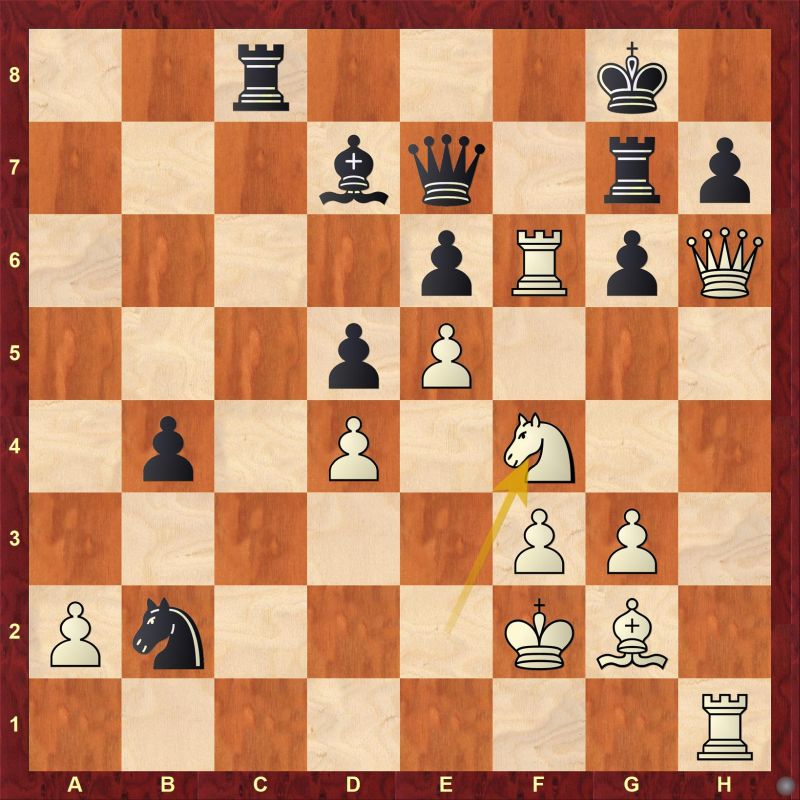 Vignesh missed a golden opportunity as he opted for 26...Rc2+ which allowed his opponent to save the day with 27.Kg1. Can you find out what did black miss here?
Baby snake loosened grip on the Tiger
In Round 5, Uzbektiger95 faced Babysnake (IM Mitrabha Guha). For the better part of the game, White was in firm control. Even the opposite color bishop endgame was also winning for white, until he locked the position into a draw.
Uzbektiger95 - Babysnake, Round 5
White had an easy winning continuation here after 45...h6, however he missed it and continued the game with 46.h3
This position is easy for black to hold a draw. There is only thing white can do to make a breakthrough, black needs to remember that plan and make sure that is covered.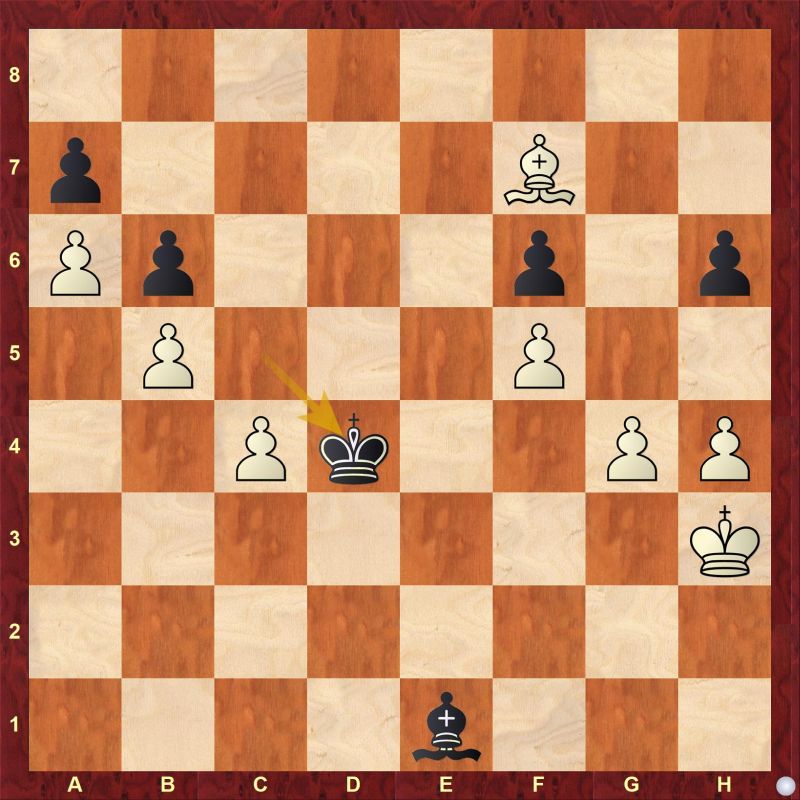 Black just needed to stop white's one idea, unfortunately for black 62...Kd4 just allows that. Try to figure out where did black go wrong.
Devil bests Tiger
In the seventh round, Uzbektiger95 lost his only game of the event against Devil1234 (GM Raunak Sadhwani). Despite having a better position for the majority of the Double Rook endgame, the game liquidated into a drawn Rook ending.
Devil1234 - Uzbektiger95, Round 7
Black continued with 54...Rg6 and eventually lost the game. Find out why it is a mistake and what black should have played to save the game.
A Strange victory
STRANGE (IM Aronyak Ghosh) completely played out of his element and lost in a miniature like 19 moves when checkmate threat became unstoppable in the penultimate round.
Uzbektiger95 - STRANGE, Round 8
Of course in a position like this black should not play 16...Bxd4 which is completely against the sanctity of the dark-squared bishop. Black must have missed the intermezzo 18.Bf6 which was the decider of the game.
A VIP draw
Uzbektiger95 was having a completely winning position against Pranav_vip (Pranav V) in the final round, but somehow he misplayed completely and allowed his opponent to get back in the game and equalize.
Pranav_vip - Uzbektiger95, Round 9
Almost any move should lead to a victory for black here, but after a few moves, the game liquidated into an equal Queen endgame where draw became the obvious outcome.
The Devil had the Hitter's number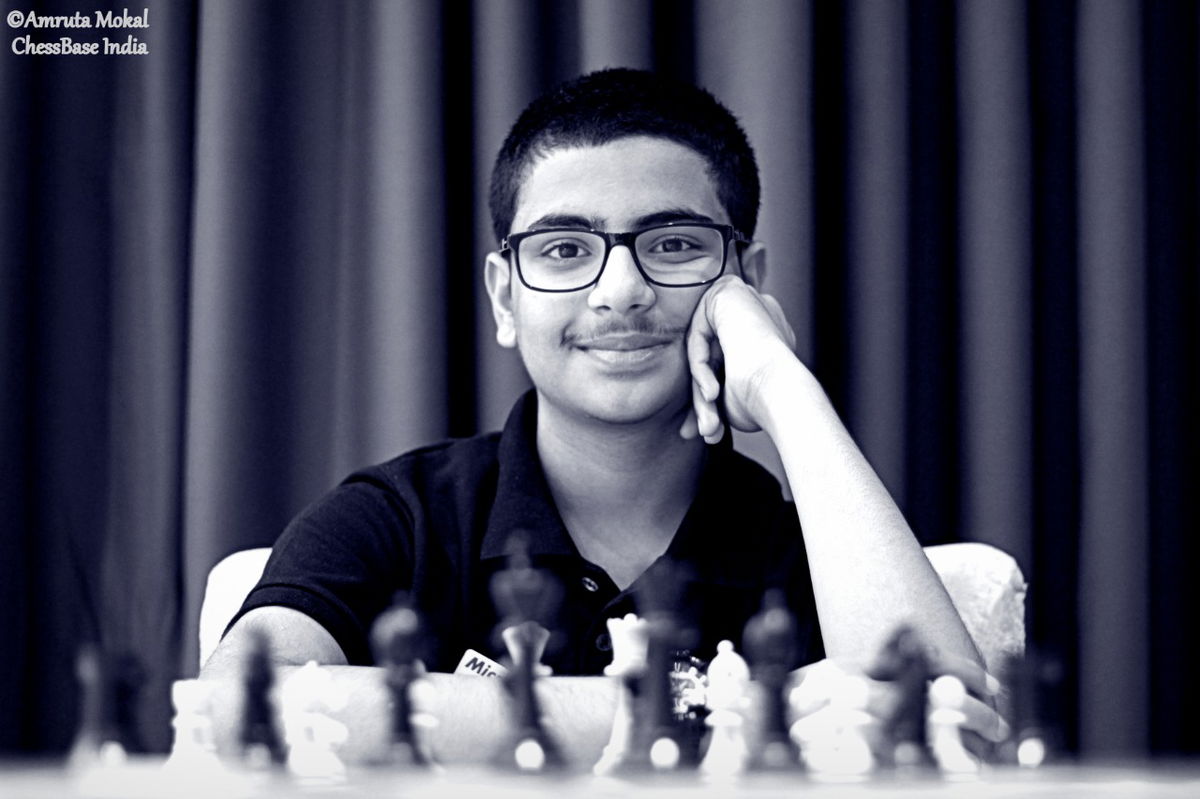 Devil1234 (GM Raunak Sadhwani) had a topsy-turvy game against Hitter1999 (GM Aravindh Chithambaram) in the third round. Despite being a completely difficult position, Devil1234 somehow managed to capitalize on his opponent's mistake to register a victory.
Hitter1999 - Devil1234, Round 3
Black is ahead in material and completely winning, however White decided to fight till the end.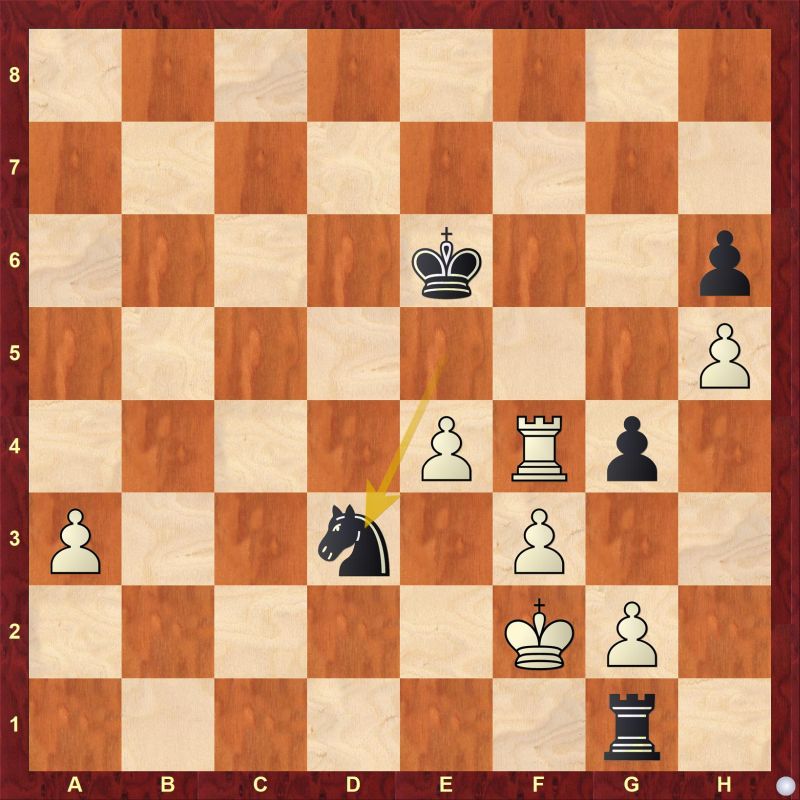 Black making a few mistakes allowed white to chip away the pawns one by one. The final nail in the coffin was 62...Nd3+ as that proved to be too difficult for black to overcome.
Final Standings
Circuit Standings
Replay all games
---
Related news
:
Raceking Harsha Bharathakoti finishes first in Capablanca Chess School 5th Anniversary Online Blitz Open

@ 09/04/2021 by Shahid Ahmed (en)
Last call to register for this Saturday's Capablanca Chess School 5th Anniversary Online Blitz Open

@ 31/03/2021 by Shahid Ahmed (en)
Praggnanandhaa dominates Yugam 2021 International Online Blitz Open

@ 26/03/2021 by Shahid Ahmed (en)
Capablanca Chess School 5th Anniversary Online Blitz Open on Saturday 3rd April

@ 24/03/2021 by Shahid Ahmed (en)
Last call to register for this Sunday's Yugam 2021 International Online Blitz Open

@ 17/03/2021 by Shahid Ahmed (en)
Yugam 2021 - International Online Blitz Open with ₹100000 prize fund

@ 07/03/2021 by Shahid Ahmed (en)
Blitz Challenge with India's latest GM Leon Mendonca

@ 08/01/2021 by Shahid Ahmed (en)
Mitrabha Guha dominates 16th Maheshwaranand Saraswati Memorial Online Blitz Open

@ 29/11/2020 by Shahid Ahmed (en)
Last call to register for this Sunday's 16th Maheshwaranand Saraswati Memorial Online Blitz Open

@ 20/11/2020 by Shahid Ahmed (en)
16th Maheshwaranand Saraswati Memorial Online Blitz Open with ₹60000 prize fund

@ 09/11/2020 by Shahid Ahmed (en)
Blitz Challenge with Iniyan

@ 06/11/2020 by Frederic Friedel (en)
Ilamparthi, Mounika and Arunava triumph in Make Your Move Fundraiser Below 2100 Blitz

@ 06/11/2020 by Shahid Ahmed (en)
Make Your Move Fundraiser Blitz Below 2100 Qualifier Schedule revealed

@ 23/10/2020 by Shahid Ahmed (en)
Make Your Move and get a chance to play against Vishy Anand

@ 07/10/2020 by Shahid Ahmed (en)
Vugar Rasulov wins Play for Durgesh Fundraiser Open

@ 25/09/2020 by Shahid Ahmed (en)
Chess Community raises over 11 lacs for coach Durgesh

@ 20/09/2020 by Sagar Shah (en)
Rs.566583 raised for coach Durgesh, Play for him this Saturday

@ 16/09/2020 by Shahid Ahmed (en)
Rs.267,165 raised in two days for coach Durgesh; The fight continues

@ 10/09/2020 by Sagar Shah (en)
GoodEarth Online Blitz Open on 5th September with a total prize fund of ₹60000

@ 17/08/2020 by Shahid Ahmed (en)
Gukesh scores 6.0/6 in his blitz challenge on Playchess

@ 15/08/2020 by Sagar Shah (en)
Blitz Challenge with GM D.Gukesh

@ 07/08/2020 by Sagar Shah (en)
Jakhongir Vakhidov wins The Knighthood Online Blitz | A total of Rs.211226 raised

@ 06/08/2020 by Shahid Ahmed (en)
Last call for The Knighthood Online Blitz Open this Saturday 1st August

@ 30/07/2020 by Shahid Ahmed (en)
Girish Koushik Glorious in M D Bhagwat Memorial Chess960 Online Blitz Open

@ 24/07/2020 by Shahid Ahmed (en)
8 Reasons why you shouldn't miss the Chess960 event tonight on ChessBase India

@ 18/07/2020 by Sagar Shah (en)
Dhulipalla Bala Chandra Prasad wins 1st Leelavathi Memorial Open

@ 17/07/2020 by Shahid Ahmed (en)
Aravindh wins Letsup MCA GP Blitz 5

@ 13/07/2020 by Shahid Ahmed (en)
Late M D Bhagwat Memorial Chess960 Online Blitz Open with ₹50000 prize fund

@ 11/07/2020 by Shahid Ahmed (en)
Shardul Gagare wins Letsup MCA GP Blitz 4

@ 05/07/2020 by Shahid Ahmed (en)
Gukesh wins Late Shailesh Nerlikar Memorial Online Blitz Open

@ 04/07/2020 by Shahid Ahmed (en)
Letsup MCA GP Blitz 4 rescheduled to 1st July, Total Prize fund increased by 20%

@ 25/06/2020 by Shahid Ahmed (en)
Abdusattorov wins Letsup MCA GP Blitz again

@ 22/06/2020 by Shahid Ahmed (en)
Vaibhav Suri leads Letsup MCA GP, Blitz 4 on 24th June

@ 18/06/2020 by Shahid Ahmed (en)
Nodirbek Abdusattorov triumphs in Letsup presents MCA GP Blitz 2

@ 15/06/2020 by Shahid Ahmed (en)
Late Shailesh Nerlikar Memorial Online Blitz Open on 27th June

@ 11/06/2020 by Shahid Ahmed (en)
28 GMs, 30 IMs will be seen in action in Letsup MCA GP Blitz 3

@ 11/06/2020 by Shahid Ahmed (en)
Vugar Rasulov wins Letsup presents MCA GP Blitz 1

@ 08/06/2020 by Shahid Ahmed (en)
29 GMs, 26 IMs have confirmed for Letsup MCA GP Blitz 2

@ 04/06/2020 by Shahid Ahmed (en)
Mitrabha Guha wins Buddhibal Kreeda Trust Fischer Random Online Blitz Open

@ 28/05/2020 by Shahid Ahmed (en)
Maharashtra Chess Association organizes Letsup presents Blitz GP 2020

@ 28/05/2020 by Shahid Ahmed (en)
Rs.35,000 Fischer Random event by Buddhibal Kreeda Trust on 23rd of May 2020

@ 17/05/2020 by Shahid Ahmed (en)
Andrew Tang wins Sultan Khan Cup

@ 13/05/2020 by Shahid Ahmed (en)
Checkmate Covid-19 Online Blitz Open raises ₹451650

@ 07/05/2020 by Shahid Ahmed (en)
Have you registered for the biggest online ChessBase India event on 9th of May 2020?

@ 06/05/2020 by Sagar Shah (en)
Checkmate Covid-19 Fundraiser Online Blitz by Chess Kerala on 2nd May 2020

@ 24/04/2020 by V Saravanan (en)
Biggest ever online blitz on ChessBase India: Sultan Khan Cup 2020 with a prize fund of Rs.101,000

@ 23/04/2020 by ChessBase India (en)
Praggnanandhaa wins 5th Saturday Online Blitz Open 2020

@ 22/04/2020 by Shahid Ahmed (en)
Aravindh, Gukesh and Arjun are the top seeds in 5th Saturday Online Blitz Open 2020

@ 12/04/2020 by Shahid Ahmed (en)
Rs. 2,43,243 raised at the "Let's fight Corona Together" online blitz

@ 10/04/2020 by Sagar Shah (en)
Announcing the Buddhibal Kreeda Trust online blitz on 14th of April 2020

@ 08/04/2020 by Shahid Ahmed (en)
Indian chess community comes together to fight the Corona virus, raises Rs.1,68,000 in 72 hours

@ 08/04/2020 by Sagar Shah (en)
Diptayan dominates 3rd Saturday Online Blitz Open 2020

@ 07/04/2020 by Shahid Ahmed (en)
Aravindh, Narayanan and Gukesh are the top seeds in 4th Saturday Online Blitz Open 2020

@ 05/04/2020 by Shahid Ahmed (en)
"Let's fight Corona together" fundraiser online blitz on 9th of April 2020

@ 04/04/2020 by Shahid Ahmed (en)
Sunilduth Lyna Narayanan wins March Masters Online Blitz 2020

@ 02/04/2020 by Shahid Ahmed (en)
ChessBase for classroom chess instruction

@ 02/04/2020 by Alexey Root (en)
The Indian-Lion tames all in 2nd Saturday Online Blitz Open 2020

@ 01/04/2020 by Shahid Ahmed (en)
Organize your online events with the ChessBase India team on Playchess

@ 31/03/2020 by Sagar Shah (en)
How to start a training broadcast on Playchess.com

@ 30/03/2020 by ChessBase (en)
Adhiban, Jumbayev and Aravindh are the top seeds in 3rd Saturday Online Blitz 2020

@ 30/03/2020 by Shahid Ahmed (en)
Guseinov, Aravindh and Pragg star in strong 2nd Saturday Blitz Tournament 2020

@ 27/03/2020 by Shahid Ahmed (en)
Pragg stands on top of "Chessworld"

@ 24/03/2020 by Elshan Moradiabadi (en)
Donchenko, Sethuraman, Aravind and more in action in March Masters Online Blitz 2020

@ 24/03/2020 by Shahid Ahmed (en)
Guseinov, Pragg, Gukesh and more will fight in 2nd Saturday Online Blitz 2020

@ 22/03/2020 by Shahid Ahmed (en)
Nihal, Pragg and Andriasian headline the 1st Saturday Online Blitz tournament

@ 20/03/2020 by Shahid Ahmed (en)
Wanna battle with Gukesh, Visakh, Laxman and others in ChessBase Online Blitz Tournament?

@ 16/03/2020 by Shahid Ahmed (en)
ChessBase India presents five Saturday online Blitz events starting from 21st of March

@ 15/03/2020 by Shahid Ahmed (en)
How to improve your online chess strength

@ 10/03/2020 by GM Avetik Grigoryan (en)
Indian chess players raise Rs.33121 in 'Let's Rebuild Odisha' fundraiser tournament

@ 16/05/2019 by Shahid Ahmed (en)
92 Indian Chess players raise Rs.1,01,973 for Pulwama terror attack Martyrs

@ 25/02/2019 by Shahid Ahmed (en)
Diptayan, Aravindh and Rathnakaran are the winners of Vishy Anand 49 Online Blitz 2018

@ 07/01/2019 by Shahid Ahmed (en)
Your last chance to play with the best in Indian chess!

@ 25/12/2018 by Shahid Ahmed (en)
An explosive line-up for Vishy Anand 49 online blitz 2018

@ 23/12/2018 by Sagar Shah (en)
Online blitz tournament to celebrate Vishy Anand's 49th birthday

@ 12/12/2018 by Sagar Shah (en)
Amonatov, Martirosyan, Idani, Nihal, Pragg! What a mouth watering blitz event!

@ 24/11/2018 by Shahid Ahmed (en)
Diptayan Ghosh wins Gujarat-Goa Online Blitz 2018

@ 05/09/2018 by Shahid Ahmed (en)