Yugam 2021 - International Online Blitz Open with ₹100000 prize fund
Everyone is well versed with the over-the-board events organized by Dr. N Mahalingam Chess Academy. They have organized 20 chess tournaments in four years since it was inaugurated by the seven-time world champion Vishy Anand. Their first online tournament, part of South India's largest Techno-Cultural fest Yugam 2021, will take place on Sunday 21st of March at 7 p.m. IST in ChessBase India webroom on Playchess. Entry is FREE for GMs, IMs, WGMs and WIMs. For everyone else Entry fee is ₹200 for Indians and €3 for foreigners. The tournament can be played via windows software and desktop or laptop browser only. Registration is CLOSED. Photo: Yugam 2021
Dr. N Mahalingam Chess Academy organizes online tournament for the first time
Dr. N Mahalingam Chess Academy has organized 20 chess tournaments and camps and now for the first time they will be conducting a virtual tournament with a Total Prize fund of ₹1,00,000. The tournament is a part of the Founder's day celebrations which is held in memory of Dr. N Mahalingam ayya. It will take place on Sunday 21st March 2021 from 7 p.m. IST onwards. The entry is free for GMs, IMs, WGMs, and WIMs, For the rest, the entry will be ₹200. The tournament will be conducted on ChessBase India webroom and will require the players to play via desktop or laptop. Players will not be able to take part in the tournament using a mobile or tablet. The games of the tournament will be streamed live on Youtube with live commentary by IM Sagar Shah and IM V Saravanan.
Yugam 2021
South India's largest techno-cultural magnum opus of Kumaraguru is back to swirl its charm this new normal, virtually!
Yugam is the place where ultimate opportunities meet enchanting minds. The Yugam-2021 is at the doorstep and it proves no situation can halt Yugam. The Yugam, which is one of the biggest techno-cultural sports fests in South India was inaugurated in 2013. Since then, every year Yugam never fails to bring joy, pleasure, excitement, enthusiasm, and nevertheless, it also brings in knowledge, understanding, hope, and rich culture among students from all over India.
With over 15,000 participants from 150+ colleges every year, Yugam enables a huge platform for the students to showcase their incredible talents. The Yugam is the result of months of ideations, preparations, sacrifices, sleepless nights of the Kumaraguru students.
Date: Sunday 21st March 2021
Time: 7:00 p.m. IST
Time control: 3 mins + 0 sec increment
Number of rounds: 9
Total Prize fund: ₹100000
Venue: ChessBase India webroom (Playchess windows software is preferred although the tournament can be played via desktop or laptop browser also. Mobile or Tablet device is not allowed)
Chief Arbiter: IA Vivek Sohani
Tie-breaks
1. Buchholz Cut 1
2. Buchholz
3. Sonneborn-Berger
4. Direct encounter
5. The greater number of wins including forfeits
Details of the online tournament:
Main Prizes
| | |
| --- | --- |
| Place | Prize |
| 1st | 25000 |
| 2nd | 15000 |
| 3rd | 10000 |
| 4th | 6000 |
| 5th | 4000 |
| 6th | 3000 |
| 7th | 2000 |
| 8th | 1000 |
| 9th | 1000 |
| 10th | 1000 |
| 11th - 25th | 600 each |
Best Women
| | |
| --- | --- |
| 1st | 3000 |
| 2nd | 2000 |
| 3rd | 1000 |
| 4th | 600 |
| 5th | 400 |
Rating Category: 1600-1899
Rating Category: 1300-1599
Rating Category: 1000-1299
Best Unrated
Age group - Under-9, Under-12 and Under-15
Specially Challenged and Best Veteran (Above 60 years) - 1st 1000 each.
FIDE Standard Rating as on 1st March 2021 will be considered for Rating Category prizes, a player without a standard rating will be considered as an unrated player. One player will be eligible for one higher prize only. A player without a FIDE ID must send their age proof before the last date to be eligible for age group prizes. A Physically Challenged player also must send their disability proof via email here: teamchessbaseindia@gmail.com. Any document sent after deadline will not be considered.
Entry fees:
The entry fee for the event is ₹200. The tournament is FREE for GMs, IMs, WGMs and WIMs. The last date for entry has been extended to 20th of March 2021 7 p.m. IST. No entries will be accepted after that. Registration is CLOSED.
Foreign players can pay €3 via Paypal here as their entry fee. They must send an email mentioning their Name, FIDE ID, Playchess ID, Gender and Transaction ID along with a screenshot and send it to the below mentioned e-mail ID.

Titled players must write to us at teamchessbaseindia@gmail.com with their Playchess ID and FIDE ID to confirm their entry.
Players without a FIDE ID must produce an ID proof to claim a prize, failure to do so will result in forfeit of the prize.
List of players
Click here for latest update on players list
Please check your Playchess ID carefully, last minute change of Playchess ID will NOT be allowed.
Confirmed Titled players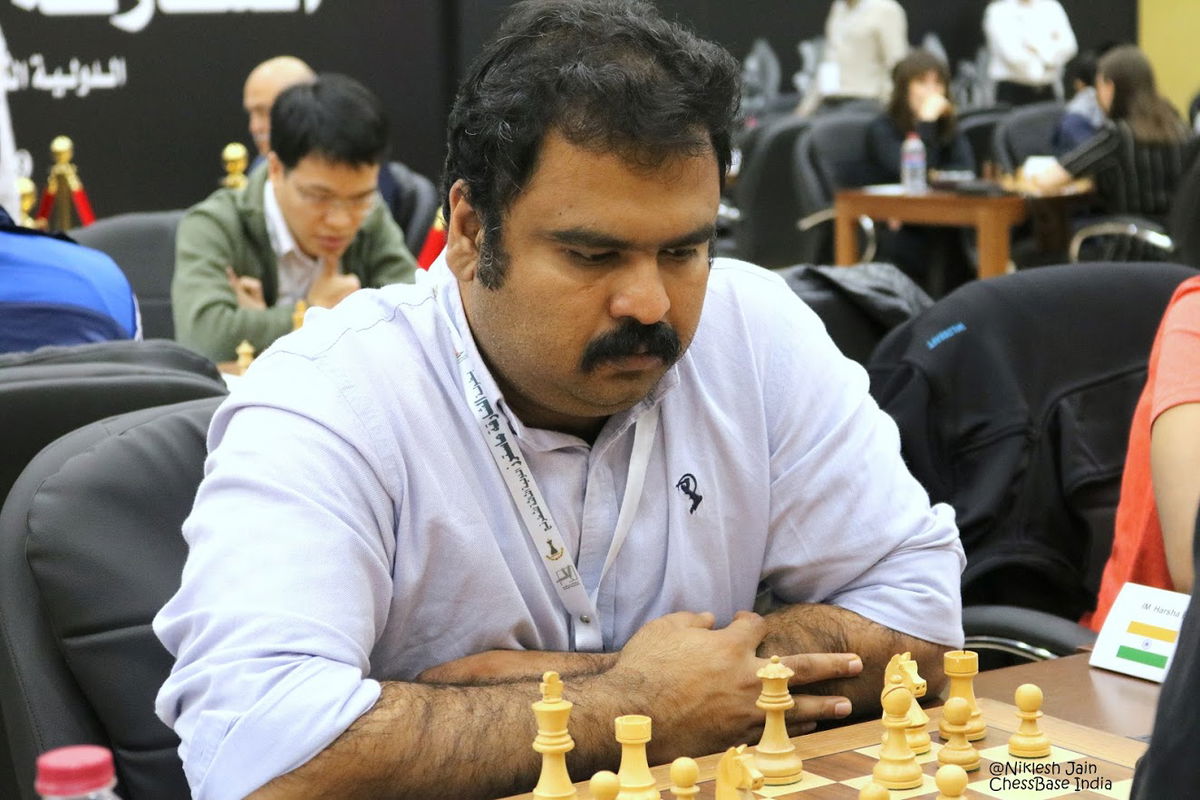 About the organizer of the event - Dr. N Mahalingam Chess Academy
Dr. N Mahalingam Chess Academy was inaugurated on 21st March 2017 by Viswanathan Anand. Since then it has been contributing to the game of chess in various ways, following the path laid by our Founder Dr. N Mahalingam Ayya. The academy has conducted over 20 chess events in the last four years since it was founded. The academy will continue to contribute to the betterment of chess players in every possible way.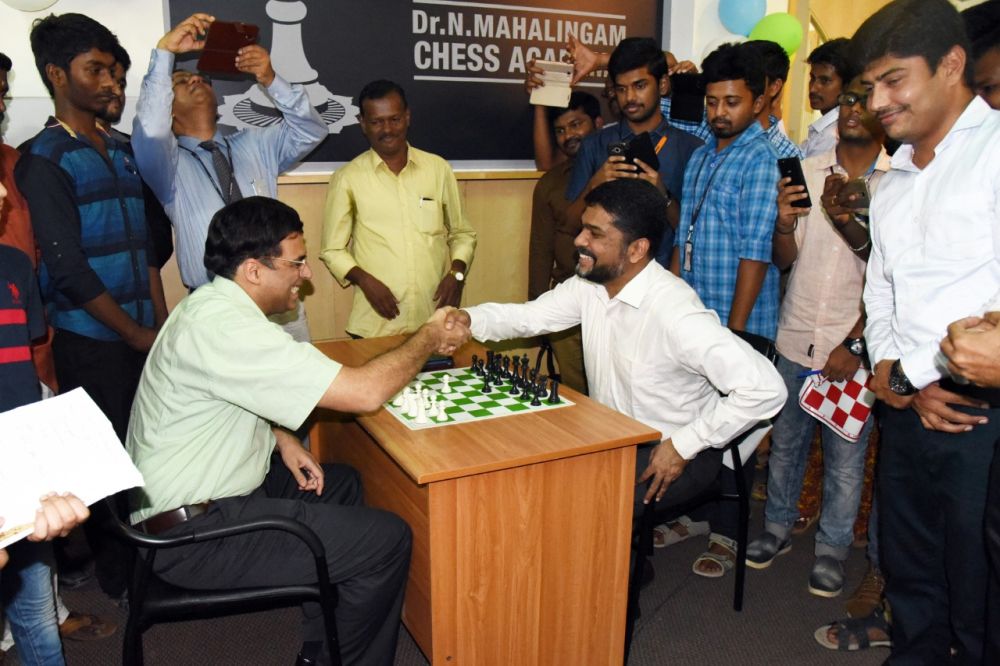 About the Founder
As the way of the king in chess, it is simple yet magnificent and multi-dimensional, Dr.N Mahalingam played versatile roles in his life such as: a great visionary, an elite scholar, an ardent educationalist, a respected nationalist, a zealous traveler, an unrivalled collector of books, a Gandhian, a writer, a philanthropist, a spiritualist, a man of letters, etc. Arutchelvar Ayya as he is affectionately called by everyone, created history by his achievements in rural economic reconstruction and established unmatched leadership in agriculture, public planning and manufacturing sectors through his Sakthi Group of companies. He was the Founder Chairman of the leading educational institution Kumaraguru College of Technology (KCT). Multifaceted Ayya is a passionate chess player and enthusiast as well.
Ayya's Contribution to Chess
Ayya became the President of Tamil Nadu State Chess Association in the year 1975. Ayya, in order to popularize the game among the school students, he took the initiative to include the game in Tamil Nadu State Government's approved lists of games. After which, he succeeded in popularizing the game across the various states of India and the game started to have more inclined and devoted enthusiasts soon. Following then, Ayya also served as the President of All India Chess Federation from 1985 to 1989. During this time he took various strategic and reform measures to improvise the game's popularity among students and other citizens of India. When Mr. D V Sundar, Vice President FIDE, brought to the attention of Dr. N. Mahalingam, that the chess was not included in the list of games, he persuaded the Department of Youth Affairs and Sports Government of India, New Delhi and got it included, in the year 1985.
No draw before 30th move
In all events organized by us, 'Draw offer' before the completion of 30th move is not allowed. If a draw is agreed before the completion of 30th move, the player who offered the draw will be given a loss in that round irrespective of tournament situation. This rule has been enforced to see fighting games on all boards.
Mandatory Zoom Video Call
All players must remain on Zoom Video Call throughout the tournament from 6:15 p.m. IST till the end of the tournament. Players without having their camera turned on during all the games will NOT be eligible for a prize. All players must mention their full name on the Zoom display ID and share their entire screen (not just window only). Zoom link will be sent a day before the tournament, once the entry closes which means after 7 p.m. IST on 20th March 2021.
Contact:
Dr. C Udhaya Shankar
Secretary
Dr. N Mahalingam Chess Academy
Kumaraguru College of Technology, Coimbatore- 641049
chess@kct.ac.in
0422-2661209
Mr. Shahid Ahmed (Tournament director) - 9038139510 (Entry confirmations will be done via site only, no whatsapp/phone call confirmation of entries)
Email - teamchessbaseindia@gmail.com
• We request all players to check their internet connection before the tournament. Minimum requirement is at least 2 mbps wired broadband. No phone calls/messages will be entertained from 5 p.m. IST. All queries must be resolved before 5 p.m. Each player is responsible for their own connection, organizers are not responsible for a player's disconnection.
Anti-Cheating measures
Use of engines is strictly prohibited. All games are being scanned, players are checked through video call. Anyone found adapting any unfair means will be removed from the tournament and all points scored in the tournament will be forfeited. We also have your details and hence you would not be allowed to participate in any future events and your Playchess ID will be banned.
How to play tournament?
Please ensure that you have a valid Playchess id. You can create one here and make sure you are only on a desktop or laptop browser. It is independent of Operating System. Mobile and tablet devices are not allowed.
Login
1. Go to the ChessBase India webroom from any browser.
2. Click on the 'Login' button at the top. If you have already logged in to Playchess, you can skip this step.
Now you have to type your username in the 'Name' field and password in 'Password'. Remember to keep your username/Playchess id short so that it's easy to remember and do not forget your password or share it with anyone. Select 'Login' once you are done typing your login credentials.
Once you are logged in, you will see the following screen:
Remember not to click on 'Return to the main playing hall'. In case you do, you may not get paired in the next round. If you mistakenly click there, the only way to get back is to go to the link - ChessBase India Playchess webroom which we have shared earlier. It is recommended to keep the link copied somewhere just in case you need it.
3. Now wait in the room, the games will start automatically. Do not play practice matches before the tournament or until the next round begins, else you may not get paired for the following round.
4. Do not refresh the browser during the game as it will be considered as a 'Resign' and you will lose. Choose a stable browser so that it does not crash during your game. Also do not refresh the browser after your game, else you may not get paired.
4. Please do not click on 'Video' tab. The video and audio will be checked for anti-cheating measures via 'Zoom' only.
Note: The Playchess ID, while registering and playing the tournament should be the same. Incorrect Playchess IDs will not get paired and last minute changes will not be allowed. So please be careful.
Alternate way to play via Playchess Desktop Client
Those who are familiar with the Playchess Desktop Client can also play from the free software. In case you do not have it yet, download it from here. Note: It is not mandatory to install to play this tournament.
1. Scroll down to the very end of the 'Rooms' tab and locate 'Club Rooms from Web'.
2. Now select 'ChessBaseIndia' under 'Club Rooms from Web'.
3. You should be able to see your username in the 'Players' tab. In this case I can see 'Referee 2' as myself. If it shows 'Guest10325' that means you have not logged in properly. Close the software and log back in again.
About online tournaments on Playchess by ChessBase India:
ChessBase India has organized innumerable online events successfully. Here is some feedback about the quality of the events:
GM D Gukesh, youngest GM of India
I am extremely happy to have participated in my first online blitz tmt conducted by ChessBase India and loved the experience and thrill. from the start to the finish its professionally conducted and got the rare opportunity to play several high-class players in a single event and looking forward for its next event
GM Vaibhav Suri, winner of 2nd ChessBase Online Blitz tournament and Letsup MCA Grand Prix
The tournament was conducted quite smoothly and a quite "fun Sunday" event. The participation of Adhiban & Sethuraman definitely added the spark to the event. I guess an Online Blitz Festival would be the next way to go (with different formats - Chess960, Bughouse, Bullet etc). Overall really happy with such events. Way to go!!
GM Shyam Sundar M, 31st GM of India
It was such a interesting and a unique event. I hope these events happen quite often so that people cannot cheat with computer assistance and are forced to play genuinely. I thank the organising team for making this event happen smoothly :)
GM R R Laxman, former National Blitz Champion
I thank the Chessbase India team once more for their strenous and tireless endeavour to popularise blitz events in India. Considering the fact that the present day time control even in classical format ( unlike the yesteryears) demands quick reflexes and blitz skills , I feel that the entire Chessbase India team is doing an exemplary and praiseworthy job. A boon for Indian chess !!!. Though my performance this time was not satisfactory ,I hope to excel and cherish more pleasant memories from my side in the forthcoming editions of Chessbase India blitz events.
GM Andrey Devyatkin, Russia
What I do find strange is that the share of chess960 tournaments in the great many online chess events held during the Corona crisis has been extremely small. FIDE seems to have lost all the enthusiasm it has demonstrated last year with regard to chess960, whereas other organisers have been either following suit or being habitually conservative, traditional and cautious -- which is quite characteristic for the chess world in general, and sometimes counterproductive at that. But wait... how on Earth can one remember the different rules for castling? Even though it might create great opportunities for our game yet unknown, wouldn't that be too challenging for the modest memory of an ordinary chess player? One has to leave some room for 25-moves analyses in the Najdorf and the Grunfeld, after all...
Meanwhile, whenever a rare prize chess960 event does take place online, it usually brings together many decent players -- which could be seen from this tournament as well -- and gets a very good feedback. So, thank you Chessbase India and Buddhibal Kreeda Trust for breaking the spell of cautiousness and hosting this event!
The tournament was smoothly organised and fun to play. To me it looked no weaker than some open Indian Championship. That said, I think chess960 in general requires longer time controls so its real depth could be revealed, but when it comes to online play and its specificity 3+1 or 3+2 is OK. Also it was nice to know afterwards that the organizers were providing a live commentary.
Let me finish this by quoting Robert Fischer, the great inventor of chess960 (which he himself preferred to call 'Fischerandom'). During his only meeting with Kirsan Ilyumzhinov in 1995, Fischer asked the newly-elected FIDE president: 'Why do you offer people a black and white television set, when there is a set in color?'
Amardeep Bartakke
Very strong tournament and very well orgnized, very happy to play among the strong Grandmasters, looking forward to many more such events
Amit Mahajan
A heartly Thanks to CHESSBASE INDIA Team for organizing this event. It was a great event with exciting chess format. I will adore to play more chessbase India events in the future. Great Initiative, Good luck.
Priti Mahendru, mother of Jaiveer Mahendru
This was our second chessbase online blitz event. My son is 8 years and it was an absolute thrill for him to be playing against titled players ! Thanks a lot for organizing this. We look forward to more such events !
CM Kushagra Mohan
I was happy the way the tournament was conducted. No problems at all. You just keep increasing the prize money and that is a big improvement. Cannot hope for more.
Links
Dr. N Mahalingam Chess Academy
---