IM Mitrabha Guha beats Magnus Carlsen twice within an hour
Before the advent of internet, the only way for a non-elite player to get a chance to fight against the world champion was through a simultaneous exhibition match. Thanks to online chess, these days you can almost play against any top player of your choice and if you are lucky enough, you can play against the world champion, sometimes twice within an hour. On Saturday 3rd April, IM Mitrabha Guha faced the world champion Magnus Carlsen twice and he managed to win against him on both occasions. Photo: Shahid Ahmed and maskenissen live stream
Fun for World Champion becomes a memory for Mitrabha
IM Mitrabha Guha is quite strong in online blitz events which is well documented on our site. He made a GM-norm before becoming an IM. The first time he played against the world champion was in an Ultrabullet 30 seconds each game which went like 1.d4 Nf6 2.Nf3 g6 3.Bg5 h6 4.Nd2 and Mitrabha resigned. Of course one never forgets their first encounter with the world champion but let's be honest, Ultrabullet is anything but chess. So on Saturday April 3rd, while the world champion Magnus Carlsen was casually playing the Blitz Titled Arena April '21 on Lichess and enjoying Liverpoool's victory over Arsenal by 3-0, Mitrabha made the most out of his opportunity.
After finishing his participation in Capablanca 5th Anniversary Online Blitz Open where he finished second, Mitrabha went to play Blitz Titled Arena '21 on lichess. These titled arena tournaments are famous among titled players not because the entry is free and the prize is good but because they get an opportunity to play strong world class opponents and sometimes if you are lucky enough, who knows you might face Magzy Bogues/Dr. Nykterstein - these are the famous aliases of the world champion Magnus Carlsen. This past Saturday, he was Dr. Grekenstein. You can let your imagination or Nordic/Viking knowledge allow you to figure out the reason behind the alias.
"It's always great to play against World Champion Magnus Carlsen whether I win or lose. If I win, it boosts my confidence during Rapid and Blitz games." - Mitrabha on winning twice against Carlsen within an hour in the same event.
Carlsen -Mitrabha, Game 1
Carlsen was having fun as he started the game with 1.f3 followed by 2.Kf2 also known as the infamous Bongcloud opening. Now don't ask me if it is the main line or not, I have absolutely no idea. In the above diagram, after 12...c5, he played 13.Nde2 and said, "Okay, I am in big trouble."
After 16.Kg1, Carlsen was, "Hoping to sort of escape here" but Mitrabha maximized his chances and managed to keep his cool and not make any mistake.
"Okay now focus", chimed Carlsen and played 20.Ng3. Black replied with 20...e3 and then the world champion said, "My position may be lost also may not be lost". Mitrabha won the game in the next seven moves. At the conclusion of the game, the world no.1 said, "Good game" and got back into his troll mode and said a few more words.
You can watch Carlsen's comments during the game
After four more games, Mitrabha got another opportunity to play against the world champion and as fate would have it, this time he got the white pieces. It was one of those days for Mitrabha when you know things just fall into the place for you. Before the game, Carlsen remembered their previous game and got back into his fun troll mode saying, "Okay so this is the guy. The guy with just no etiquette whatsoever. He didn't berserk". Berserk in Lichess means you slash your time by half to get more than the usual points for a win. Of course Carlsen was just messing around!
Mitrabha - Carlsen, Game 2
Carlsen once again started in the same manner with 1...f6 and 4...Kf7 but it did not rattle Mitrabha's confidence as he blitzed out 9.e5 against the world champion in the above diagram. "Playing a little bit different line, because obviously he studied the other line". Of course Carlsen was referring to their previous game and the Bongcloud opening.
After 11...Ng6, Carlsen shared, "Purely positional considerations are not that bad for me. So if I can survive..." before he switched his attention to Liverpool-Arsenal football match which he was watching simultaneously.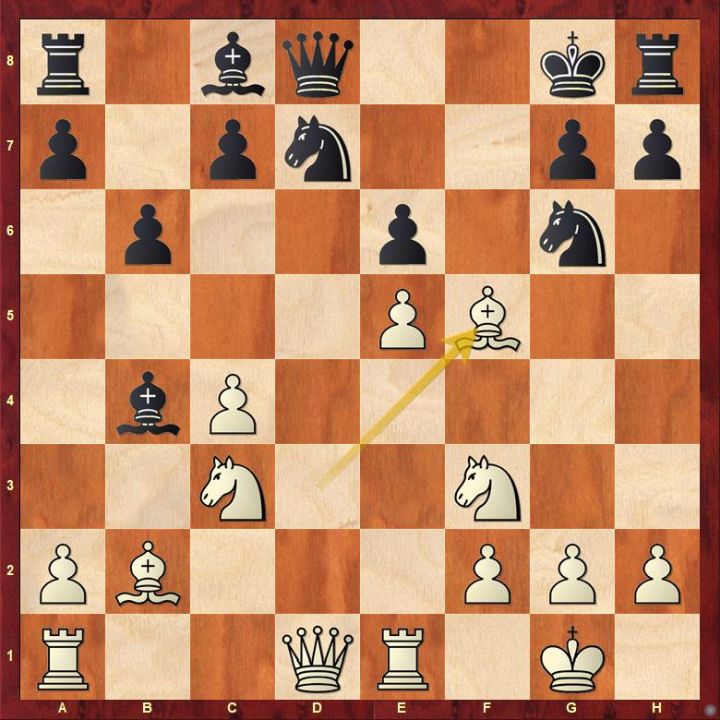 Carlsen missed 13.Bxf5 which he mentioned during the game. He explained to his friends why he could not take on f5. After 13...Qe8 14.Be4 Rb8, the world champion described the events as less than ideal.
After 22.h4, the world no.1 exclaimed, "This is really bad. Now I am probably lost but I will fight".
Find the finish for white after 24...Bb7. Even world champion appreciated white's correct decision with, "Wow! Nice, nice".
Replay Carlsen's comments during the game
That's not all, he beat a lot of strong GMs too - Boris Savchenko, Amin Tabatabei, Maksim Chigaev, Eric Hansen and drew with Alireza Firouzja.
Mitrabha is the only IM to finish in top ten in this event with a ninth place finish. He finished ahead of Firouzja - 11th and Carlsen - 14th. GM Aravindh Chithambaram was the only other Indian in top ten as he secured sixth place.
Links
Carlsen's stream: Part 1 and Part 2
---