The Beautiful Baku
FIDE World Cup and Women's World Cup 2023 inauguration ceremony is just a few hours away from now. We decided to do a short tour of Baku before this important event commences. The author of this article, Shahid Ahmed travelled to Icherisheher as he loves visiting historical places. After reading a lot about must-see places in Baku and getting info from the locals, Icherisheher seemed to be the perfect place to venture. In a little over three hours, he visited The Palace of Shirvanshahs, Guiness World Records award-winning Miniature Book Museum, Maiden Tower and Nizami Street. Let's take a look at what piqued the author's interest on a day when he walked 16230 steps, the longest of the year. Photos: Shahid Ahmed
Exploring Icherisheher
To explore any location on this planet earth, one needs to have maps with them. I downloaded offline google maps but unfortunately it doesn't work. So I had to get a local sim. After going through an underpass three times, I finally managed to get a sim card of the desired network. Since the metro station was nearby, it was the quickest and recommended mode of transport, I decided to take it. However, somehow the machine which worked to allow the purchase of local metro card did not accept my card and I couldn't find an option to turn the default language into English. I asked a fellow traveler to help, he offered me his BakiKart (local metro card) and traveled with me to Icherisheher. He ensured I went to the correct direction before parting ways. His parting gift was BakiKart as he had two. Well, I met a good samaritan and that definitely set a good mood. No wonder I could trudge 16230 steps.
Before venturing into Icherisheher via metro (subway), I visited Genclik Mall, not because I found it in the must-see list of places in the city. I visited because I needed a couple of things including a local sim card.
The video gamer in me couldn't resist bringing you a glimpse of an arcade which had a bowling alley too.
Okay, it's time to exit the mall and go towards Icherisheher (Inner city).
While some may like walking on cobbled street, some may prefer otherwise, I personally really like walking on cobbled street. Maybe it has to do with my childhood fondness towards trams in my city Kolkata, before the tramlines were concretized. Or it has to do with Before trilogy of movies (first two were the best).
As you must have seen before, the streets heading towards The Palace of Shirvanshahs have loads of restaurants on both sides - air-conditioned and open air, a wide variety of choices as per your hearts desire. I generally prefer a quiet one, a restaurant which is not crowded, where visiting their I could make even a tiny bit of difference. I visited Kurban Said and enjoyed my Chicken Tabak which is farm chicken with homemade potatoes, all are fried.
When I travel, I always prefer to have local cuisine. Just to get a taste and understand what the local residents prefer and it is also something I cannot have in my home city.
The QR code and audio symbol are for those who wants to experience everything in detail. Scanning the code allows you to download the app and get audio details at various places wherever the symbol is shown. I haven't tried it as I was short on time and I generally prefer to see things at my own pace.
I finished exploring the entire portion of Palace of the Shirvanshahs in an hour. Next I went to the Miniature Book Museum. I think I first saw it in The Amazing Race, the only reality show I watch because it is really that good.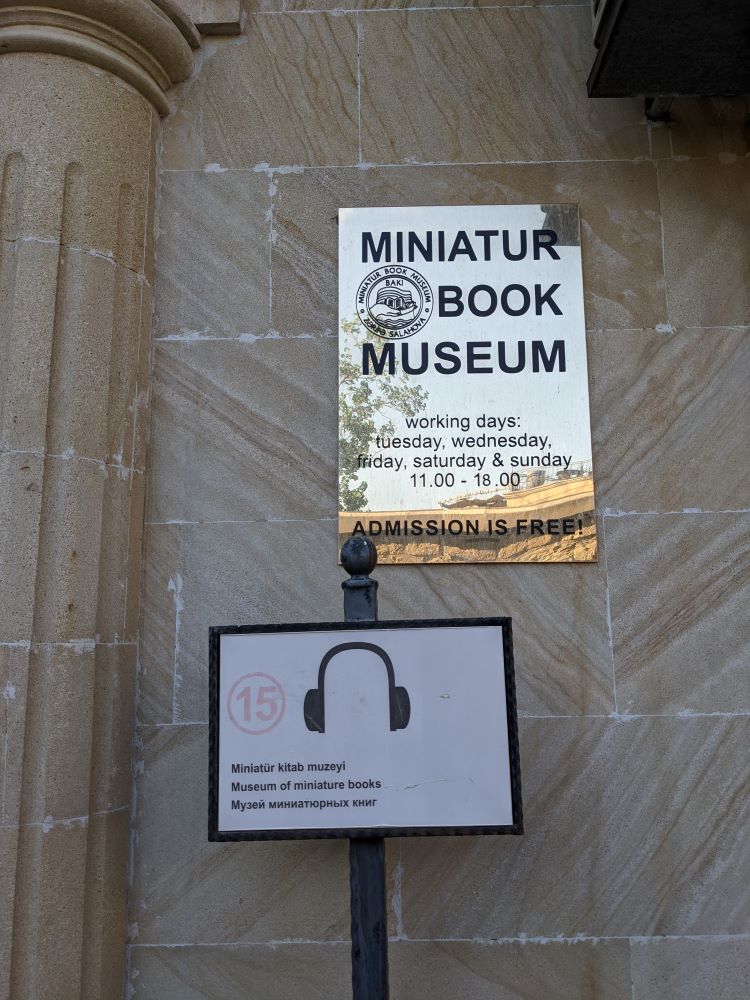 In the Sports and Olympic movement in the mini books section, I found a few chess books by Paul Keres, Vladimir Kramnik and probably Chess Informators too.
My next stop was - Maiden Tower which is again in the vicinity of the previous two places, you can just walk and find it. It is certainly better to check local signs and ask local people than to rely on google maps as it doesn't work properly here, Yandex maps was a bit off too for me.
Can you guess how many levels are there? If you have the time and energy, I would definitely recommend you, dear reader to explore all levels and climb to the very top for a spectacular view of the city. I still do not know if this is the tallest historic place to get a view of the entire city, maybe it is.
Climbing eight floors was definitely worth all the time and energy. My mind momentarily forgot that there were eight floors but the experience was amazing, difficult to describe in words.
My fourth and final destination of the day was - Nizami Street
Nizami street has a lot of shopping and eatery options. From teenagers with their friends to families with their loved ones crowded this place. Friday evening was bound to be crowded as everyone wants to enjoy good food and be in a good mood heading towards the weekend.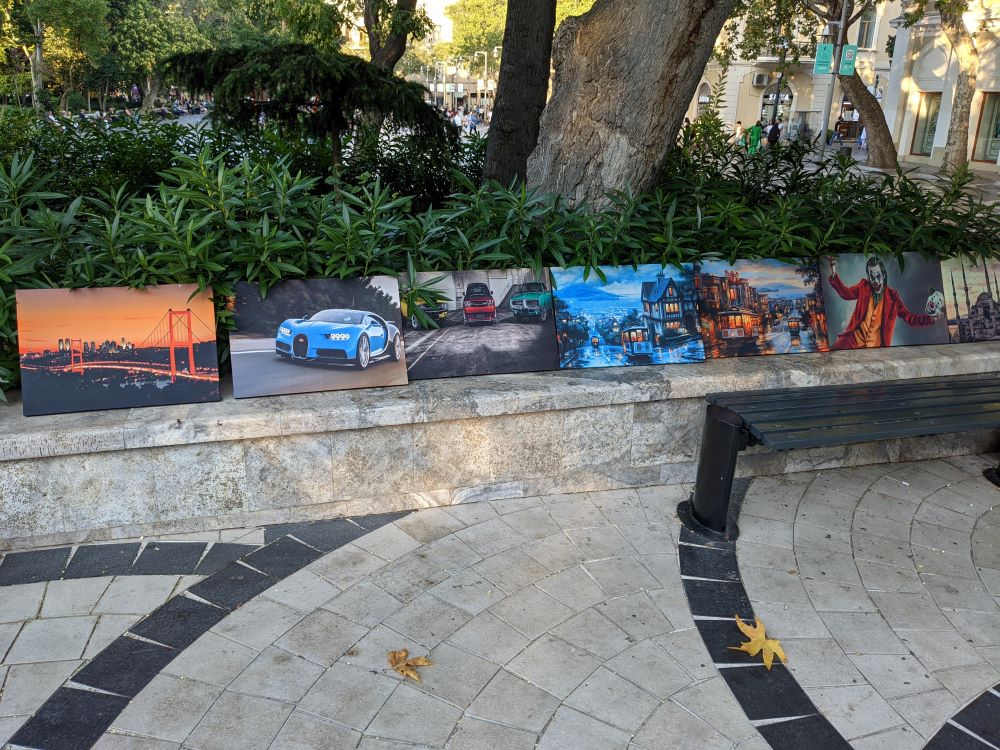 Street art was visible on the Nizami street too
The artwork was amazing, almost photo realistic. One of the above photos have an artwork of the last movie I enjoyed watching at a theater almost four years ago. Can you guess?
Did you like this short trip of Baku? Have you visited any of the above places or after reading, do you feel like visiting this city? Let us know in the comments.
There are certainly more places to visit Baku. This is by no means an exhaustive list of must-see places. If you have suggestions of places to visit or to try various dishes at certain restaurants, please do not hesitate to let us know.
---