FIDE World Cup 2023 R2 TB: Mary knocks out Kateryna Lagno, Vidit and Arjun Erigaisi move to the next round
The two Indians who shined brightly in Round 2 tie-breaks are WGM Mary Ann Gomes and GM Karthik Venkataraman. Yes, Karthik got eliminated by the 'Speed King' GM Hikaru Nakamura. However, the reigning World Fischer Random champion clearly believes that he is underrated, will cross 2600 soon and defended like 2700 by finding only best moves in time pressure. We already knew how strong Karthik is, now the world gets to know. Mary defeated the former three-time World Blitz Women's champion, GM Kateryna Lagno in the second 25'+10" rapid game after she was unable to capitalize on her opportunity in the first tie-break game. GM Vidit Gujrathi and GM Arjun Erigaisi also won their respective tie-breaks to advance to the next round. Round 3 starts tomorrow at 3 p.m. local time, 4:30 p.m. IST. Photos: Shahid Ahmed unless specified otherwise.
Karthik shines even in defeat, Bardiya eliminates Grischuk
The strongest chess couple at FIDE World Cup 2023 - GM Alexander Grischuk and GM Kateryna Lagno got eliminated GM Bardiya Daneshvar (IRI) and WGM Mary Ann Gomes respectively. India now has six players in the Open and five in Women who will play in the third round. A total of 11 Indian players are going to play in Round 3 which is another new record.
Lagno - Mary, Tie-break 2.4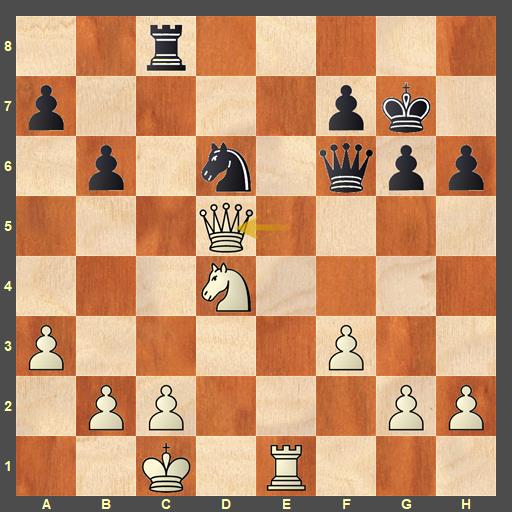 GM Kateryna Lagno (2483) blundered 26.Qxd5?? Her opponent, WGM Mary Ann Gomes (2319) seized her opportunity 26...Rc5. White tried to gain a pawn for the lost knight 27.Ne6+ Qxe6 28.Qxe6 fxe6 29.Rxe6 Nf7 and eventually Mary almost stumbled on her way towards victory, however, Lagno blundered again.
If Black had kept her rook behind the h-pawn, things would have been much easier. Instead, she put the king in front of the pawn which created the opportunity for White to escape with a draw until she blundered 60.Kb7?? Find out the winning continuation for Black which Mary Ann found in the game.
Karthik - Nakamura, Tie-break 2.4
GM Karthik Venkataraman (2562) decided to decline a threefold repetition in the second 25'+10" rapid tie-break game against GM Hikaru Nakamura (USA, 2787). In retrospect, taking the draw might have been a better choice. However, Karthik felt that his position is good, thus he tried which is correct. Because, he won't have to live with the regret of not trying in perhaps the only opportunity he had against the 'Speed King'. After a couple of 34.Bg4 Qh6 35.Bf5 Qh5 36.Bg4 Qh6, Karthik went 37.b5. His courageous decision almost paid off as the reigning World Fischer Random champion made a mistake soon 37.b5 Re7 38.Bc8 Rc7 39.Bf5 Rc4?
Now here White had the computer line 40.Qa1 which would have given him the decisive advantage as Black does not have a good way to defend his back rank problems. 40...Ne8 41.Re1 Nc7 is a machine-like way for Black to stay in the game. As Karthik is human, he missed this opportunity and played 40.Qb6 in time trouble. Things went downhill and Black won the game. One thing is for sure, Karthik stood up firm and held his ground. The world now knows that he is much stronger than his rating and he does not get fazed by Nakamura.
Vidit will face Germany no.3, GM Matthias Bluebaum in Round 3.
Arjun - Azarov, Tie-break 2.6
GM Arjun Erigaisi (2704) won the fourth 10'+10" rapid tie-break after the previous three - two 25'+5" and one 10'+10" rapid games ended in a draw against GM Sergey Azarov (2582). He won the game with a nice queen sacrifice 23.Qxf5+! Black cannot take it as Kxf5 runs into a checkmate 24.Bd3#
Video Gallery
Results after Round 2 Tie-breaks
GM Dimitrios Mastrovasilis (GRE) - GM Vidit Gujrathi: 3.5-4.5
GM Arjun Erigaisi - GM Sergei Azarov: 3.5-2.5
GM Karthik Venkataraman - GM Hikaru Nakamura (USA): 1.5-2.5
GM Kateryna Lagno - WGM Mary Ann Gomes: 1.5-2.5

A total of 81 games were played in the Open and 21 in Women in Round 2 Tie-breaks.
Round 3 pairings
GM Matthias Bluebaum vs GM Vidit Gujrathi
GM R Praggnanandhaa vs GM David Navara (CZE)
GM Arjun Erigaisi vs GM Vladimir Fedoseev
IM Nurgyul Salimova vs WGM Mary Ann Gomes
The remaining Round 3 pairings for the Indian players were revealed on the previous day.
Replay Round 2 TB Open games
Replay Round 2 TB Women games
Links
---