FIDE World Cup 2023 R6.2: Praggnanandhaa forces tie-breaks, Gukesh draws against Carlsen on his exit
R Praggnanandhaa struck back with the black pieces in a must-win game against Arjun Erigaisi. The battle between two good friends at the FIDE World Cup 2023 is not over. Pragg found a nice plan to keep his opponent's rook and bishop trapped in the seventh rank. It allowed him to activate his king and push for win. They will play tie-breaks tomorrow to determine the last semifinalist. D Gukesh played enterprising chess to hold the world no.1, Magnus Carlsen (NOR) to a draw. It certainly drew praise by the best chess player in the world. Vidit Gujrathi had to suffer an exit as he was bested by the fast and furious, Nijat Abasov (AZE). Fabiano Caruana defeated Leinier Dominguez Perez after a nearly 5.5 hour-long grueling battle. Caruana will face the winner of Arjun and Pragg. Aleksandra Goryachkina drew against Zhongyi Tan (CHN) to advance to the Finals of FIDE Women's World Cup 2023. IM Nurgyul Salimova (BUL) held GM Anna Muzychuk (UKR) to a draw. They will have to play tie-breaks. Round 6 TB games start tomorrow at 3 p.m. local time, 4:30 p.m. IST. Photo: Shahid Ahmed
Heartbreak for Leinier and Vidit, Goryachkina in the Finals
Arjun Erigaisi - R Praggnanandhaa and Anna Muzychuk - Nurgyul Salimova are the two tie-breaks to take place tomorrow. An exhausted was just outplayed by the local hero, Nijat Abasov who is in the form of his life. After missing a win yesterday, Leinier Dominguez Perez suffered a tough loss against Fabiano Caruana. As Leko mentioned in the live commentary, the C-Squared podcast has certainly reinvigorated Caruana. So one should just not count him out.
Carlsen - Gukesh: 0.5-0.5
GM Magnus Carlsen (NOR, 2835) mentioned in the post-match interview that his opponent GM D Gukesh (2751) instead of flattening the game at several points, decided to go with more enterprising options. It resulted in worsening his position, eventually it paid off as the world no.1 feels he made a silly mistake of playing 19.Bb5.
Carlsen mentioned that instead of 19.Bb5 putting the bishop literally anywhere other b5 would have kept things better for him and the outcome would have probably been different.
According to the world no.1, "...It was very tough, he started to find a lot of good moves, put a lot of pressure on me. I think if it wasn't for 33.a5 which I think was the key, exchanging some pawns, giving him a lot of options, ways that he could win a pawn but not in a way that I think gives him serious winning chances. It also meant that all my moves until the time control were almost automatic which was of course very important. I was in some time trouble. After that I think there was very little he could do."
Arjun Erigaisi - Praggnanandhaa
GM R Praggnanandhaa (2707) felt that 23.e6 Qf6 24.Be3 Qxe6 25.Qxe6 fxe6 26.Bxa7 was a good decision by White. 26...Ra8 27.Rd7 Kf7 28.a4 Be5 29.Kf1 Black felt that his opponent, GM Arjun Erigaisi (2704) was playing too fast and he probably missed this idea. It virtually trapped his own rook and also kept his bishop stuck at a7 because moving it would mean dropping the a4-pawn.
According to the computer, 38.Kc3? was the final mistake by White as it gave Black a decisive advantage after 38...e4. The game eventually liquidated into a winning queen endgame for Black which he had no trouble in converting.
Abasov - Vidit: 1-0
Before the FIDE World Cup 2023 Quarterfinals match, GM Nijat Abasov (AZE, 2646) had played only two tournament games against GM Vidit Gujrathi (2723). The first one ended in a draw, the second one went in favor of the Azeri last year. After a draw in the first game, Vidit made a bold decision to castle on the queenside. His opponent felt that Black had no other better choice.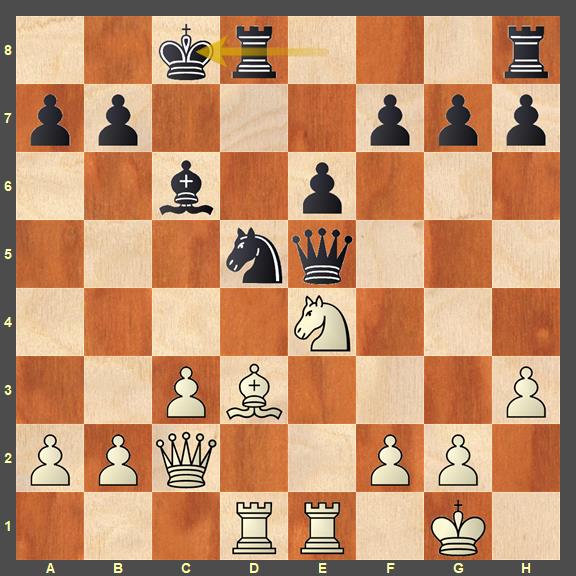 18.Bf1 Kb8 19.Qd2 Vidit went for the human choice Qc7. Computer recommends 19...Nf6 20.Nd6 Ne4 21.Nxf7 Qf6, well it is not easy for a human to play like that. The game continued 20.Nc5 h6 21.c4 Ne7 22.Qc3 Nf5 23.b4 Rxd1 24.Rxd1 Rd8 25.Rxd8+ Qxd8 26.b5 and White went on to win the game with a computer-like precision. If he continues to play like this in the Semifinals, he could give the world no.1 a run for his money.
Out of his dozen Classical games, Nijat has arrived after the start of the round in at least ten games, if the memory serves correctly. As per tournament regulations:
4. 4. 3. A player who arrives in the playing area after the actual start time of his/her game shall have five hundred (500) USD deducted from his/her prize money. A player who arrives in the playing area more than 15 minutes after the actual start time of his/her game shall lose his/her game by default, but without financial penalty.
It means Abasov has nearly lost US $5000 out of the guaranteed US $50000 (in a worst case scenario if he finishes fourth).
Caruana - Leinier
GM Peter Leko during the chess24 live commentary mentioned that he once played a Blitz game against the eight-time Hungarian champion, GM Ferenc Berkes who had a phenomenal performance at the World Cup this year. Leko had a similar endgame where he queen, minor piece and four pawns against Berkes' queen, minor piece and three pawns. He went on to lose the game which he still remembers. GM Leinier Dominguez Perez (USA, 2739) after missing a win in the first game, went for an incorrect pawn push 38...b5. Instead, he needed to go 38...Qc2 39.Bxb6 is met by Nh4+ 40.gxh4 Qg6+ and Black stays in the game. It was obviously quite difficult to find due to less time on the clock. 39.h4 Qd1 40.Qa8+ and Black lost the a5-pawn. 20 moves later, Black made another incorrect pawn push which turned things completely in White's favor. Black continued the fight, however, it turned out to be a lost cause. A tough loss for Leinier who was on the verge of winning against Caruana.
In case anyone missed out on Magnus Carlsen said about Candidates during the chess24 live stream, check out this tweet
Video Gallery
Round 6.2 results
GM Magnus Carlsen - GM D Gukesh: 1.5-0.5
GM Nijat Abasov - GM Vidit Gujrathi: 1.5-0.5
GM Fabiano Caruana - GM Leinier Domiguez Perez: 0.5-0.5
GM Arjun Erigaisi - GM R Praggnanandhaa: 1-1
IM Nurgyul Salimova - GM Anna Muzychuk: 1-1
GM Aleksandra Goryachkina - GM Zhongyi Tan: 1.5-0.5
A total of four games in the Open and two in the Women's event took place in Round 6.2
Prize
The total prize fund is US$ 1834000 in the Open and $676250 in the Women, with the first being $110000 and $50000 respectively.
Replay Round 6.2 Open games
Replay Round 6.2 Women games
Links
---