FIDE World Cup 2023 R4.1: Vidit vanquishes Bacrot, Vincent Keymer beats Magnus Carlsen for the first time
GM Vidit Gujrathi scored a scintillating victory over GM Etienne Bacrot in Round 4.1 of FIDE World Cup 2023. Vidit launched a devastating attack on the kingside by rolling his pawns f4, e5, f5, f6 which yielded him a decisive advantage within the first 20 moves. He needs a draw in the second game to advance to the next round. GM Arjun Erigaisi missed a great opportunity to win in the rook and extra pawn endgame against GM Javokhir Sindarov (UZB). GM R Praggnanandhaa got a great grip in his position against GM Hikaru Nakamura (USA). He loosened it and allowed his opponent to escape. GM Harika Dronavalli survived a lost pawn endgame which was a bit complex, against IM Eline Roebers (NED). Out ofseven Indians, GM Koneru Humpy suffered the sole loss among Indian players, against GM Bella Khotenashvili. Humpy needs to win tomorrow to force tie-breaks. Germany no.1 GM Vincent Keymer defeated the world no.1 GM Magnus Carlsen for the first time in his career. The Norwegian must win tomorrow to force tie-breaks. Round 4 Game 2 starts tomorrow at 3 p.m. local time, 4:30 p.m. IST. Photo: Shahid Ahmed
Arjun misses, Harika makes a narrow escape and Humpy in a must-win situation
GM Arjun Erigaisi missed a huge opportunity in the endgame to beat GM Javokhir Sindarov (UZB). GM Harika Dronavalli survived a lost pawn endgame against IM Eline Roebers. The win was not easy to find.
Vidit - Bacrot: 1-0
The only time GM Vidit Gujrathi (2723) played a rated game against France no.3 GM Etienne Bacrot (2662) was almost eight years ago at World Rapid. Vidit lost that battle as Bacrot was rated higher than him. Things have changed a lot during that time. Vidit went for a 6.Ncb5 surprise in Taimanov opening, something that he implemented successfully against GM Kateryna Lagno at Pro Chess League this summer.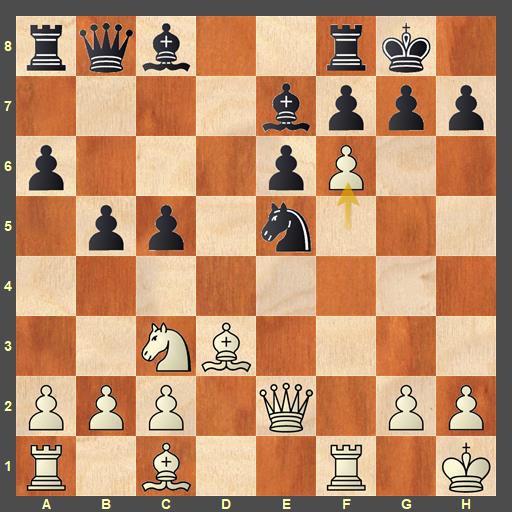 Vidit launched a devastating attack 15.f5! Nxe5 16.f6! Here he felt that 15...Bxf6 is how Black should have played 17.Rxf6 Nxd3 18.cxd3 gxf6 and he couldn't find a concrete way to win. However, Black played 16...gxf6 which gave White a substantial decisive advantage. 17.Bf4 Rd8 18.Rae1 Rd4 19.Bxh7+ Kf8 20.Qh5 and White won the game in another ten moves.
Keymer - Carlsen: 1-0
The Germany no.1 GM Vincent Keymer (2701) has never defeated the world no.1 GM Magnus Carlsen (NOR, 2835) in a rated game. It is well-known that the teenager is a very strong player. Recently, he secured a second place finish at 56th Biel Chess Festival Grandmaster Triathlon 2023. There is no doubt that he was coming into this event with all the moment. He won both of his round 2 and 3 matches in just two games against GM Daniel Dardha (BEL, 2598) and GM M Amin Tabatabaei (IRI, 2696).
White found a nice tactic 23.Nxd5. Keymer's trainer GM Peter Leko (HUN) mentioned during the chess24 live commentary that he also hadn't seen this type of tactical motif before, of course he spotted it within seconds when it occurred. Keymer executed it to restore balance in the position. Nevertheless, it is a beautiful one and something that doesn't happen every day.
36...Nc7? turned things in White's favor as 37.Nd6 guaranteed White a pawn. 37...g6 38.Nxb7 Rb1 39.Nd8 Rb5 40.Rxb5 cxb5 41.Nc6 Ke8 here Keymer felt Black should have Nd5 as it led to a complex line.
In the above position, Leko and GM Daniel Naroditsky (USA) were discussing an interesting line 49.d5 f5 50.gxf6 Nxf6 51.e5+ Kxd5 52.exf6 Ke6 which leads to a draw. Of course, White is not forced to play it and Keymer saw it. So he went with 49.Ke3 and won the game in another nine moves.
Nakamura - Praggnanandhaa: 0.5-0.5
GM Hikaru Nakamura (USA, 2787) has played four rated games against GM R Praggnanandhaa (2707). All of them were Blitz games and at Tata Steel Chess India in 2018 and 2022. They drew the first two of them and the World Fischer Random champion won the next two. Praggnanandhaa is yet to beat the 'Speed King'. Today, he got a positional advantage in the middle game.
The computer suggests White to go 20.b4 here to prevent Black from doing the same. 20...cxb4 21.Qd2 Bg4 22.Kh1 and the position is balanced. However, 20.Qd2 immediately allowed Black to get b4. After few moves Black decided to move his knight out of d4 and exchange it with the bishop at f4. It loosened Black's firm grip of the position. Things soon turned into White's favor before it ended in a draw.
Sindarov - Arjun: 0.5-0.5
The last three encounters between GM Javokhir Sindarov (UZB, 2659) and GM Arjun Erigaisi (2704) ended in Arjun winning all three. They were two rapid and one blitz game. Their only two Classical games with the last one taking one taking place at the 44th Chess Olympiad, also ended in a draw. Arjun had a great opportunity to register his first win over the Olympiad Gold medal winning Uzbek in a Classical rated game. However, he missed his chance.
White made an incorrect en passant 47.hxg6? which completely shifted things in Black's favor after Rxg6 48.Kf2 Rxd3 49.Rbxb3 Rxc3 50.Rxc3 Kc6. The resultant rook and many pawns endgame gave Black a decisive advantage due to having an extra pawn.
Black had a critical decision to make. Where should he move his king - Queenside or Kingside? This decision became critical in the outcome of the game.
Eline - Harika
The major piece endgame liquidated into a pawn endgame which was winning for White. It was not easy to spot 47.f4 to be winning for White. The game continued 47.Kf2 d5? 48.c5! White just sidesteps away from the problems. 48...Kd7 49.Ke2 Kc6 now 50.f4 is winning. However, 50.Kd3 is a draw. Find out the key difference between them.
Video Gallery
Round 4.1 results
GM D Gukesh - GM Andrey Esipenko: 0.5-0.5
GM Javokhir Sindarov (UZB) - GM Arjun Erigaisi: 0.5-0.5
GM Hikaru Nakamura (USA) - GM R Praggnanandhaa: 0.5-0.5
GM Ian Nepomniachtchi - GM Nihal Sarin: 0.5-0.5
GM Vidit Gujrathi - GM Etienne Bacrot (FRA): 1-0
GM Koneru Humpy - GM Bella Khotenashvili (GEO): 0-1
IM Eline Roebers (NED) - GM Harika Dronavalli: 0.5-0.5
A total of 16 games in the Open and eight games in the Women's section took place in Round 4.1
Replay Round 4.1 Open games
Replay Round 4.1 Women games
Links
---