FIDE World Cup 2023 R5.1: Gukesh beats Hao, now World no.7, Arjun also scores a victory
GM D Gukesh defeated the China no.4 GM Hao Wang to become the World no.7 in live ratings. The 17-year-old seized his opportunity when the Chinese made an incorrect rook retreat in the endgame. GM Arjun Erigaisi also won his game. He scored the full point against the Sweden no.1 GM Nils Grandelius. Arjun won a balanced rook and knight endgame when his opponent made a slight inaccuracy which was certainly not easy to defend practically. Praggnanandhaa, Vidit and Harika drew their respective games Ferenc Berkes (HUN), Ian Nepomniachtchi and Aleksandra Goryachkina respectively. Vidit had a nice initiative in the middlegame. However, he could not make the most out of the sliver of opportunity. Round 5.2 games start tomorrow at 3 p.m. local time, 4:30 p.m. IST. Photo: Shahid Ahmed
Vidit, Praggnanandhaa and Harika draw their games
Magnus Carlsen (NOR), Gukesh, Nijat Abasov (AZE), Leinier Dominguez Perez (USA), Arjun Erigaisi, Nurgyul Salimova (BUL), Zhongyi Tan (CHN) were the victors of Round 5.1. Their opponents Vasyl Ivanchuk (UKR), Hao Wang (CHN), Salem Saleh (UAE), Alexey Sarana (SRB), Nils Grandelius (SWE), Polina Shuvalova and Bella Khotenashvili (GEO) are in a must-win situation to stay in the event by forcing tie-breaks.
Hao - Gukesh
GM Hao Wang (CHN, 2699) made an incorrect retreat 29.Rd4? It allowed Gukesh to rapidly bring his pieces to come to the aid of the c4-passed pawn and use it to his advantage. 29...Ne6 30.Rb4? Rd7 31.Ne3 fxe4 32.fxe4 Rd3 33.Bf2 Nf4 34.Rc2 Rd2 35.h3 Nd3 36.Rxd2 cxd2 37.Rd4 Rc1+ 38.Kh2 Nxf2 and White resigned.
Grandelius - Arjun: 0-1
The last Classical battle between the Sweden no.1 GM Nils Grandelius (2683) and GM Arjun Erigaisi (2704) was won by the former at 28th TePe Sigeman & Co., a little over three months ago. Arjun obviously remembered it as he mentioned it in the last interview. It was time for him to settle that score.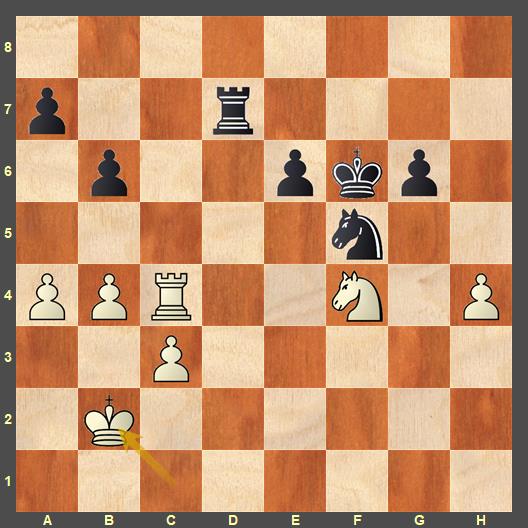 In a seemingly balanced rook and knight endgame, White made a slight inaccuracy 42.Kb2? Black had no trouble seizing his chance 42...Nxh4 43.Rc6 Nf3 44.a5 Ne5 45.Rc8 was the only move for White. However, he decided to sacrifice an exchange 45.Rxe6+ Kf5 and it was over in no time.
Carlsen - Ivanchuk: 1-0
The last over-the-board rated game between GM Magnus Carlsen (NOR, 2835) and GM Vasyl Ivanchuk (UKR, 2672) took place over six years ago in Leuven, Belgium. It was in rapid and blitz format. Their last Classical encounter was in 77th Tata Steel A in 2015. So more than eight and a half years later, they faced each other at this World Cup in pre quarterfinals.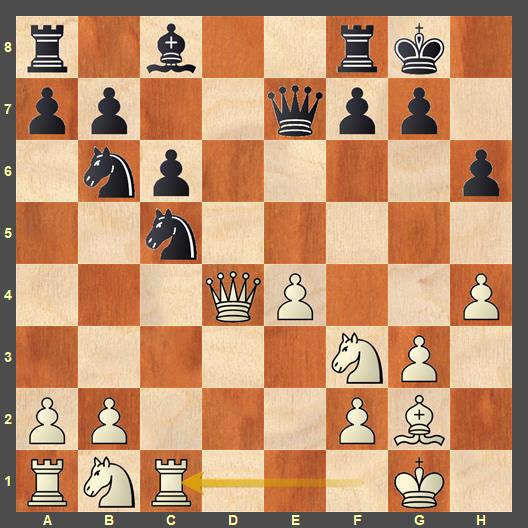 Carlsen offered his e4-pawn as a sacrifice. His opponent, the legend, decided against taking it. 17...Nxe4 would have been fine for Black as 18.Re1 is met with f5. The game continued 17...Na6 18.Nbd2 Bg4 19.Bf1 Rad8 20.Qe3 Nc7 21.a4 Nc8 22.a5 Bxf3 was uncalled for. Computer recommends 22...Rfe8. The exchange actually helped White due to the fact that Black got rid of one of his most active pieces and White just got more room to move his pieces around. The world no.1 slowly outplayed the legend positionally and won the game.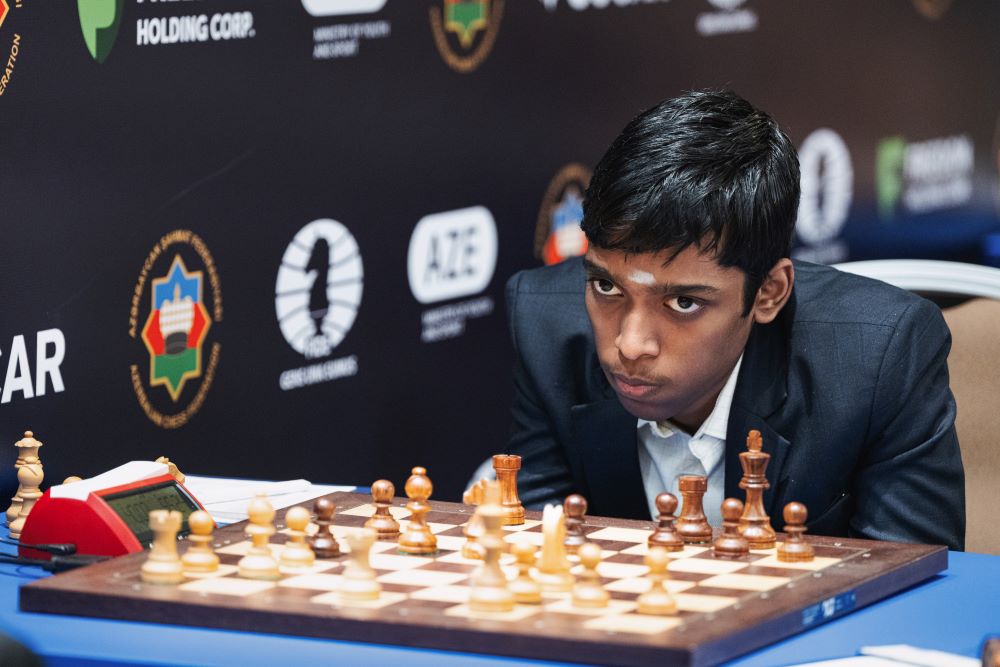 Vidit - Nepomniachtchi
Vidit's (2723) aggressive play earned him a good initiative against Nepomniachtchi (2779). However, he was unable to make the most out of his opportunity. White needed to go 20.a4 followed by Bb2 here. Instead, he went 20.Bb2 first which allowed his opponent to bring his queen to a4 and prevent White from moving the pawn to same square. Soon the game ended in a draw in another eleven moves.
Leinier - Sarana: 1-0
Both GM Leinier Dominguez Perez (USA, 2739) and GM Alexey Sarana (SRB, 2685) went into the match with a unbeaten streak at this event. The latter is yet to play a single tie-breaks. However, this loss puts him in a must-win situation tomorrow and force tie-breaks.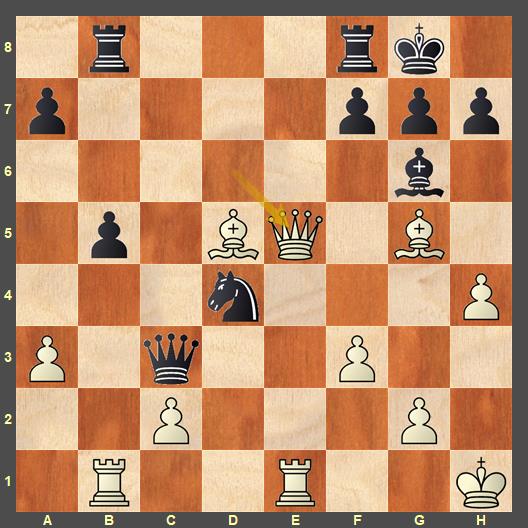 Sarana went 21...b5. His opponent who has an impeccable calculation skills went 22.Qe5! Rbc8 23.h5 Bxc2 24.Re3 Qc5 25.Be7 and White went on to win the game.
Video Gallery
Round 5.1 results
GM Hao Wang (CHN) - GM D Gukesh: 0-1
GM Vidit Gujrathi - GM Ian Nepomniachtchi: 0.5-0.5
GM Nils Grandelius (SWE) - GM Arjun Erigaisi: 0-1
GM Ferenc Berkes (HUN) - GM R Praggnanandhaa: 0.5-0.5
GM Aleksandra Goryachkina - GM Harika Dronavalli: 0.5-0.5
A total of eight games in the Open and four in the Women's event took place in Round 5.1
Prize
The total prize fund is US$ 1834000 in the Open and $676250 in the Women, with the first being $110000 and $50000 respectively.
Replay Round 5.1 Open games
Replay Round 5.1 Women games
Links
---