FIDE World Cup 2023 R5.2: Gukesh to face Carlsen in the Quarterfinals
For the first time in FIDE World Cup history, India has three players - D Gukesh, R Praggnanandhaa and Arjun Erigaisi, in the Quarterfinals. This is the highest ever so far. However, the number can increase to four if Vidit Gujrathi wins his tie-breaks tomorrow against Ian Nepomniachtchi. The total number of Indians in Round 6 can become five. GM Harika Dronavalli has to win her tie-breaks against GM Aleksandra Goryachkina. Local hero, Nijat Abasov (AZE) defeated the UAE no.1 Salem Saleh. He will face the winner of Vidit and Nepomniachtchi. Gukesh drew against Hao Wang (CHN) which means Gukesh will face Magnus Carlsen in the Quarterfinals. Round 5 TB games start tomorrow at 3 p.m. local time, 4:30 p.m. IST. All photos are by Maria Emelianova/chess.com unless stated otherwise
Vidit and Harika to play tie-breaks, new World Cup winners are guaranteed to be crowned
At least one Indian is guaranteed to play FIDE World Cup 2023 Semifinals due to the fact that Praggnanandhaa and Arjun Erigaisi are facing each other in the Quarterfinals. Apart from them and Gukesh, Vidit Gujrathi also has an opportunity to advance to the Quarterfinals. Harika Dronavalli can advance to the Semifinals. Since Jan-Krzysztof Duda (POL) got eliminated by Fabiano Caruana (USA), we are guaranteed to get a new World Cup winner in this edition. The tenth FIDE World Cup is poised for a historic finish
Praggnanandhaa - Berkes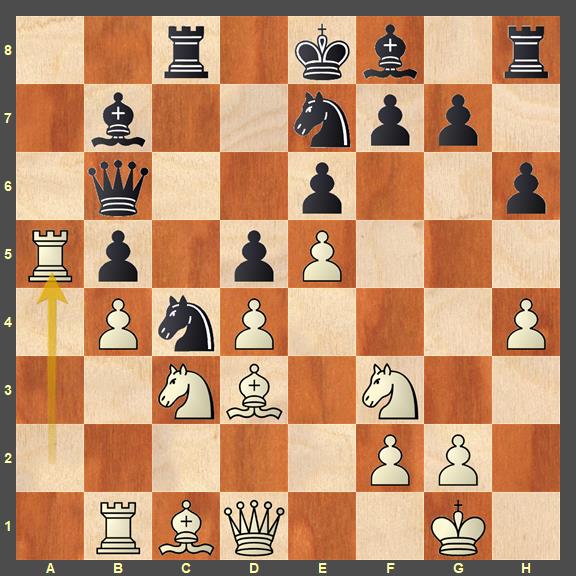 GM R Praggnananadhaa (2707) made a beautiful exchange sacrifice 20.Ra5! Black did not take it. Taking it would have probably ended things much earlier 20...Nxa5 21.bxa5 Qxa5 22.Nxb5 and White has more than enough compensation due to black king being vulnerable at the center of the board. GM Ferenc Berkes (HUN, 2615) decided against accepting the exchange sacrifice. The game continued 20...Bc6 21.Qe2 g6 22.Rba1 Nf5 23.Ra6 Qd8 24.g4 Nxh4 25.Nxh4 Qxh4 26.Bxc4 bxc4 27.Rxc6 Rxc6 28.Ra8+ and White went on to win the game eventually.
Duda - Caruana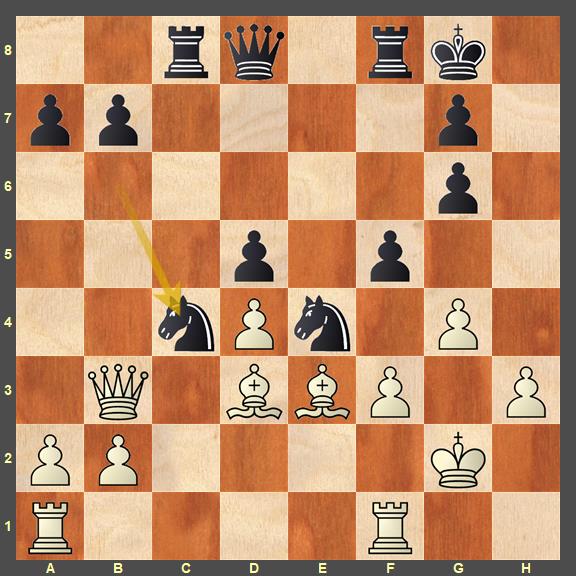 GM Fabiano Caruana (USA, 2782) played an excellent move 19...Nc4! The correct way to diffuse the knights would have been 20.Bxc4 dxc4 21.Qa3. However, the defending World Cup winner, GM Jan-Krzysztof Duda (POL, 2732) made the incorrect exchange 20.Bxe4 fxe4 21.fxe4 Rxf1 22.Rxf1 dxe4 and soon the g6-pawn moved to f-file after an exchange of minor pieces. The newly formed connected e and f-pawns became too strong for White to overcome.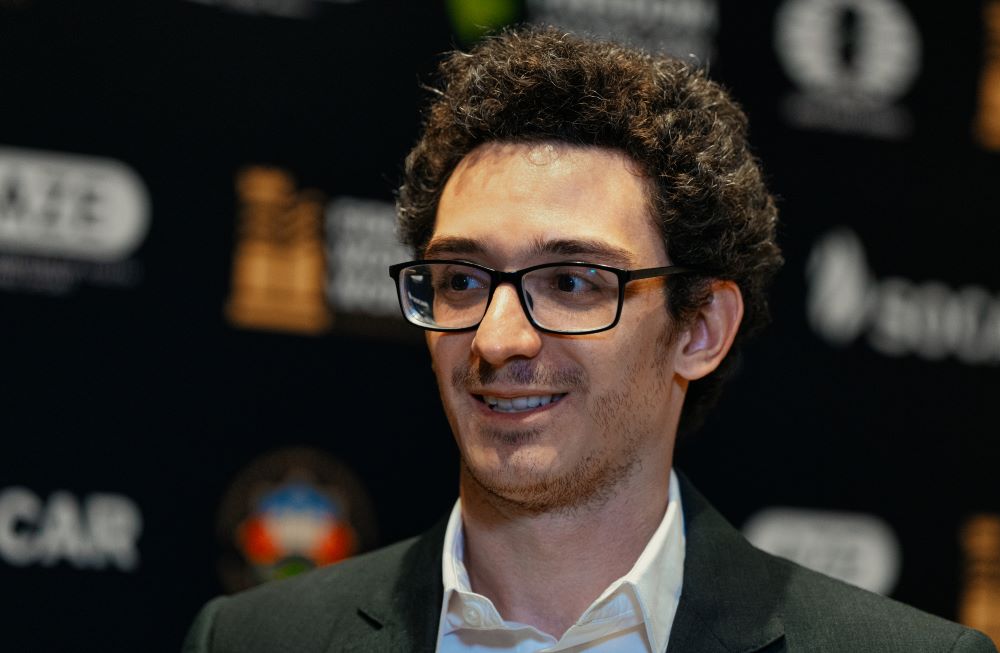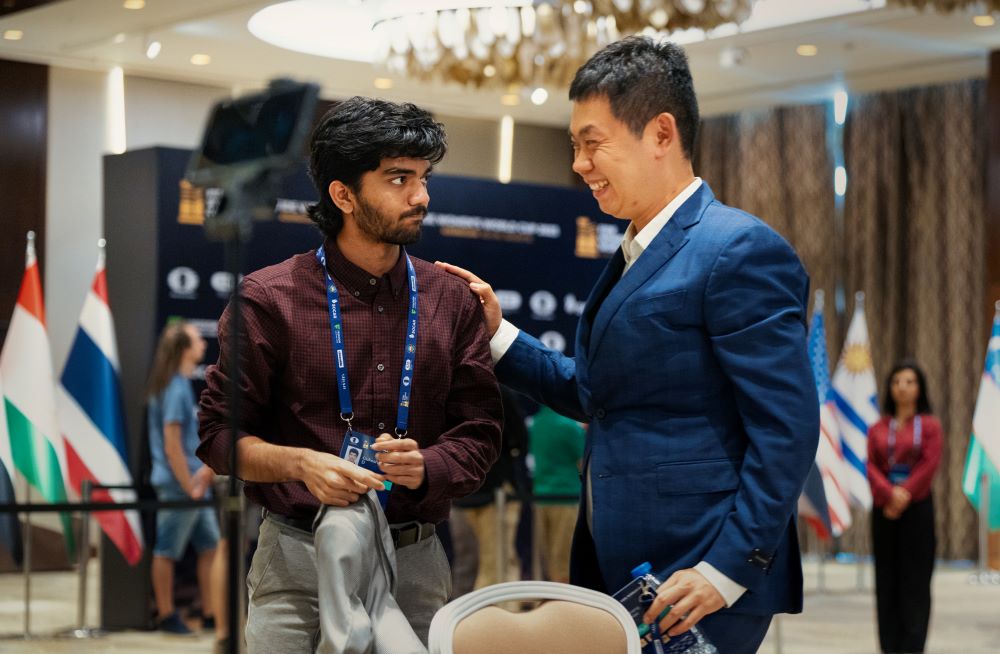 Elisabeth - Anna
GM Elisabeth Paehtz (GER, 2471) blundered 41.Kh5?? Instead, 41.f7 Ke7 leads to a comfortable draw for White. Her opponent, GM Anna Muzychuk (UKR, 2504) replied correctly 41...Kxf6 42.Kxh6 a4 43.h4 now Black needed to play b4 to win the endgame. 43...Ke7? evaporated Black's chances and the game ended in a draw.
Video Gallery
Results after
GM Hao Wang (CHN) - GM D Gukesh: 0.5-1.5
GM Vidit Gujrathi - GM Ian Nepomniachtchi: 1-1
GM Nils Grandelius (SWE) - GM Arjun Erigaisi: 0.5-1.5
GM Ferenc Berkes (HUN) - GM R Praggnanandhaa: 0.5-1.5
GM Aleksandra Goryachkina - GM Harika Dronavalli: 1-1
A total of eight games in the Open and four in the Women's event took place in Round 5.2
Prize
The total prize fund is US$ 1834000 in the Open and $676250 in the Women, with the first being $110000 and $50000 respectively.
Replay Round 5.2 Open games
Replay Round 5.2 Women games
Links
---