Magnus Carlsen advances to his first FIDE World Cup Finals, set to face Caruana or Praggnanandhaa
R Praggnanandhaa once again passed the Fabiano Caruana (USA) test. He had to defend his position against the American, who is still undefeated at FIDE World Cup 2023. Caruana was pushing for a full point from the middlegame. It eventually liquidated into a rook and knight endgame where the teenager once again had to show his best defensive skills. Magnus Carlsen (NOR) was royally upset that he could not beat Nijat Abasov (AZE). Things almost went out of hand in the same color bishop endgame. Carlsen eventually drew the game with precise play and advanced to the Finals of a World Cup for the very first time in his career. Anna Muzychuk (UKR) drew against Zhongyi Tan (CHN) to win the match, secure a Bronze medal and a spot at the FIDE Women's Candidates 2024. Caruana and Praggnanandhaa will have to play tie-breaks. Who do you think will win it and face Carlsen in the Finals? Round 7 tie-break games start tomorrow at 3 p.m. local time, 4:30 p.m. IST. Photos: Shahid Ahmed
Nurgyul misses a great chance, Anna Muzychuk wins Bronze and secures Candidates 2024 spot
Abasov - Carlsen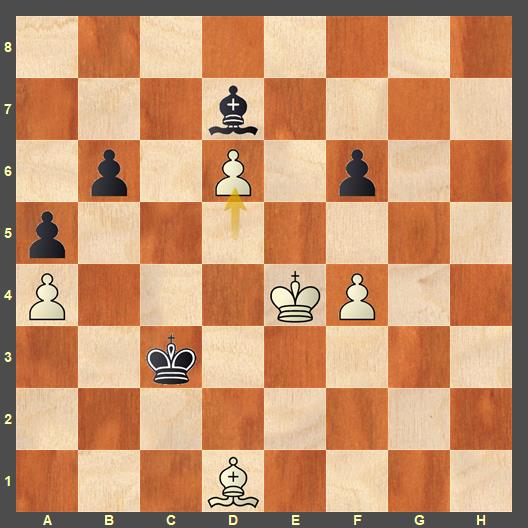 It seemed like the game will end in a quiet draw in the same color bishop endgame. GM Magnus Carlsen (NOR, 2835) kept pushing and declined draw via repetition. Well, his opponent GM Nijat Abasov (AZE, 2646) found a nice move 56.d6. Black is forced to play Kc4 as Kb4 loses to the same trick 57.Bg4. Try to find out the difference. The game continued 57...Bc6+ 58.Ke3 Bxa4 59.d7 Bxd7 60.Bxd7 b5 and the game eventually ended in a draw.
Praggnanandhaa - Caruana
Once again, R Praggnanandhaa (2707) had to defend against Fabiano Caruana (USA, 2782). The game reached to a rook, knight and few pawns endgame where Pragg had to play precisely to ensure the match goes into tie-breaks and it did.
Nurgyul - Goryachkina
After gaining the h6-pawn, IM Nurgyul Salimova (BUL, 2403) gained a substantial advantage against GM Aleksandra Goryachkina (2557). In the above position, White needed to go 43.Nxe3 fxe3 44.Rd5 Nge6 45.Re5 and White would have maintained her upper hand. The game continued 43.gxf4 gxf4 44.Nxe3 fxe3 the difference being, Black getting rid of one more weakness at g5. Some more inaccuracies later, Black managed to equalize and White had to defend a rook vs rook and knight endgame for 50 moves. The game ended four moves before the draw happened by 50 moves. Nurgyul managed to survive which means she will have to play tie-breaks tomorrow.
Video Gallery
Results after Round 7.2
GM Magnus Carlsen (NOR) - GM Nijat Abasov (AZE): 1.5-0.5
GM Fabiano Caruana (USA) - GM R Praggnanandhaa: 1-1
GM Aleksandra Goryachkina - IM Nurgyul Salimova (BUL): 1-1
GM Anna Muzychuk (UKR) - GM Zhongyi Tan (CHN): 1.5-0.5
A total of two games in the Open and two in the Women's event took place in Round 7.2
Prize
The total prize fund is US$ 1834000 in the Open and $676250 in the Women, with the first being $110000 and $50000 respectively.
Replay Round 7.2 Open games
Replay Round 7.2 Women games
Links
---