FIDE World Cup 2023 R3.1: Praggnanandhaa scores the sole win among the Indians, against David Navara
Only one out of eleven Indians, have won their first game of FIDE World 2023 Round 3. GM R Praggnanandhaa defeated GM David Navara with some beautiful knight maneuver. It was a tough day for the Indian women. IM Divya Deshmukh, IM Vaishali R and WGM Mary Ann Gomes, all three of them suffered a loss against GM Aleksandra Goryachkina, GM Mariya Muzychuk (UKR) and IM Nurgyul Salimova (BUL) respectively. The all-Indian battle between S L Narayanan and Gukesh ended in a draw. The Italy no.1 GM Daniele Vocaturo defeated former World Rapid champion, GM Daniil Dubov. His rook sacrifice did not yield the desired result. Round 3.2 starts tomorrow at 3 p.m. local time, 4:30 p.m. IST. Photos: Shahid Ahmed unless specified otherwise.
Vocaturo stuns Dubov
It was GM R Praggnanandhaa's first-ever Classical rated game against GM David Navara (CZE). The teenager certainly is moving up the ladder.
Carlsen - Tari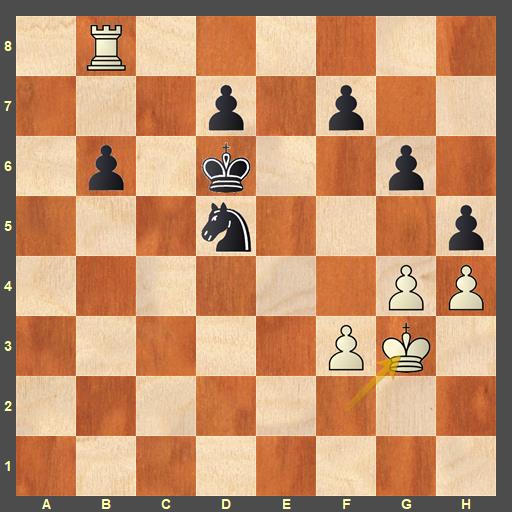 GM Magnus Carlsen (NOR, 2835) thought the rook vs knight endgame should have been draw. However, it's no easy. His opponent, GM Aryan Tari (NOR, 2629) had a lot of choices but eventually he went wrong. Find out the correct plan for Black to save the game.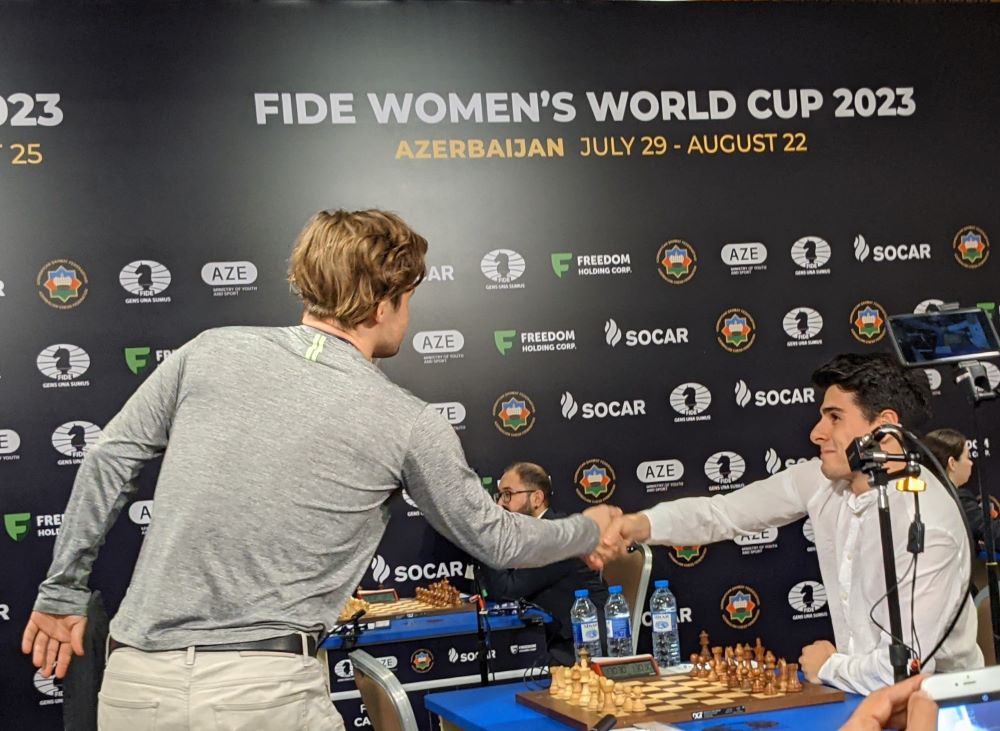 The world no.1, Magnus Carlsen is sporting a belt. It can only be just a fashion simply or a subtle way of saying, he wants to add another notch to his belt.
Caruana - Yilmaz
The newly turned 31-year-old, GM Fabiano Caruana (USA, 2782) missed a great opportunity to beat the Turkey no.1, GM Mustafa Yilmaz (2634) in the rook and same colored bishop endgame. He played 32.a6? when he should have gone for 32.Rxc6! bxc6 33.a6 and he would have won the game.
Bluebaum - Vidit
GM Matthias Bluebaum's (GER, 2670) incorrect 49.g4 break increased his opponent GM Vidit Gujrathi's (2719) chances. Black needed to move the king towards kingside 49...Kf6 which would maintained White's advantage. 54...Kd5 eveuntally allowed White to save the game.
Dubov - Vocaturo
Does the rook sacrifice work? Former World Rapid champion, GM Daniil Dubov (2716) sacrificed his rook 29.Nc5. However, the creative genius could find a way to make it work as he went 29...Qxb1+ 30.Kg2 Qd1 31.Nb7+ Ke7 now White needed to go 32.Qc5+ instead of Qxc7 to salvage a draw.
Praggnanandhaa - Navara
After a lot of back and forth knight maneuvering, on the 40th move, Czech Republic no.1, GM David Navara (2695) erred against GM R Praggnanandhaa (2707). 40...Ng5? was the mistake which his opponent easily capitalized 41.Nfxe5 Nxe5 42.Rf2+ Nef3 43.Nd2 Rg8 44.Nxf3 Nxf3 45.Rxf3+ and White went on to win the game.
An interview with GM Daniel Vocaturo and GM R Praggnanandhaa will be published soon. stay tuned!
Goryachkina - Divya
GM Aleksandra Goryachkina's (2557) style is simple. She does not do anything extraordinary, just makes simple moves and waits for her opponent to make a mistake which is what happened in the game. IM Divya Deshmukh (2372) made a minute inaccuracy 16...Nd7 which her opponent capitalized on 17.Nxa5 Bxc5 18.Nxb7 Bxb7 19.Nxd7 Rxe1+ 20.Bxe1 Qxd7 21.Bxb7 Re6 22.Be4 Ra6 23.b4 Bf8 24.b5 Nc5 25.Bc6 Rxc6 26.bxc6 Qxc6 27.a5 Qa6 28.b4 and White won the game.
Anna Ushenina - Anna Muzychuk
GM Anna Muzychuk (UKR, 2504) showed excellent resiliency against GM Anna Ushenina (UKR, 2434). Despite being lost for the better part of the endgame, Muzychuk kept fighting and eventually it paid off. White needed to play 52.Rh5 to win the game. However, 52.h7 allowed Black to save a crucial half point by executing perpetual checks 52...Rb1+ 53.Kf2 Rb2+ 54.Kg1 Rb1+ 55.Kg2 Rb2+ 56.Kg1 Rd1+ and it was a draw.
Interviews with the Italy no.1 GM Daniele Vocaturo and GM R Praggnanandhaa will be published soon.
Video Gallery
Round 3.1 results
GM S L Narayanan - GM D Gukesh: 0.5-0.5
GM Matthias Bluebaum (GER) - GM Vidit Gujrathi: 0.5-0.5
GM Arjun Erigaisi - GM Vladimir Fedoseev (SLO): 0.5-0.5
GM Bogdan Daniel Deac (ROU) - GM Nihal Sarin: 0.5-0.5
GM R Praggnanandhaa - GM David Navarad (CZE): 1-0
GM Aleksandra Goryachkina - IM Divya Deshmukh: 1-0
IM Olga Badelka - GM Koneru Humpy: 0.5-0.5
WGM Mary Ann Gomes - IM Nurgyul Salimova: 0.5-0.5
GM Mariya Muzychuk (UKR) - IM Vaishali: 1-0
GM Harika Dronavalli - IM Lela Javakhishvili: 0.5-0.5
A total of 32 games were played in the Open and 16 in Women in Round 3.1
Replay Round 3.1 Open games
Replay Round 3.1 Women games
Links
---