FIDE World Cup 2023 R5 TB: Fiery Vidit Gujrathi blazes Ian Nepomniachtchi
Vidit Gujrathi has become a part of history again. Back in FIDE World Cup 2021, Vidit became the first Indian to reach the farthest in a World Cup. This time he defeated the two-time World Championship Challenger, Ian Nepomniachtchi, to reach the Quarterfinals again. Thus, India now has four players in the Quarterfinals of FIDE World Cup 2023. Vidit will face GM Nijat Abasov (AZE) who is having a phenomenal event. GM Harika Dronavalli's must-win heroics in the second 25'+10" did not turn out to be enough. She lost the first 5'+3" game and drew the next to get eliminated by GM Aleksandra Goryachkina. IM Nurgyul Salimova (BUL) knocked out IM Polina Shuvalova and GM Anna Muzychuk (UKR) won a long back and forth tie-breaks against GM Elisabeth Paehtz (GER). Round 6.1 games start tomorrow at 3 p.m. local time, 4:30 p.m. IST. All photos are by Maria Emelianova/chess.com
Vidit advances to the Quarterfinals for his second consecutive World Cup
The last time Vidit Gujrathi defeated Ian Nepomniachtchi in a rated game was back in 2017 at World Rapid. Well, this time also he won in a Rapid game at a grand stage. The only difference is he won it twice and advanced to the next stage of FIDE World Cup 2023. The man who created history in Indian chess in the previous edition has once again etched his name in a bigger one.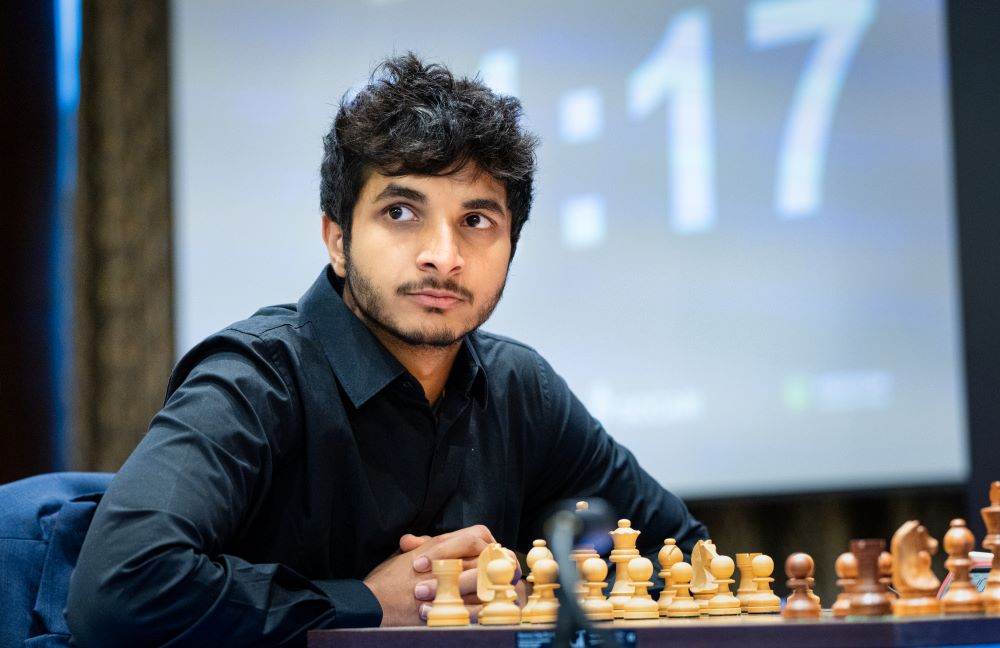 Nepomniachtchi - Vidit, Tie-breaks 5.5
After two solid draws, GM Vidit Gujrathi (2723) got his first opportunity in the 10'+10" Rapid game against GM Ian Nepomniachtchi (2779) when the latter made a mistake of playing 25.Qg4? Black needed to find 25...Qc6+ 26.Kg1 Nf5 27.Rf3 Rd4 28.Qh5 g6 would have given Black a quicker win. However, he considered it but in less time, he opted for 25...Nf5. White managed to stay afloat for a while until Black declined a repetition in a queen and rook endgame. Eventually, the a3-pawn turned out to be the decisive factor in Black earning the full point.
Tie-break 5.6: Vidit - Nepomniachtchi: 1-0
Nepomniachtchi opted for the Dutch Defence in a must-win situation. Vidit was not expecting it but he understood why he went for it. Most importantly, he was ready for it.
It was evident from Black's play that he was desperate to win the game. Anybody in similar situation would have probably done something similar. 28...Rh2 29.Bg1 Rc7 attempting to create some imbalance and gain something. However, White remained solid 30.Nb5 Rh1 31.Nxc7 Qxc7 32.Bf2 Rh2 33.Rc1 Qd6 34.Bg1 Rh1 Black never anything to create serious trouble. Vidit played cautiously in time pressure and ensured he does not allow his opponent to get any chance to win the game and advance to the Quarterfinals. He will face GM Nijat Abasov (AZE).
Goryachkina - Harika, Tie-breaks 5.4
GM Harika Dronavalli (2500) won a 10'+10" game on demand after losing the first one against GM Aleksandra Goryachkina (2557). Her brutal, complex and boisterous attack on the kingside is something a must-see game for everyone.
Polina - Nurgyul, Tie-breaks 5.4
After winning a topsy-turvy first 25'+10" game, IM Nurgyul Salimova (BUL, 2403) played some outstanding chess in the second one against IM Polina Shuvalova (2496). Black found a very nice sequence which gave her a decisive advantage 18...g5 19.Qg3 Qe4 20.Rg1 Qd3+ 21.Ke1 Nxd4. There was no way White was making a comeback from there.
Elisabeth - Anna, Tie-breaks 5.4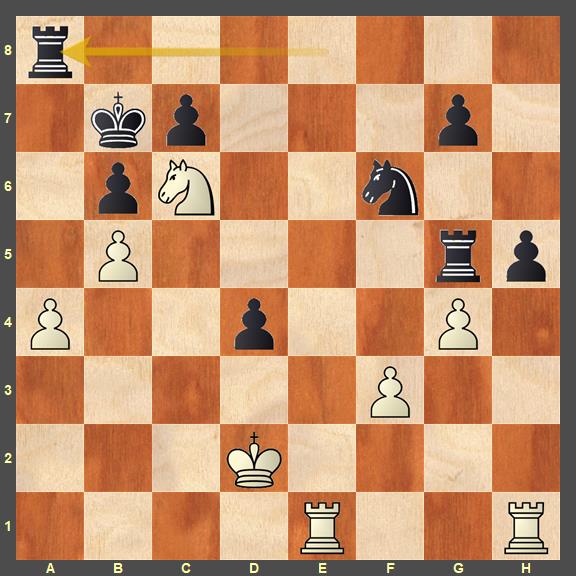 It was not easy to find 33...Ra8 as the correct continuation for Black after 33.Rbe1, especially when GM Anna Muzychuk (UKR, 2504) was down on the clock and in a must-win situation against GM Elisabeth Paehtz (GER, 2471). Anna went on to win the first 10'+10" game before she lost the second one. Then she won the first 5'+3" Blitz tie-break and drew the next one to win the match and advance to the Semifinals where she will face IM Nurgyul Salimova (BUL).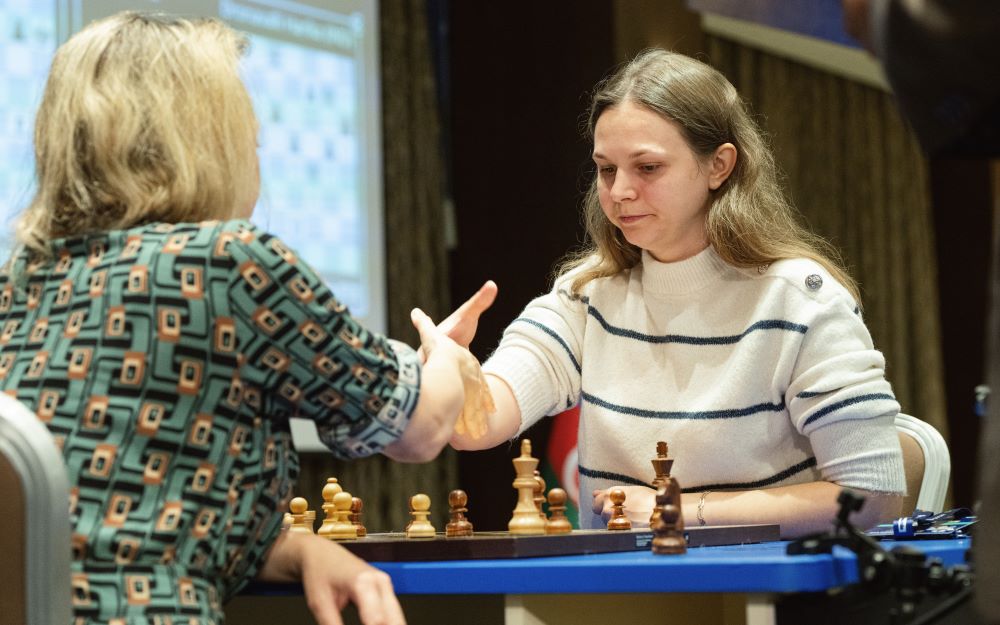 Fun fact: Three of the four FIDE Women's World Cup 2023 Semifinalists were also in the semifinals of the previous edition in 2021 . They are - GM Anna Muzychuk (UKR), GM Zhongyi Tan (CHN) and GM Aleksandra Goryachkina. Only this time GM Alexandra Kosteniuk (SUI) got replaced by IM Nurgyul Salimova (BUL).
Video Gallery
Results after Round 5 tie-breaks
GM Vidit Gujrathi - GM Ian Nepomniachtchi: 3-1
GM Aleksandra Goryachkina - GM Harika Dronavalli: 4.5-3.5
A total of four games in the Open and 14 in the Women's event took place in Round 5 Tie-breaks
Prize
The total prize fund is US$ 1834000 in the Open and $676250 in the Women, with the first being $110000 and $50000 respectively.
Replay Round 5 TB Open games
Replay Round 5 TB Women games
Links
---