FIDE World Cup 2023 SF: Carlsen beats Abasov, Praggnanandhaa holds his ground against Caruana
R Praggnanandhaa drew against Fabiano Caruana (USA) after a 4.5 hour-long battle. It was not an easy game at all. Yet he managed to fend off all possible threats by keeping things in balance. Magnus Carlsen (NOR) had a topsy-turvy game against Nijat Abasov (AZE). First, the world no.1 blundered, allowing his opponent to win the game. Later, Abasov blundered. After missing his first chance, the Norwegian seized his second one. IM Nurgyul Salimova (BUL) had a solid draw against GM Aleksandra Goryachkina. GM Anna Muzychuk (UKR) was determined to go for a win and she managed to beat GM Zhongyi Tan (CHN) for the first time in nearly 6.5 years. Round 7.2 games start tomorrow at 3 p.m. local time, 4:30 p.m. IST. Photos: Shahid Ahmed
Anna Muzychuk beats Zhongyi Tan for the first time in Classical rated game in nearly 6.5 years
The question is always - how badly do you want something to achieve? GM Anna Muzychuk (UKR) was determined to make the most out of her white pieces against GM Zhongyi Tan (CHN). In the first edition of FIDE Women's World Cup 2021, Anna faced Zhongyi in the 3rd-4th place match. Back then, both of their Classical games ended in draws. The Chinese won in the tie-breaks. Since Anna had to make comeback in a must-win situation for at least three times, twice she won the match, it is obvious that she does not want to repeat the same. The will to win, paid off as Anna went on to win the endgame where only she had practical chances to win.
Carlsen - Abasov
GM Nijat Abasov (AZE, 2646) missed the first big opportunity of the game against GM Magnus Carlsen (NOR, 2835). 34...Qf1 would have sent White reeling. The world no.1 did not see this move at all. It escaped his vision. The game continued 34...Rg6 35.Bf4 Rf6 36.Be3 Rf5 37.Bxc5 Qg6 38.Kc3 Re6 now it was time for White to strike 39.Bxa7 Kxa7 runs into 40.Qf2+ and White regains the piece. Carlsen mentioned in a post-game analysis, that he noticed 39.Bxa7 after 39.Rh4. Instead, White played 39.Rh4 Bg4 40.Bxa7 Qf6?? Black needed to play 40...Qg7+ first 41.Bd4 then Qg5 to stay in the game. 41.Kb4 Re5 42.d4 Qe7+ 43.c5 and Black resigned.
Anna Muzychuk - Zhongyi: 1-0
It has been nearly 6.5 years since GM Anna Muzychuk (UKR, 2504) defeated GM Zhongyi Tan (CHN, 2523) in a Classical rated game. Well, today Anna was determined to push for a full point.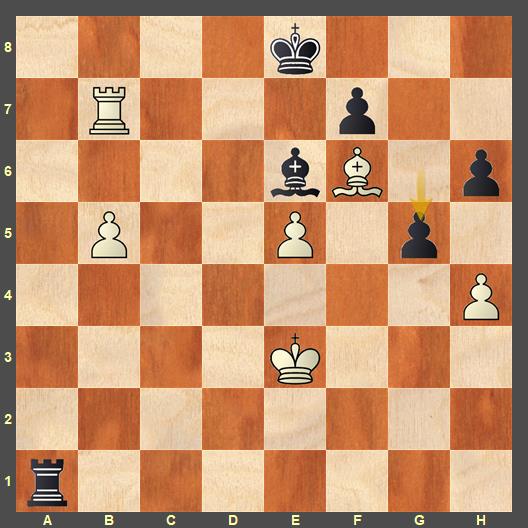 White was already pushing for a win with his passed b-pawn. It induced an inaccuracy 41...g5? 42.hxg5 hxg5 43.b6 Ra8 44.Kd4 Bh3 45.Bxg5 Bg2 46.Rc7 Rb8 47.Kc5 Rb7 48.Rc6 Kf8?? final blunder by Black which dropped her bishop 49.Rc8+ Kg7 50.Bf6+ Kh7 51.Rh8+ Kg6 52.Rg8+ and Black resigned as she did not have much left to continue.
Vishy Anand praised Anna Muzychuk's technique
Video Gallery
Round 7.1 results
GM Magnus Carlsen (NOR) - GM Nijat Abasov (AZE): 1-0
GM Fabiano Caruana (USA) - GM R Praggnanandhaa: 0.5-0.5
GM Aleksandra Goryachkina - IM Nurgyul Salimova (BUL): 0.5-0.5
GM Anna Muzychuk (UKR) - GM Zhongyi Tan (CHN): 1-0
A total of two games in the Open and two in the Women's event took place in Round 7.1
Prize
The total prize fund is US$ 1834000 in the Open and $676250 in the Women, with the first being $110000 and $50000 respectively.
Replay Round 7.1 Open games
Replay Round 7.1 Women games
Links
---