FIDE World Cup 2023 R3.2: Gukesh, Pragg, Arjun and Humpy advance, Nihal, Vidit and Harika in tie-breaks
GM D Gukesh defeated GM S L Narayanan in Round 3.2 to advance to the fourth round of FIDE World Cup 2023. His opponent will be the winner of the tie-breaks between GM Francisco Vallejo Pons (ESP) and GM Andrey Esipenko. GM Arjun Erigaisi won a grueling nearly five-hour long battle against GM Vladimir Fedoseev. GM Praggnanandhaa drew a rollercoaster battle against GM David Navara (CZE) to advance to the next round where he will face the reigning World Fischer Random champion, GM Hikaru Nakamura (USA). GM Koneru Humpy defeated IM Olga Badelka to advance to the next round. She will face the top Georgia woman, GM Bella Khotenashvili. Round 3 TB starts tomorrow at 3 p.m. local time, 4:30 p.m. IST. Photos: Shahid Ahmed unless specified otherwise.
Divya, Mary Ann and Vaishali get eliminated, Heartbreak for Ulviyya
IM Divya Deshmukh managed to draw her game against former Women's World Championship Challenger, GM Aleksandra Goryachkina. WGM Mary Ann Gomes and IM Vaishali R lost to IM Nurgyul Salimova (BUL) and GM Mariya Muzychuk (UKR). Both IM Ulviyya Fataliyeva (AZE) and IM Narva Mai (EST) missed a great opportunity to beat Women's World Champions - GM Wenjun Ju (CHN) and GM Zhongyi Tan (CHN) respectively.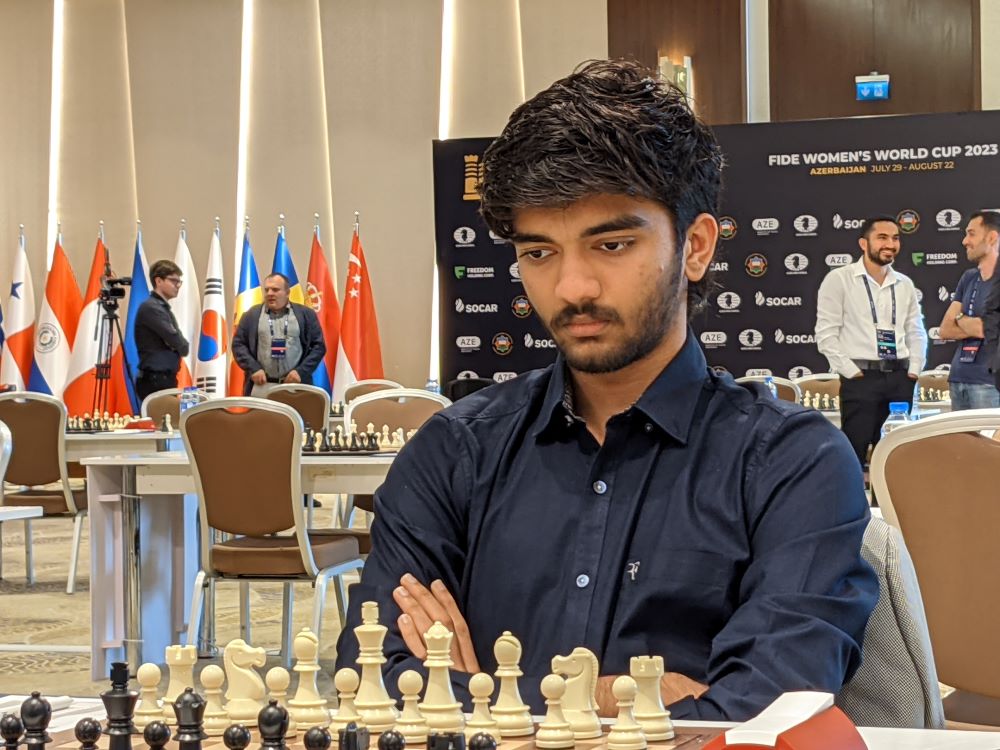 Tari - Carlsen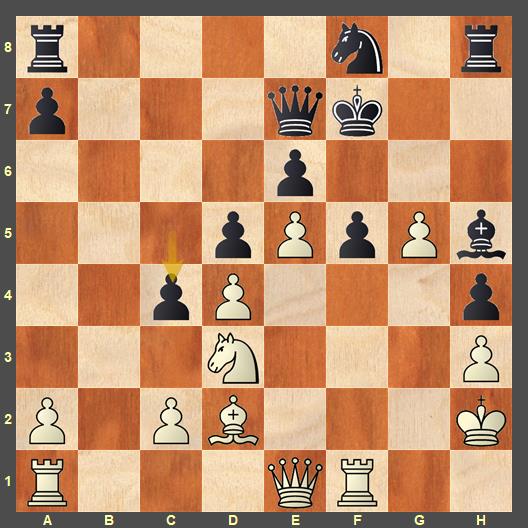 GM Aryan Tari (NOR, 2629) got a great opportunity against the world no.1, GM Magnus Carlsen (NOR, 2835) in the above position. White needed to sacrifice his g5-pawn before going Nc5. So 27.g6+ Nxg6 28.Nc5 would have maintained a substantal advantage for White. However, Tari chose the humane 26.Nf4 Ng6 and the game ended in a draw after six more moves.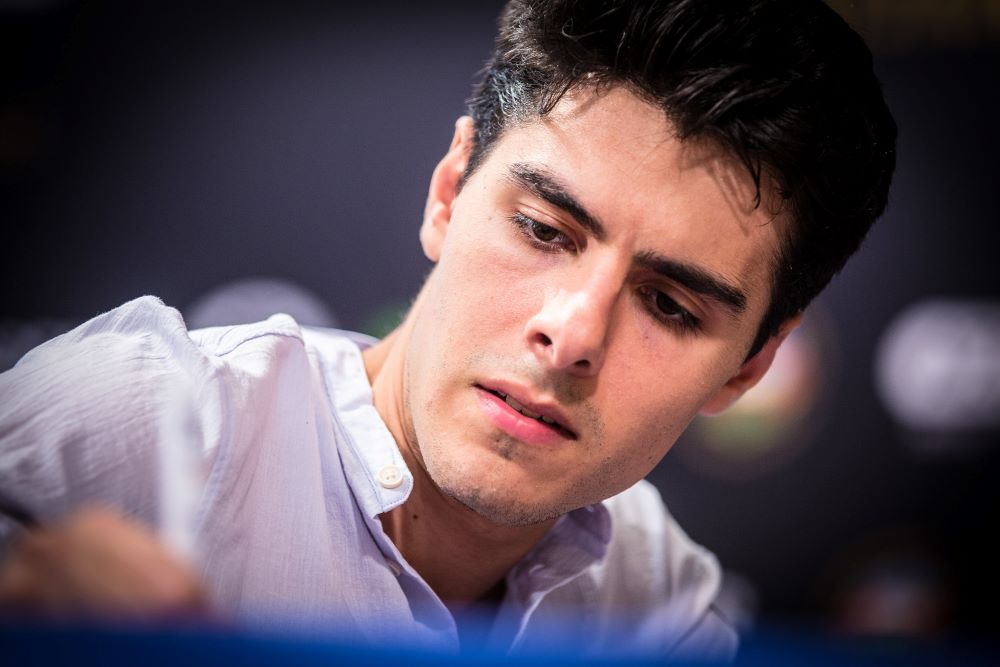 Yilmaz - Caruana
The Turkey no.1, GM Mustafa Yilmaz (2634) launched a brutal attack on the kingside against GM Fabiano Caruana (USA, 2782). 32.Rg6 Qh4 now White needed to find 33.Rxh6 Ng3+ 34.Qxg3 Qxh6 35.Rh8+ Kxh8 36.hxg3 Kg8 37.f5 and Mustafa would have been closer to his first win against Caruana. In time trouble, White went wrong 33.Rdg2? Qxf4 34.Re6 fxe6 35.Bxe6+ Kh7 36.Bf5+ Kg8 37.Be6+ White was forced to repeat the moves and the game ended in a draw.
Gukesh - S L Narayanan
GM S L Narayanan (2656) got himself in a precarious position against GM D Gukesh (2751). 27...Nb4? did not help Black's case. Instead, it made things worse for him 28.Bxa8+- Qxa4 29.Ra1 Qb3 30.Be4 Bxe4 31.Qxe4 Qxh3 White won the game in the next few moves.
Vachier-Lagrave - Sindarov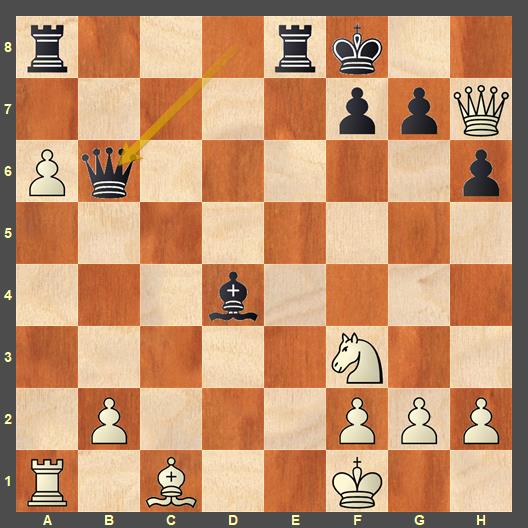 Former World no.2 and World Blitz champion, GM Maxime Vachier-Lagrae (FRA, 2739) sacrificed an exchange to launch an attack on the kingside against the 44th Chess Olympiad Gold medalist, GM Javokhir Sindarov (UZB, 2659). The attack did not yield as much as he would have liked 26.Nxd4? turned out to be a decisive mistake for White Rxa6-+ 27.g3 Qb7 28.Qh8+ Ke7 29.Qxg7 Rxa1 30.Nf5+ Ke6 31.Nd4+ Kd5 32.Nf3 Rxc1+ 33.Kg2 Rc4 34.Qxh6 Re6 and it's over for White.
Fedoseev - Arjun
GM Vladimir Fedoseev (2676) fought a slightly inferior bishop and knight vs double bishop endgame for a really long time against GM Arjun Erigaisi (2707). After over 4:45 hours of play, he blundered 54.fxg4?? Bxd4 55.gxh5 f4+ 56.Kh2 Bxc5 57.bxc5 and Black won the game as he can protect the f-pawn and stop White's c-pawn with his bishop. The black king is inside the magic box to stop the doubled passed h-pawns from becoming a menace.
Navara - Praggnanandhaa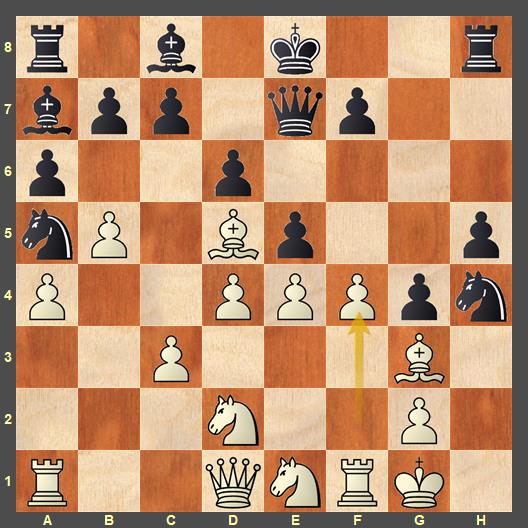 GM David Navara (2695) is a bold and creative player. He went 18.f4 and was not afraid of exd4 19.cxd4 Bxd4+ 20.Kh1 White would have had some compensation. However, White gained an advantage and eventually it was Black who had a decisive advantage.
In the above position, GM R Praggnanandhaa (2707) was winning. However, the complex nature of the positions made things quite difficult. The game ended in a draw.
Wenjun - Ulviyya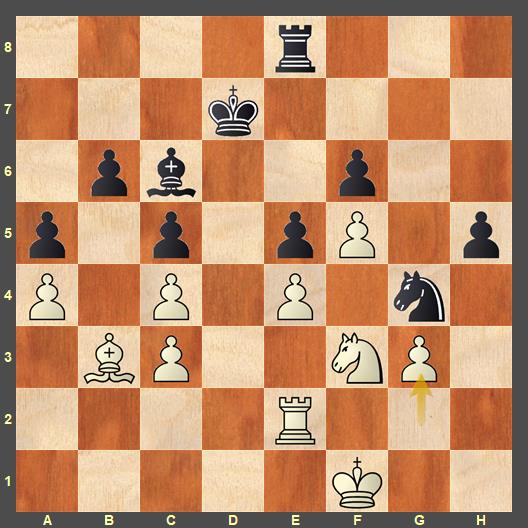 IM Ulviyya Fataliyeva (AZE, 2401) gained a positional advantage in the rook and minor piece endgame against the reigning Women's World Champion, GM Wenjun Ju (CHN, 2564). She slowly increased her advantage to a substantial one.
77...c4+ allowed White to get back in the game 78.Kd2. Instead, 77...Nd1 would have ended the game immediately as Black takes advantage of both absolute pin on c3-knight and relative pin on a4-knight. After more than six hours of battle, the Azerbaijan no.2 lost the game. Thus, she got eliminated. Fatigue got the better of her. However, one must remember that she played really well to get herself a winning position against the World no.2 women, something very few have managed to do in recent times.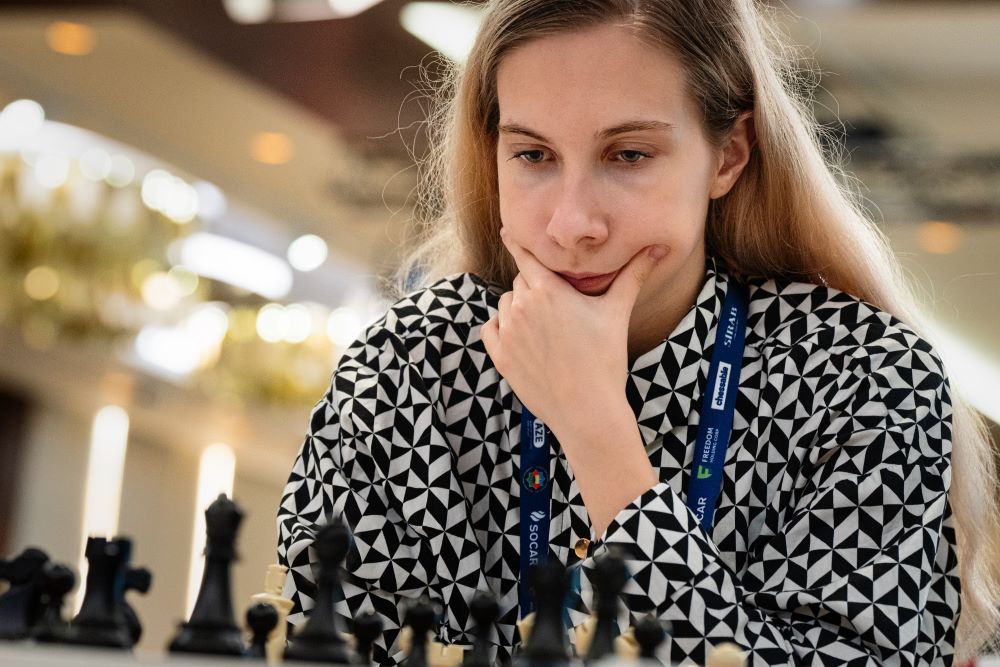 Anna Muzychuk - Anna Ushenina
GM Anna Muzychuk (UKR, 2504) got the better of GM Anna Ushenina (UKR, 2434). The former launched a devastating attack on the kingside 24.Ng5 Nxg5 25.h6+ Kf8 26.Qa3+ Re7 27.Rxe7 and white won.
Video Gallery
Results after round 3.2
GM D Gukesh - GM S L Narayanan: 1.5-0.5
GM Vidit Gujrathi - GM Matthias Bluebaum (GER): 1-1
GM Vladimir Fedoseev (SLO) - GM Arjun Erigaisi: 0.5-1.5
GM Nihal Sarin - GM Bogdan Daniel Deac (ROU): 1-1
GM David Navara (CZE) - GM R Praggnanandhaa: 0.5-1.5
IM Divya Deshmukh - GM Aleksandra Goryachkina: 0.5-1.5
GM Koneru Humpy - IM Olga Badelka: 1.5-0.5
IM Nurgyul Salimova - WGM Mary Ann Gomes: 1.5-0.5
IM Vaishali - GM Mariya Muzychuk (UKR): 0-2
IM Lela Javakhishvili - GM Harika Dronavalli: 1-1
A total of 32 games were played in the Open and 16 in Women in Round 3.2.
Round 4 pairings
GM D Gukesh vs GM Francisco Vallejo Pons (ESP)/GM Andrey Esipenko
GM Javokhir Sindarov (UZB) vs GM Arjun Erigaisi
GM Hikaru Nakamura (USA) vs GM R Praggnanandhaa
GM Koneru Humpy vs GM Bella Khotenashvili (GEO)
Replay Round 3.2 Open games
Replay Round 3.2 Women games
Links
---