FIDE World Cup 2023 R6.1: Arjun beats Praggnanandhaa, Gukesh goes down against Carlsen
Arjun Erigaisi defeated R Praggnanandhaa with a nice practical knight sacrifice. Just before the players reached the first time control, Arjun decided to sac his knight as his opponent was low on time. Pragg could not calculate correctly in less time, blundered and landed himself in a lost position. Gukesh lost against Magnus Carlsen without making a mistake. If you are wondering where he went wrong, he played in a humane way. The teenager needed to find a computer-like defense to save the game, which is nearly impossible for any human being to find. Vidit Gujrathi drew against Nijat Abasov (AZE) after five and a half hours of play. Fabiano Caruana made an incredible save against his compatriot Leinier Domniguez Perez to avert disaster. Round 6.2 games start tomorrow at 3 p.m. local time, 4:30 p.m. IST. Photo: Maria Emelianova/chess.com
Gukesh and Praggnanandhaa in a must-win situation
Both D Gukesh and R Praggnanandhaa must win on demand against Magnus Carlsen and Arjun Erigaisi tomorrow, to force tie-breaks.
Gukesh - Carlsen: 0-1
This is GM D Gukesh's (2751) third-ever Classical rated game against Magnus Carlsen (NOR, 2835). He played the other two this year and both of them ended in draws.
Gukesh made his intentions clear early in the game. He went 8.a3 Bxc3 9.Qxc3 dxe4 10.d5 Nxd5 11.Qxg7 Qf6 and we reach the above position. Black forced the queen exchange and managed to equalize quite easily. The game eventually liquidated into a rook endgame.
The only defense for White was the inhuman 34.c4 Rg3+ 35.Rf3 bxc4+ 36.Kxc4 Rxg2. No human would prefer to play like this and feel that it would end up in a draw especially when they are low on time. Instead, Gukesh went for the humane 34.Ra2. After 34...Rg5 35.Ra7+ Kf6 36.Ra2 f4 37.Rc2 Rg3 38.Ka2 and things started going out of hand for Black.
Praggnanandhaa - Arjun Erigaisi: 0-1
The only Classical game GM R Praggnanandhaa (2707) and GM Arjun Erigaisi (2704) played against each other was at the beginning of this year at 85th Tata Steel A. It ended in a draw.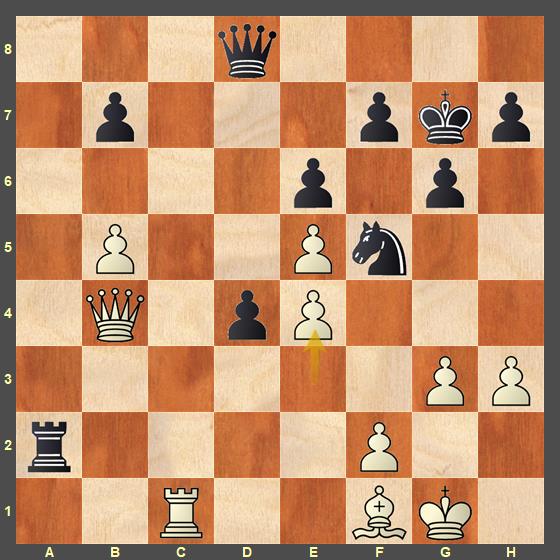 35.e4 created an opportunity for Black. Arjun took his chance 35...Nxg3! 36.fxg3 d3 now White needed to go 37.Kh1 to avoid trouble. 37.Bg2?? shifted things in Black's favor 37...Qb6+ 38.Kh2 Qf2 39.Rg1 Re2 40.Qe7 d2 41.Qf6+ Qxf6 42.exf6+ Kxf6 and rest was just a matter of time for Black to win the game.
Leinier - Caruana: 0.5-0.5
The last Classical rated game between GM Leinier Dominguez Perez (USA, 2739) and GM Fabiano Caruana (USA, 2782) took place at USA Championship over ten months ago. It ended in a draw. However, this time, Leinier had a great chance to score a victory over Caruana in Classical chess for the first time in over 9.5 years.
After 45...Kg6 White needed to bring his king into the fray. Soon, White had to give up his g2-pawn to bring his king towards the center. He went on to lose both his connected d and e-passed pawns. Caruana escaped with a draw.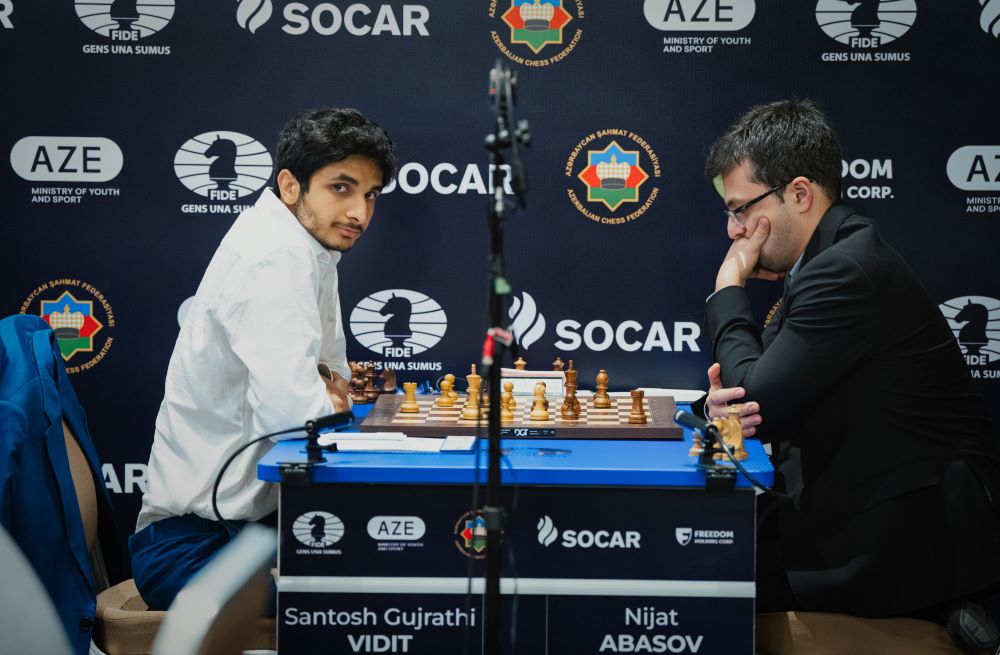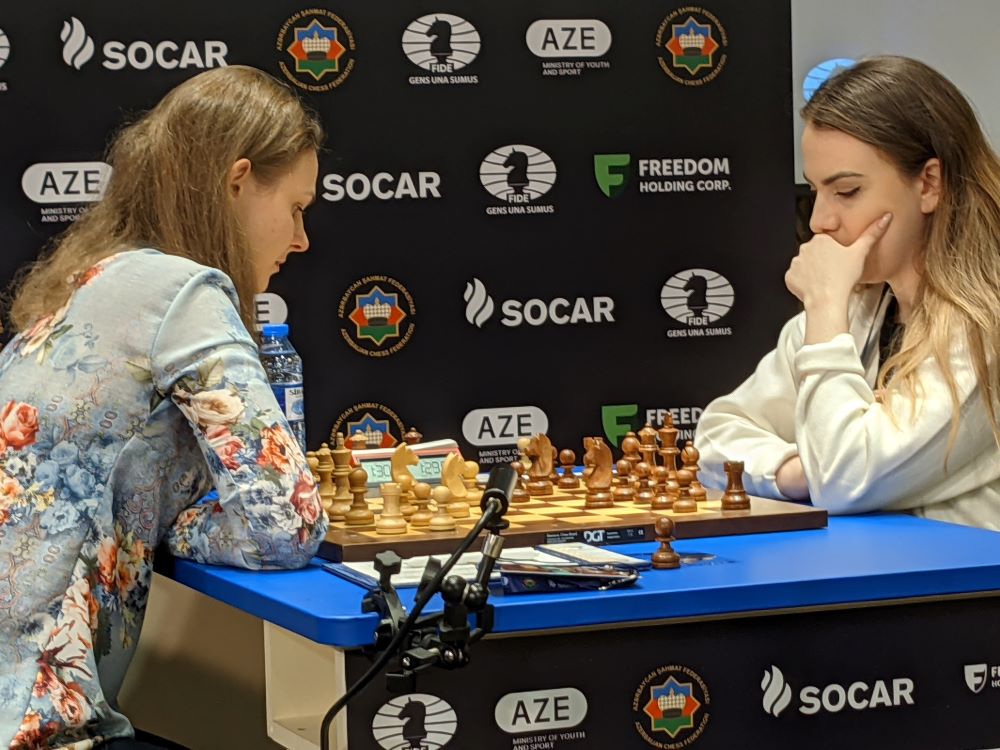 Video Gallery
Round 6.1 results
GM D Gukesh - GM Magnus Carlsen: 0-1
GM Vidit Gujrathi - GM Nijat Abasov: 0.5-0.5
GM Leinier Domiguez Perez - GM Fabiano Caruana: 0.5-0.5
GM R Praggnanandhaa - GM Arjun Erigaisi: 0-1
GM Anna Muzychuk - IM Nurgyul Salimova: 0.5-0.5
GM Zhongyi Tan - GM Aleksandra Goryachkina: 0-1
A total of four games in the Open and two in the Women's event took place in Round 6.1
Prize
The total prize fund is US$ 1834000 in the Open and $676250 in the Women, with the first being $110000 and $50000 respectively.
Replay Round 6.1 Open games
Replay Round 6.1 Women games
Links
---