What is happening in New Delhi at the FIDE Grand Prix 2023
The FIDE Women's Grand Prix 2022-23 is into its third leg and it is a huge moment for Indian chess. That's because the first ever Grand Prix is happening in the country. However, the start to the event has been rocky. One of the participants Zhansaya Abdumalik has withdrawn from the tournament after reaching New Delhi and spending a day at the venue. What was the reason for the withdrawal? The players wrote an official letter to the FIDE President. FIDE responded back with an official statement as well. Meanwhile Zhansaya's country mate Bibisara Assaubayeva who is present at the venue wrote a post on social media voicing her opinions. This led to Zhansaya responding back and Elisabeth Paehtz joining in with her statement. It has created a lot of chaos before the start of the tournament. We try to put it all together in this article.
The first ever FIDE Grand Prix on Indian soil
It's the first time ever that a FIDE Grand Prix is taking place in India. The country was excitedly looking forward to the event. Not only were the Grand Prix regulars India no.1 and 2 Humpy and Harika playing at the event, we also have India no.3 R.Vaishali taking part. They are up against some of the best players in the world - Nana Dzagnidze, Aleksandra Goryachkina, Kateryna Lagno, Polina Shuvalova, Nino Batasiashvili, Elisabeth Paehtz, Zhu Jiner, Zhansaya Abudmalik, Bibisara Assaubayeva and Nino Batsiashvili. This is the third leg of the women's grand prix 2022-23. The first one was held in Astana in 2022 and the second one in Munich in Feb 2023.
The Opening Ceremony
The opening ceremony was scheduled on the 24th of March 2023 and it began as planned.
But at some point the tension in the room started to rise. It came to be known that Zhansaya Abdumalik was not going to play in the tournament: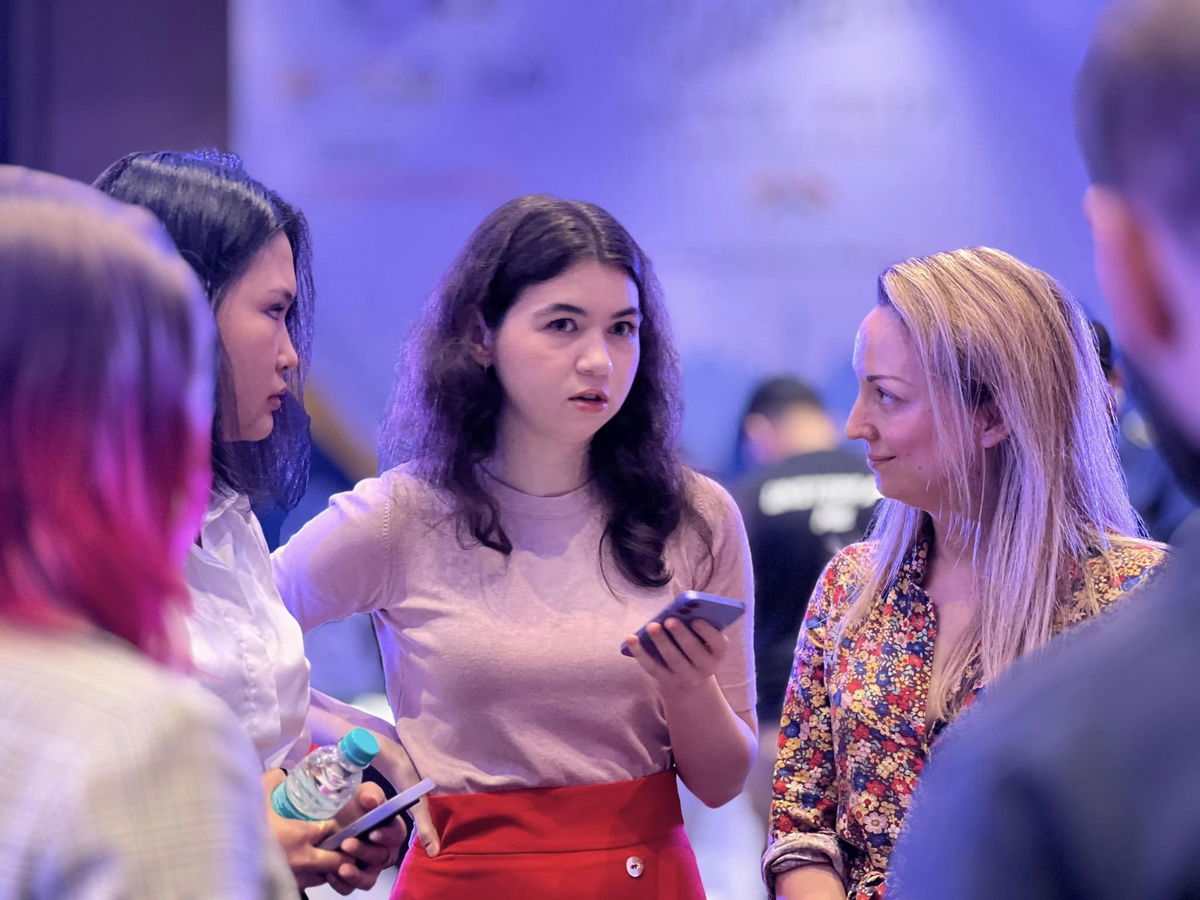 At this point it was clear that there are only 11 players left at the event. Would the 12th spot be filled with an Indian player? Would all the players receive a bye? What was the reason why Zhansaya Abdumalik had withdrawn from the tournament? There were a lot of questions lurking around.
The reason why Zhansaya left the tournament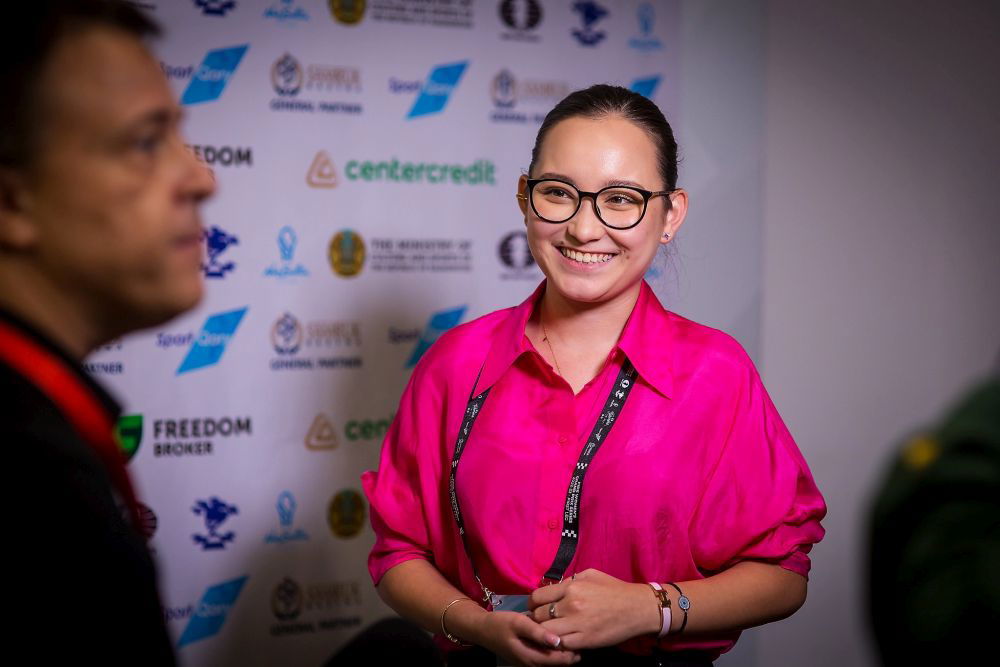 After she left India and reached Kazakhstan we contacted Zhansaya. Speaking to ChessBase India, this is what she had to say:
"I left the tournament because the preparation for the event was not adequate. I arrived at the airport at 1.30 a.m. and they forgot to meet me. I tried to contact the person who was supposed to wait for me. He didn't check his messages for one and a half hour. I did everything they said in our email before we arrived but there was nothing at the airport. I don't think it was hard to organize transfers for only 12 players when there was a huge Olympiad organized last year for thousands of people. I can't imagine if a top male player was arriving to the tournament and no one is there to pick him up.That was not a good start. The location of the hotel was not great. FIDE knew that unfortunately Delhi has some problems with the air because of pollution. I could see a big landfill from my window where they were putting on a fire or something of that sort. Leaving the hotel is difficult because of its location. The hotel staff told me not to go out because it could be dangerous.
I love India. We had a great Olympiad in Chennai and I have very nice memories from it, but this time something went wrong and I couldn't imagine myself playing there for two weeks. It's one of the best tournaments in the world and I just want FIDE to put more attention on women's chess. It was too much for me and that's why I decided to leave. We deserve to play in good conditions. Everyone knows that I am a fighter and I would never withdraw from such a tournament without reason."
Private response by FIDE President to Zhansaya
This is what the FIDE President wrote privately to Zhansaya Abdumalik. She later posted this on Instagram:
Translation of the above message:
"I apologize for the situation. The information provided earlier was sufficient but the local organizers were not prepared. This does not mean that FIDE is not to be blamed. I understand that there is practically no chance to persuade. If you still have the strength - play. With respect and hope for mutual understanding - Arkady."
Complaint by the players:
After the opening ceremony, the following complaint was made by the players:
Public Response by FIDE
Dear Participants,
On behalf of the International Chess Federation (FIDE), I would like to extend our sincerest apologies for the mishandling of the Women's Grand Prix tournament in India. We deeply regret the problems and inconveniences you have experienced, which has led to one player withdrawing from the tournament.
We understand that this situation has caused great dissatisfaction among the players and has put the tournament in danger. We acknowledge your concerns and frustrations, and we take them seriously. We highly appreciate your openness and would like to assure you that we are committed to addressing the issues that have been raised regarding this tournament and FIDE women events in general. We are also determined to improve the level of communication with the participants.
Considering all the arguments in place, we have decided to continue with the Women's Grand Prix tournament in India. We believe that such a decision is best under the given circumstances, even though the withdrawal of a player would require all of the tournament participants and organizers to adjust themselves.
In case of postponement, the current FIDE calendar does not allow space for strong assurances when the tournament can be held. It is also important not to create a precedent that the whole event can be terminated and other players' plans influenced due to the decision of a player to withdraw. Alongside the utmost respect for the comfort of our professional players, we are equally committed to demonstrating our reliability as trustworthy, credible partners to our organizers and sponsors.
We are fully committed to taking swift and decisive action to improve the situation immediately. Above all, our priority is to demonstrate that we truly care about our participants, and we will spare no effort to ensure that they receive the highest level of support and attention. To that effect, FIDE will appoint an additional coordinator to be at the full disposal to the participants of the event. Also, all affected players will be provided with compensation, such as covering any additional expenses they may have incurred or will incur during the event. In order to manage the tournament under the new conditions, the following schedule and principles will apply:
The tournament will be held with the participation of 11 players
The first round pairings will remain as they are (IM Assaubayeva exempt)
The following rounds will be affected as less as possible in order to balance colours where it is possible.
The broader issues which have been highlighted by the players regarding other events have also been taken into account.
From the very beginning, my team and I have been dedicated to promoting women's chess, and we are proud to have made significant strides in this regard. This includes the creation of numerous new events for top players, the allocation of major tournaments across three continents, record prize funds, and an increasing number of opportunities for female participation. We remain committed to advancing the cause of women's chess around the world. Having said that, I realise there is still a lot we should do to improve. Concerning women's chess events and the broader issues raised, FIDE will take the following steps:
We will conduct a thorough review of the guidelines and standards for organizing women's tournaments, and make sure to strengthen the connection with players, as well as further improve the proficiency of the events organizing team.
We will ensure that the cooperation between local organizers and FIDE functions significantly better, to reflect the standards of events.
Improve and sharpen the mechanism of selecting the host cities and venues for the tournaments, thus improving the planning of the FIDE calendar.
We will continue to work on closing the prize gaps between Open and Women events.
Once again, please accept my apologies and thank you for your understanding and cooperation.
Yours sincerely,
Arkady Dvorkovich
FIDE President
Statement by tournament director
Tournament director of the 3rd leg of the FIDE Women's Grand Prix 2022-23 held in New Delhi Bharat Singh Chauhan speaks in this video. This was done before the start of round 1:
Transcript of the interview:
Abhyudaya Ram (AR): There's a lot of things that happened in the last 2 days, and there's a lot of confusion. Can you tell us about the reason for the postponement of the tournament?
Bharat Singh Chauhan (BSC): See, there was one player from Kazakhstan, she withdrew from the tournament. To my knowledge, what she's saying is she did not meet anyone at the airport. The point is, everyone, all the guests apart from her, were well-received at the airport. Her flight came early, she was accompanied by her accompanying person, and they came back to the hotel. I know it was difficult if you don't find someone from the organizing committee, but the flight arrived 35-40 minutes early. It is not so important that the tournament should not happen, just because someone was not received at the airport. I know it is a lapse and she should've been received, but the grievances of the players was not only about this tournament. I believe that in the previous Grand Prix held at Munich, the players were asked to take a Taxi from the airport and reach there, and one of the players was not received in the 2nd leg at Kazakhstan also. So, this was the reason which made most of the players angry.
But unfortunately, the battlefield is India. We are No.2 in the world as per FIDE Rankings, we have 81 Grandmasters and we are a growing chess superpower in the World. We respect chess and chess players, that is why we have grown so fast and doing well in the field of chess. We have organized many international events, we have organized the Olympiad, we know what it means to us. I'm not justifying that what happened in Munich and Kazakhstan, we should do these things. I regret this incident, she deserved a better treatment, with respect to the early arrival and all those things, that is one part. But I feel that cannot be the reason to withdraw. I was informed by one of the volunteers that she was not well, a doctor was arranged for her. I was following it up, the doctor said it was allergies, change of place or some small thing. Probably she was not physically comfortable to play the event, this may be one reason that she was not received. I don't know - according to me, these things happen regularly in many tournaments. But I'm not justifying this, that this cannot be the reason.
We had a long meeting with our president and players, they had lot of grievances. Disparity in the prizes, women chess, Candidates problems - various issues. But my point is: they could've raised all these issues when it happens in various tournaments. Why to do it in India? Suddenly, someone is not received and they just withdrew from the tournament. Suddenly, 4-5 players say she has withdrawn, the pairing will be this and that, and all issues it created. It's a FIDE Official tournament, they have to decide. We regret this, we respect each and every chess player of the universe, we respect chess. We feel that she could've been given a better treatment, but as a chess player I feel she should not have withdrawn for this small matter. It is very bad for chess, bad for the sponsors. As it is, we have very less sponsorship for women chess. This kind of act by players, that too top players, will reflect poorly for the growth of chess in the world, specially women chess. As far as hotel is concerned, Hotel is five-star. As per FIDE Regulations, it can be four-star. It is a five-star Hotel, well-known Hotel in the city, which has already hosted the World Junior Chess Championships, Asian Continental Championships, Commonwealth Chess Championships. Right now, they are hosting boxers from more than 50 countries for the World women boxing championships. They have hosted cricket teams India and Australia recently for the test series. And the food - anytime you can picture the food chess players are taking, it's a big variety of food. All the facilities are good, if you have any issues, we were okay. I know it is very difficult to cater the food of all nationalities, but of course, if there are some issues, you can request and we can request the hotel to add on these foods.
Hotel is fine, everything was fine, the only issue was that she was not met, because her flight was early. So, I don't think this is a valid reason. There may be some other reasons, there may be a story behind this. But we don't want to get into this, we want to run the chess tournament. It is good for Indian chess that we got this tournament, and we want to complete the tournament. We want to make sure that all the players are comfortable. Any other issues which there are, we told them we will do everything possible to make this tournament successful, to make them comfortable in Delhi.
AR: So, I had a small follow-up question. Why was there no replacement for Zhansaya when she withdrew?
BSC: See, the players had some issues with some new player, because since it is a Grand Prix, they have not prepared for the new player. Generally , the set of FIDE Officials, they are pro players doing a great job for chess. They listened to the players. Majority of the players felt that no new player should be added. But again, there were some technical issues. Some players are having 6 blacks and 4 whites, all those things were there. Just because one player withdrew, so much imbalance was created. So, FIDE had no choice to go with the same pairing and no additional player.
AR: Last question, FIDE issued their official announcement yesterday on their social media and website. What do you have to say about that?
BSC: If you see that letter, it addresses a lot of issues. I mean, receiving a player is not the only issue. They say about women chess in general, they also talk about prize money disparity between men and women, so there are lot of issues. This present setup in FIDE is very open, they always discuss, they've introduced lots of women tournaments globally. There are a lot of events happening there. In India, we could manage the Olympiad because it was such a difficult time, COVID was there, cancelling the Olympiad from Russia and doing it in India within 4 months. Everybody said it was wonderful, so we don't want to get a bad name. Indian chess is growing, I want to tell everyone through you. It is not only because we have supertalents, each and every chess player of this country, they know what they have to do. The federation, they respect players. We do lot of work, we respect players and chess. That is why we are growing as a sport. We know what it means, and I really regret whatever has happened in this event, it is very unfortunate. I pray to god, and hopefully this event goes well.
Instagram post by Bibisara Assaubayeva
On the evening of 25th March, one of the participants of the FIDE Grand Prix and Zhansaya Abdumalik's compatriot Bibisara Assaubayeva made a post on Instagram:
The translation of Bibisara Assaubayeva's post:
"Chess is, of course, an individual sport. But being an individual and being an individual are two different things. The concept "everyone for himself" is sometimes interpreted by some as "I didn't want to care about everyone." Should I say that you will never expect words of remorse or a courtesy apology from them. And what kind of courtesy can be spoken when such people just blatantly lie to everyone around. Perhaps embellishing reality is a professional quality of the former deputy of the Almaty Maslikhat Zhansaya Abdumalik, who has forgotten that she was a chess player in the first place. But there are things that are unforgivable for any professional, whoever he may be. And who ever they think they are. Zhansaya and eleven other chess players including me were in Delhi yesterday. We have a big tournament there Grand Prix. And everything would be fine, but she suddenly decided to leave the tournament - allegedly because the organizers met her displeased. She did it in a very strange, if not, stupid way: she told a colleague an hour before opening that she was leaving and was at the airport, and then calmly walked around the hotel with a grin as we were in an emergency meeting deciding what to do next. Zhansaya flew in with a man who accompanied her everywhere, many others were alone - and nothing, they got to the hotel without hysteria and snot. At the same time, some female chess players refused to participate in other championships specifically for the sake of this Grand Prix, and at the moment they have found themselves in a stalemate. Because of the current hysteria, made up of lies, the tournament is in danger of being disrupted. Because of one person who thought that she could at the last moment just cross everything for a premeditated reason. Of course, there are many questions for local organizers. But most of all, there are questions to Zhansaya. To her lack of sportsmanship. Expressed emotions are inappropriate. To her attitude to her colleagues, to life, in general. To the professionalism in particular. Athletes should be ready for any force majors and challenges, not whine and give up if something goes wrong. If, like Zhansaya, to respond to every little thing - then it's better to start sports, get married and cook borscht. Especially since we've seen, she has someone for. Best of luck to everyone.
Zhansaya's response to Bibisara's post:
After Bibisara Assaubayeva made the above post, Zhansaya Adumalik responded to it within a few hours:
"I tried to ignore the repeated unethical values of Bibisara Assaubayeva addressed to me, but apparently the time has come to give up. I will start with the fact that the photo that Assaubayeva used in her post does not correspond to the current situation and misleads chess lovers (the photo was taken in 2021 World Cup). Next, directly on the situation at the FIDE Grand Prix in India: I and my colleagues (including Assaubaeyeva herself) were upset and disappointed (to put the least) with the conditions created by the organizers. After consulting, we decided to write a collective letter to the President and the head of the FIDE apparatus, in which we expressed our displeasure and suggested to postpone or cancel the Stage. The letter was signed by almost all the participants of the Grand Prix (including Assaubayeva). The letter is in the carousel. Due to the collective dissatisfaction of the participants, the organizers were even forced to postpone the start of the tournament indefinitely. I personally informed FIDE President Arkady Dvorkovich and Executive Director Emil Sutovsky of my decision not to play in such conditions. I attach Arkady Vladimirovich's answer in the carousel. In spite of all these ugly lies and hypocrisy of Bibisara Assaubayeva, I do not regret the decision and am convinced that chess players deserve to play in safe and decent conditions. I am always proud and honored to represent my country! Still remembering the Olympiad in India with fond memories, but the conditions offered in Delhi are really unacceptable. I apologize to my colleagues for posting correspondence, but I have to do it to protect my good name.
P.S. I will definitely get married and will be happy to cook borscht for my husband. I know many wonderful chess players, who successfully combine family life and professional careers, and I sincerely admire them."
Bibisara's response
Bibisara Assaubayeva responded back to Zhansaya's post:
This is the translation of Bibisara's post:
"Zhansaya continues to compose non-fiction, and I will have to tell again how everything really was. First of all I wasn't talking to her. She didn't even bother to approach us - and even more, we didn't decide anything with her in a collegiate way. Secondly, I didn't sign any letters. On the screenshot that Zhansaya posted, there is just my last name. And I told FIDE President Arkady Dvorkovich that I did not sign anything. The seemingly unanimous message is more of Zhansaya's secret desire to lead everyone against the Federation of India rather than reality. Thirdly, the disappointment with the conditions provided by the organizers expressed by Zhansaya is groundless and biased. At the Grand Prix in Kazakhstan, one participant was also not met at the airport - however, she did not raise a scandal and refused the game, letting her colleagues down. Fourth, no one is insured against organizational errors, unforeseen failures and force majeurs. An athlete, if he claims something, should accept everything with dignity. Well, and on the fifth. The picture that I posted to Instagram was taken at the World Cup, where I won. I do not really understand exactly what situation it does not correspond to. This is a photo with the person I am writing about in the post. We did not do a joint shot in India, because, I'll repeat, Zhansaya did not talk to me during this time. By the way, it's one o'clock in the morning. We shall play tomorrow. Two participants had a nervous breakdown against the background of all that was happening. And all this wouldn't have happened now if it weren't for Zhansaya's antics. Draw your own conclusions. 🙏 I wish you all goodness, love and peace."
Statement by Elisabeth Paehtz
Elisabeth Paehtz from Germany is one of the participants at the FIDE Grand Prix. It was from her email address that the official complaint to FIDE was sent.
"Dear Chess friends. I did not intend to post anything private from the current emotional rollercoaster happening during the Fide Grand Prix in Delhi, however some things are too unexpectable for me to stay silent about. Zhansaya Abdumalik left the tournament after day 1. She left because she faced serious troubles at the airport, and later on at the hotel in a very unfortunate way. The biggest core of these problem was an insufficient organisation by FIDE officials. She didn't leave because she decided to destroy the tournament as her compatriot Bibisara Assaubayeva here claims. When Bibisara learned about her withdrawal and a potentially new Indian opponent, she was the first one to disagree and even wanted to quit the tournament before anyone else. 5 players including herself signed a letter, convincing Fide to postpone the event as emotions took over everything and a lot of players faced serious emotional outbreaks. Over night Bibisara changed her mind and informed fide. Furthermore she downbashed Zhansaya during the official zoom call with Fide Officials. So to claim, she never signed the letter and she never wanted to quit the tournament is a lie from Bibisara Assaubayeva and I suppose, done to damage the reputation of her compatriot, no more no less. Since Bibisara's post on Instagramm was shared and spread widely, I can confirm, that 4 other players never would have dared to put her name inside a letter without her permission! Please share!"
What happens next?
The tournament is going ahead and the first round will be played on 26th of March 2023 at 3 p.m. IST. No replacement has been made for Zhansaya's absence and eleven players will fight it out. This means that each player will get a bye in one round.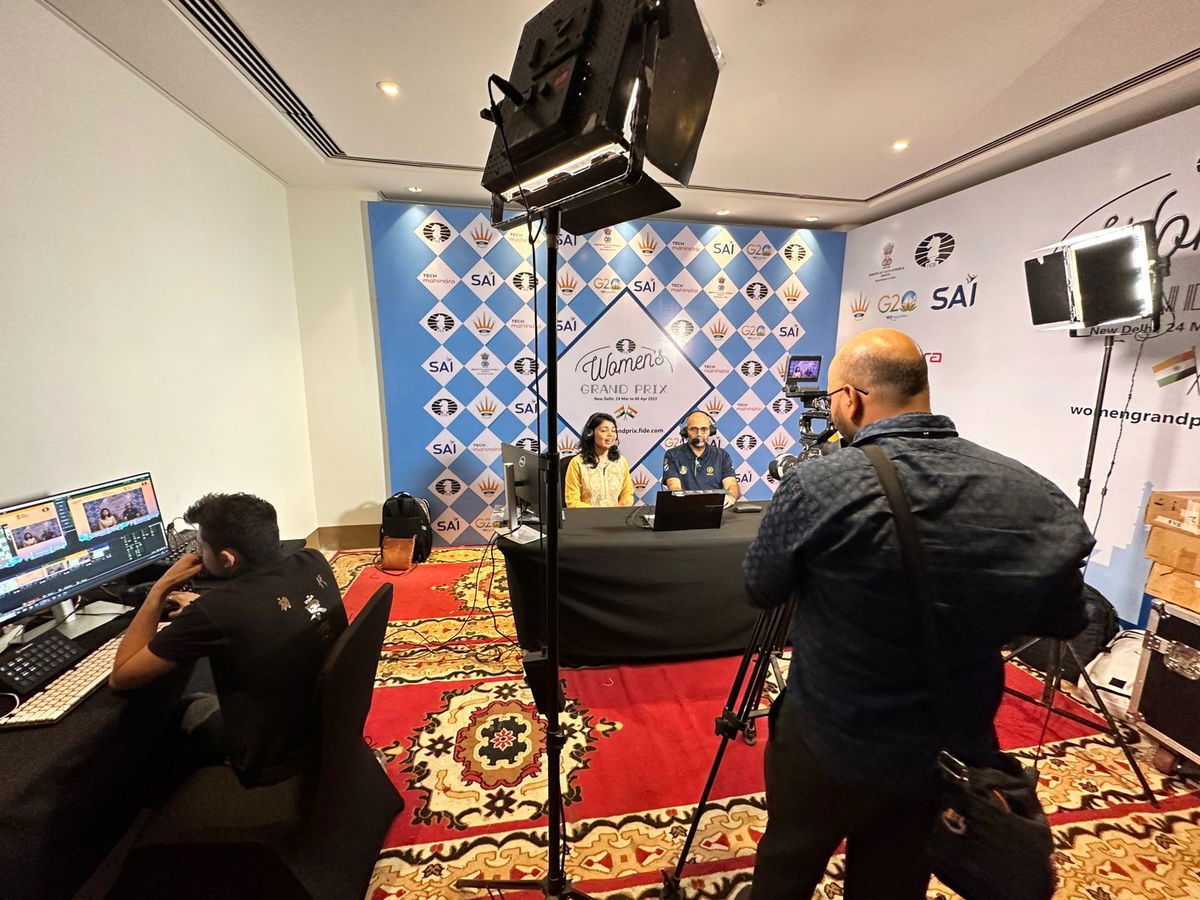 Round 1 begins - Elisabeth Paehtz withdraws
Round 1 began with 11 players, but in the playing hall there were only 10. Elisabeth Paehtz did not turn up to her game against R.Vaishali.
Speaking to ChessBase India, Elisabeth Paehtz said:
"I cannot accept that every player does not start the tournament with the same conditions. The intended solution of new pairings with a fair distribution of colors failed due to the ultimatum of a single player. Even though I would get 6 whites and 4 blacks, it is unfair for the other players. I wanted a fair and equal tournament for everyone. The events of past two days were an emotional rollercoaster for most of us and the fight and the indirect blackmailing of one player against new pairings was the last drop for me to leave."
No handshake by Goryachkina
Tournament director Bharat Singh Chauhan shook hands with all the players before the round:
Note: We will keep updating this article as we get more inputs from the organizers, players and officials.
---