Astana GP Round 1: Vaishali makes a solid start
IM Vaishali R made a solid start at Astana GP. She drew her first round game against the former World Rapid and Blitz Women champion, GM Kateryna Lagno. Former World Women's Championship Challenger GM Aleksandra Goryachkina and Germany no.1 woman, IM Elisabeth Paehtz scored the only two wins of the first round against IM Polina Shuvalova and WGM Dinara Wagner respectively. Reigning World Blitz Women's champion, IM Bibisara Assaubayeva had an interesting opportunity against compatriot, GM Zhansaya Abdumalik. Vaishali will face IM Alina Kashlinskaya in Round 2 which starts today at 2:30 p.m. IST. Photo: FIDE/Anna Shtourman
Goryachkina and Paehtz score a win
IM Vaishali R faced GM Kateryna Lagno for the first time in a rated game. Previously they played only once in an online game which Vaishali won in 2020. A solid draw against the former World Rapid and Blitz Women's champion is certainly a good start for Vaishali.
Kateryna - Vaishali: 0.5-0.5
GM Kateryna Lagno (2547) and IM Vaishali R (2449) had a relatively calm draw arising out of Sicilian Accelerated Dragon.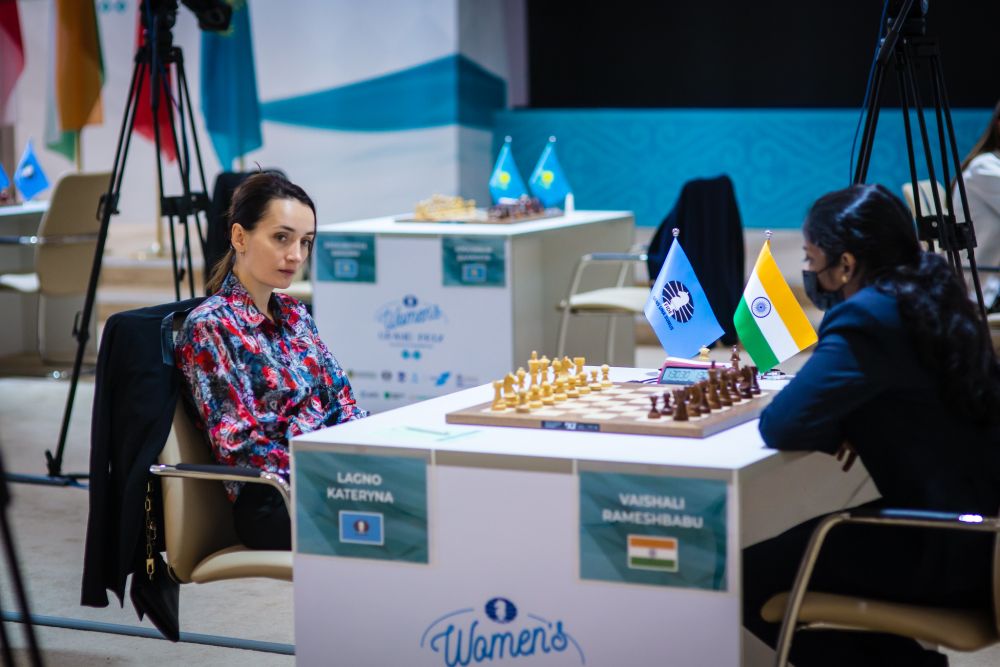 Bibisara - Zhansaya: 0.5-0.5
Reigning World Blitz Women's champion, IM Bibisara Assaubayeva (KAZ, 2443) had an interesting opportunity against her fellow compatriot, GM Zhansaya Abdumalik (2503).
16...0-0 is a relatively safer choice for Black. 16...Bd6 allows 17.Nxf7 an exciting option for White. 17...Kxf7 18.dxe6+ Black is almost forced to play Kxe6 19.f4 and the position certainly looks a lot promising for White and Black is in quite a bit of trouble. Anyway, White opted for 17.Bf4 Bb8 18.dxe6 Qxe6 and Black managed to evade all danger.
Dinara - Paehtz: 0-1
WGM Dinara Wagner (GER, 2358) made a strange king move when she could have seized her opportunity using tactics against IM Elisabeth Paehtz (GER, 2477).
25.Ba7 could have given White an edge. 26.Qa3 could be a reply to both 25...a4/Nc5. Instead, White went for the dubious 25.Kf1. Black got the opportunity she needed 25...Qh2 and turned things in her favor.
Replay the live stream
Replay all Round 1 games
Round 1 Results
Bo.
No.
Rtg
Name
Result
Name
Rtg
No.
1
1
2579
GM
Goryachkina Aleksandra
1 - 0
IM
Shuvalova Polina
2510
12
2
2
2547
GM
Lagno Kateryna
½ - ½
IM
Vaishali R
2449
11
3
3
2491
IM
Kashlinskaya Alina
½ - ½
GM
Kosteniuk Alexandra
2521
10
4
4
2443
IM
Assaubayeva Bibisara
½ - ½
GM
Abdumalik Zhansaya
2503
9
5
5
2525
GM
Tan Zhongyi
½ - ½
WGM
Zhu Jiner
2464
8
6
6
2358
WGM
Wagner Dinara
0 - 1
IM
Paehtz Elisabeth
2477
7
Round 2 pairings
Bo.
No.
Rtg
Name
Result
Name
Rtg
No.
1
12
2510
IM
Shuvalova Polina
IM
Paehtz Elisabeth
2477
7
2
8
2464
WGM
Zhu Jiner
WGM
Wagner Dinara
2358
6
3
9
2503
GM
Abdumalik Zhansaya
GM
Tan Zhongyi
2525
5
4
10
2521
GM
Kosteniuk Alexandra
IM
Assaubayeva Bibisara
2443
4
5
11
2449
IM
Vaishali R
IM
Kashlinskaya Alina
2491
3
6
1
2579
GM
Goryachkina Aleksandra
GM
Lagno Kateryna
2547
2
Links
---