New Delhi GP Round 4: No Punches Pulled
GM Aleksandra Goryachkina ended IM Bibisara Assaubayeva's winning streak in the fourth roun of New Delhi GP 2023. The former Women's World Championship Challenger defeated the reigning two-time World Blitz Women champion to gain sole lead 3/4. It was a tough round for the Indians as IM Vaishali and GM Humpy both lost their respective games against GM Kateryna Lagno and WGM Zhu Jiner. The Chinese played some fantastic chess to beat Humpy. IM Polina Shuvalova defeated GM Nana Dzagnidze. Dzagnidze vs Humpy, Bibisara vs Harika and Vaishali vs Nino are few of the matches in Round 5 which starts today at 3 p.m. IST. Photo: Abhyudaya Ram
Only decisive games
For the first time at New Delhi GP 2023, all four games ended decisively.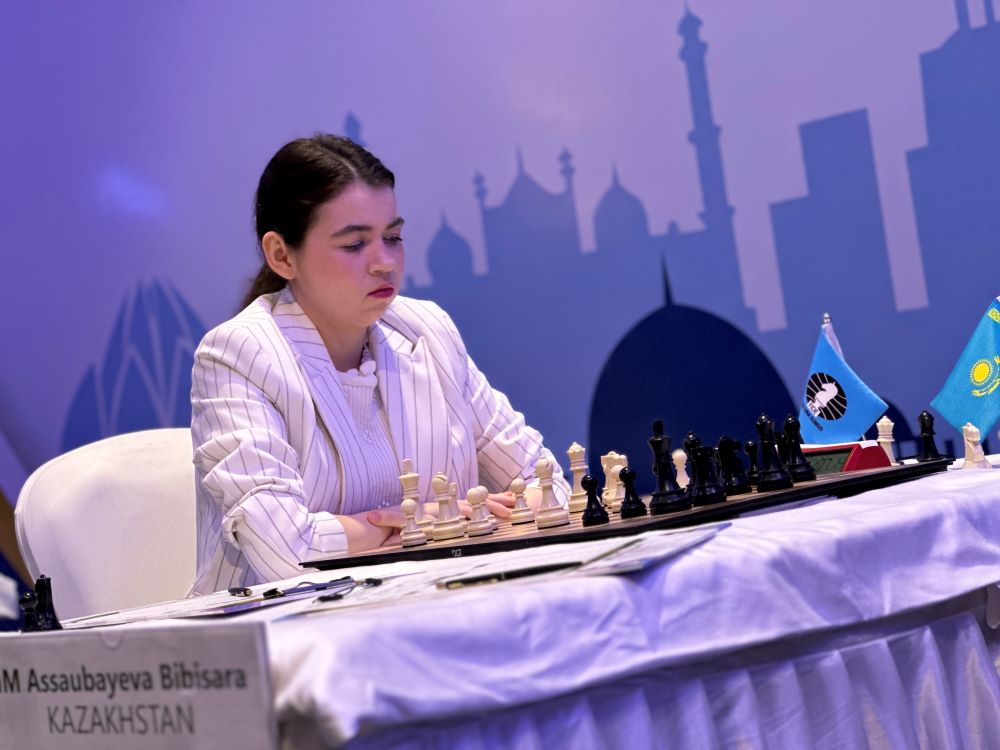 Lagno - Vaishali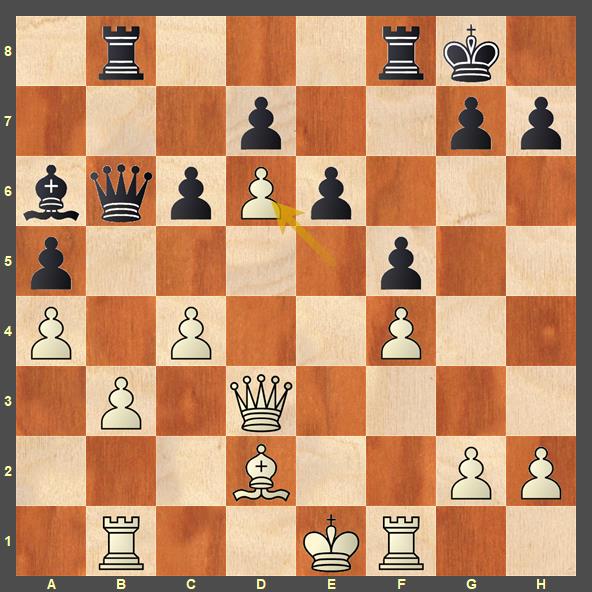 Timing is everything in sports. Black needed to play 19...Rf6 right now to shift her to the kingside and prevent any kind of potential onslaught. 19...c5 allowed 20.Bc3 which discouraged Black from playing Rf6. After ten moves, Black did play 29...Rf6 but the balance completely shifted in White's favor and it was too little too late to save the game.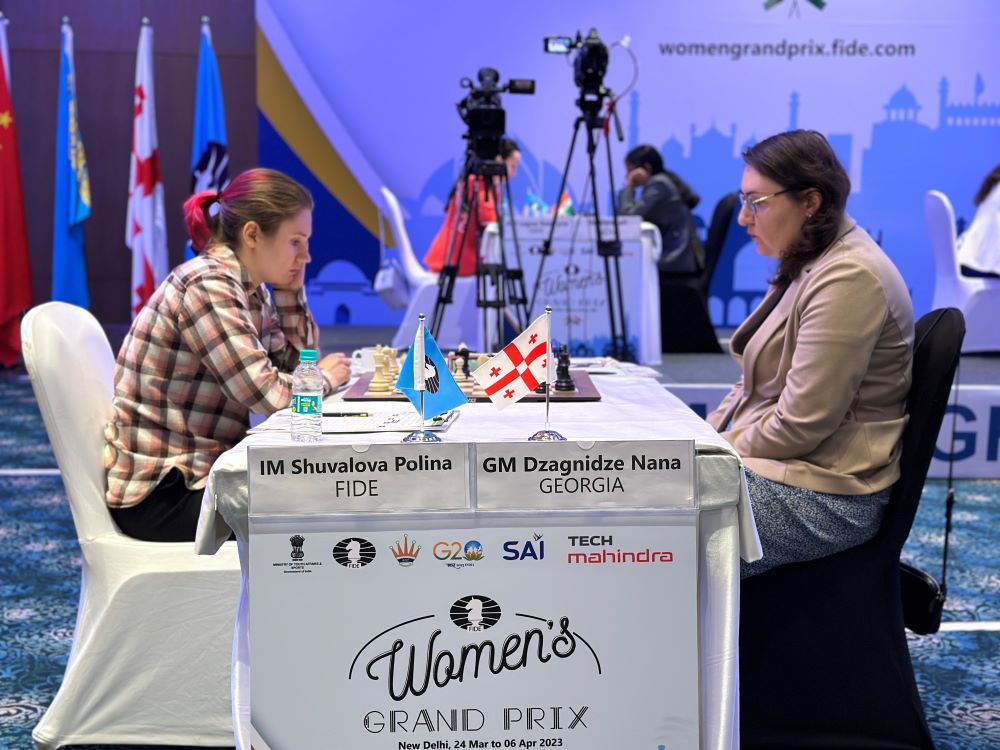 Humpy - Jiner
WGM Zhu Jiner (CHN) found the excellent 21...Ne4! 22.fxe4 is incorrect due to dxe4 and Black recovers the material in the next move along with capitalize on White's exposed king. 22.Be1 Nd6 23.Rc1 Nc4 attacking both a3-pawn and threatening Ne3. 24.Bxc4 dxc4 25.Qxc4 Bg7 26.Bc3 Re3-+ and it all went downhill for White quickly. White had to return the extra pawn 26.d5 to restore some kind of semblance to the position.
Replay the live stream
Replay all Round 4 games
Round 4 Results
Bo.
No.
Rtg
Name
Result
Name
Rtg
No.
PGN
1
11
2560
GM
Lagno, Kateryna
1 - 0
IM
Vaishali, Rameshbabu
2433
7
PGN
2
9
2576
GM
Goryachkina, Aleksandra
1 - 0
IM
Assaubayeva, Bibisara
2440
6
PGN
3
10
2511
GM
Harika, Dronavalli
+ - -
GM
Paehtz, Elisabeth
2474
5
4
1
2484
IM
Shuvalova, Polina
1 - 0
GM
Dzagnidze, Nana
2525
4
PGN
5
2
2576
GM
Koneru, Humpy
0 - 1
WGM
Zhu, Jiner
2489
3
PGN
6
8
2489
GM
Batsiashvili, Nino
0
bye
0
-1
Standings after Round 4
| | | | | | | | | | | | | |
| --- | --- | --- | --- | --- | --- | --- | --- | --- | --- | --- | --- | --- |
| Rk. | SNo | | | Name | FED | Rtg | Pts. | TB1 | TB2 | TB3 | TB4 | TB5 |
| 1 | 9 | | GM | Goryachkina, Aleksandra | FID | 2576 | 3 | 1 | 4,00 | 1 | 0 | 0 |
| 2 | 3 | | WGM | Zhu, Jiner | CHN | 2489 | 2,5 | 2 | 5,50 | 1 | 0 | 0 |
| 3 | 10 | | GM | Harika, Dronavalli | IND | 2511 | 2,5 | 2 | 2,75 | 0 | 0 | 0 |
| 4 | 1 | | IM | Shuvalova, Polina | FID | 2484 | 2,5 | 1 | 4,50 | 1 | 0 | 0 |
| 5 | 11 | | GM | Lagno, Kateryna | FID | 2560 | 2 | 2 | 3,00 | 1 | 0 | 0 |
| 6 | 6 | | IM | Assaubayeva, Bibisara | KAZ | 2440 | 2 | 2 | 2,50 | 2 | 0 | 0 |
| 7 | 4 | | GM | Dzagnidze, Nana | GEO | 2525 | 1,5 | 2 | 3,50 | 0 | 0 | 0 |
| 8 | 8 | | GM | Batsiashvili, Nino | GEO | 2489 | 1,5 | 2 | 0,75 | 0 | 0 | 0 |
| 9 | 2 | | GM | Koneru, Humpy | IND | 2576 | 1,5 | 1 | 3,50 | 0 | 0 | 0 |
| 10 | 7 | | IM | Vaishali, Rameshbabu | IND | 2433 | 1 | 1 | 0,00 | 0 | 0 | 0 |
| 11 | 5 | | GM | Paehtz, Elisabeth | GER | 2474 | 0 | 0 | 0,00 | 0 | 0 | 0 |
Round 5 pairings
Bo.
No.
Rtg
Name
Result
Name
Rtg
No.
PGN
1
3
2489
WGM
Zhu, Jiner
GM
Lagno, Kateryna
2560
11
2
4
2525
GM
Dzagnidze, Nana
GM
Koneru, Humpy
2576
2
3
5
2474
GM
Paehtz, Elisabeth
IM
Shuvalova, Polina
2484
1
4
6
2440
IM
Assaubayeva, Bibisara
GM
Harika, Dronavalli
2511
10
5
7
2433
IM
Vaishali, Rameshbabu
GM
Batsiashvili, Nino
2489
8
6
9
2576
GM
Goryachkina, Aleksandra
0
bye
0
-1
Links
---