Alexandra Kosteniuk wins Munich GP 2023, Humpy second
by Shahid Ahmed - 14/02/2023
WGM Zhu Jiner ended GM Alexandra Kosteniuk's unbeaten streak at Munich GP 2023. However, a last round loss did not affect Kosteniuk's claim towards the first place, since GM Koneru Humpy drew her game with GM Tan Zhongyi. Humpy secured second place 7/11, a hallf point behind Kosteniuk 7.5/11. The 20-year-old Jiner scored an IM-norm. Although a draw was enough for it, still she went for the win. GM Nana Dzagnidze drew with GM Harika Dronavalli to finish third. Harika secured fourth place. Both Humpy and Harika remained undefeated throughout the tournament. The next leg of FIDE Women's Grand Prix 2022-23 will take place in Delhi. Photo: FIDE/Mark Livshitz
Humpy and Harika remain undefeated
GM Harika Dronavalli finally ended her draw streak by winning her first game of the event, against GM Anna Muzychuk.
Jiner - Kosteniuk: 1-0
WGM Zhu Jiner (CHN, 2486) ended GM Alexandra Kosteinuk's (2519) unbeaten streak. The latter went for an exchange which went in favor of her opponent.
27...Naxc4 was unnecessary. There was no easy breakthrough for White. 27...Rc8/d8 would have been fine. White pounced on her chance 28.Rxc4! Bxc4 29.Rxc4 Nxc4 30.Bxc4 b5 31.Bxb5 Rb7 32.Bxd7 Rxd7 33.Nf5 Rxd5 34.Ke2 now White is playing for a win and she went on to win the game.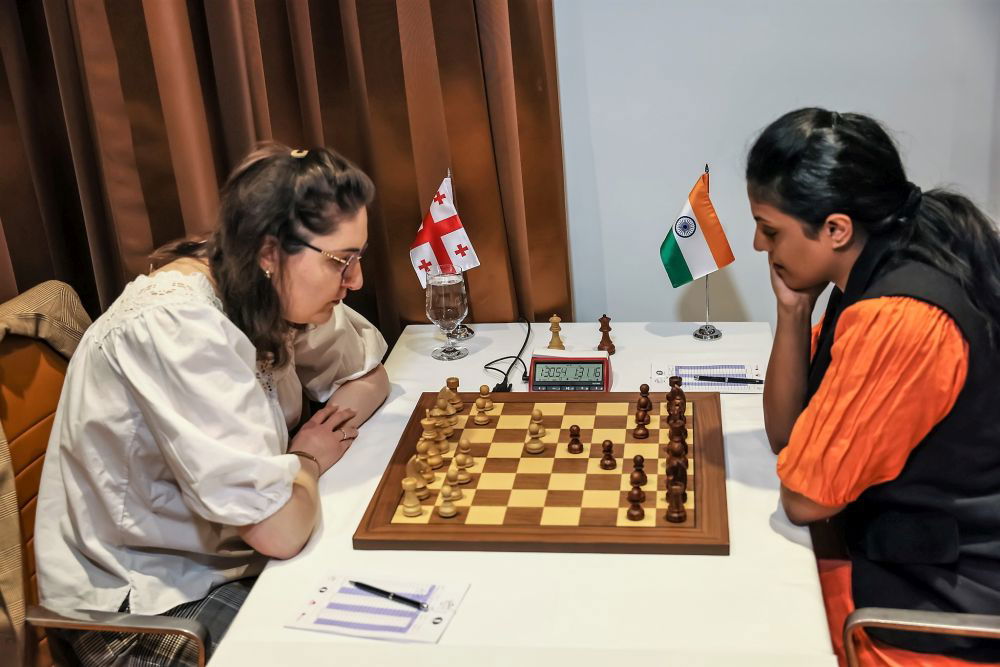 Harika shared her thoughts on her tournament on her fb and ig
Replay the live stream
Replay all Round 11 games
Round 11 results
Final standings after Round 11
GP points
Links
---