Garv Gaur wins Holi Cup Lakecity Rapid Rating Open 2022
14-year-old CM Garv Gaur scored an unbeaten 8.0/9 and finished a half point ahead of the competition to win Holi Cup International Lakecity Rapid Rating Open 2022. His sole draw was against Vrashank Chouhan in the fourth round. Three players scored 7.5/9 - Kumar Gaurav, Prakash Ram and Harish Sharma. They were placed second to fourth according to the tie-breaks. Garv won ₹21000 cash, Runner-up Kumar earned ₹15000, and Prakash received ₹11000 cash as their respective prize. All three of them received a trophy each. Total prize fund of the tournament was ₹200000. Photo: IA Sunil Soni/Chess in Lakecity
Four teenagers finish in top 10
CM Garv Gaur beat Prakash Ram in the penultimate eighth round to take sole lead 7.5/8. A draw in the final round against Kumar Gaurav ensured the teenager from Haryana a tournament victory. The remaining three teenagers to finish in top 10 are - 6th Vrashank Chouhan 7.0/9, 7th Anuj Bansal 7.0/9 and 9th Manan Goyal 7.0/9. 80-year-old R K Gupta scored an impressive 7.0/9 to become the highest finisher among veterans. He finished at 11th place overall. 13-year-old Charvi Patidar was the best finisher among female players. She scored 6.5/9 to secure 15th place.
The Prize distribution function was presided over by Chief Guest Dr. Hemant Porwal, Sr. Doctor, JK Hospital, Distinguished Guest Mr. Gajpal Singh (Secretary, Udaipur BJP, Special Guest Mr. Ashok Bhargav, Secretary, Rajasthan Chess Association, Mr. Tushar Mehta, Chief Patron, Chess in Lakecity, Organizing Chairman Mr. Anil Mangrudiya (Sahu), Mr. Rajeev Bhardwaj, President, Chess in Lakecity, and in the presence of IA Vikas Sahu, Organizing Secretary. The prizes were distributed by all the guests.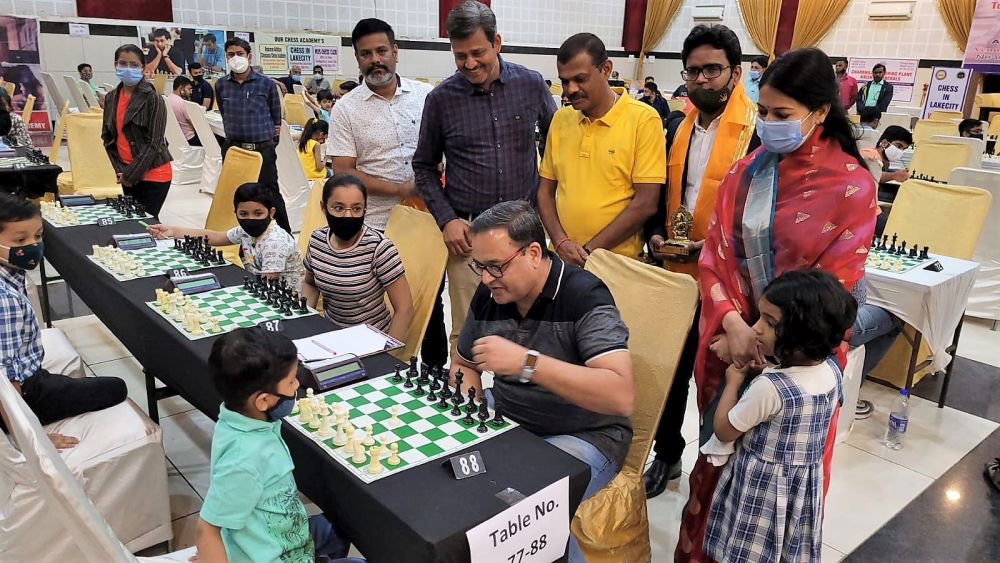 Chief Guest of the inauguration ceremony was Mr. Hitesh Mogra, Assistant Vice President, Wonder Cement. Mr. William D'Souza, Principal, St. Anthony's SSS, Udaipur, Ms. Jessy D'Souza, Dr. Sonika Jain Corporator ward-27, Organizing Chairman Mr. Anil Mangrudiya (Sahu), Mr. Devilal Salvi, Mandal Adhyaksh, BJP, Mr. Manish Mogra, Advocate, IA Vikas Sahu, Organizing Secretary and IA Sunil Soni, Chief Arbiter were also present.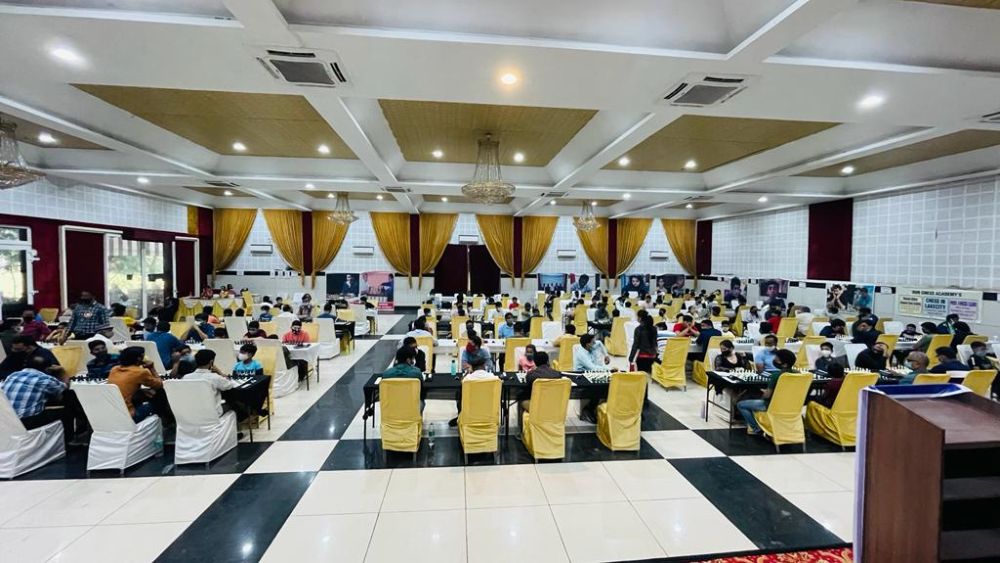 Thanks to IA Sunil Soni and Chess in Lakecity for providing valuable information about the tournament.
A total of 181 players from various states across the country took part in this event. The tournament was organized by Chess in Lakecity on 26th and 27th March 2022 at Orbit Resort, Udaipur, Rajasthan. The nine-round Swiss league Rapid Rating Open had a time control of 15 minutes + 10 seconds increment.
Final standings
| | | | | | | | | | | | | | | |
| --- | --- | --- | --- | --- | --- | --- | --- | --- | --- | --- | --- | --- | --- | --- |
| Rk. | SNo | | Name | Typ | sex | FED | Rtg | Club/City | Pts. | TB1 | TB2 | TB3 | TB4 | TB5 |
| 1 | 8 | CM | Garv Gaur | U15 | | IND | 1827 | Haryana | 8,0 | 52,5 | 57,0 | 49,75 | 0,0 | 7 |
| 2 | 4 | | Kumar Gaurav | | | IND | 1902 | Bihar | 7,5 | 51,0 | 55,0 | 45,00 | 0,0 | 7 |
| 3 | 1 | | Prakash Ram | | | IND | 2116 | Punjab | 7,5 | 50,5 | 53,5 | 42,25 | 0,0 | 7 |
| 4 | 2 | | Sharma Harish | | | IND | 1959 | Delhi | 7,5 | 46,0 | 50,0 | 41,50 | 0,0 | 7 |
| 5 | 3 | FM | Jeet Jain | | | IND | 1905 | Gujarat | 7,0 | 51,0 | 56,0 | 40,50 | 0,0 | 7 |
| 6 | 17 | | Vrashank Chouhan | U15 | | IND | 1592 | Rajasthan | 7,0 | 49,0 | 52,5 | 38,25 | 0,0 | 6 |
| 7 | 12 | | Anuj Bansal | U19 | | IND | 1728 | Punjab | 7,0 | 48,5 | 51,5 | 38,50 | 0,0 | 7 |
| 8 | 20 | | Mohit Kumar Soni | | | IND | 1544 | Bihar | 7,0 | 48,0 | 52,0 | 37,50 | 0,0 | 7 |
| 9 | 27 | | Manan Goyal | U17 | | IND | 1441 | Haryana | 7,0 | 46,5 | 51,0 | 37,00 | 0,0 | 7 |
| 10 | 30 | | Pathak Gir Raj | | | IND | 1418 | Madhya Pradesh | 7,0 | 45,0 | 48,5 | 35,00 | 0,0 | 7 |
| 11 | 39 | | Gupta R K | S55 | | IND | 1290 | Rajasthan | 7,0 | 44,0 | 47,5 | 34,50 | 0,0 | 7 |
| 12 | 28 | | Sushant Tiwari | | | IND | 1435 | Delhi | 7,0 | 42,0 | 45,0 | 33,00 | 0,0 | 7 |
| 13 | 10 | | Chandan Mandal | | | IND | 1798 | Delhi | 6,5 | 50,5 | 52,0 | 34,00 | 0,0 | 5 |
| 14 | 9 | | Sharma Avinash | S55 | | IND | 1802 | Uttar Pradesh | 6,5 | 48,5 | 53,0 | 36,75 | 0,0 | 6 |
| 15 | 50 | | Charvi Patidar | U15 | w | IND | 1224 | Rajasthan | 6,5 | 47,5 | 51,0 | 34,75 | 0,0 | 5 |
| 16 | 14 | | Mishra Sanjeev | | | IND | 1651 | Maharashtra | 6,5 | 47,5 | 50,5 | 34,75 | 0,0 | 6 |
| 17 | 37 | | Yajat Vyas | U17 | | IND | 1293 | Lakecity-Raj | 6,5 | 42,0 | 45,5 | 31,00 | 0,0 | 6 |
| 18 | 25 | | Govind Kumar Chandel | S55 | | IND | 1453 | Lakecity-Raj | 6,5 | 40,0 | 44,0 | 29,75 | 0,0 | 6 |
| 19 | 59 | | Ravi Palsule | | | IND | 1193 | Madhya Pradesh | 6,0 | 50,0 | 55,0 | 33,00 | 0,0 | 6 |
| 20 | 24 | | Vishal Vala | | | IND | 1475 | Gujarat | 6,0 | 50,0 | 54,5 | 34,25 | 0,0 | 5 |
---