Rakesh Kumar Jena victorious at Summer Cup Rating Open 2022
Starting out as the top seed, IM Rakesh Kumar Jena scored an unbeaten 6.5/7. Second seeded, Ritviz Parab and 12-year-old Jihaan Tejas Shah also scored the same. However, Rakesh won the tournament due to better tie-break score. Ritviz and Jihaan had to settle for second and third place respectively. The tournament had to be truncated by two rounds due to Section 144 getting imposed on the state on 29th June. Total prize fund of the tournament was ₹1101000. Top three prizes were ₹111000, ₹71000 and ₹41000 along with a trophy each. The tournament was held between 26th and 29th June 2022 at Udaipur, Rajasthan.
Top two seeds finish at the top
12-year-old Jihaan Tejas Shah scored an impressive 6.5/7. He gained a massive 104.8 Elo rating points and won the first prize of ₹101000 in Rating category 1300-1599. The boy from Gujarat is the youngest player to finish in top 10. 14-year-old Medhansh Saxena scored an unbeaten 6/7. He is the only other teenager to make a top ten finish at sixth place.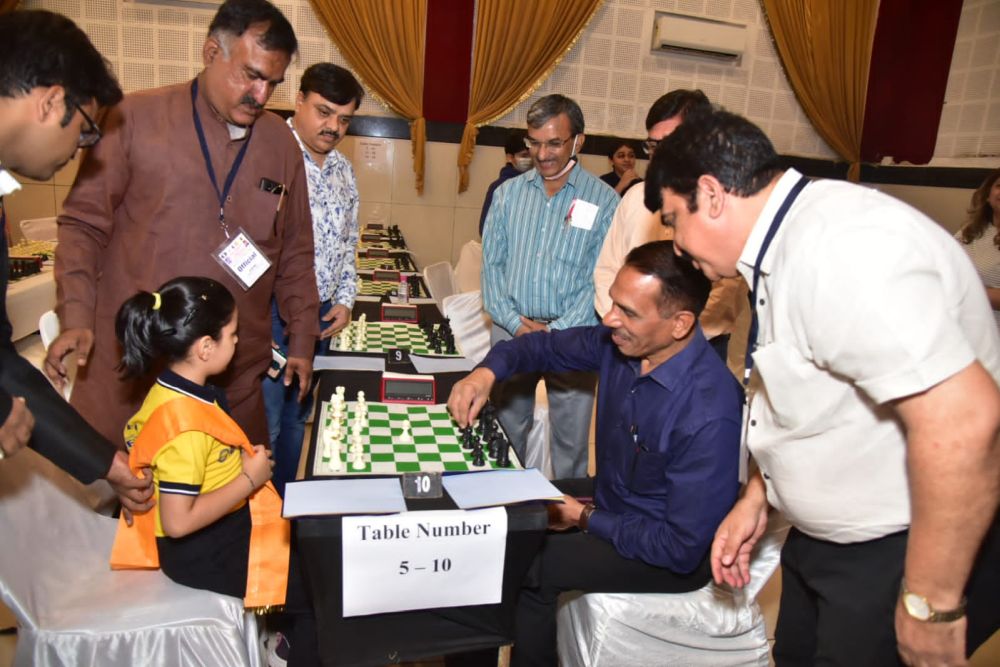 The tournament was inaugurated by District Collector of Udaipur. IAS Tara Chand Meena and Shakeel Hussain, District Sports Officer, Udaipur. FA FT Praful Zaveri, Indian Chess School founder, Rajiv Bharadwaj, President Chess In Lakecity, IA FT Rajendra Teli, Chief Arbiter and IA NI Vikas Sahu, Chess In Lakecity.
Thanks to IA FT Rajendra Teli and IA NI Vikas Sahu, Chess in Lakecity for providing photos and information about the tournament.
A total of 380 players including two IMs took part in this four-day seven round Classical Rating tournament. The event was organized by Chess in Lakecity in Udaipur, Rajasthan from 26th to 29th June 2022. Due to the imposition of Section 144 from 29th June in Rajasthan state, as per the guidelines of local administration, last two rounds (8th and 9th) were cancelled. Prizes were declared as per the standings after the seventh round. The time control of the event was 90 minutes + 30 seconds increment.
Final standings
| | | | | | | | | | | | | | | |
| --- | --- | --- | --- | --- | --- | --- | --- | --- | --- | --- | --- | --- | --- | --- |
| Rk. | SNo | | | Name | Typ | sex | Gr | FED | Rtg | Club/City | Pts. | TB1 | TB2 | TB3 |
| 1 | 1 | | IM | Rakesh Kumar Jena | | | | IND | 2331 | Orrisa | 6,5 | 31,0 | 34,5 | 31,25 |
| 2 | 2 | | | Ritviz Parab | | | | IND | 2329 | Goa | 6,5 | 30,0 | 33,0 | 29,75 |
| 3 | 35 | | | Jihan Tejas Shah | U13 | | | IND | 1589 | Gujarat | 6,5 | 28,0 | 31,5 | 28,50 |
| 4 | 12 | | | Vrandesh Parekh | | | | IND | 1808 | Gujarat | 6,0 | 32,0 | 35,5 | 29,50 |
| 5 | 17 | | | Yatin Kumar | | | | IND | 1744 | Delhi | 6,0 | 31,5 | 34,0 | 27,50 |
| 6 | 58 | | | Medhansh Saxena | U15 | | | IND | 1517 | Uttar pradesh | 6,0 | 28,5 | 32,0 | 26,50 |
| 7 | 24 | | | Dishank Sachin Bajaj | | | | IND | 1625 | Maharashtra | 6,0 | 28,5 | 31,5 | 26,25 |
| 8 | 21 | | | Babel T Divyanshu | | | | IND | 1712 | Rajasthan-Lc | 6,0 | 28,5 | 31,0 | 25,75 |
| 9 | 5 | | | Prakash Ram | | | | IND | 2046 | Punjab | 6,0 | 27,5 | 31,0 | 26,00 |
| 10 | 63 | | | Sailesh R | | | | IND | 1507 | Tamil Nadu | 6,0 | 27,0 | 30,0 | 25,25 |
| 11 | 163 | | | Rajat Yadav | | | | IND | 1244 | Madhya Pradesh | 6,0 | 26,0 | 28,0 | 23,25 |
| 12 | 68 | | | Akshat Negi | | | | IND | 1488 | Delhi | 6,0 | 24,5 | 27,0 | 23,50 |
| 13 | 3 | | IM | Sangma Rahul | | | | IND | 2209 | Indian Railways | 5,5 | 31,0 | 35,5 | 27,00 |
| 14 | 127 | | | Karthikeyan G | | | | IND | 1305 | Tamil Nadu | 5,5 | 30,5 | 32,0 | 24,50 |
| 15 | 36 | | | Arshpreet Singh | U13 | | | IND | 1586 | Haryana | 5,5 | 29,0 | 31,5 | 22,25 |
| 16 | 41 | | | Anurag Malik | | | | IND | 1573 | Haryana | 5,5 | 28,0 | 31,0 | 22,25 |
| 17 | 43 | | | Bhawesh Pandiyar | | | | IND | 1568 | Rajasthan-Lc | 5,5 | 27,5 | 29,5 | 21,00 |
| 18 | 45 | | | Shanmukha Pulli | | | | IND | 1562 | Telagana | 5,5 | 26,5 | 29,5 | 21,25 |
| 19 | 22 | | | Shah Moxit J | | | | IND | 1707 | Gujarat | 5,5 | 26,0 | 29,0 | 22,00 |
| 20 | 32 | | | Pathak Anshu Kr | | | | IND | 1596 | Uttar Pradesh | 5,5 | 26,0 | 28,5 | 20,50 |
| 21 | 14 | | | Sunyasakta Satpathy | | w | | IND | 1779 | Orrisa | 5,5 | 25,0 | 28,0 | 21,00 |
| 22 | 6 | | FM | Singh Arvinder Preet | | | | IND | 2042 | Punjab | 5,0 | 31,0 | 34,0 | 21,75 |
| 23 | 27 | | | Bidkar Nikhil | | | | IND | 1604 | Maharashtra | 5,0 | 30,5 | 33,0 | 20,50 |
| 24 | 42 | | | Sankalp Arora | | | | IND | 1572 | Uttar Pradesh | 5,0 | 29,5 | 33,5 | 21,50 |
| 25 | 61 | | | Rituraj Tamuli | | | | IND | 1514 | Assam | 5,0 | 29,0 | 31,5 | 20,50 |
| 26 | 70 | | | Soni Deepak R | | | | IND | 1482 | Maharashtra | 5,0 | 29,0 | 31,5 | 20,25 |
| 27 | 9 | | | Gajendra Singh | | | | IND | 1886 | LIC | 5,0 | 28,5 | 32,0 | 22,25 |
| 28 | 19 | | | Sandeep Chitkara | | | | IND | 1733 | Delhi | 5,0 | 28,5 | 32,0 | 20,50 |
| 29 | 7 | | | Ahmad Junaid | | | | IND | 1965 | Uttar Pradesh | 5,0 | 28,5 | 31,5 | 21,50 |
| 30 | 23 | | | Darsh Kansal | | | | IND | 1705 | Madhya Pradesh | 5,0 | 28,0 | 31,0 | 20,00 |
| 31 | 52 | | | Sahil Bheron | | | | IND | 1553 | Haryana | 5,0 | 28,0 | 30,5 | 21,00 |
| 32 | 161 | | | Samarth Sreeni Warrier | U11 | | | IND | 1250 | Gujarat | 5,0 | 27,5 | 29,5 | 18,25 |
| 33 | 47 | | | Gada Om | | | | IND | 1559 | Maharashtra | 5,0 | 27,0 | 30,5 | 20,00 |
| 34 | 64 | | | Anil Shivpuri | S60 | | | IND | 1504 | Delhi | 5,0 | 27,0 | 30,5 | 19,75 |
| 35 | 75 | | | Gaurav Sharma | | | | IND | 1463 | Delhi | 5,0 | 27,0 | 30,0 | 20,00 |
---