An all expense paid trip to Sri Lanka for Queens Star International
If you are a GM, IM, WGM or just rated above 2400 and visiting Sri Lanka is one of the things on your bucket list, here's your chance to get it ticked off by taking part in the Queens Star International Chess Tournament 2023. The event is held from the 16th to 20th of April 2023 and the organizers are providing you with airfare as well as accommodation and food for the entire duration of the event. In this article you get to know everything you wanted to know about the tournament and also have details of the players taking part and organizers whom you must contact in order to participate.
Calling all passionate chess players around the world! We are excited to invite you to take part in the first-ever Queens Star International Chess Championship, held in the beautiful country of Sri Lanka from April 16th to 20th. Join us for an unforgettable experience where you can enjoy Sri Lankan hospitality and compete with fellow chess enthusiasts from all over the world. We offer airfare from India and hotel accommodations, ensuring that you can focus on playing your best. This offer is for players who are rated above 2400 IM/WGM/GM. We guarantee that the playing conditions will be of the highest standard.
Boasting incredible scenery, delicious food, and welcoming locals, Sri Lanka promises to be the perfect destination for your next chess tournament. Don't miss out on the chance to be part of an exciting international tournament and create unforgettable memories. Sign up now to secure your place in the Queens Star International Chess Championship. We cannot wait to welcome you to our beautiful country! Please contact 0094716673936 WIM Sachini Ranasinghe for more details.
Everything that you wanted to know about the event: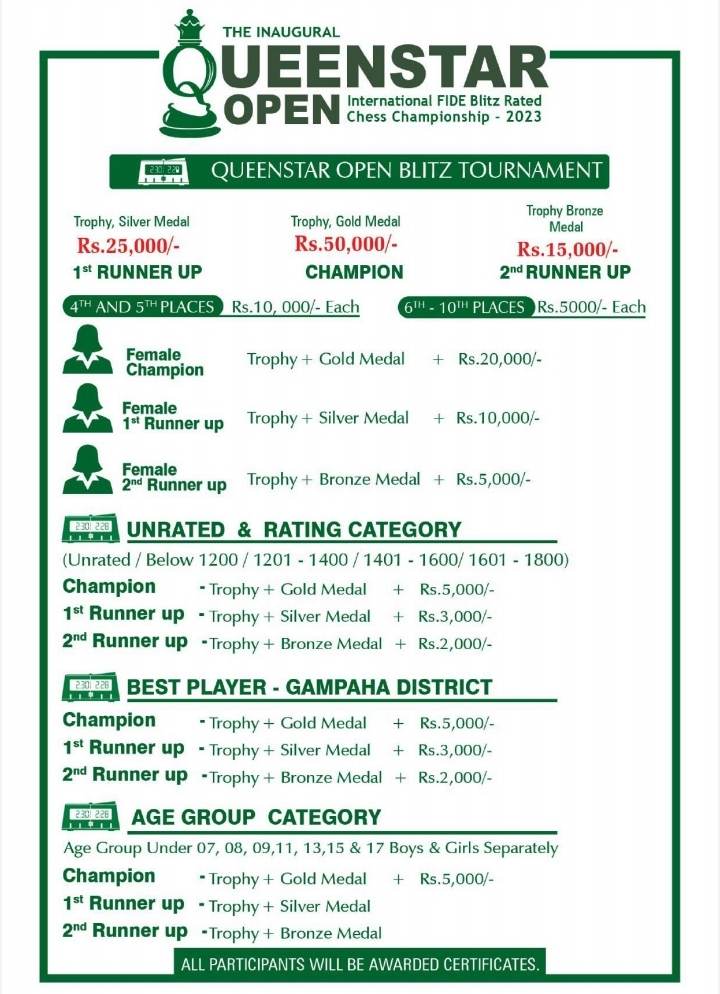 Starting list
| | | | | | | | |
| --- | --- | --- | --- | --- | --- | --- | --- |
| No. | | | Name | FideID | FED | Rtg | sex |
| 1 | | GM | Rios, Cristhian Camilo | 4403940 | COL | 2469 | |
| 2 | | GM | Mirzoev, Azer | 13400304 | AZE | 2437 | |
| 3 | | FM | Jaiswal, Rupesh | 12300870 | NEP | 2153 | |
| 4 | | FM | Galappaththi, Chinthaka Anuruddha | 9900438 | SRI | 1974 | |
| 5 | | | Saranya, Y | 5076048 | IND | 1932 | w |
| 6 | | | Sivathanujan, S | 9977104 | SRI | 1834 | |
| 7 | | CM | Wijekoon, Chandana | 9901604 | SRI | 1772 | |
| 8 | | WIM | Ranasinghe, S D | 9902651 | SRI | 1727 | w |
| 9 | | | De Silva, Osheen | 9902252 | SRI | 1712 | |
| 10 | | WCM | Tharushi, T H D Niklesha | 9918264 | SRI | 1570 | w |
| 11 | | | Fernando, J M Marlon P | 9901108 | SRI | 1454 | |
| 12 | | | Induwara, T H D Thisarindu | 9967001 | SRI | 1444 | |
| 13 | | | Ganepola, Thushanu Yasmith | 29975069 | SRI | 1356 | |
| 14 | | | Perera, Thisara Randinu | 29936110 | SRI | 1159 | |
| 15 | | | Wickramage, Rivinu Dihas Nethmira | 29983320 | SRI | 1125 | |
| 16 | | | Abeyrathne, M P Dulansa Dewmini | 29936934 | SRI | 1117 | w |
| 17 | | | Aththanayaka, A M Chanithu Yunal | 29947340 | SRI | 1116 | |
| 18 | | | Perera, Hiruka Sandesh | 29956706 | SRI | 1029 | |
| 19 | | | Halangoda, Sayumi | 29982502 | SRI | 1014 | w |
| 20 | | | Abeyrathne, M P Thuhansa Sanuthme | 29956994 | SRI | 0 | w |
---