Isuru Alahakoon - Four time Sri Lanka National Champion
Sri Lanka's Olympiad gold medalist (Category D in 2014 Tromso, Norway) and four times national champion (2012-2014 and 2018) Isuru Alahakoon (rated 2092) was able to obtain his first chess title FIDE Master with a score of 6.0/9 in the recently concluded Asian Zonal 3.2 in Dhaka, Bangladesh. Prior to that, he had participated in Commonwealth Championships 2018 in open section where he finished at 25th position with a score of 6.0/9. The 31-year-old chess player and trainer who has represented Sri Lanka four times at the Olympiad and several times in Commonwealth and Zonal tournaments shared his long journey and experience of playing chess in an interview with Marlon Fernando. Photo: Marlon Fernando
'The Sri Lankan Lion' Isuru Alahakoon
Here is the interview conducted by Marlon Fernando with FM Isuru Alahakoon:
MF: You have recently returned from Dhaka, Bangladesh after a very successful tournament, where you obtained your first chess title, FM. How was the experience and the journey you have come so far to reach where you are today?
IA: Well, first of all, I have to say that this journey is not a bed of roses. Unlike the world's top-rated players, I have not started chess at a very young age. After turning fourteen only I started playing chess. In 2003, I was able to win Sri Lankan under-18 National youth championship with the training and guidance of Dr. T S Mallawarachchi who was ranked 2nd in the Sri Lankan chess at that time with the rating of 2250. After winning National youth, I took a long break from chess due to my BCS degree and CIMA exams. Although I was selected to play National championship in 2009, I was focusing more on my studies rather than chess.
In 2012, I got an opportunity to join the Sri Lanka Navy as a professional chess player which is the turning point of my chess career. There I got an opportunity to sharpen my skills under FM Prasanna Kurukulasuriya. Meanwhile I was practicing with the 'Powerplay series' of Grandmaster Daniel King and all this training bought my chess into a completely new level. Thereafter, gradually, this unwavering passion for chess had been built within me and until then chess did not bring any importance to my life.
Finishing at 7th place in the National 'B' in the same year, I had paved my path to play in National Championship where I was able to win my first ever national championship. Then I was able to secure the national title for three consecutive years between 2012 and 2014. After a drop in my performance for three years from 2015 to 2017, I was able to clinch the national title for the fourth time in my career in 2018.
MF: In the beginning, you have mentioned that your journey was not a bed of roses. Why?
IA: Actually, chess is a mind game where you need a lot of energy both physically and mentally. It is vital for the players to be physically strong if they are going to be in complete control of their abilities. In most of the tournaments, you are playing 7-8 hours per day for five consecutive days and this is excluding the time taken for preparations before every game. So it requires a tremendous amount of energy, and physical training is essential to endure the game pressure without losing concentration and succumbing to fatigue.
More importantly, you need to understand that you do something only a few people can do, and you should be trained to concentrate well during a very difficult game. Therefore, as a professional chess player, I have to pay a lot of attention to sleep, nutrition and physical exercise. On the other hand, I came this far without a sponsor and for a game like chess it is hard to get a sponsorship especially in a country like Sri Lanka. Due to financial difficulties, I had to give up a couple of top tournaments and I believe that if I had a sponsor, I could have done much better than this and it might not taken 16 years to win a FM title. Anyway, big thanks should go to Sri Lanka Navy, Sri Lanka Chess Federation, which through its secretary Luxman Wijesuriya, has helped me immensely and more importantly, Grandmaster Dimitry Komarov who was our National Coach at that time. Well above all, I want to thank my father and mother for always being the pillar of my success in every aspect of my life.
MF: Going back to the games, how do you feel winning the national championship after three years of downfall in your career?
IA: I believe every chess player face this situation at least once in their career where the most important thing is how you evolved and improved constantly to rise from ashes and that mentality. After 2014, though it was a much difficult period for me it was not that much bad as I won some international rated tournaments, where I was maintaining my rating above 2000. In 2018 before the nationals, I was in a quite good form winning international rated events organized locally and ended up being the champion in National B 2018. It gave me the boost of confidence to face the National championship 2018.
But winning the National championship for the fourth time was not a piece of cake. I had to face young strong players in the country like FM GMH Thilakarathne, FM Sasith Nipun Piyumantha and Ranidu Dilshan who were at their peak performance. I had missed one round due to the zero-tolerance rule, and while the tournament pressure was heating up, in the end, I managed to grab the trophy decently once again with a score of 9.5/13.
MF: What are your key memorable experiences in the tournaments you have played so far?
IA: Literally, all the games are memorable. I can specifically mention a few which has added spice to my chess life. In 2012, after winning the National title for the very first time, I was able to win my first ever international chess tournament, Grand Asian Chess Challenge in Kuala Lumpur, Malaysia. That was a quite remarkable tournament for me where I had faced many strong international players for the first time in my career. Especially I need to mention the fact that by being the captain of Sri Lankan team, winning the category 'D' gold medal in world chess Olympiad, Tromso, Norway, 2014 was one of the milestone in my career. There I won against IM F Ker Anthony (2316) and drew with GM Hans Tikkanen (2559). I was offered the CM title for scoring 5.5/9. In the same year, I was privileged to represent my country in the World Rapid and Blitz Championship in Dubai, UAE where I won against GM Moussa Taleb (2295) and drew against GM Sergey Kayumov (2511).
In 2017, Asian Club Champions League, I won individual Silver medal on board no.2 finishing ahead of GM Enamul Hossain.
MF: Can you share with the readers some of your strategies and tricks you are using to win a game?
IA: First and foremost, I always believe in myself. You maybe a beginner or an expert, self-confidence is essential to maintain a high level of playing standard and to disturb your opponent's mentality. I am a firm believer of Bobby Fischer's strategy where it says, "I don't believe in psychology, I only believe in good moves". There you go! Your moves should intimidate your opponents more than anything else. For that, with the help of ChessBase Magazines and chess software I am continuously studying new openings, tactics and analyzing games of top players.
Moreover, I am playing most of my games until the very end, sometimes 60-70 moves even in a situation where some players believe if the position is equal, then the game is drawn. I always believe that you may struggle in the middle of the game, but there is always a chance of winning. For a strong player, they only need one chance to turn the game upside down.
Precisely talking about the tricks, they are unique to every player and you cannot learn them by reading a book or through coaching. Tricks are inaccessible and fundamentally bound to each person where you need to acquire and develop some for your own self with your experience.
MF: You have become a successful chess coach and mentor for a number of kids in Sri Lanka. Many have become top players in their age category passing ELO 2000. In 2017, your former student, FM J A K Saranath Nanayakkara won the Gold in Asian Schools under-15 in Panjin Liaoning, China. Are there any tips or advice that you would like to share with the parents and player who are planning to pursue chess in a serious manner?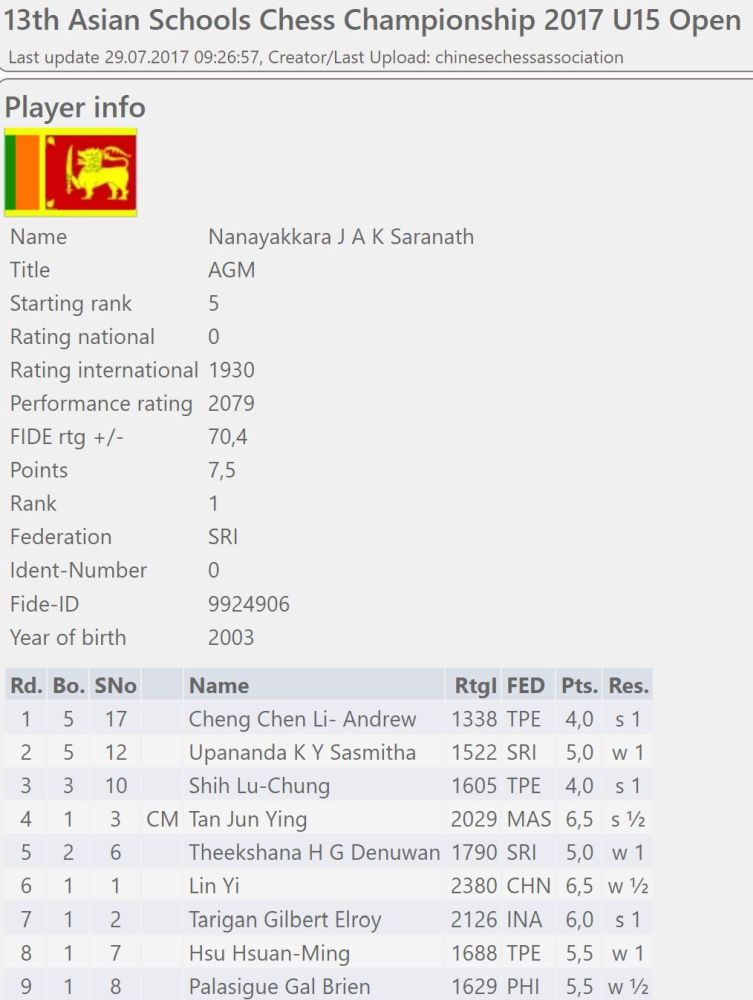 IA: Well, it is a good question. Currently, we do not have a single GM in Sri Lanka. Yet, unlike past, I have seen a number of talented and smart young prodigies who are having potential and greater future with chess here in Sri Lanka. As a parent, you need to be serious with this beautiful game and fortunately, nowadays many parents have identified the importance of learning chess as same as learning other core subjects at school. If you need your child to be a top-class player, you need to allocate a good amount of hours for them to practice chess. I strongly recommend parents to hire a private coach if they can afford rather than sending them to classes with many students.
For players, you need to build your own chess repository where you can analyze your own game with your personal coach or by yourself. The practice is more important than reading learning materials or books. There are number of online chess clubs where you can register for free. Join them and play some games on a daily basis with higher rated players where you can learn how they buildup the game systematically to get winning positions. You cannot win championships by showing up only on game-days. There is a lot of groundwork you need to do before the game. Eventually you will realize that every ounce of sweat will turn to a bundle of joy when the scoreboard is in your favor. You need to keep in mind that no champion ever said, "That was an easy win."
MF: Do you have a life outside of chess?
IA: Yes of course (laughS). When I am away from tournaments, I am having a normal life just like others. I do shopping, play table tennis, surf the net, I do travelling and I love classical music, which always calms my mind. However, if I am in the middle of a tournament, I never go out or party with friends as I always feel it is a waste of time and my energy. I used to postpone all the fun and celebrations until the very end of the tournament, as I need to give my 100% on what I am doing. Nevertheless, honestly speaking, chess is a part of my life where I cannot imagine life outside of chess.
MF: What path will you choose, in case you could not become a professional chess player?
IA: Well either I will become a left-hand spinner, national level Table Tennis player or I might ended up as a Software Engineer (laugh).
MF: Lastly, what is the plan ahead in your chess career and life?
IA: These days I am getting ready for national championship 2019 which will be held in coming June. Moreover, I am focusing on obtaining IM title and working on improving my rating to 2300+ during the year. I have an idea of starting my own chess academy and website containing chess puzzles which will facilitate players to keep contacts with me directly.
Apart from chess, I will take a big step in my personal life too. For the moment will keep it as a secret (laughs).
---