Mihail Nikitenko conquers CFSL Golden Jubilee Open 2022, Thej Kumar second
GM Mihail Nikitenko scored an unbeaten 8.5/9 and finished two points ahead of the field to win CFSL Golden Jubilee Open 2022. GM Thej Kumar M S scored sole 6.5/9 to secure second place. Four players scored 6/9 including Sri Lanka no.2 FM Ranindu Dilshan Liyanage. Veteran GM Alexei Barsov (UZB) secured third place due to better tie-breaks. The total cash prize fund of the tournament was LKR 3,650,000 (US$ 10000). The top three prizes were $3000 and a trophy, $2000 and $1000 respectively along with a medal each. This was Thej's third podium finish of the year, first in a Classical Rating tournament. Photo: Chess Federation of Sri Lanka
The tournament was financially supported by FIDE Open Aid Project.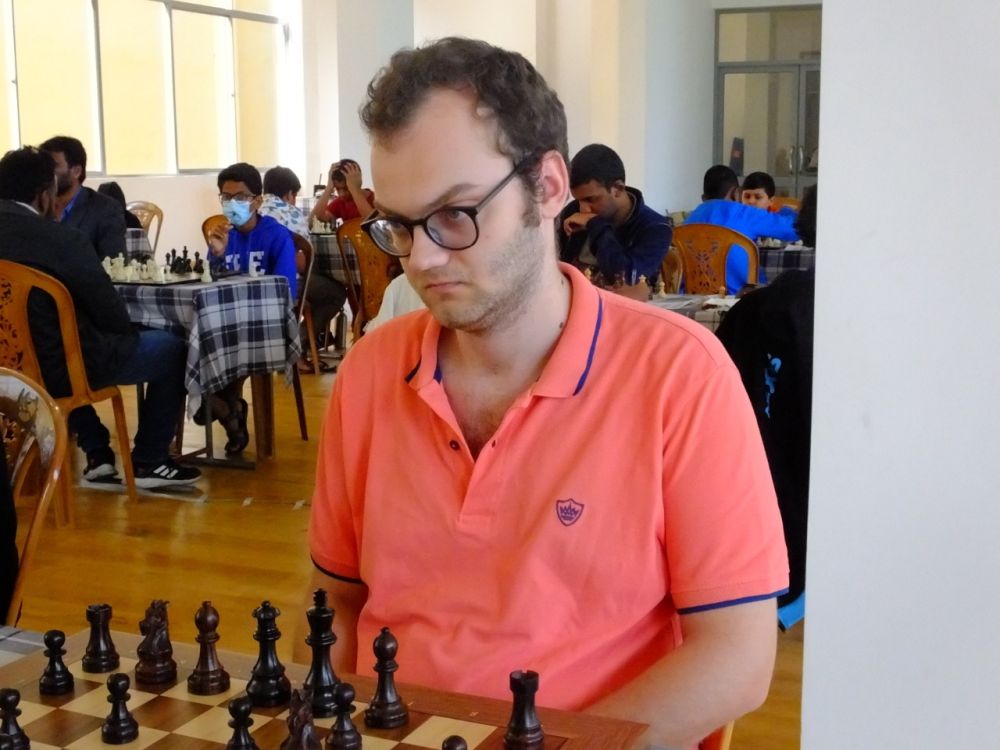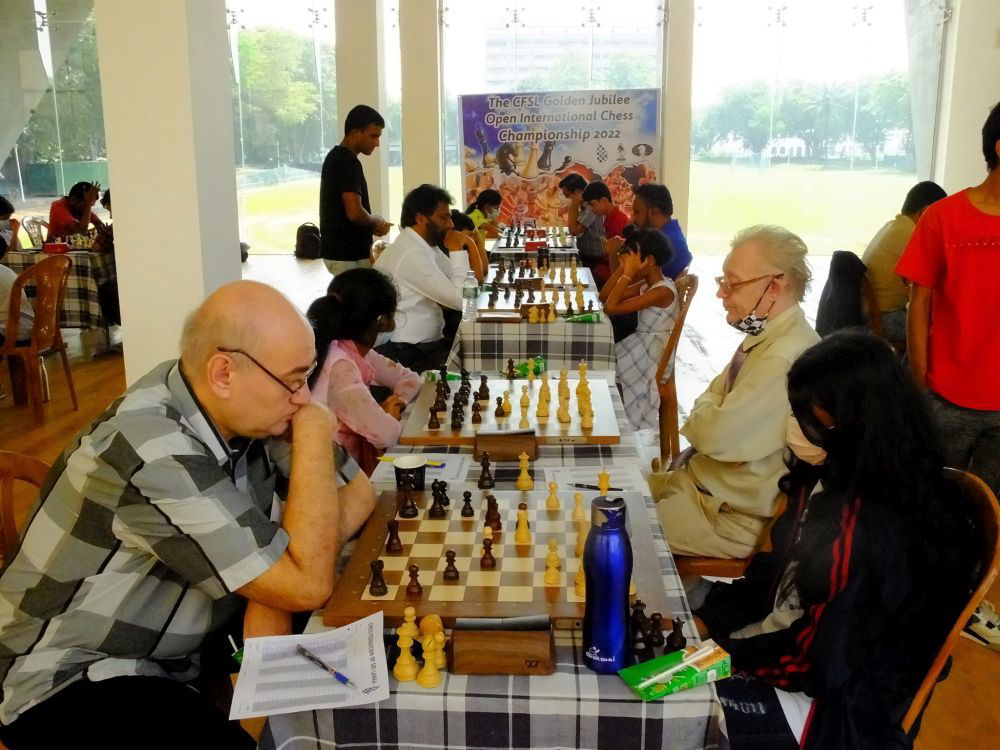 Replay all available games
A total of 37 players including four GMs and an IM took part from six countries across the world. The five-day nine-round Swiss league Rating tournament was organized by Chess Federation of Sri Lanka at Sports Ministry Pavilion, Torrington Square in Colombo, SrI Lanka from 23rd to 27th November 2022. The time control of the tournament was 90 minutes + 30 seconds increment from move no.1.
Final standings
| | | | | | | | | | | | | | | |
| --- | --- | --- | --- | --- | --- | --- | --- | --- | --- | --- | --- | --- | --- | --- |
| Rk. | SNo | | | Name | sex | FED | Rtg | Pts. | TB1 | TB2 | TB3 | TB4 | K | rtg+/- |
| 1 | 2 | | GM | Nikitenko Mihail | | BLR | 2484 | 8,5 | 2023 | 46,5 | 51 | 0 | 10 | 11,4 |
| 2 | 3 | | GM | Thejkumar M S | | IND | 2393 | 6,5 | 2023 | 47 | 51,5 | 0 | 10 | -1,2 |
| 3 | 5 | | GM | Barsov Alexei | | UZB | 2327 | 6 | 2034 | 48 | 52 | 0 | 10 | -2,6 |
| 4 | 4 | | FM | Liyanage Ranindu Dilshan | | SRI | 2331 | 6 | 2006 | 45,5 | 49,5 | 0 | 20 | -2,8 |
| 5 | 18 | | | Sivathanujan S | | SRI | 1731 | 6 | 1953 | 43,5 | 47 | 0 | 20 | 78,6 |
| 6 | 11 | | | Liyanapathirana Pasan Vindula | | SRI | 1896 | 6 | 1930 | 44 | 47,5 | 0 | 20 | 28,2 |
| 7 | 1 | | IM | De Silva L M S T | | SRI | 2521 | 5,5 | 2010 | 48 | 52 | 0 | 10 | -19,1 |
| 8 | 12 | | CM | Amarasinghe A A C B | | SRI | 1850 | 5,5 | 1918 | 42,5 | 45 | 0 | 20 | 25 |
| 9 | 23 | | WCM | Sanudula K M Dahamdi | w | SRI | 1567 | 5,5 | 1909 | 42 | 44,5 | 0 | 40 | 129,2 |
| 10 | 6 | | GM | Fominyh Alexander | | RUS | 2285 | 5,5 | 1903 | 43,5 | 47,5 | 0 | 10 | -20,4 |
---