ACL 1st Super League 2018 review
ACL 1st Super League 2018 concluded after 52 days of non-stop action in over 700+ games spanning across more than 350 players in over 50 different teams from various academies in India. The aim of the tournament was to make sure players get to play some high quality chess and coaches get some ready material to analyze and rectify the students' mistakes. So no prizes were announced until after the winner was decided. Each category winners received ChessBase products worth €200 (almost ₹16000) sponsored by ChessBase. Players took part from Oman, Sri Lanka, USA and India, from the comfort of their homes. We bring you some of the best games played in the entire tournament along with photos and feedback from the coordinators of the event.
ACL 1st Super League 2018 witnessed some amazing games
Shibhangi Ghose represented Dibyendu Barua Chess Academy (Kolkata) in Unrated category from Oman, Nimai Ponna played for Innovators Chess Academy (Bengaluru) in Rating 1000-1400 category from USA, Minul Doluweera was part of d'pawn Chess Academy (Amravati) from Sri Lanka and Arun Dixit played for Matrix Chess Academy (New Delhi) from USA.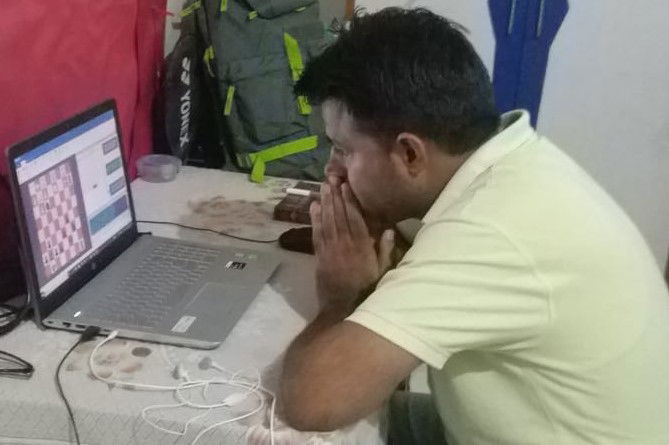 Pawan Dodeja played another brilliant game showcasing beautiful technique in the endgame against J Malleswara Rao. He also discusses various types of Dragon and where he learnt what new ideas.
Benefits of taking part in ACL:
1. High quality practice games for players in their rating categories
2. Ready games for coaches of the academy to analyze the mistakes of their students
3. Playing against opponents all over the India and the world
4. Get to play from the comfort of your home or academy. No travelling.
5. No entry fee! The ChessBase Premium Account can anyway be used to become a stronger player with all its features.
6. Attractive prizes to the winners.
7. Exposure to the academy with regular reports about the matches on ChessBase India.
Download games of all four categories:
Aftermath of ACL:
Feedback:
Manish Parmar, Coach of Dynamic Chess Academy
"This event is very well organized. I am heartily thankful to ChessBase India for providing great platform to players & academies. Due to the participation of leading academies across the India, all Players will play very seriously & benefit from the practice with different state's talented players."
Prasenjit Dutta, Coach of Matrix Chess Academy
"It is always always great to see players to fight for the honour of their academy. Thanks to ChessBase India."
Pawan Dodeja, Coach of d'pawn Chess Academy
"Thanks to ChessBase India and of course Sagar Shah for arranging these type of Tournaments. So you have tournament feel in your sweet home! :)"
Sushrutha Reddy, Coach of Innovators Chess Academy
"Kudos to you guys for having brought together all the Teams and having taken the pain to organize this."
Prasenjit Bhattacharya, Coach of Pioneer Chess School
"It is really a good exposure for the kids. They are really enjoying the games and very much excited"
Aim of the Academy Chess League (ACL):
There are many chess academies all over the world. However, in terms of playing practice and partners they are bounded by geographical limitations. The Academy Chess League by ChessBase India wants to overcome these limitations and barriers and ensure that academies, schools and institutions situated in one part of the world can compete against teams anywhere on the planet. The aim is to play high quality chess and that's why the time control of 45 minutes + 10 seconds has been decided. ACL is an initiative by ChessBase India that will be played online on the Playchess platform. Over 300 players from 50 institutions have registered with us for the 1st Super League that has begun from the 1st of July. The second league will soon follow, so stayed tuned!
Related articles:
The launch of Academy Chess League
And we are off! The 1st Super League of ACL begins!
Dramatic result in Group B of Unrated Category in ACL 1st Super League 2018
Innovators Chess Academy earn huge victories in ACL 1st Super League 2018
Pawan showcases his endgame skill in ACL 1st Super League 2018
8-year old kid shows never give up attitude in ACL 1st Super League 2018
ACL 1st Super League 2018 Unrated category Semi-finalists revealed
ACL 1st Super League 2018: All Semi-finalists revealed
ACL 1st Super League 2018: KCA and DCA are the finalists in Unrated category
ACL 1st Super League 2018: DCA and ICA are the finalists in Rating 1000-1400 category
ACL 1st Super League 2018: MCA and DBCA are the finalists in Rating 1400-1800 category
ACL 1st Super League 2018: DBCA and PKCCE are the finalists in Rating 1800-2200 category
MCC wins ACL 1st Super League 2018 in Rating 1400-1800 category
DCA wins ACL 1st Super League 2018 in Unrated category
DCA wins ACL 1st Super League 2018 in Rating 1000-1400 category
DBCA wins ACL 1st Super League 2018 in Rating 1800-2200 category
---