Dramatic result in Group B of Unrated Category in ACL 1st Super League 2018
We all know that team championship means anything can happen. At the conclusion of round 1 in Unrated category of Group B teams, all four teams finished at the exact same match point as well as game point. Chess Gurukul Seniors, d'pawn Chess Academy, ICA Pups and Pioneer Chess School, all are at the same position. d'pawn Chess Academy has shown outstanding enthusiasm, they got 3 matches in different categories out of 8 league matches. So far they all managed to turn up in every single game and sometimes they also watch their future opponents' game to understand what they are going to face. Let's take a look at what happened in Group B in this pictorial report and a cute video.
Group B of Unrated Category is united after round 1
After Day 1 witnessed matches from all four categories, Day 2 had matches from Group A and Group B of Unrated category. Matrix Chess Academy (New Delhi) had no trouble winning against Victorious Chess Academy (Pune) 2.5-1.5. The league witnessed it's first draw between Chess Gurukul Senior (Chennai) and d'pawn Chess Academy (Amravati). On Day 3, Pioneer Chess School (Kolkata) had another draw in Group B against ICA Pups (Bengaluru). Thus resulting in same score for all teams in Group B. Since only the champion will qualify for the Semi-finals in Unrated category, things are going to get interesting in Group B.

Matrix Chess Academy perhaps has the biggest lineup in the lead. They have 10-10 players in each of their team so they never have to worry about substitution. Almost every other day a new player joins one or the other Matrix team, making them one of the most flexible and unpredictable team in the league.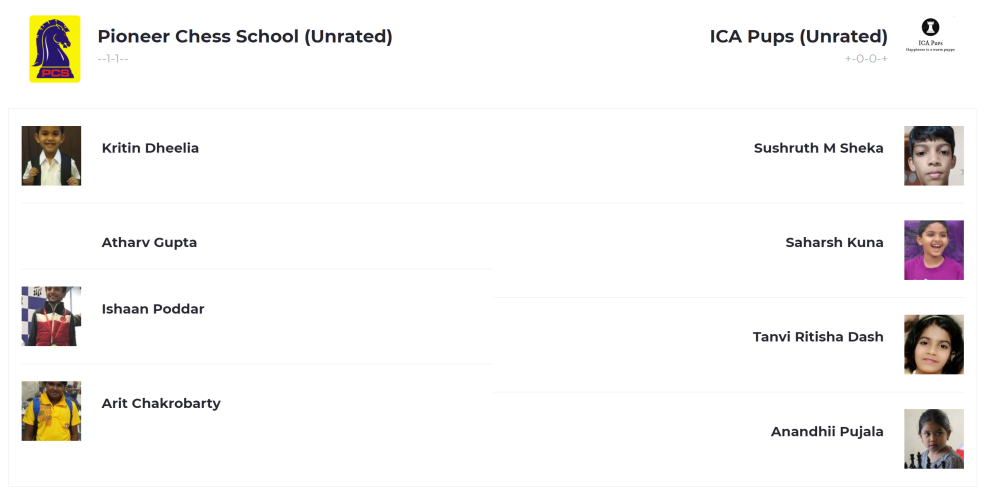 Pioneer Chess School coach, Prasenjit Bhattacharya said, "It is really a good exposure for the kids. They are really enjoying the games and very much excited"
For more details, visit here
Related articles:
And we are off! The 1st Super League of ACL begins!
---