No wonder he is Giri's Second!
The Sveshnikov Sicilian is currently the hot topic of debate at the top level. With Magnus Carlsen scoring win after win with it, his compatriots are taking up the challenge and playing it themselves! With both White and Black finding hitherto hidden resources, it was high time that a Fritz Trainer was made on the subject. Who better to do it than the man who has garnered numerous accolades for assisting Anish Giri? Erwin L'Ami's sparkling work on a subject that is dear to him is sure to throw a spanner in the works. Tanmay Srinath scrutinizes L'Ami's latest offering and deems it a must have for all players! A detailed review.
This DVD will forever be special to me, as it is the first one that I am reviewing! The way it all started was somehow unique to say the least - I was having my lunch when out of the blue my mentor Sagar Shah informed me that this DVD has just been released. Having been fascinated by this opening for a long time, I agreed to review it. The problem was that my internet was too slow, so it couldn't happen right away! This is by far the largest DVD I have downloaded - it comes to around 4.5 gb. So I finally installed it, I was licking my lips. I would like to go step by step through the review, just as Erwin has throughout, and I would first like to start with the opening itself:
The Sveshnikov Sicilian - A top level guest that never leaves!
Since its inception, this variant of the Sicilian has been hugely controversial. From Black giving up the d5 square for free and saddling himself with a weak d6 pawn, White players often thought they had a decisive positional advantage as early as move 6! For some of you who are wondering what the Sveshnikov is, here is the starting position of one of the most dynamic systems in the world of chess:
Right from the start Black sets the tone for a brawl - He claims space in the center with 5...e5, but severely weakens the light squares on d5 and f5. This variation was present from the beginning of the 1950s and was previously called the Pelican, but it was Evgeny Sveshnikov and Gennadi Timoshchenko who made some ground breaking developments in this line and converted it from an upstart to a serious option for Black.
After these two artists of the game, many people took up the opening in the 90s, most notably Vladimir Kramnik, Alexei Shirov, Boris Gelfand, Peter Leko etc. However, the Sveshnikov took a dip in popularity, especially after its regular practitioners Shirov and Leko disappeared from the top flight. The opening made a resounding comeback in the hands of the Mozart of Chess, Magnus Carlsen, who revitalised this opening and added a lot of creative ideas. His weapon of choice since his youth, Carlsen made it his main defense against the excellent theoretician Fabiano Caruana in their 2018 World Championship Match. Since then, the system has become all the rage at the top again, with solid grandmasters like Karjakin, Grischuk and Caruana himself using these lines in their games and obtaining excellent results. With such scope for inventiveness, it is no surprise that the second of a 2800+ GM has just released his analysis against White's various tries. Here are some games played by some of the most foremost experts in this variation:
And last, but not the least, here is Carlsen's recent demolition of Sergey Karjakin in the same opening!

With all that done and dusted, you must have no doubt about the soundness of the line! On to the author then!
Erwin L'Ami : The most underused presenter!
The only thing I knew about Erwin L'Ami before this was that he was Anish Giri's second. Well, that itself convinced me to take everything he says seriously! Giri is known to be one of the best theoreticians at the top level, and surely that is not due to his efforts alone! What I didn't know is how good a player Erwin is - with a peak of 2651, and numerous tournament victories (Reykjavik 2015 with 8.5/10! for one), he has a resume that is one of the most comprehensive. I have to admit that I didn't have a great opinion of him before seeing his work - I had only looked at the titles of his DVDs and was frowning each time as they seemed not too comprehensive. Well, I was mistaken!
I have watched DVDs of many good authors - Bologan, Marin, Gareyev and Nielsen to name a few. However, to say that I was blown away by Erwin's presentation style is perhaps an understatement! I was hooked from the introduction on, and I never let go! He is honest, informative and most importantly practical in his delivery. He mentions numerous times that he has chosen lines that even an average club player can play, which is based more on understanding and less on memorising. What I loved about him is that he is one of the most genuine authors around - if a line is better for some side, he says so without much justification. It is also reassuring to hear him say " Black is comfortable", "Black is fine" and so on. He also asks us not to mug up all the lines and instead understand what Black is aiming for, which is what the average player is dying to hear.
What I found very nice is that Erwin recommends two or more options on most critical moves. Normally, amateur players feel that an abundance of options is confusing, but that feeling itself justifies the reason they are called amateurs. When preparing for tournament games, one often needs a leg to stand on incase one of his lines fail. In that case, the whole point of recommending only one line is lost, and the player is left wondering what went wrong. Instead, multiple options enhance the choices available to us and makes it harder for our opponents to prepare for our games. It would be correct to say that Anish Giri is lucky to have such a wonderful second - Erwin L'Ami is underused as an analyst and author!
The DVD itself : Near Perfection
What I noticed on the front page of the DVD was a silly spelling mistake on one of the tabs - a curious error considering how correct Chessbase usually is
What one notices immediately are the new features - Memory Markers, Interactive Games and Training. I believe Davide Nastasio has explained what each of them means, so I won't waste our time on them. They are basically complementary exercises that aim to further your understanding about the opening you have just learnt. Take the following position for example:
The title page also shows how clear L'Ami's thought process is - he first starts with the minor lines, then with the old main lines, and finally the most critical 7.Nd5 variation. The format of the DVD is excellent. L'Ami covers the most important moves for both sides and suggests his improvements. What is nice is that he mentions why a certain move doesn't work, and why his suggestion does. This makes it easier for us to remember what he recommends.
With regards to the lines that he recommends, L'Ami's treatment of the sidelines is fresh and notable for its aggressiveness. In fact, his entire repertoire is centered around the fight for the initiative, an approach that some of us had forgotten in this era of perfect engine play. Here is one example:
What should also be noted is that this repertoire is full of subtle factors. For example, an idea that doesn't work in one position works in another. It's all about understanding the small things on the board, as the difference in placement of one piece or one pawn changes the evaluations by big margins.
With regards to the positional 9.Nd5, he recommends the Krasenkow Variation with an early Ne7:
Play is generally very sharp and not to everyone's taste. Hence, L'Ami also recommends the safer 11...Bg5 instead of Ne7.
I would like to mention one potential flaw regarding this variation. L'Ami in one of the most critical systems suggests going into an inferior endgame. The position that is reached is shown below:
Here only White has some chances to play for a win. L'Ami shows some deep analysis and convinces us that the position is drawn, albeit with accurate play. If so, then why play an endgame where Black's chances of winning are close to nil? At our level, this kind of position is not what we want when we need to play for the win. This is why I called the content near perfect. No matter what justification a 2650 player gives me here, my gut and my experience as an analyst myself tells me that White can squeeze out a win if Black is not careful.
Apart from this, the rest of the content is of very high level. Against the tactical 9.Bxf6 Erwin recommends going into the complications after 10...f5!:
Here I was more or less convinced with all his recommendations and feel that they are playable at any level, be it at the top or at the bottom.
Against the 7.Nd5 variation, the current trend at the top, Erwin covers both 8...Ne7 and 8...Nb8 and his analysis remains convincing. It is here that he is a little unsure of how to evaluate the positions, as the structures that arise are relatively fresh and full of hidden features. The fact that he admits it himself shows how grounded he is, and in my view gains brownie points with the viewer.
The exercises and interactive games are fun to go through, and there is nothing much to add about them - the reader must go through them themselves to have the fun I did!
The Final Impact : For or Against?
I must say this - the Sveshnikov is one of the most concrete openings around.This is not like the Reti, where general understanding gets you point after point. You have to know where to play what, and know that upto a great depth. Thus, while the lines are World Championship material, they might not be to everyone's initial taste. However, no matter what your level is, you will have something to learn from watching Erwin go about his business. His suggestions of dynamic sacrificial chess when playing black will make a deep impression, and one will learn how to fight for the initiative just by going through some games in this DVD. Sure, the Sveshnikov is not a bed of roses, but once mastered it is a lifelong weapon and one of the most trusty ways to throw White off the ring as soon as possible.
I heartily recommend this DVD to players who are serious about improving their game. The level really doesn't matter - what matters is how open you are to receiving golden advice from one of the best analytical brains in the world! This is a must watch, and a steal for any chess player! I hope you have as much fun watching the DVD as I had analysing and writing about it!
About the Author: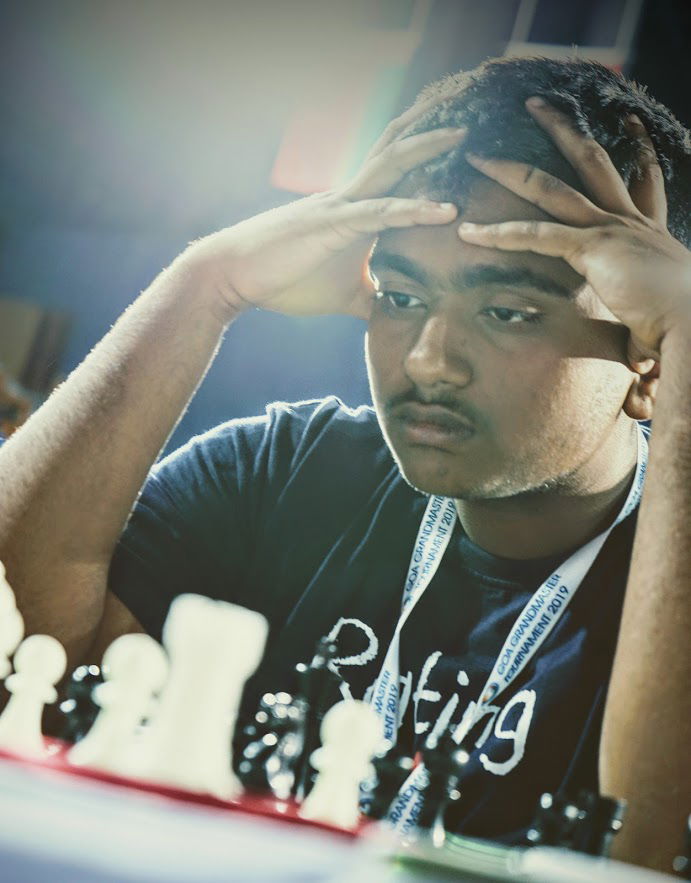 Tanmay Srinath is an 18-year-old chess player from Bangalore, Karnataka, currently pursuing both chess and engineering at BMSCE Bangalore. Tanmay is also a Taekwondo Black Belt, who has represented the country in an International Tournament in Thailand. He is a big fan of Mikhail Tal and Vishy Anand, and sincerely believes in doing his bit to Power Chess in India!
---