MPL 59th National Senior R7: Venkatesh makes it a three-way race
GM Mitrabha Guha (WB) and GM Sethuraman S P (PSPB) had a quick 13-move draw. It allowed, GM Venkatesh M R (PSPB) to catch up as he defeated GM Abhijeet Gupta (PSPB) with a very nice positional play in the Catalan. This was Abhijeet's second consecutive loss at MPL 59th National Senior Chess Championship 2022. Sethuraman, Mitrabha and Venkatesh are at 6/7 each. They are followed by eight players - five IMs and three GMs at 5.5/7. Venkatesh vs Sethuraman and Leon vs Mitrabha are the top two clashes of the eighth round, which starts today at 2 p.m. IST today. Photo: Aditya Sur Roy
Eight-pack in the chase
GM Iniyan P (TN), GM Karthik Venkataraman (AP), GM Leon Luke Mendonca (Goa), IM Aronyak Ghosh (RSPB), IM Koustav Chatterjee (WB), IM Mehar Chinna Reddy C H (RSPB), IM Ameya Audi (RSPB) and IM Vignesh N R (RSPB) are all close by the leaders and ready to catch them at any time.
Abhijeet - Venkatesh: 0-1
GM Venkatesh M R (PSPB, 2459) played sublime chess to hand GM Abhijeet Gupta (PSPB, 2601) his second consecutive loss of the event.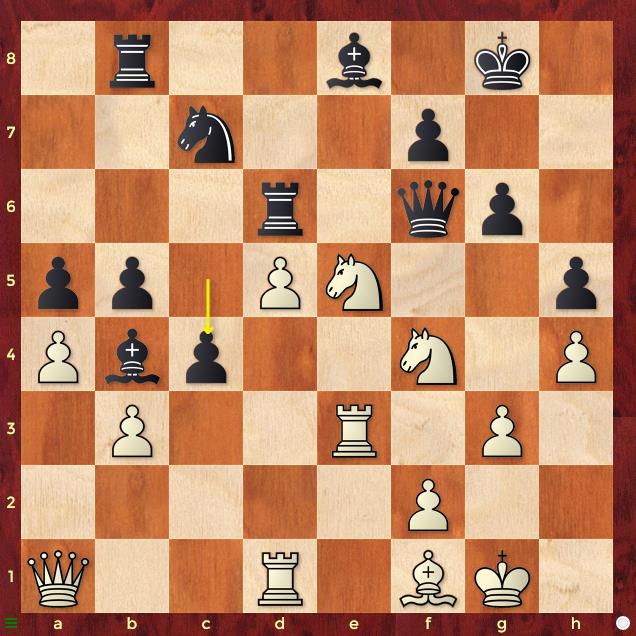 Black could have done 26...c4 a couple of moves ago, still 29...c4 is okay from a human perspective, although computer may feel otherwise. The reasonn behind the delay is, he ensured White does not get any counterplay hence 26...g6, 27...h5 and 28...Rd6 before going 29...c4. 30.bxc4 bxa4 31.Rf3 Qg7 32.Bh3 a3 33.Rc1 Na6 34.Kg2 Nc5 35.Rxa3 Bxa3 36.Qxa3 Qxe5 37.Qxc5 a4 simplification only helped Black and he went on to win the game.
Kushagra - Leon
GM Leon Luke Mendonca (2566) could have finished the game much earlier. He found the nice 35...g3. After 36.Rg2, he needed to continue the annihilation on the kingside 36...Rah8 37.Rxa6 Rxh2 38.Kf1 Rxg2 and White cannot save the queen. The game continued for another 36 moves after 36...Rxh2.
A total of 196 players including 18 GMs and 27 IMs are taking part in this tournament organized by Delhi Chess Association. The event is taking place in New Delhi from 22nd December 2022 to 3rd January 20233. The 13-round Swiss league tournament has a time control of 90 minutes for 40 moves followed by 30 minutes with an increment of 30 seconds from move no.1
Replay Round 7 games
Round 7 results
Round 8 pairings
Links
---