MPL 59th National Senior R11: Karthik, Aronyak and Hari Madhavan score superb victories
GM Karthik Venkataraman, IM Aronyak Ghosh and Hari Madhavan N B scored sensational victories to throw the tournament wide open. Karthik defeated GM Abhijeet Gupta in an thrilling encounter. IM Aronyak Ghosh just simply played outstanding chess against GM Sethuraman S P. India's latest International Master, Hari Madhavan N B defeated GM Mitrabha Guha to join the four-way lead with Karthik, Koustav and Aronyak. The MPL 59th National Senior Chess Championship 2022 is undoubtedly heading for a close and exciting finish. Five players - Abhijeet, GM Visakh N R, IM Srihari L R, GM Deepan Chakkravarthy and IM Sayantan Das are trailing by a half point at 8/11 each. Round 12 starts today at 9 a.m. IST today. Photo: Shahid Ahmed
Hari Madhavan N B becomes the first International Master of India in 2023
The first day of 2023 got India's latest International Master in the form Hari Madhavan N B of Tamil Nadu. He had already crossed 2400 in the live ratings few days ago. He became an International Master by winning against GM Mitrabha Guha in Round 12. The teenager is also leading the tournament with a score of 8.5/11.
Abhijeet - Karthik: 0-1
GM Abhijeet Guptta (PSPB, 2601) suffered his third loss of the event, against GM Karthik Venkataraman (AP, 2503). It was an extremely complicated arising out of QGD Ragozin Defence. Abhijeet got quite a few good opportunities against Karthik in the middlegame.
Both 30.Ng5+ and Qe3 are promising for White, having the same intention of extracting the black king out in the open and then take advantage of its weakness. 30.Qe3 Qc4 31.Ng5+ Kg6 32.Qg3 Qf4 33.Rxd3 Qxg3 34.Rxg3 is winning for White. However, it is not easy figure it out over the board during time scramble. The game continued 30.Rab1 Qc4 31.Qg5 Nf4 32.Rbc1 Nc2 33.Kh1 Bh6 34.Qh4 Nd3 things started turning in Black's way. 35.Qh5? Nxf2+ 36.Kg1 Ng4 37.Ng5+ Kf8 38.Rd2 Qd4+ and we get the following position:
38...Nce3 instead of 38...Qd4+ would have been fine for Black. It has the same idea of attacking on White's weak back-rank. The difference is, after 38...Qd4+ White can just take it 39.Rxd4 Nxd4 40.Qxg4 Rxc1+ 41.Kh2 and now White is winning as his king is relatively safer than his opponent's. White decided against taking the queen and went 39.Kh1 Qxd2 40.Qxg4 Qxc1+ 41.Kh2 and it's over as Ne3, Nf1+ is coming.
Srihari L R - Koustav
IM Srihari L R (TN, 2429) continues his good form. He was on the verge of victory against India's latest GM Koustav Chatterjee (WB, 2508).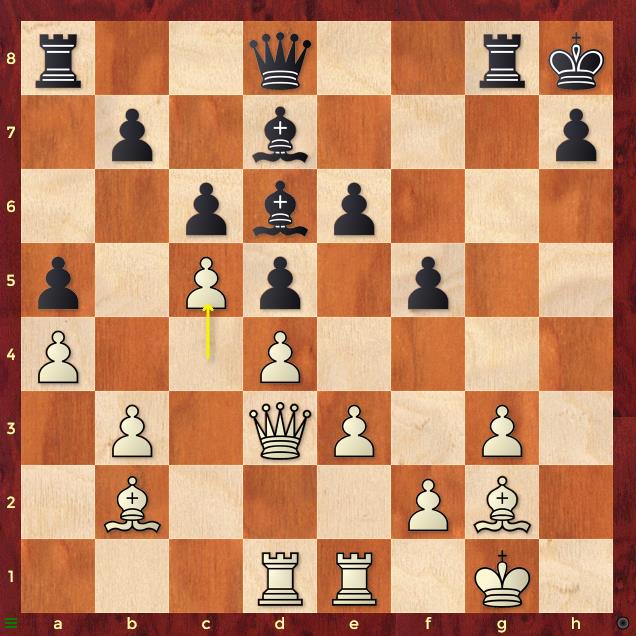 The best time to play Bxg3 was right now after 26.c5. There is nothing definite but Black would have had enough compensation after 27.hxg3 Rxg3 28.Qf1 Qg5. Black went Bxg3 after six more moves and by that time the white king has already marched halfway towards the queenside. Needless to say, the desired effect for Black was a far cry from optimal.
White needed to play 39.Rxh7+ first Kxh7 40.Qb7+ or if Black declines the sacrifice 39...Kg8 is met by 40.Bd3. In both cases, White is winning. The volataile nature of the position combined with less time than required, can easily confuse the move order. Moreover, the stakes and pressure of the situation also need to be factored in. Hence, White first went 39.Qb7 exd2+ 40.Kb2 Qg8 and after a back and forth play, the game ended in a draw.
Aronyak - Sethuraman: 1-0
GM Sethuraman S P (PSPB, 2642) got into trouble against IM Aronyak Ghosh (RSPB, 2521) when the former ran out of options.
White made the correct decision of taking the b6-knight, create a weakness there and gain the c4-pawn too. 36.Bxb6 axb6 37.Nxc4 Qc7 38.Rc1 Qc5+ 39.Kg2 Qb4 40.Qe2 Qc5? 41.Red1 Rc7 Black is running out of moves. 42.Qd2 f6 43.d6 e6 44.Ne5+- now Black is completely lost.
Mitrabha - Hari Madhavan: 0-1
GM Mitrabha Guha (WB, 2487) was forced to give up his bishop for two pawns against Hari Madhavan N B (TN, 2385).
34.b3 would have kept the fight going. 34.e4? opens up the position and weakens White's pawns which is exactly what Black wants from the position, to use his extra piece and neutralize its compensation. 34...dxe4 35.Rb3 Rb6 36.Rxb6 axb6 37.Nxe4 Ng8 38.d5 Rxh5 and Black is winning now. Hari earned his final IM-norm with this win and he had crossed 2400 in the live ratings a few days ago.
A total of 196 players including 18 GMs and 27 IMs are taking part in this tournament organized by Delhi Chess Association. The event is taking place in New Delhi from 22nd December 2022 to 3rd January 20233. The 13-round Swiss league tournament has a time control of 90 minutes for 40 moves followed by 30 minutes with an increment of 30 seconds from move no.1
Replay Round 11 games
Round 11 results
Standings after Round 11
| | | | | | | | | | | | | | |
| --- | --- | --- | --- | --- | --- | --- | --- | --- | --- | --- | --- | --- | --- |
| Rk. | SNo | | Name | sex | FED | Rtg | Club/City | Pts. | TB1 | TB2 | TB3 | TB4 | TB5 |
| 1 | 7 | IM | Aronyak Ghosh | | IND | 2521 | RSPB | 8,5 | 76 | 82,5 | 62,25 | 0 | 6 |
| 2 | 8 | IM | Koustav Chatterjee | | IND | 2508 | West Bengal | 8,5 | 72 | 77 | 57,00 | 0 | 7 |
| 3 | 10 | GM | Karthik Venkataraman | | IND | 2503 | Andhra Pradesh | 8,5 | 69,5 | 74,5 | 56,25 | 0 | 6 |
| 4 | 32 | | Hari Madhavan N B | | IND | 2385 | Tamil Nadu | 8,5 | 68,5 | 73,5 | 55,50 | 0 | 7 |
| 5 | 3 | GM | Gupta Abhijeet | | IND | 2601 | PSPB | 8 | 73 | 78 | 55,00 | 0 | 8 |
| 6 | 5 | GM | Visakh N R | | IND | 2544 | RSPB | 8 | 72 | 77,5 | 56,00 | 0 | 6 |
| 7 | 25 | IM | Srihari L R | | IND | 2429 | Tamil Nadu | 8 | 66,5 | 71,5 | 51,00 | 0 | 5 |
| 8 | 20 | GM | Deepan Chakkravarthy J. | | IND | 2457 | RSPB | 8 | 57,5 | 62 | 46,00 | 0 | 6 |
| 9 | 18 | IM | Das Sayantan | | IND | 2475 | RSPB | 8 | 56,5 | 61 | 43,25 | 0 | 7 |
| 10 | 1 | GM | Sethuraman S.P. | | IND | 2642 | PSPB | 7,5 | 75,5 | 79,5 | 51,00 | 0 | 6 |
| 11 | 14 | GM | Mitrabha Guha | | IND | 2487 | West Bengal | 7,5 | 75 | 81 | 53,25 | 0 | 5 |
| 12 | 9 | GM | Iniyan P | | IND | 2507 | Tamil Nadu | 7,5 | 69,5 | 74,5 | 48,75 | 0 | 5 |
| 13 | 30 | FM | Panesar Vedant | | IND | 2387 | Maharashtra | 7,5 | 68 | 73,5 | 48,75 | 0 | 5 |
| 14 | 27 | IM | Mehar Chinna Reddy C.H. | | IND | 2405 | RSPB | 7,5 | 67,5 | 72 | 46,25 | 0 | 5 |
| 15 | 26 | IM | Anuj Shrivatri | | IND | 2414 | Madhya Pradesh | 7,5 | 67 | 72 | 46,25 | 0 | 6 |
| 16 | 22 | IM | Harshavardhan G B | | IND | 2434 | Tamil Nadu | 7,5 | 65,5 | 70 | 45,50 | 0 | 5 |
| 17 | 12 | IM | Vignesh N R | | IND | 2493 | RSPB | 7,5 | 63,5 | 68 | 43,75 | 0 | 6 |
| 18 | 17 | GM | Chanda Sandipan | | IND | 2475 | West Bengal | 7,5 | 63 | 68 | 44,00 | 0 | 6 |
| 19 | 13 | IM | Shyaamnikhil P | | IND | 2490 | RSPB | 7,5 | 63 | 67 | 44,25 | 0 | 5 |
| 20 | 37 | IM | Nitin S. | | IND | 2372 | RSPB | 7,5 | 61,5 | 66,5 | 43,50 | 0 | 7 |
Round 12 pairings
Links
---