MPL 59th National Senior R2: The Deep Queen sac
19-year-old Akshit Kumar J (AP) scored the first big upset of MPL 59th National Senior Chess Championship 2022. He defeated GM-elect IM Arghyadip Das who could not find the best way to save his pinned knight. Multi-time Hastings Masters winner and Commonwealth Gold medalist, GM Deep Sengupta (PSPB) sacrificed his queen against the reigning National Under-17 Open champion, CM Mayank Chakraborty (ASM). While Deep did not follow through correctly and finish things off earlier, nevertheless he managed to score the full point. Bharat Kumar Reddy Poluri (TEL), M Anees M (TN), Dhananjay S (CHT), Shreyansh Daklia (CHT), Kartavya Anadkat (GUJ), Grahesh Y (AP), Rupam Mukherjee (WB) and Tapan Badamundi (ODI) held their respective Grandmaster opponents to a draw each. Round 3 starts today at 2 p.m. IST today. Photo: Shahid Ahmed
Akshit surprises Arghyadip
A total of dozen IM and GMs were denied a full point by their relatively lower rated untitled opponents. Untitled Akshit Kumar J (ODI) scored the sole victory against a titled player, IM Arghyadip Das (RSPB).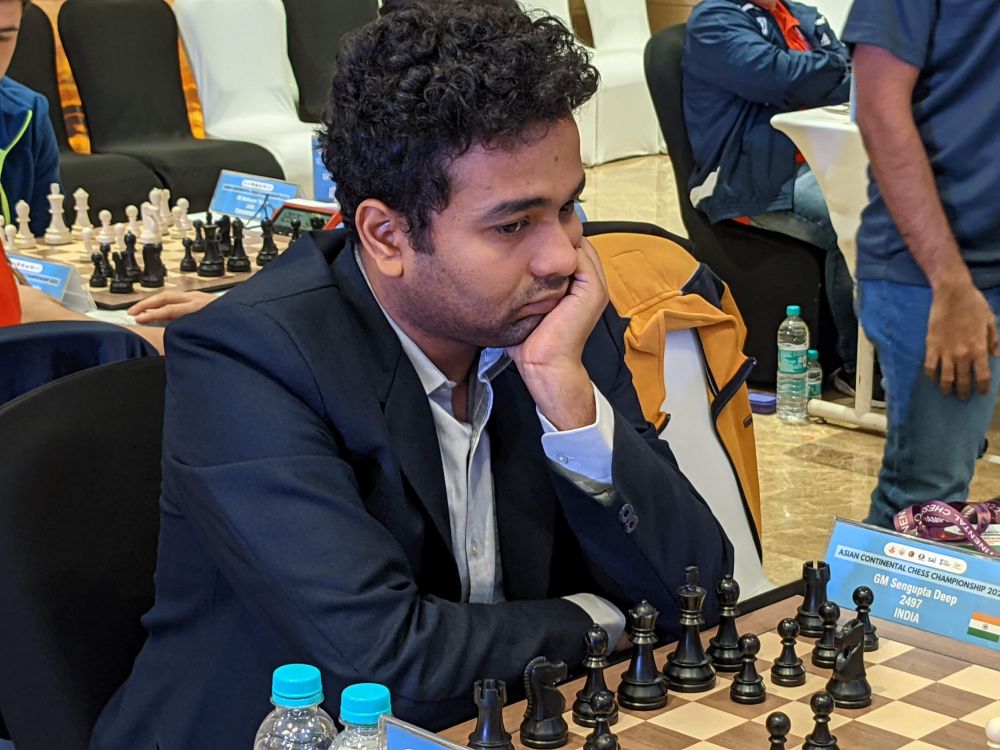 Mayank - Deep: 0-1
GM Deep Sengupta (PSPB, 2486) made a nice queen sacrifice against CM Mayank Chakraborty (ASM, 2179). Although, he did not follow through correctly.
34...fxe3 works because 35.Nxc7 exf2+ 36.Kf1 and now Black needed to play Bg3! the correct follow through against which White has no defense. 36...Bxc7 was played probably in time scramble and to reach 40 moves quickly. Black eventually won the game as it was certainly not easy to defend against Black's stronghold surrounding the f2-pawn and the back-rank checkmate threat.
Arghyadip - Akshit
Black has made a deadly pin on the b-file. The only way to ensure White does not lose the knight for nothing is to play 33.d5 now. 33...Reb8 34.d6! Nxd6 35.Rd3 and White has successfully managed to unpin the knight. Yes, White had to give up both d and b-pawns but it's certainly not losing for him. 33.Re1 f5 and the b4-knight is a goner. Black won the game in the next few moves.
Anuj - Gaurang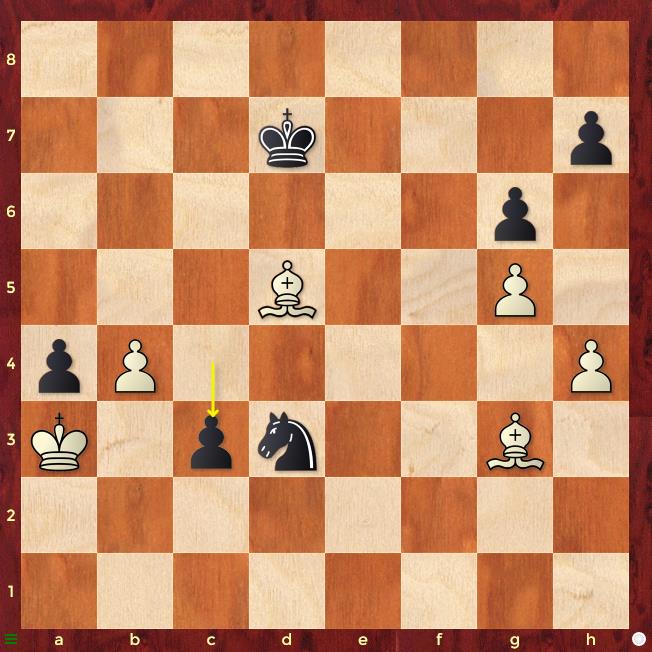 White can still win the game despite c2 followed by c1 seem to be unstoppable. Try to find out how.
Some notable results
Bharat Kumar Reddy Poluri (TEL) - GM Visakh N R (RSPB): 0.5-0.5
GM Shyam Sundar M (TN) - FM Mohamed Anees M (TN): 0.5-0.5
Dhananjay S (CHT) - GM Swapnil S Dhopade (RSPB): 0.5-0.5
Shreyansh Daklia (CHT) - GM Sandipan Chanda (WB): 0.5-0.5
Kartavya Anadkat (GUJ) - GM Venkatesh M R (PSPB): 0.5-0.5
IM Arghyadip Das (RSPB) - Akshit Kumar J (AP): 0-1
Kaivalya Sandip Nagare (MAH) - IM Srihari L R (TN): 0.5-0.5
IM Anuj Shrivatri (MP) - CM Gaurang Bagwe (MAH): 0.5-0.5
GM Laxman R R (RSPB) - Grahesh Y (AP): 0.5-0.5
FM Ayushh Ravikumar (TN) - IM Avinash Ramesh (TN): 0.5-0.5
GM Deepan Chakkravarthy (RSPB) - Rupam Mukherjee (WB): 0.5-0.5
Tapan Badamundi (ODI) - GM Sriram Jha (LIC): 0.5-0.5
Ujjawal Bansal (GUJ) - IM Ratnakaran K (RSPB): 0.5-0.5
A total of 196 players including 18 GMs and 27 IMs are taking part in this tournament organized by Delhi Chess Association. The event is taking place in New Delhi from 22nd December 2022 to 3rd January 20233. The 13-round Swiss league tournament has a time control of 90 minutes for 40 moves followed by 30 minutes with an increment of 30 seconds from move no.1
Replay Round 2 games
Round 2 results
Round 3 pairings
Links
---