MPL 59th National Senior R10: Abhijeet joins Koustav at the top
IM Koustav Chatterjee made a great escape against GM Mitrabha Guha in the tenth round of MPL 59th National Senior Chess Championship 2022. Mitrabha missed a good opportunity to push for a win in the bishop vs knight endgame. IM Srihari L R continues his unbeaten streak as he drew with GM Sethuraman S P. GM Abhijeet Gupta registered his third win in-a-row. This time it was against IM Vignesh N R who tried to do too much after Abhijeet's strategic exchange sacrifice. Half a dozen players are in pursuit at 7.5/10 each. Abhijeet and Koustaav are currently sharing the lead 8/10. Round 11 starts today at 2 p.m. IST today. Photo: FIDE/Mark Livshitz
Koustav escapes against Mitrabha
Six players - GM Sethuraman S P (PSPB), IM Aronyak Ghosh (RSPB), GM Mitrabha Guha (WB), IM Srihari L R (TN), GM Karthik Venkataraman (AP) and untitled Hari Madhavan N B (TN) are at 7.5/10 each. Hari defeated GM Sandipan Chanda (WB) in Round 10. Koustav Chatterjee became India's 78th, Kolkata and West Bengal's tenth Grandmaster. We will have a detailed article on Koustav's journey towards the GM title, once the tournament concludes.
Koustav - Mitrabha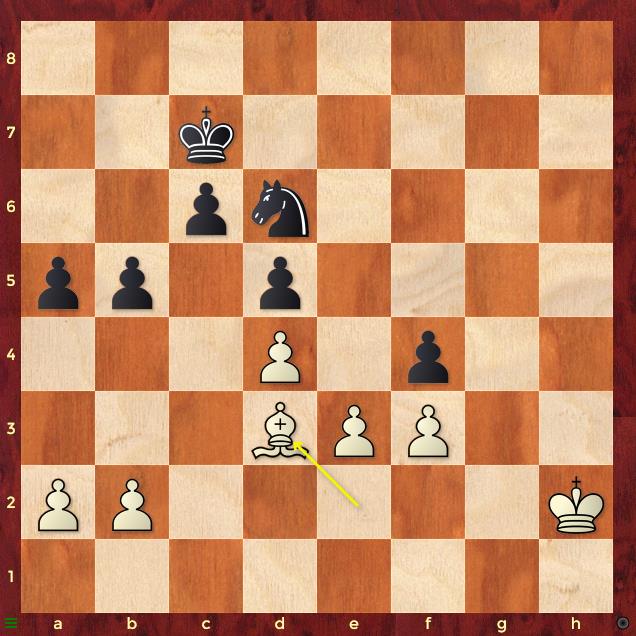 GM Mitrabha Guha (WB, 2487) had a great opportunity to push for a win against IM Koustav Chattterjee (WB, 2508). 40...Nc4 would have been completely winning for Black. However, he went first 40...fxe3 41.Kg3 Nc4 42.b3 Nb2 and the game ended in a draw.
Vignesh - Abhijeet
GM Abhijeet Gupta (PSPB, 2601) made a strategic exchange sacrifice 22.Bxf4 exf4 23.Rg2 Kh7 24.Nf2 Bh6 25.Rhg1 Rg8 26.e5 Qxe5 27.Nd3 Qf6 28.Qxf4 and we reach the above position. White need not take the f4-pawn. 28...Bf5 29.Qd4 Qe7 30.Qh4 Qe3 31.Qd4 Nh3 and soon White landed in a lot of trouble.
Black's bishops are piercing on the queenside. 40.a3 runs into Qxb5 41.cxb5 Rxa3#
A total of 196 players including 18 GMs and 27 IMs are taking part in this tournament organized by Delhi Chess Association. The event is taking place in New Delhi from 22nd December 2022 to 3rd January 20233. The 13-round Swiss league tournament has a time control of 90 minutes for 40 moves followed by 30 minutes with an increment of 30 seconds from move no.1
Replay Round 10 games
Round 10 results
Round 11 pairings
Links
---