Can Karthik Venkataraman win MPL 59th National Senior Chess Championship?
GM Karthik Venkataraman is someone who generally plays the first half of the tournament in an energy saving mode. In the second half, he unleashes his super-strong side where his opponents can only hope to avoid his wrath. After a 4.5/6 start, he scored 5/6 in the last six games, including a hat-trick of wins. He is now the sole leader heading into the final round 9.5/12. He will face GM Visakh N R in the final round. Visakh also had a fantastic 2022 where he won several Open tournaments consecutively in Europe. It is quite fitting that they are facing each other for a championship match in the Round 13 which starts today at 9 a.m. IST today. Photo: Shahid Ahmed
Too close to call
The MPL 59th National Senior Chess Championship 2022 can be won by anyone. GM Karthik Venkataraman (AP) needs a win over GM Visakh N R (RSPB) to win the tournament. While a draw would allow GM Abhijeet Gupta (PSPB) to catch up if he manages to beat IM Sayantan Das (RSPB) who is on a five-game winning streak. It is clear that Sayantan has all the momentum he needs which his opponent does not. As many as six players are at 8.5/12.
Koustav - Karthik: 0-1
GM Karthik Venkataraman (AP, 2503) opted for a long castle in the Open Catalan against GM Koustav Chatterjee (WB, 2508). He had no trouble equalizing out of the opening. Despite having a bishop pair, Koustav was not allowed to maximize them. Karthik used his knights quite well which eventually created trouble for his opponent.
The black knights were so well placed at b5 and d5, that White had almost no good idea to execute. 30.Ba5? allowed Nbc3 31.Rxd5 cost White an exchange Nxe2 32.Rxe5 Nxc1 33.Bxd8 Rxe5 Black is now completely winning as White does not have enough compensation for the lost exchange.
Abhijeet - Aronyak
The choice of passive line in the Nimzo-Indian, combined with a passive play caused IM Aronyak Ghosh (RSPB, 2521) to lose his first game of the event against GM Abhijeet Gupta (PSPB, 2601).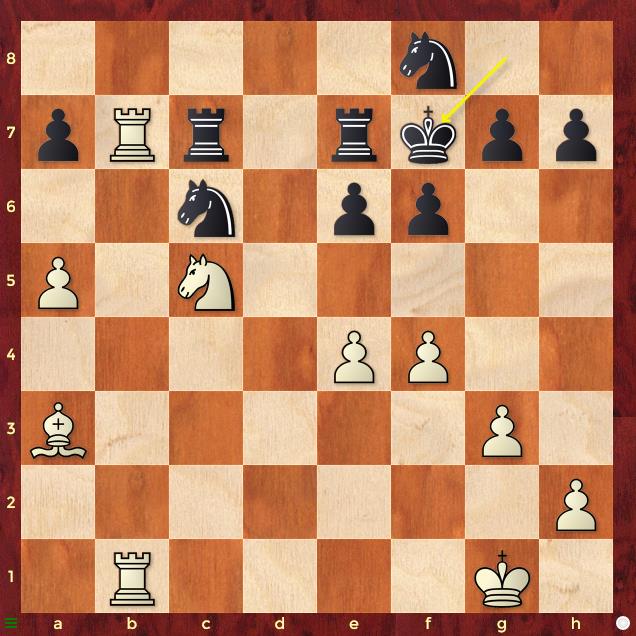 30...Rxb7 31.Nxb7 Re8 is still better for White. However, it is not immediately over for Black. 30...Kf7 walked into trouble 31.a6 Na5 32.Rxc7 Rxc7 33.Nb7 Nc6 34.Rc1 and there is no way for Black to avoid material loss.
Hari Madhavan - Sayantan: 0-1
IM Hari Madhavan (TN, 2385) launched an ambitious attack against IM Sayantan Das (RSPB, 2475) and had to pay a heavy price for it.
White should have taken the c4-pawn first 19.dxc4 Qxc4 and then went 20.Rf3. Instead, he directly went 19.Rf3 ignoring Black's counter-attack on the queenside. 19...c3 20.Bc1 made things worse Rfe8 21.Rh3 h6 22.Rg3? cxb2 23.Bxb2 Nxf4 24.Qf3 Be5 25.Qf2 f5 26.Nd2 Qxc2 27.Nc4 Ne2+ and White resigned.
Deepan - Visakh: 0-1
GM Visakh N R (RSPB, 2544) used his tactical alertness to grab a pawn against GM Deepan Chakkravarthy (RSPB, 2457).
14..Bxf2+ dropped a pawn 15.Kxf2 Qb6+ 16.Be3 Rxd1 17.Bxb6 Rxf1+ 18.Bxf1 axb6. Having a rook and bishop on the board, the extra pawn might not be enough to win the game but it was surely enough for Black to push for a win.
White needed to trade the pawns to keep drawing chances 35.axb6 Kxb6 36.Bd3. Instead, 35.Be2 f5 36.Bd3 Be6 gave Black a decisive advantage and he won the game in another ten moves.
A total of 196 players including 18 GMs and 27 IMs are taking part in this tournament organized by Delhi Chess Association. The event is taking place in New Delhi from 22nd December 2022 to 3rd January 20233. The 13-round Swiss league tournament has a time control of 90 minutes for 40 moves followed by 30 minutes with an increment of 30 seconds from move no.1
Replay Round 12 games
Round 12 results
Standings after Round 12
| | | | | | | | | | | | | |
| --- | --- | --- | --- | --- | --- | --- | --- | --- | --- | --- | --- | --- |
| Rk. | SNo | | Name | FED | Rtg | Club/City | Pts. | TB1 | TB2 | TB3 | TB4 | TB5 |
| 1 | 10 | GM | Karthik Venkataraman | IND | 2503 | Andhra Pradesh | 9,5 | 84 | 90 | 70,50 | 0 | 7 |
| 2 | 3 | GM | Gupta Abhijeet | IND | 2601 | PSPB | 9 | 87 | 93 | 68,00 | 0 | 9 |
| 3 | 5 | GM | Visakh N R | IND | 2544 | RSPB | 9 | 84,5 | 91 | 67,25 | 0 | 7 |
| 4 | 18 | IM | Das Sayantan | IND | 2475 | RSPB | 9 | 71,5 | 76,5 | 57,25 | 0 | 8 |
| 5 | 7 | IM | Aronyak Ghosh | IND | 2521 | RSPB | 8,5 | 89 | 96 | 66,00 | 0 | 6 |
| 6 | 8 | IM | Koustav Chatterjee | IND | 2508 | West Bengal | 8,5 | 88 | 94 | 62,75 | 0 | 7 |
| 7 | 14 | GM | Mitrabha Guha | IND | 2487 | West Bengal | 8,5 | 87,5 | 94 | 65,00 | 0 | 6 |
| 8 | 32 | | Hari Madhavan N B | IND | 2385 | Tamil Nadu | 8,5 | 82,5 | 88 | 59,75 | 0 | 7 |
| 9 | 25 | IM | Srihari L R | IND | 2429 | Tamil Nadu | 8,5 | 79 | 84,5 | 58,75 | 0 | 5 |
| 10 | 13 | IM | Shyaamnikhil P | IND | 2490 | RSPB | 8,5 | 75 | 80 | 55,50 | 0 | 6 |
| 11 | 1 | GM | Sethuraman S.P. | IND | 2642 | PSPB | 8 | 89 | 93,5 | 60,00 | 0 | 6 |
| 12 | 9 | GM | Iniyan P | IND | 2507 | Tamil Nadu | 8 | 82,5 | 88 | 57,00 | 0 | 5 |
| 13 | 30 | FM | Panesar Vedant | IND | 2387 | Maharashtra | 8 | 80 | 86 | 54,75 | 0 | 5 |
| 14 | 22 | IM | Harshavardhan G B | IND | 2434 | Tamil Nadu | 8 | 80 | 85 | 54,00 | 0 | 5 |
| 15 | 26 | IM | Anuj Shrivatri | IND | 2414 | Madhya Pradesh | 8 | 78,5 | 84 | 53,75 | 0 | 6 |
| 16 | 17 | GM | Chanda Sandipan | IND | 2475 | West Bengal | 8 | 77,5 | 83 | 53,00 | 0 | 6 |
| 17 | 12 | IM | Vignesh N R | IND | 2493 | RSPB | 8 | 77,5 | 82,5 | 52,25 | 0 | 6 |
| 18 | 34 | IM | Ajay Krishna S | IND | 2383 | Tamil Nadu | 8 | 77,5 | 82,5 | 50,75 | 0 | 7 |
| 19 | 28 | IM | Audi Ameya | IND | 2401 | Goa | 8 | 77,5 | 81,5 | 51,50 | 0 | 6 |
| 20 | 37 | IM | Nitin S. | IND | 2372 | RSPB | 8 | 75,5 | 81 | 52,50 | 0 | 7 |
Round 13 pairings
Links
---