MPL 59th National Senior R3: The Systematic Pawn Structure Fragmentation
IM Nitin S (RSPB) scored the biggest upset of the third round at MPL 59th National Senior Chess Championship 2022. He defeated GM Leon Luke Mendonca (Goa) by systematically fragmenting his opponent pawn structure in a game arising out of Caro-Kann opening. 52-year-old Laishram Imocha (PSPB) won against GM Deepan Chakkravarthy (RSPB) when the latter overloaded his rook in an already dwindling position. Shreyansh Daklia (CHT) scored an upset victory against 50th National Junior champion, IM Neelash Saha when the latter tried too hard in a drawn endgame. Eight players including top and third seed, GM Sethuraman S P and GM Abhijeet Gupta are at a perfect score 3/3. Round 4 starts today at 2 p.m. IST today. Photo: Aditya Sur Roy
Imocha stuns Deepan
Three GMs, four IMs and one FM have made a hat-trick start of 3/3. They are - GM Sethuraman S P (PSPB), GM Abhijeet Gupta (PSPB), GM Iniyan P (TN), IM Aronyak Ghosh (RSPB), IM Koustav Chatterjee (WB), IM Harshavardhan G B (TN), IM Nitin S (RSPB) and FM Vedant Panesar (MAH). Who will be among the leaders after the fourth round?
Nitin - Leon: 1-0
IM Nitin S (2372) traded the queens on the eleventh move in the Caro-Kann against GM Leon Luke Mendonca (2566). The former started fragmenting Black's pawn structure and kept on it.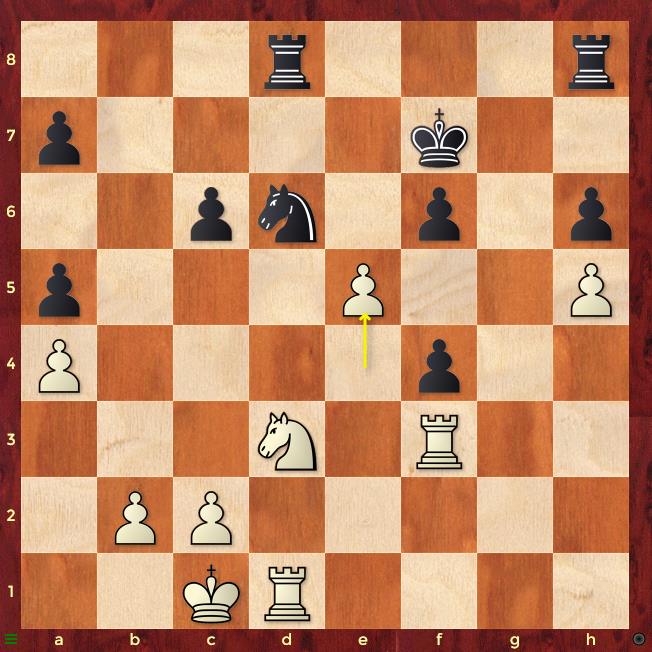 Black has six pawns, four pawn islands, two isolated and two isolated doubled pawns - that is the like the pawn structure one should not have. White found the perfect 27.e5! even though 27.Rxf4 was alright too having the idea of e5 in the next move. What followed next is the attraction of the black king towards White's own side. 27...fxe5 28.Nxe5+ Ke6 29.Nxc6 Rc8 30.Re1+ Kf6 31.Rxf4+ Kg5 32.Rf2 Kg4 33.Ne5+ Kg3 34.Rf3+ Kg2 35.Re2+ Kg1 36.Rd3 and Black resigned as Rd1# is unstoppable.
Subhayan - Mitrabha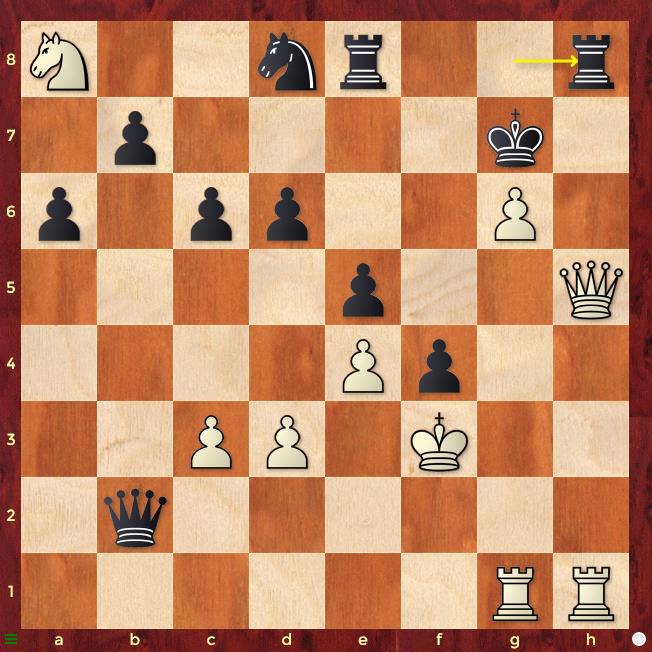 White's king is much safer than Black's. Keeping that in mind, find out how White could have finished things off here. The position certainly screams like something's gotta give.
Shreyansh - Neelash
Sometimes it becomes difficult for a player to accept a draw even in drawn position because he has already conceded a draw against another relatively lower rated player. The reason behind it is quite simple, the current Elo rating system does not favor adults. Thus, the desperation to score a win increases, resulting in human errors. 48...Qh6 was uncalled for. Black has zero breakthroughs, his pieces act like a furniture, much like White's dark square bishop. Just keeping the black queen in the back rank is enough to draw the game. 48...Qh6 invited trouble. White did not notice it at first 49.Bf1 and then Kc8 made it that much obvious. Find out why Black's last two move were erroneous.
Some notable results
IM Nitin S (RSPB) - GM Leon Luke Mendonca (Goa): 1-0
IM Vardaan Nagpal (HAR) - GM Karthik Venkataraman (AP): 0.5-0.5
Subhayan Kundu (WB) - GM Mitrabha Guha (WB): 0.5-0.5
GM Deep Sengupta (PSPB) - Utkal Ranjan Sahoo (ODI): 0.5-0.5
IM Mehar Chinna Reddy C H (RSPB) - GM Karthikeyan P (RSPB): 0.5-0.5
GM Neelotpal Das (RSPB) - FM Ritvik Krishnan (MAH): 0.5-0.5
IM Avinash Ramesh (TN) - GM Shyam Sundar M (TN): 0.5-0.5
FM M Anees M (TN) - IM Vignesh N R (RSPB): 0.5-0.5
GM Venkatesh M R (PSPB) - CM Aaditya Dhingra (HAR): 0.5-0.5
Shreyansh Daklia (CHT) - IM Neelash Saha (WB): 1-0
IM Srihari L R (TN) - Kartavya Anadkat (GUJ): 0.5-0.5
CM Gaurang Bagwe (MAH) - IM Ameya Audi (Goa): 0.5-0.5
Kishan Gangolli (KAR) - GM Laxman R R (RSPB): 0.5-0.5
GM Deepan Chakkravarthy (RSPB) - Laishram Imocha (PSPB): 0-1
S Badrinath (PUD) - IM Arghyadip Das (RSPB): 0.5-0.5
Rupam Mukherjee (WB) - IM D K Sharma (LIC): 0.5-0.5
A total of 196 players including 18 GMs and 27 IMs are taking part in this tournament organized by Delhi Chess Association. The event is taking place in New Delhi from 22nd December 2022 to 3rd January 20233. The 13-round Swiss league tournament has a time control of 90 minutes for 40 moves followed by 30 minutes with an increment of 30 seconds from move no.1
Replay Round 3 games
Round 3 results
Round 4 pairings
Links
---