MPL 59th National Senior R6: Sethuraman topples Abhijeet, joins Mitrabha in the lead
GM Sethuraman S P (PSPB) defeated the tournament leader GM Abhijeet Gupta (PSPB) in the sixth round of MPL 59th National Senior Chess Championship. Abhijeet ignored Sethuraman's attack on the kingside and had to pay a heavy price for it. Meanwhile, GM Mitrabha Guha (WB) converted his minute endgame advantage into a full point against GM Visakh N R (RSPB). Both Sethuraman and Mitrabha are at 5.5/6 each. They are followed by four players - GM Abhijeet, GM Venkatesh M R (PSPB), IM Aronyak Ghosh (RSPB) and IM Mehar Chinna Reddy C H (RSPB) at 5/6 each. The tournament leaders will face each other in the seventh round, which starts today at 2 p.m. IST today. Photo: FIDE/Mark Livshitz
Abhijeet, Venkatesh, Aronyak and Mehar at 5/6
Both untitled, Utkal Ranjan Sahoo (ODI) and Hari Madhavan N B (TN) are continuing their good form. They drew with GM Leon Luke Mendonca (Goa) and GM Iniyan P (TN) respectively.
Sethuraman - Abhijeet: 1-0
GM Abhijeet Gupta (PSPB, 2601) ignored the attack on his kingside and moved his queen away from the action point. GM Sethuraman S P (PSPB, 2642) pounced on his chance.
Black needed to retort 28...Nc5 29.Nd4 Nd3 to keep things balanced. 28...Qa5 moving the queen away and attacking the c3-pawn was certainly not ideal. 29.Nxg7 Kxg7 30.f5 Nf4 31.Qe4 g5 32.Qc6 Rf8 33.Be3 Rxd1 34.Rxd1 Nh5 35.Rd7 and Black resigned.
Mitrabha - Visakh
GM Mitrabha Guha (WB, 2487) could have gained material here 35.Be4 threatening Rc4 in the next move. Even 35.g4 followed by Be4 and Rc4 would have had similar effect. GM Visakh N R (RSPB, 2544) is unable to get his knights out of the bind. He probably saw this and wanted a more clear and safer way to gain the advantage. Thus, he went 35.Rc4 directly and won the game in another 30 moves.
Hari Madhavan - Iniyan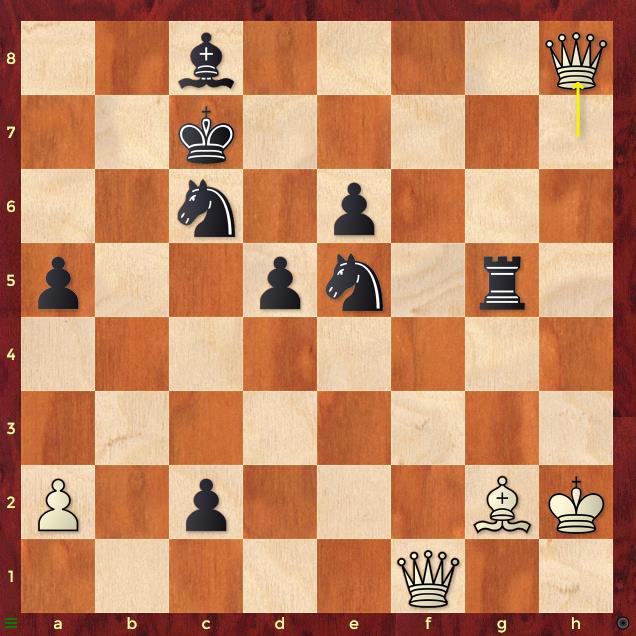 Double IM-norm holder, Hari Madhavan N B (TN, 2385) promoted a queen against GM Iniyan P (TN, 2507). Well it is winning for White, however practically it is not easy to execute as Black had a few tricks up his sleeve. 45...Bd7 46.Qc1? Rxg2+! 47.Kxg2 Nd3 48.Qxc2 Ne1+ 49.Kf1 Nxc2 50.Qh2+ e5 51.Qxc2 and now White's winning chances have completely evaporated. Black can easily create a fortress which White cannot break through. The game continued for another 71 moves before both players agreed to a draw.
A total of 196 players including 18 GMs and 27 IMs are taking part in this tournament organized by Delhi Chess Association. The event is taking place in New Delhi from 22nd December 2022 to 3rd January 20233. The 13-round Swiss league tournament has a time control of 90 minutes for 40 moves followed by 30 minutes with an increment of 30 seconds from move no.1
Replay Round 6 games
Round 6 results
Round 7 pairings
Links
---