Aeroflot R03: After Pranesh it is now Bharath's turn to sizzle
With a perfect score of 3.0/3, Rauf Mamedov has taken the sole lead after three rounds at Aeroflot Open 2020. However, there are five players led by 13-year-old Bharath Subramaniyam and S.P. Sethuraman of India who follow him closely just half a point behind. Bharath registered his second victory in this event by beating none other than the second seeded Gabriel Sargissian and is all set to take on Zhou Jianchao in the next round. Be it Pranesh M or Bharath, it seems there is always some Indian junior ready to cause an upset each day. We bring you a detailed pictorial report.
Indian juniors shine at Aeroflot 2020
Indian juniors continued to steal the show in the third day of Aeroflot Open as well. After Pranesh's crushing win against Boris Savchenko, it was now the turn of Bharath Subramaniyam to prove his mettle, and the 13-year-old Chennai boy scalped no less than the second seeded Gabriel Sargissian in the third round of the event. Bharath showed excellent handling of the Catalan as he equalized quite easily with black pieces out of the opening. The Armenian made his first slip on move 16 and allowed his young opponent to bring his knight effectively into the fray, and thereafter it went all downhill for him.
Gabriel Sargissian - Bharath Subramaniyam, Round 3
Gabriel chose the move 10.Ne4 in the above position which is quite popular these days and aims to just simplify by trading off a pair of knights. The erstwhile mainline with 10.Na4 controlling the squares b6 and c5 seems more conservative but is logical in approach as it keeps an eye on Black's progress on the queenside, and after something like 10.Na4 c3 11.a3 a5 12.Qc2 Nbd7 13.Rd1 maintains a dynamic balance.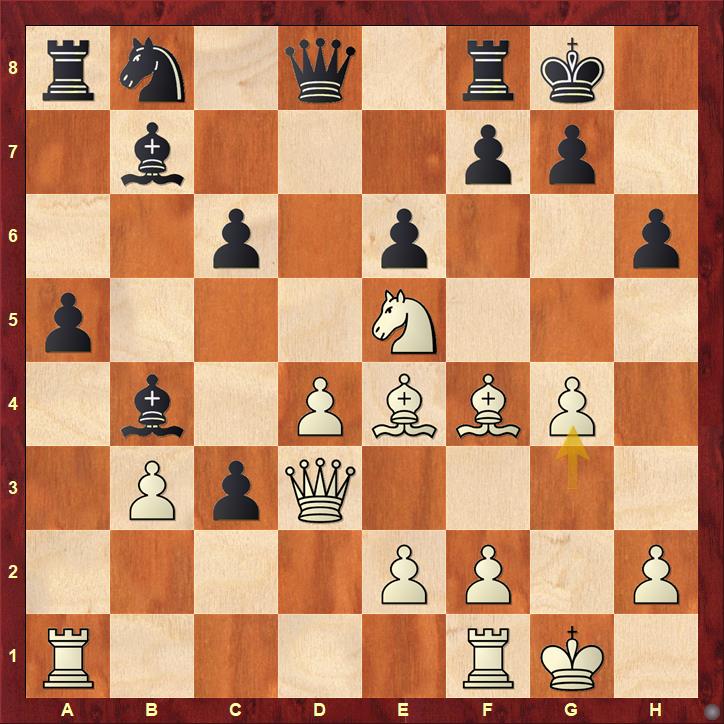 Aydin Suleymanli - Praggnanandhaa R., Round 3
Photo Gallery
Results of top ten boards in round 3
Results of all Indians in round 3
Standings of players after round 3
| | | | | | | | | |
| --- | --- | --- | --- | --- | --- | --- | --- | --- |
| Rk. | SNo | | Name | FED | Rtg | Pts. | TB1 | TB2 |
| 1 | 11 | GM | Mamedov Rauf | AZE | 2643 | 3,0 | 1 | 2569 |
| 2 | 96 | IM | Bharath Subramaniyam H | IND | 2402 | 2,5 | 2 | 2602 |
| 3 | 12 | GM | Sethuraman S.P. | IND | 2641 | 2,5 | 2 | 2534 |
| 4 | 43 | GM | Idani Pouya | IRI | 2577 | 2,5 | 2 | 2418 |
| 5 | 17 | GM | Paravyan David | RUS | 2629 | 2,5 | 1 | 2519 |
| 6 | 23 | GM | Zhou Jianchao | CHN | 2622 | 2,5 | 1 | 2473 |
| 7 | 37 | GM | Cordova Emilio | PER | 2593 | 2,0 | 2 | 2656 |
| 8 | 64 | GM | Visakh N R | IND | 2518 | 2,0 | 2 | 2623 |
| | 68 | IM | Zanan Evgeny | ISR | 2500 | 2,0 | 2 | 2623 |
| 10 | 90 | FM | Pranesh M | IND | 2425 | 2,0 | 2 | 2587 |
| 11 | 4 | GM | Sjugirov Sanan | RUS | 2674 | 2,0 | 2 | 2557 |
| 12 | 6 | GM | Adhiban B. | IND | 2654 | 2,0 | 2 | 2539 |
| 13 | 14 | GM | Narayanan.S.L | IND | 2637 | 2,0 | 2 | 2518 |
| 14 | 16 | GM | Martirosyan Haik M. | ARM | 2630 | 2,0 | 2 | 2510 |
| 15 | 20 | GM | Durarbayli Vasif | AZE | 2625 | 2,0 | 2 | 2501 |
| 16 | 29 | GM | Yilmaz Mustafa | TUR | 2607 | 2,0 | 2 | 2474 |
| 17 | 24 | GM | Jobava Baadur | GEO | 2620 | 2,0 | 2 | 2472 |
| 18 | 27 | GM | Kobalia Mikhail | RUS | 2609 | 2,0 | 2 | 2466 |
| 19 | 31 | GM | Praggnanandhaa R | IND | 2602 | 2,0 | 2 | 2455 |
| 20 | 39 | GM | Vaibhav Suri | IND | 2591 | 2,0 | 2 | 2428 |
| | 45 | GM | Sanal Vahap | TUR | 2569 | 2,0 | 2 | 2428 |
| 22 | 47 | GM | Sychev Klementy | RUS | 2563 | 2,0 | 2 | 2403 |
| 23 | 33 | GM | Can Emre | TUR | 2600 | 2,0 | 1 | 2674 |
| 24 | 57 | GM | Sindarov Javokhir | UZB | 2537 | 2,0 | 1 | 2646 |
| 25 | 36 | GM | Sargsyan Shant | ARM | 2594 | 2,0 | 1 | 2643 |
| 26 | 67 | | Nesterov Arseniy | RUS | 2501 | 2,0 | 1 | 2625 |
| 27 | 71 | IM | Suleymanli Aydin | AZE | 2474 | 2,0 | 1 | 2607 |
| 28 | 1 | GM | Artemiev Vladislav | RUS | 2728 | 2,0 | 1 | 2593 |
| 29 | 5 | GM | Sarana Alexey | RUS | 2656 | 2,0 | 1 | 2591 |
| 30 | 13 | GM | Riazantsev Alexander | RUS | 2639 | 2,0 | 1 | 2536 |
| 31 | 15 | GM | Aravindh Chithambaram Vr. | IND | 2630 | 2,0 | 1 | 2523 |
| 32 | 19 | GM | Deac Bogdan-Daniel | ROU | 2626 | 2,0 | 1 | 2507 |
| 33 | 21 | GM | Zvjaginsev Vadim | RUS | 2623 | 2,0 | 1 | 2500 |
| 34 | 28 | GM | Svane Rasmus | GER | 2608 | 2,0 | 1 | 2471 |
| 35 | 32 | GM | Basso Pier Luigi | ITA | 2600 | 2,0 | 1 | 2443 |
| | 34 | GM | Puranik Abhimanyu | IND | 2597 | 2,0 | 1 | 2443 |
| 37 | 38 | GM | Aleksandrov Aleksej | BLR | 2592 | 2,0 | 1 | 2440 |
| 38 | 40 | GM | Petrosyan Manuel | ARM | 2590 | 2,0 | 1 | 2432 |
| 39 | 30 | GM | Karthikeyan Murali | IND | 2602 | 2,0 | 1 | 2425 |
| 40 | 26 | GM | Smirin Ilia | ISR | 2615 | 2,0 | 1 | 0 |
Complete results and standings
---