Victory for Vishnu Prasanna at 4th Shaastra Rapid Rating 2020
GM Vishnu Prasanna scored a fantastic 9.5/10 to win 4th Shaastra Rapid Rating Open 2020. He finished a half point ahead of the competition. GM Deepan Chakkravarthy secured second position with a score of 9.0/10. Twelve players finished at 8.0/10. GM Priyadharshan Kanappan was placed third according to the tie-break scores. Total 439 players including 7 GMs, 11 IMs, a WGM and 2 WIMs participated in this two-day event organized by Shaastra IIT Madras at IIT Madras on 22nd and 23rd February 2020 making it the strongest and biggest edition in the tournament's history. Photo: Shahid Ahmed
Vishnu dominates the field
GM Vishnu Prasanna scored an impressive 9.5/10, finished a half point ahead of the field to win 4th Shaastra Rapid Rating Open 2020. GM Deepan Chakravarthy scored 9.0/10 to finish at first runner-up position. Twelve players finished at 8.0/10. GM Priyadharshan Kannappan finished third according to the tie-break score.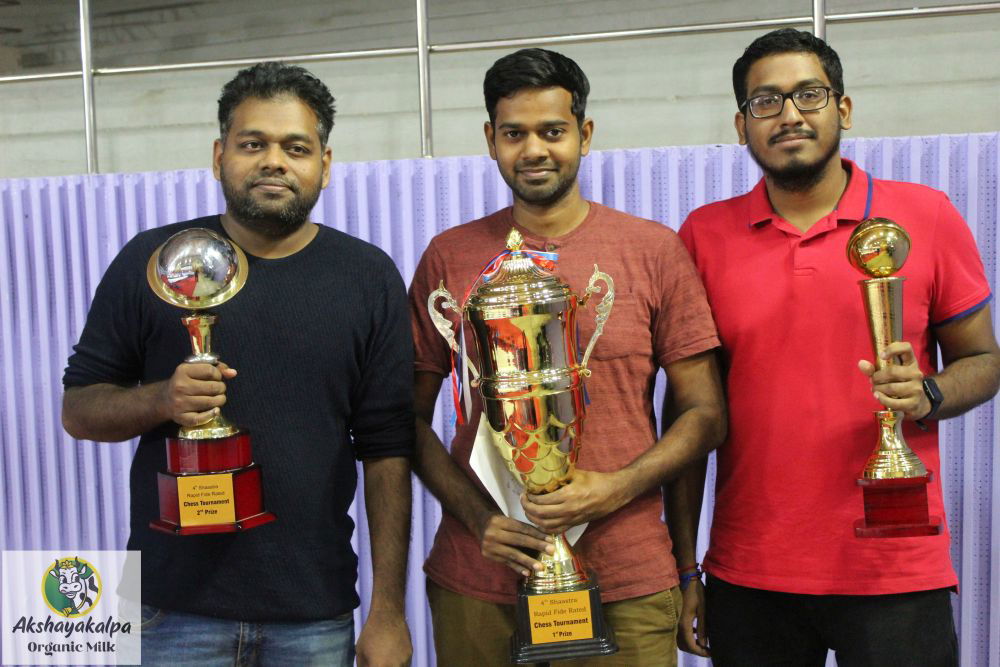 Vishnu finished sixth in the first edition, second in the second edition, skipped the third edition and now won the fourth edition.
Here are Vishnu's two of the toughest games as mentioned by him against Srinath and Priyadharshan in Round 8 and 9 respectively.
Despite GM Deepan Chakkravarthy losing his fourth round game against CM Nikhil Magizhnan, Deepan made a strong comeback and won his next six games to finish second with 9.0/10.
In the final round, Deepan beat Kidambi, scoring his sixth consecutive win to finish at second position.
GM Priyadharshan Kannappan made a brilliant start with 7.5/8 and he was in the joint lead with the eventual champion, GM Vishnu Prasanna. In the penultimate round, he lost against Vishnu and made a draw in the final round against IM P D S Girinath to secure third position with a score of 8.0/10.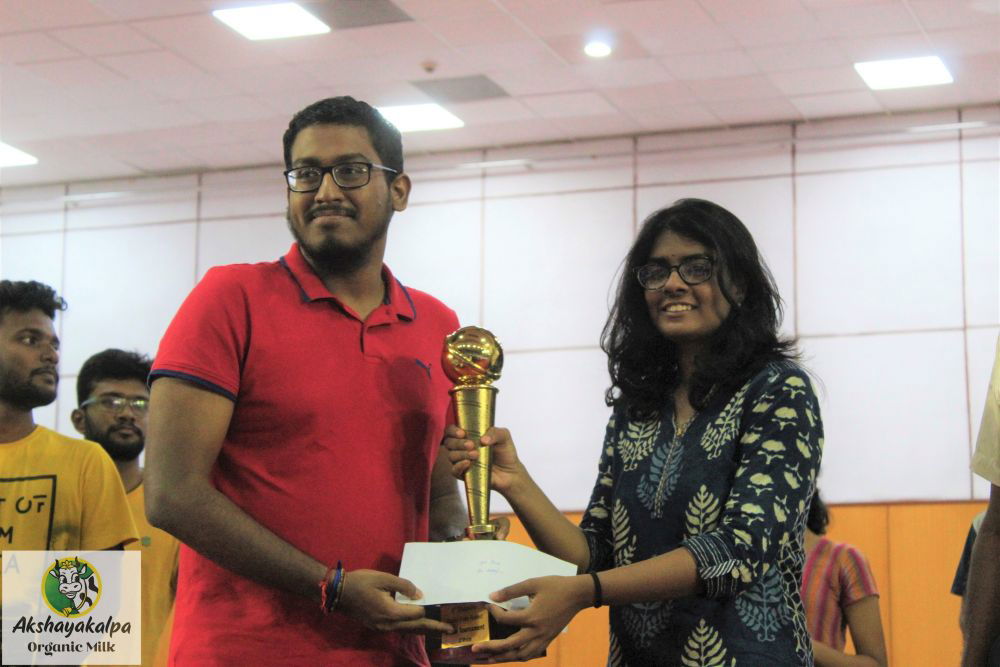 His best win was against former National Blitz champion IM D K Sharma in Round 8.
One of the organizer of the event, an IIT Madras alumni, Nitin M Pai beat WGM Nandhidhaa P V in the eighth round as she ran out of time.
I made my debut at the chess capital of India, Chennai and scored 8.0/10 to finish overall 14th, won 2nd position rating category (1500-1999) prize. My last round game against IM P Saravana Krishnan, who won the first edition of this tournament, was my favorite one. I must say that my opponent is an absolute gentleman for not starting the clock until I arrived at the board. I generally took a minute or two to reach my board in each round as I was taking photographs before the start of each round.
I managed to get a fantastic position in the middle game and we reached this position.
Saravana - Shahid, Round 10
Prize Distribution Ceremony photos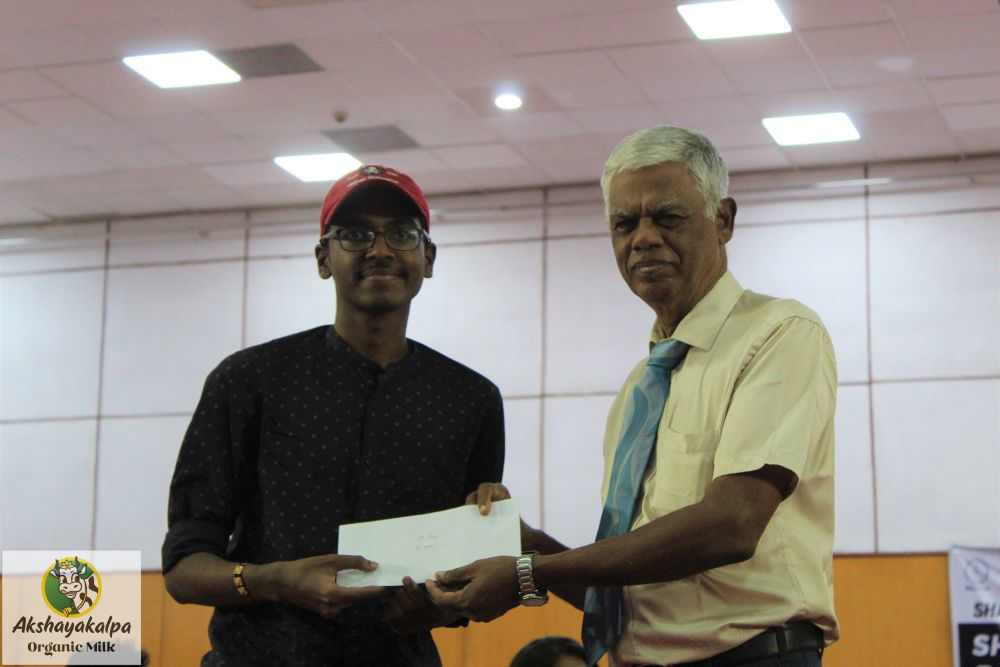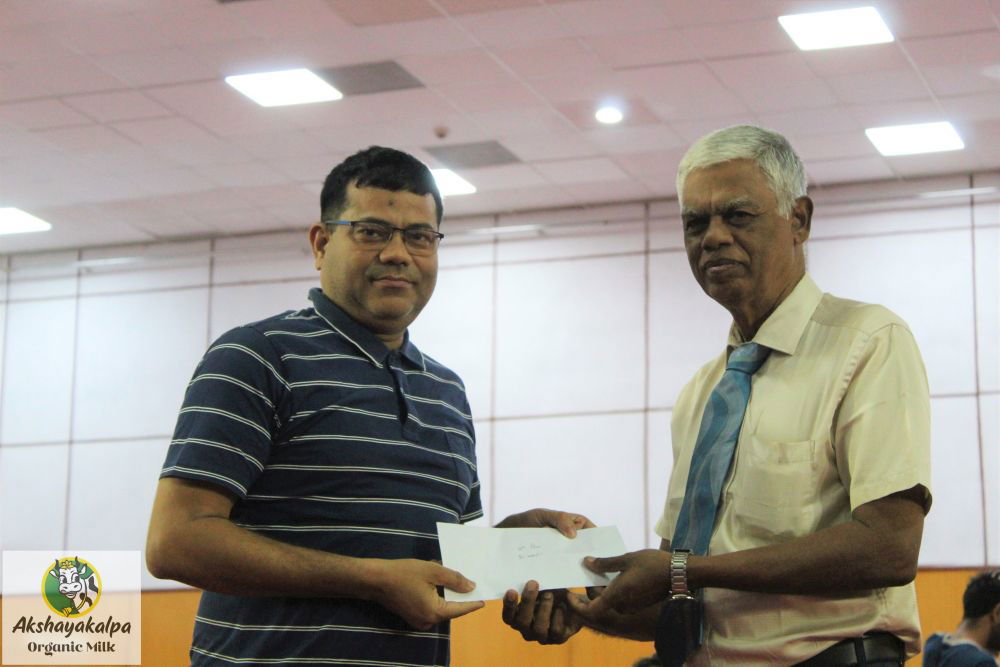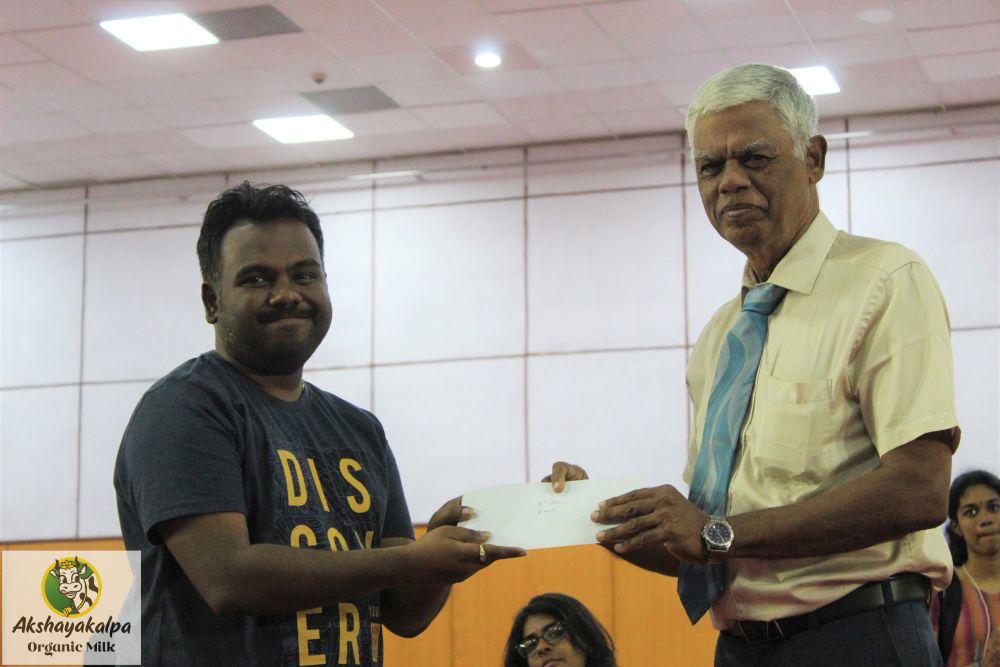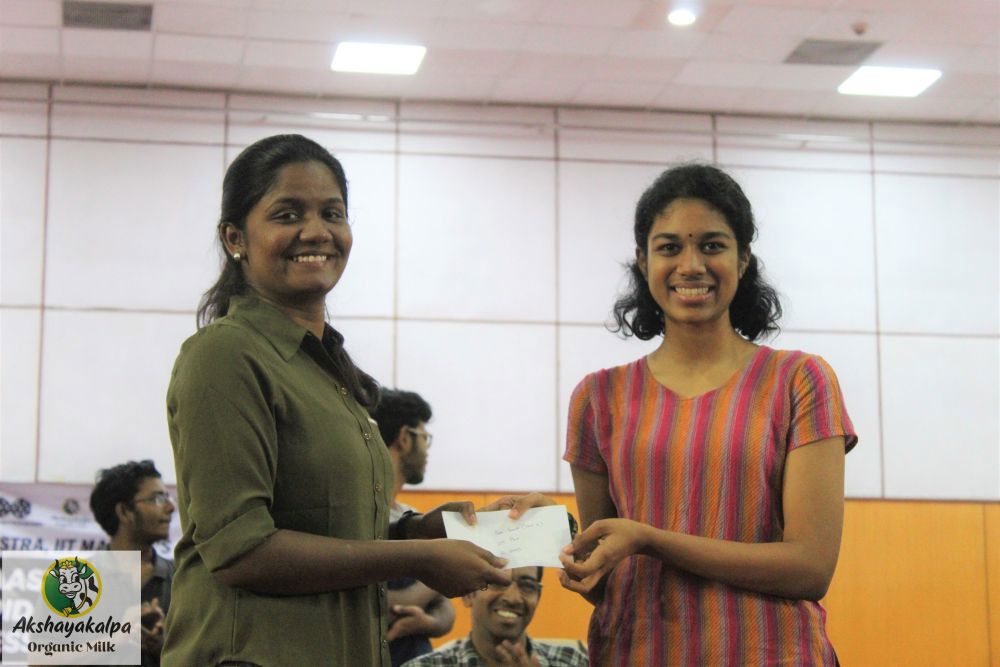 For more photos, click here.
Photo Gallery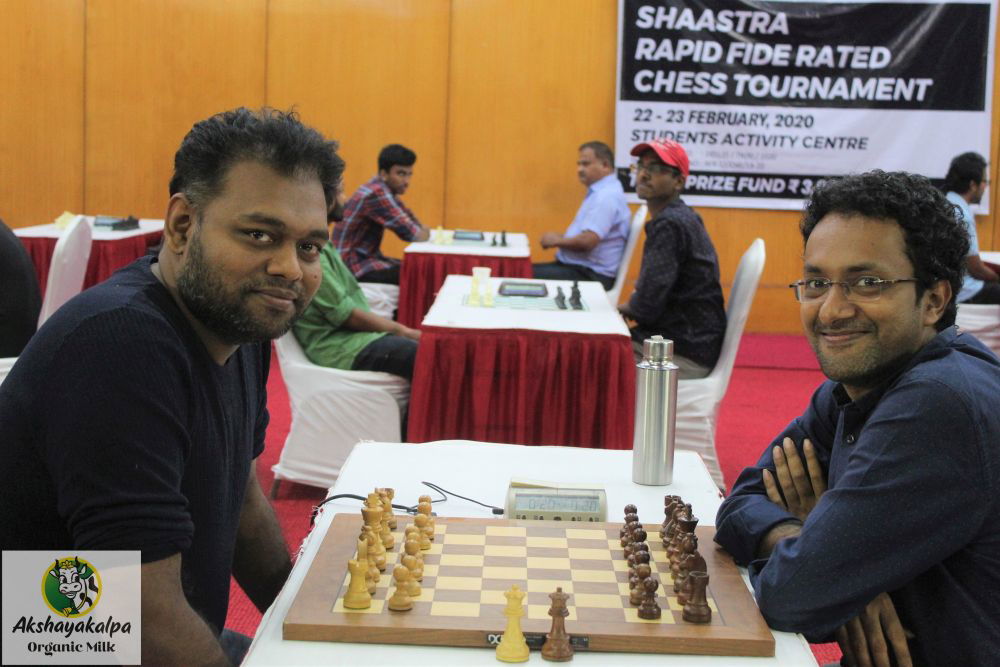 Why you must play this event
You might have missed this tournament for various reasons, but let me give you a few reasons why you should not miss the next edition.
The two-day Rapid Rating Open witnessed the total participation of 439 players comprising of 7 GMs, 11 IMs, a WGM, 2 WIMs, 3 FMs and a WFM. It is the strongest edition in this tournament's nascent history and perhaps one of the strongest rapid rating tournament in the country of this year. The tournament is organized by Shaastra IIT Madras at IIT Madras on 22nd and 23rd February, co-sponsored by Akshayakalpa and nurtr.
Final Standings
| | | | | | | | | | | | | | | | |
| --- | --- | --- | --- | --- | --- | --- | --- | --- | --- | --- | --- | --- | --- | --- | --- |
| Rk. | SNo | | Name | Typ | sex | Gr | FED | Rtg | Club/City | Pts. | TB1 | TB2 | TB3 | TB4 | TB5 |
| 1 | 2 | GM | Vishnu Prasanna. V | | | 97/C | IND | 2512 | TN | 9,5 | 65,0 | 70,5 | 67,25 | 0,0 | 9 |
| 2 | 5 | GM | Deepan Chakkravarthy J. | | | 26/M | IND | 2470 | ICF | 9,0 | 61,5 | 66,0 | 59,50 | 0,0 | 9 |
| 3 | 4 | GM | Kannappan Priyadharshan | | | 76/M | IND | 2482 | TN | 8,0 | 68,5 | 73,5 | 56,00 | 0,0 | 7 |
| 4 | 1 | GM | Narayanan Srinath | | | 49/C | IND | 2530 | AI | 8,0 | 66,0 | 69,5 | 52,25 | 0,0 | 7 |
| 5 | 10 | GM | Laxman R.R. | | | 41/C | IND | 2353 | ICF | 8,0 | 64,5 | 69,5 | 54,25 | 0,0 | 6 |
| 6 | 9 | IM | Ravichandran Siddharth | | | 95/C | IND | 2370 | TN | 8,0 | 64,0 | 68,5 | 53,25 | 0,0 | 7 |
| 7 | 16 | IM | Girinath P.D.S. | | | NA | IND | 2275 | SCRly | 8,0 | 63,5 | 68,5 | 53,25 | 0,0 | 7 |
| 8 | 34 | FM | Rohith Krishna S | U15 | | 5158 | IND | 1883 | TN | 8,0 | 63,0 | 67,0 | 51,00 | 0,0 | 7 |
| 9 | 14 | IM | Dhulipalla Bala Chandra Prasad | | | NA | IND | 2287 | AP | 8,0 | 62,0 | 68,0 | 54,75 | 0,0 | 7 |
| 10 | 15 | IM | Muthaiah Al | | | 5156 | IND | 2276 | TN | 8,0 | 61,5 | 66,5 | 51,50 | 0,0 | 8 |
| 11 | 21 | | Raahul V S | U19 | | 5322 | IND | 2172 | AAI | 8,0 | 61,0 | 65,5 | 47,75 | 0,0 | 7 |
| 12 | 11 | | Kunal M. | | | Chen | IND | 2320 | TN | 8,0 | 61,0 | 64,5 | 49,50 | 0,0 | 6 |
| 13 | 24 | | Pranav V | U15 | | 5169 | IND | 2063 | TN | 8,0 | 59,5 | 64,0 | 42,50 | 0,0 | 8 |
| 14 | 41 | AGM | Shahid Ahmed S.K. | | | NA | IND | 1751 | WES | 8,0 | 56,5 | 61,5 | 46,50 | 0,0 | 8 |
| 15 | 6 | IM | Sharma Dinesh K. | | | NA | IND | 2422 | LIC | 7,5 | 66,5 | 70,5 | 47,25 | 0,0 | 7 |
| 16 | 7 | GM | Sundararajan Kidambi | | | 21/C | IND | 2418 | PSBB | 7,5 | 63,0 | 67,0 | 46,50 | 0,0 | 7 |
| 17 | 8 | IM | Ravi Teja S. | | | NA | IND | 2377 | WRly | 7,5 | 62,5 | 67,5 | 47,00 | 0,0 | 7 |
| 18 | 30 | FM | Srihari L R | U15 | | 5092 | IND | 1910 | TN | 7,5 | 62,0 | 66,0 | 47,00 | 0,0 | 6 |
| 19 | 42 | | Hari Madhavan N B | U19 | | 5154 | IND | 1737 | TN | 7,5 | 61,5 | 65,0 | 44,25 | 0,0 | 7 |
| 20 | 23 | WIM | Nandhidhaa P V | F80 | w | 106/ | IND | 2151 | AAI | 7,5 | 59,5 | 65,0 | 47,00 | 0,0 | 7 |
| 21 | 17 | | Vignesh B | | | 5026 | IND | 2273 | TN | 7,5 | 58,0 | 62,5 | 45,75 | 0,0 | 7 |
| 22 | 3 | GM | Shyam Sundar M. | | | 63/C | IND | 2504 | TN | 7,5 | 57,5 | 62,5 | 44,50 | 0,0 | 7 |
| 23 | 83 | | Thrish Karthik | U15 | | 5626 | IND | 1456 | TN | 7,5 | 56,5 | 59,5 | 40,75 | 0,0 | 7 |
| 24 | 51 | | Krithigga K | F80 | w | Athe | IND | 1636 | TN | 7,5 | 55,5 | 60,0 | 43,50 | 0,0 | 7 |
| 25 | 19 | IM | Konguvel Ponnuswamy | | | 25/C | IND | 2216 | PSBB | 7,5 | 54,5 | 58,5 | 43,25 | 0,0 | 7 |
| 26 | 29 | | Barath L | | | 5053 | IND | 1916 | TN | 7,5 | 53,5 | 57,5 | 36,75 | 0,0 | 7 |
| 27 | 26 | | Sai Vishwesh.C | | | 5298 | IND | 2052 | TN | 7,0 | 65,0 | 70,0 | 48,50 | 0,0 | 6 |
| 28 | 33 | FM | Manu David Suthandram R | U19 | | 131/ | IND | 1890 | TN | 7,0 | 64,5 | 70,0 | 43,50 | 0,0 | 7 |
| 29 | 55 | | Srihari L | U19 | | NA | IND | 1615 | PON | 7,0 | 63,5 | 68,5 | 44,00 | 0,0 | 7 |
| 30 | 20 | IM | Ravi Thandalam Shanmugam | | | Life | IND | 2193 | TN | 7,0 | 63,5 | 68,5 | 43,00 | 0,0 | 6 |
---