Days after beating Carlsen, Pranav Venkatesh victorious at 5th Shaastra Rapid Rating Open 2023
11 days after beating Magnus Carlsen in a Late Titled Tuesday, GM Pranav Venkatesh won 5th Shaastra Rapid Rating Open 2023. Both Pranav and IM Ravi Teja S scored 8/9 each. However, Pranav won the tournament due to better tie-breaks. This is Pranav's second consecutive tournament triumph of the year after he won Promethean Rapid Rating Open exactly a month ago. IM FT Muthaiah Al edged four more players who scored 7.5/9 to finish third. The reigning National Junior champion and Asian Junior Girls Silver and Bronze medalist, WIM Rakshitta Ravi scored an impressive 7.5/9 to finish fifth. She is the only female player to make a top 20 finish. The total prize fund of the tournament was ₹500000. Top three prizes were ₹65000, ₹45000 and ₹30000 along with a trophy each. Check out a huge report of the final day. Photo: Shahid Ahmed
Rakshitta and Aakash make an impressive comeback
It does not matter if one falters, what matters is how quickly they are able to get back up and finish strong. WIM Rakshitta Ravi lost her third round game and then chained five victories in a row including against IM Rathanvel V S. Similarly, former National Under-9 Open champion, Aakash G lost his second round game, then he followed with four wins in-a-row including a win against the World Rapid 2022 Women's Bronze medalist. He finished the tournament by scoring a victory over the top seed and the defending champion, GM Vishnu Prasanna. Both Rakshitta and Aakash scored 7.5/9 each. They were placed fifth and seventh according to tie-breaks.
In case you missed the game where GM Pranav Venkatesh defeated GM Magnus Carlsen, you can check it out here:
Round 5: An exciting start to Day 2
The very first of the second day had an explosive start. Six out of the top seven boards had decisive results. The Blitz king of India, GM Laxman R R (2232) defeated the top seed of the tournament and the defending champion, GM Vishnu Prasanna (2456). Bharat Kumar Reddy Poluri (2158) scored a big upset over India's 73rd GM Bharath Subramaniyam H (2395).
Bharath - Bharat
Black is completely winning here. Find out the correct continuation.
Round 6: Pranav gains sole lead
GM Pranav Venkatesh (2462) defeated the reigning Telangana State Senior champion, Bharat Kumar Reddy Poluri (2158) to gain sole lead 6/6.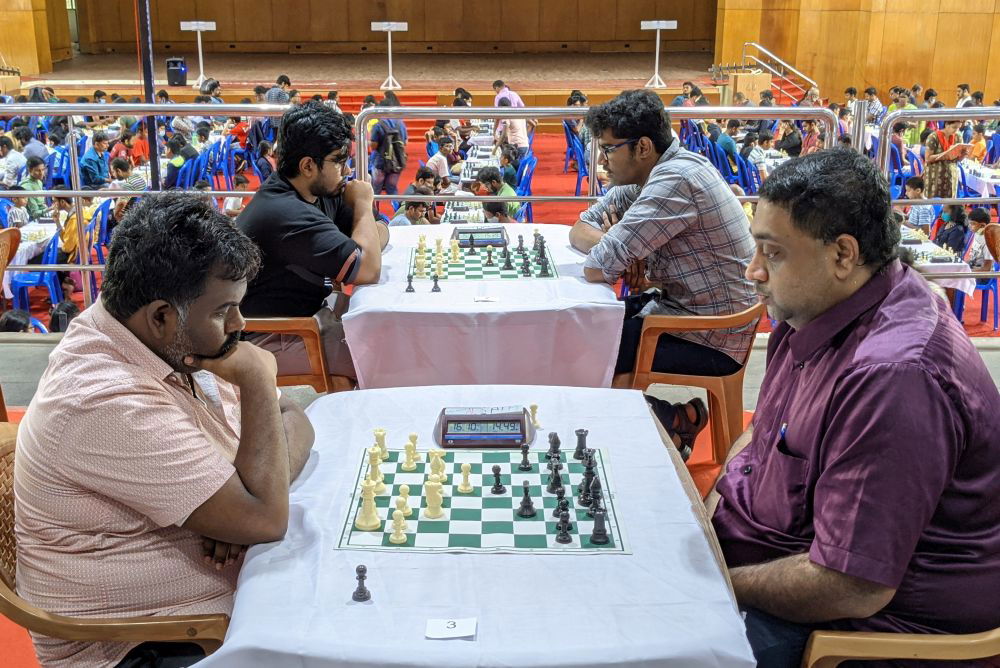 Round 7: Pranav draws with Deepan, Muthaiah and Laxman catch up
GM Pranav Venkatesh drew with GM Deepan Chakkravarthy in an exciting encounter. It allowed IM FT Muthaiah Al and GM Laxman R R to join him in the lead 6.5/7 as they defeated FM Senthil Maran K and Bharat Kumar Reddy Poluri respectively.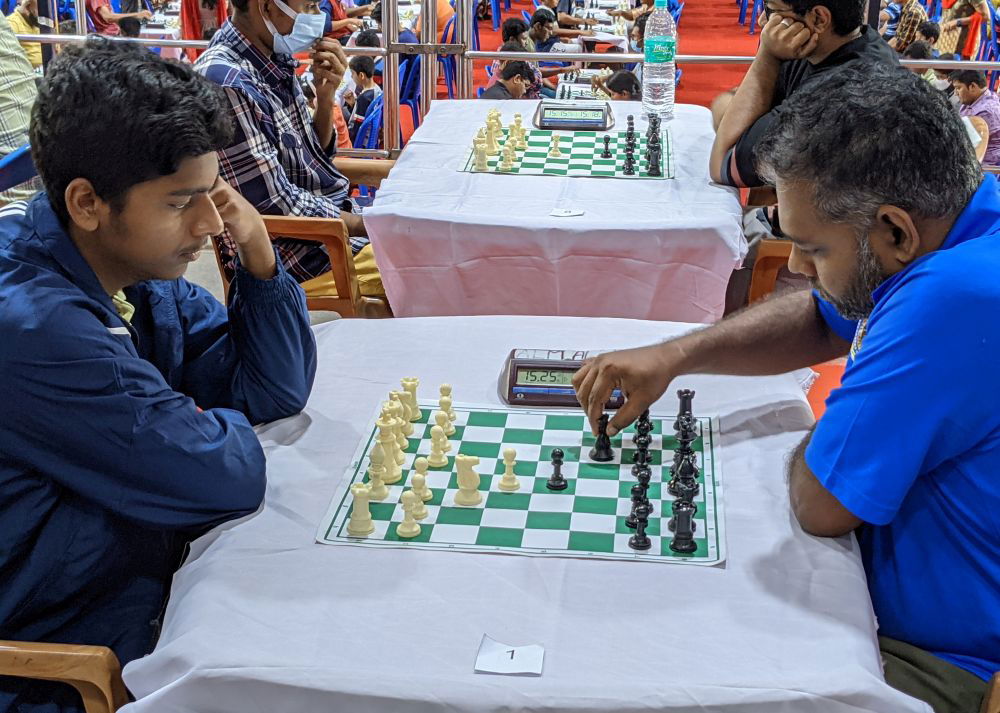 The newly crowned Pondicherry District and State Blitz, and former World Amateur U-2000 champion, Peter Anand showed his gritty defense against GM Bharath Subramaniyam H to draw the double bishop vs bishop and knight endgame. Both of them and the spectators knew that it was a draw, however, Bharath had a few tricks left and Peter had to make sure not to fall for them.
Round 8: Seven in the lead 7/8
GM Laxman R R and GM Vishnu Prasanna drew with GM Pranav Venkatesh and IM FT Muthaiah Al rerspectively. It created an opportunity for four more players to get in the lead. Aswath S, IM Ravi Teja S, WIM Rakhitta Ravi and CM Gireman Ja got themselves in the lead by scoring victories against GM Deepan Chakkravarthy, Sree Veeramani P, IM Rathanvel V S and CM Adireddy Arjun.
Laxman - Pranav
The game continued 1.Qg5 Re8 2.Nf6+ Kf8 3.Nxh7+ Kg8 which is also winning for White. However, there was a better way in the above diagram. Try to find out how.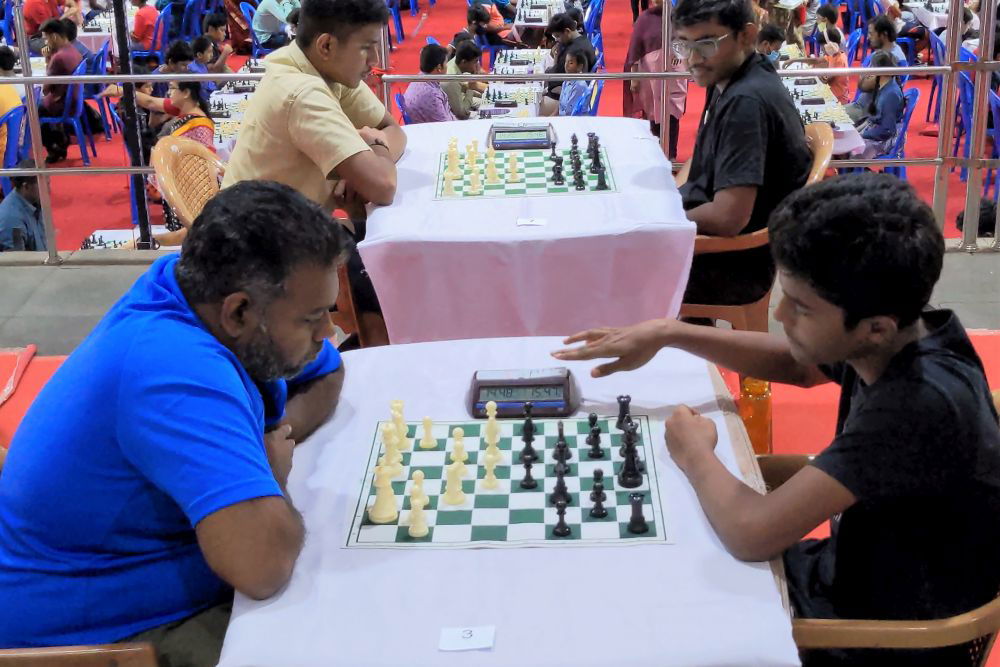 Round 9: Pranav and Ravi score
Out of the seven leaders at 7/8, only GM Pranav Venkatesh and IM Ravi Teja S scored a win each. They defeated CM Gireman Ja and Aswath S respectively. Pranav won the tournament due to better tie-breaks and Ravi was placed second.
Photo Gallery
The reigning 51st National Junior Girls champion, Asian Junior 2022 Girls Silver and Bronze medalist, WIM Rakshitta Ravi delivered a stellar performance by scoring 7.5/9. She was the highest female performer and only girl to finish in top 20.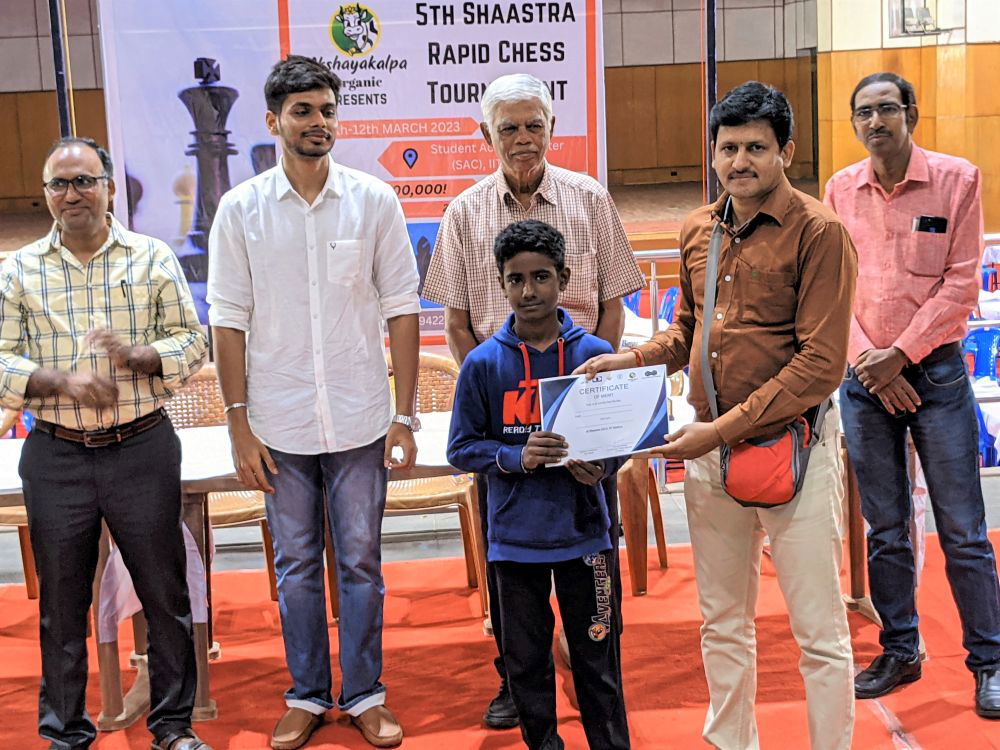 For more photos, click here.
More game videos and interviews will published in time, stay tuned.
A total of 375 players including 6 GMs, 6 IMs, a WGM and 2 WIMs took part from various states across the country and one from USA. The tournament was organized by Shaastra IIT Madras at IIT Madras on 11th and 12th March, presented by Akshayakalpa. The time control of the tournament was 15 minutes + 10 seconds increment
Round 9 results
Final standings
| | | | | | | | | | | | | |
| --- | --- | --- | --- | --- | --- | --- | --- | --- | --- | --- | --- | --- |
| Rk. | SNo | | Name | FED | RtgI | Club/City | Pts. | TB1 | TB2 | TB3 | TB4 | TB5 |
| 1 | 2 | GM | Pranav V | IND | 2462 | TN | 8 | 54,5 | 59 | 52,25 | 0 | 7 |
| 2 | 5 | IM | Ravi Teja S. | IND | 2357 | AP | 8 | 52 | 56 | 48,75 | 0 | 7 |
| 3 | 8 | IM | Muthaiah Al | IND | 2316 | TN | 7,5 | 54 | 59 | 49,00 | 0 | 6 |
| 4 | 12 | GM | Laxman R.R. | IND | 2232 | ICF | 7,5 | 54 | 58,5 | 46,75 | 0 | 6 |
| 5 | 27 | WIM | Rakshitta Ravi | IND | 2044 | TN | 7,5 | 48 | 53 | 44,00 | 0 | 7 |
| 6 | 23 | FM | Matta Vinay Kumar | IND | 2087 | UBI | 7,5 | 48 | 52 | 40,75 | 0 | 7 |
| 7 | 50 | | Aakash G | IND | 1797 | TN | 7,5 | 45,5 | 49,5 | 41,25 | 0 | 7 |
| 8 | 3 | GM | Deepan Chakkravarthy J. | IND | 2405 | ICF | 7 | 53,5 | 58 | 43,25 | 0 | 6 |
| 9 | 17 | | Bharat Kumar Reddy Poluri | IND | 2158 | TEL | 7 | 51 | 55,5 | 40,00 | 0 | 7 |
| 10 | 7 | IM | Rathanvel V S | IND | 2326 | TN | 7 | 50,5 | 54,5 | 41,50 | 0 | 6 |
| 11 | 21 | CM | Gireman Ja | IND | 2092 | TN | 7 | 50 | 55 | 40,75 | 0 | 6 |
| 12 | 42 | CM | Adireddy Arjun | IND | 1855 | TEL | 7 | 49,5 | 53,5 | 39,50 | 0 | 6 |
| 13 | 38 | | Sadhu S Adithya | IND | 1916 | IITM | 7 | 48,5 | 52,5 | 38,75 | 0 | 6 |
| 14 | 72 | | Sree Veeramani P | IND | 1620 | TN | 7 | 48,5 | 52,5 | 37,50 | 0 | 7 |
| 15 | 6 | IM | Kushagra Mohan | IND | 2335 | TEL | 7 | 48 | 52,5 | 39,25 | 0 | 6 |
| 16 | 24 | FM | Senthil Maran K | IND | 2084 | TN | 7 | 48 | 52 | 38,75 | 0 | 6 |
| 17 | 16 | FM | Karthik Rajaa | IND | 2175 | TN | 7 | 47,5 | 52,5 | 40,75 | 0 | 5 |
| 18 | 10 | GM | Thejkumar M. S. | IND | 2268 | KA | 7 | 47,5 | 51,5 | 34,00 | 0 | 6 |
| 19 | 28 | | Aswath S | IND | 2044 | TN | 7 | 47 | 51,5 | 38,00 | 0 | 7 |
| 20 | 49 | CM | Daakshin Arun | IND | 1797 | TN | 7 | 47 | 51 | 38,00 | 0 | 6 |
| 21 | 32 | | Nithin Babu | IND | 1959 | KEL | 7 | 46 | 50,5 | 37,25 | 0 | 6 |
| 22 | 26 | FM | Prasannaa.S | IND | 2056 | TN | 7 | 46 | 50 | 36,00 | 0 | 7 |
| 23 | 18 | | Kunal M. | IND | 2138 | TN | 7 | 45,5 | 50 | 37,50 | 0 | 7 |
| 24 | 25 | | Rohit S | IND | 2079 | TN | 7 | 42,5 | 47 | 35,25 | 0 | 6 |
| 25 | 35 | | Rindhiya V | IND | 1932 | TN | 7 | 41 | 44,5 | 34,50 | 0 | 7 |
Links
Shaastra IIT Madras: Official site, facebook, instagram, twitter and youtube
Akshayakalpa: Official site, linkedin, facebook, instagram, twitter and youtube
---