Shaastra IIT Madras invites you to participate in 5th Shaastra Rapid Rating Open 2023
Shaastra IIT Madras invites all chess players around the world in the fifth edition of Shaastra Rapid Rating Open 2023. It is scheduled to take place on 11th and 12th March 2023. This the only IIT which organizes an Open Rapid Rating event every year. Due to Covid-19 pandemic, the tournament could not take place in the last two years. This year the total prize fund is ₹500000, a huge increase of 66.67% worth ₹200000 since the previous edition held in 2020. So far five GMs, six IMs, a WGM and two WIMs have already confirmed their participation. The total number of players increase every year by a lot. Last edition had a total 440 players. Last date of registration is 10th March 2023 5 p.m. IST. Photo: Tournament circular
The fifth edition has 66.6%+ more prize fund since the previous one
The 5th Shaastra Rapid FIDE rating tournament will be held in Chennai on 11th and 12th of March 2023. With the prize fund of ₹500000, the event is scheduled for IIT Madras campus. The last date for registration for the event is 10th March. Play and enjoy the rapid tournament at the campus of the IIT-M!
Invitation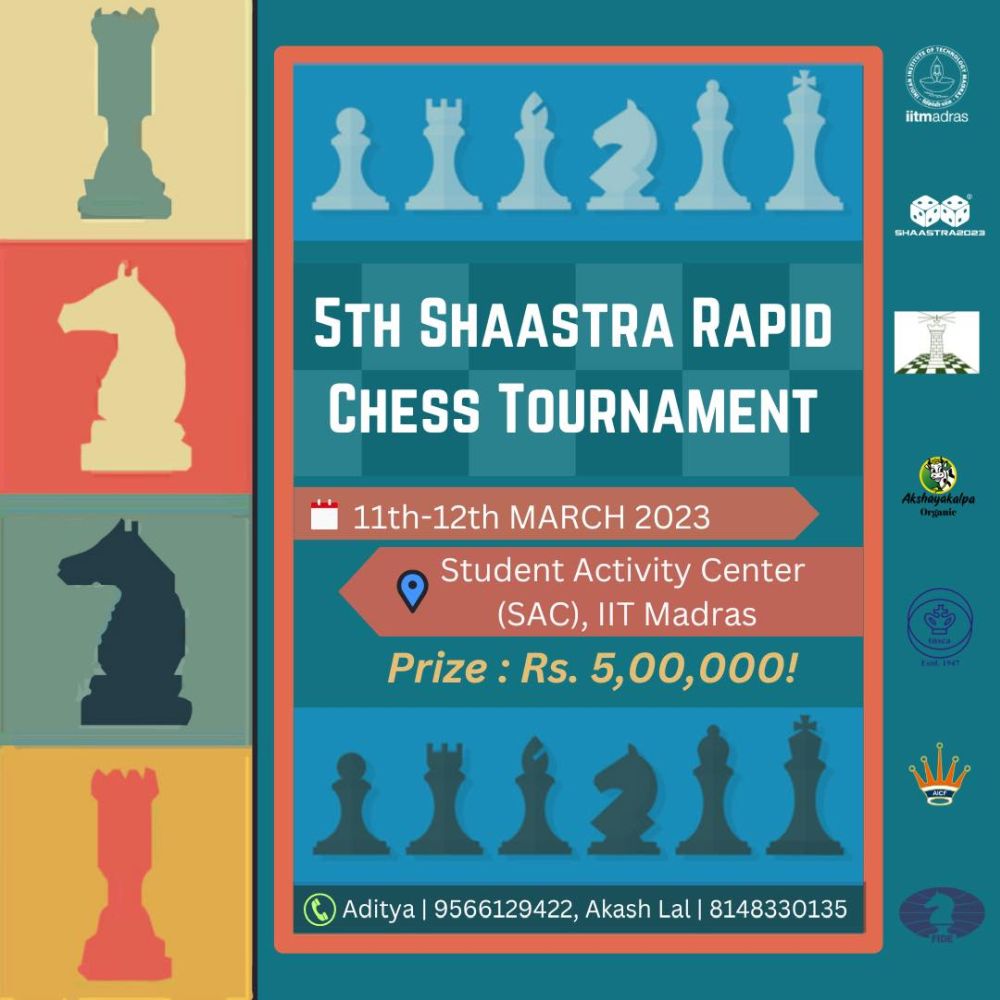 Shaastra is the Technical Festival of IIT Madras, which is ranked No. 1 in India in Engineering Colleges under the MHRD rankings 2016. Shaastra is the first ISO certified student-run fest in India.
The tournament is back after a 3-year break due to the COVID-19 pandemic. The prize structure and the funding for the upcoming 2023 edition has been increased significantly to accommodate the growth of the chess world.
The winner of the tournament bags a massive ₹65000 rupees and ₹41500 is up for grabs in each rating category. Apart from that, there are cash prizes for best women, best IITM players, best unrated players, and the best veterans! There are also trophy prizes for age categories.
Schedule
There will be a total of nine rounds - four on Saturday 11th and five on Sunday 12th March 2023.
Prizes
There are various prizes in rating category, veteran, women, unrated and age group prizes in three different age group category besides 25 main prizes. Total prize fund is ₹500000 including first prize of ₹65000.
Rules and Regulations
The tournament will have nine rounds with a time control of 15 minutes + 10 seconds increment from move no.1. Chief Arbiter will be IA R Anantharam.
Entry fees
Entry is free and accommodation will be provided for GMs, IMs, WGMs and WIMs. For all other rated and unrated players, the entry fee is ₹2300. For IIT Madras Students, Faculty and Staff Member, there is a discount. Check the image below to find out the details. Last date for submission of entry is 10th March 2023 5 p.m. IST. Spot registration will strictly not be entertained.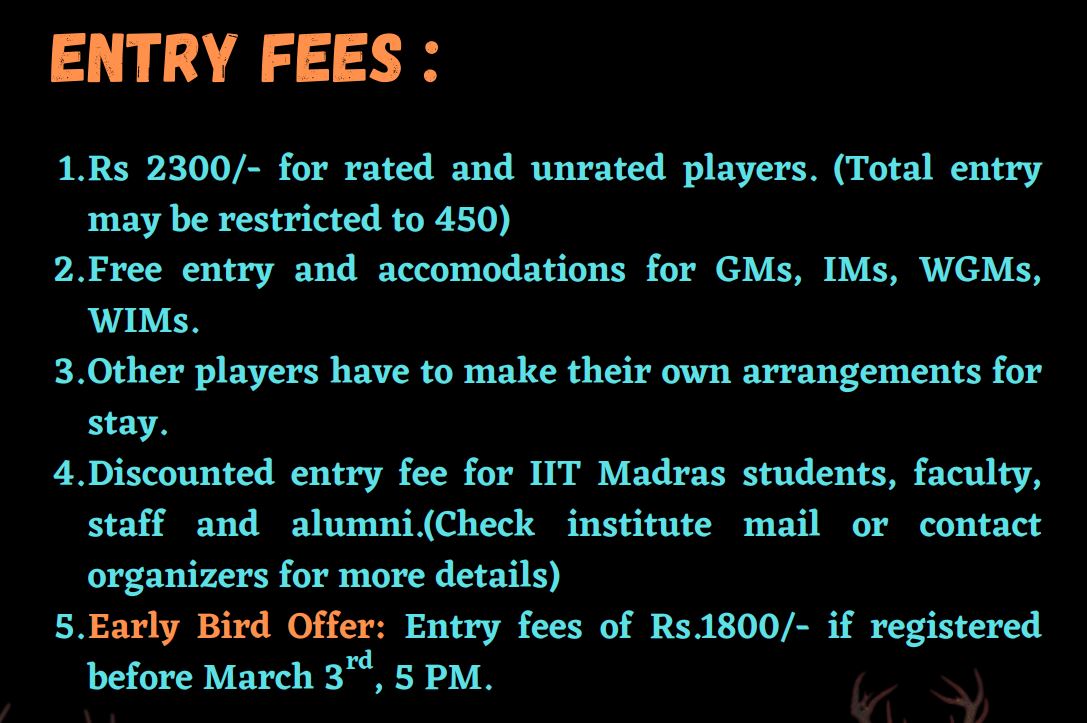 Confirmed titled players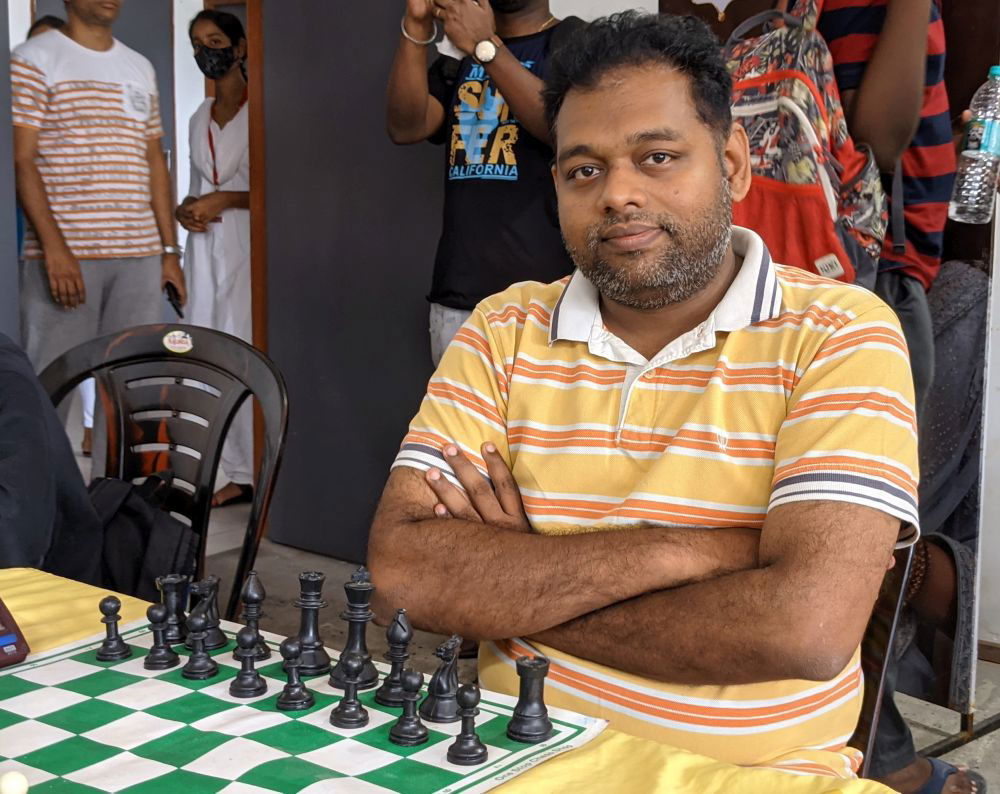 For more details, click here.
Indian Institute of Technology - Madras
Indian Institute of Technology Madras is a public engineering and research institute located in Chennai, Tamil Nadu and is one of India's most prestigious universities. It is recognized as an Institute of National Importance by the Government of India.
IIT Madras is a residential institute that occupies a 2.5 square kilometers campus that was formerly a part of the adjoining Guindy National Park. The institute has nearly 550-member faculty, 8,000 students, and 1,250 administrative and supporting staff. Growing ever since it obtained its charter from the Indian Parliament in 1961, much of the campus is a protected forest, carved out of the Guindy National Park, home to large numbers of...
4th Shaastra Rapid Rating 2020 edition
The 2020 edition of the Shaastra Rapid Tournament saw 440 chess players taking part in it including 7 Grandmasters, 11 International Masters and 3 Woman International Masters and several other 2000+ rated players. The 2023 edition has the confirmed participation of nearly 15 titled players including GMs, IMs, WGMs and WIMs.
Venue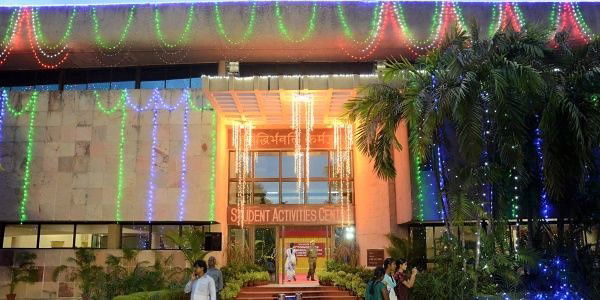 The venue address
The main entrance of IIT Madras is on Chennai's Sardar Patel Road, flanked by the residential districts of Adyar and Velachery. The campus is close to the Raj Bhavan, the official seat of the Governor of Tamil Nadu. Other entrances are in Velachery (near Anna Garden MTC bus stop, Velachery Main Road) and Taramani gate (close to Ascendas Tech Park).
The campus is located 10 km from the Chennai Airport, 12 km from the Chennai Central Railway station, and is well-connected by city buses. Kasturba Nagar is the nearest station on the Chennai MRTS line.
Two parallel roads, Bonn Avenue and Delhi Avenue, cut through the faculty residential area before they meet at the Gajendra Circle, near the Administrative Block. Buses regularly ply between the Main Gate, Gajendra Circle, the Academic Zone, and the Hostel Zone.
Contact
Aditya S Sadhu - 9566129422 (English, Tamil)
Akash Lal - 8148330135 (English, Hindi, Tamil)
Previous coverage on Shaastra Rapid Rating
Shaastra Rapids: Chess amidst flora and fauna of a Tech. School!
Flawless Deepan Chakkravathy wins 2nd Shaastra Rapid 2018 at IIT-M
IM Muthaiah Al wins 3rd Shaastra Rapid Rating
Shaastra IIT Madras invites you to play in 4th Shaastra Rapid Rating Open
Seven players in the lead with 5.0/5 at Shaastra Rapid Rating 2020
Victory for Vishnu Prasanna at 4th Shaastra Rapid Rating 2020
Editor's note: ChessBase India's very own Shahid Ahmed will be returning to this event for the second consecutive edition to bring all detailed coverage of the event.
Players list
Links
Shaastra IIT Madras: Official site, facebook, instagram, twitter and youtube
Akshayakalpa: Official site, linkedin, facebook, instagram, twitter and youtube
About the Author
Aditya S Sadhu is a twenty-year-old Electrical engineering student at IIT Madras. He is an avid chess player who used to be professional when he was much younger. He manages to find time for playing and learning chess whenever possible amidst his hectic academic schedule. He also has a national and a commonwealth bronze medal to his name
---