Aswath and Tejaswini win MPL National Sub Junior Open and Girls Chess Championships 2022 convincingly
Tamil Nadu's Aswath S and Tejaswini G scored an unbeaten 9.5/11 each to win MPL 47th National Sub-Junior Under-15 Open and 38th National Sub-Junior Girls Chess Championship 2022. Both of them finished a half point ahead of the field. Aswath drew with both remaining podium finishers - runner-up Arjun Adireddy (TEL) 9/11 and second runner-up FM Harsh Suresh (TN) 8.5/11. Tejaswini drew with the eventual runner-up WCM Kheerthi Ganta (TEL) 9/11 and defeated the second runner-up Shubhi Gupta (UP) 8.5/11. In both sections, the top two finishers did not require tie-breaks. Since the previous edition champions, IM Pranesh M and Tanisha Boramanikar crossed the eligibility criteria, they could not defend their titles. Photo: IA Mrityunjay Singh
Tamil Nadu dominates the podium
Both champions in each section was a half point ahead of the field. They drew their respective final round games and still no one was able to catch them. Among the podium finishers, Aswath, Tejaswini and Kheerthi remained undefeated. Total prize fund of the tournament was ₹450000 in each section. Top three prizes were ₹90000, ₹70000 and ₹58000 along with a trophy each.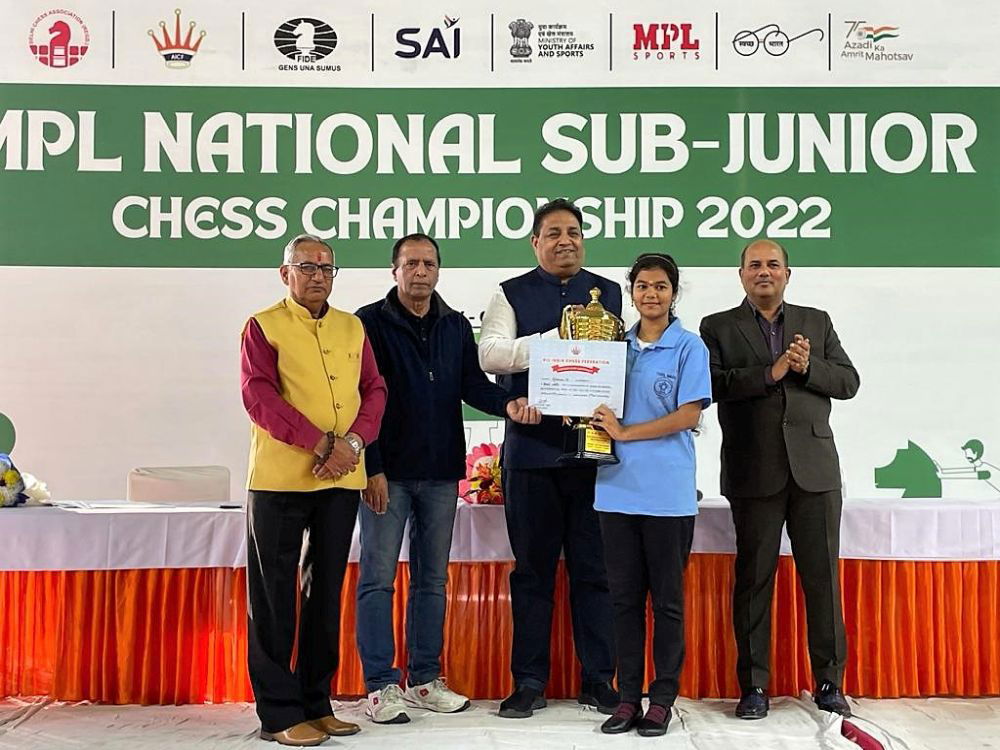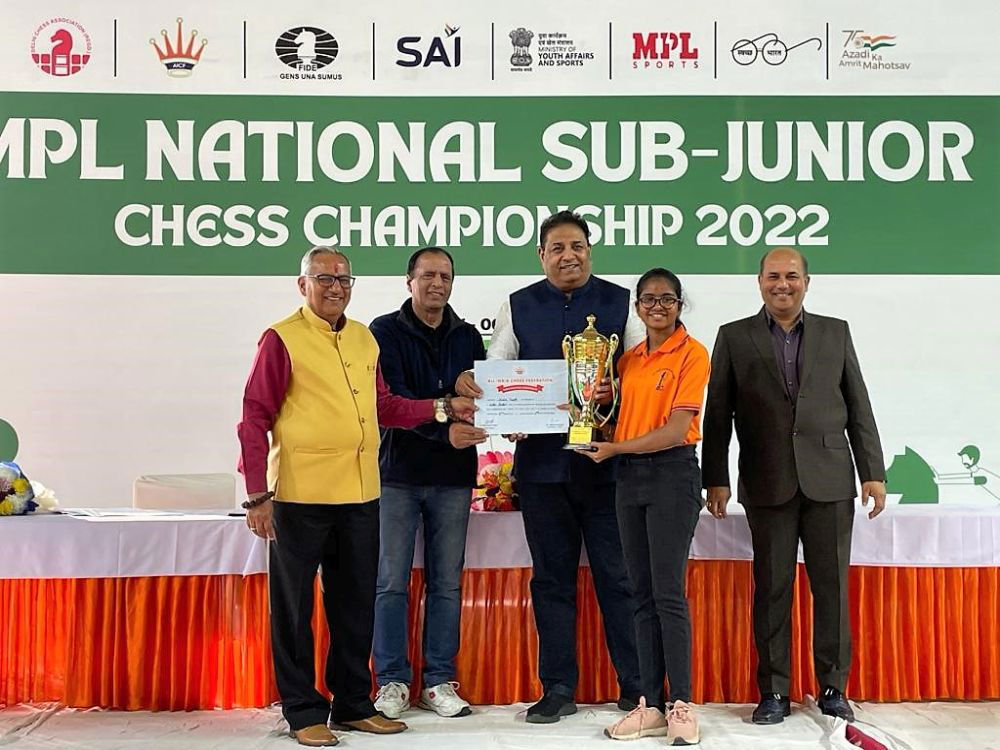 Open: Aswath S 9.5/11
Despite being held to a draw in the second round by Dev Raj (BIH, 1577), Aswath S (TN, 2186) bounced back by winning the next five games in-a-row.
Aswath - Mayank, Round 7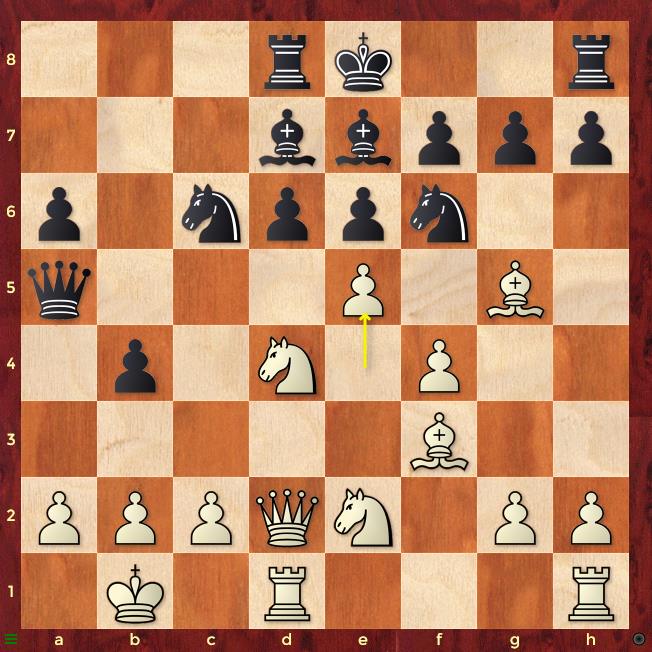 13...Rd8 was a mistake. Black had to play 13...Rc8 to prevent e5 ideas. White seized his opportunity 14.e5! Nxd4 15.Nxd4 dxe5 16.fxe5 Qxe5 17.Nc6 Bxc6 18.Bxc6+ Kf8 19.Qxd8+! Bxd8 20.Rxd8+ Ke7 21.Bxf6+ Kxf6 22.Rxh8 and it's over for Black. He just could not get out of the gate after a mistake in the opening.
In the penultimate round, Aswath scored a crucial win over then coleader, Commonwealth Under-14 Open Gold and Under-20 Bronze medalist, CM Gaurang Bagwe (1965).
Gaurang - Aswath, Round 10
White needed to trade the rooks on d8 to ensure the intensity of Black's counter-attack by invading his own rook is less. 34.Rxd8 Rxd8 35.Nf5 was a relatively better choice. 34.Ra7 Rd1 35.Kf1 Nc6 36.Raa2 Nd4 gave Black complete control and he went on to win the game comfortably.
Girls: Tejaswini G 9.5/11
Tejaswini G (TN, 1859) scored an emphatic victory with an aggressive play against World Under-12 Girls 2022 champion, Shubhi Gupta (UP, 1815) in the fifth round. She became coleader with WCM Kheerthi Ganta (TEL, 1675) after the fifth round.
Tejaswini - Shubhi, Round 5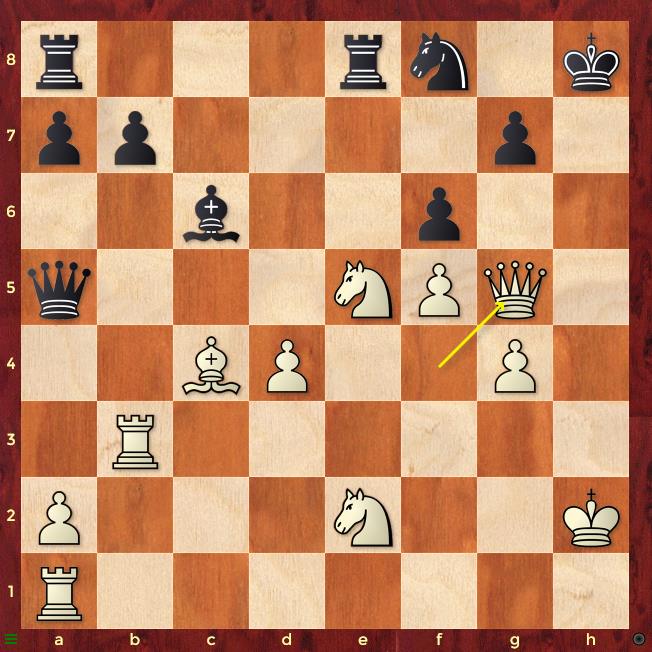 28.Qxg5! works because fxg5 29.Rh3+ Nh7 30.Ng6# a beautiful smothered mate. Black played 28...Bd5 which leads to a checkmate in four. Can you find it what Tejaswini missed in the game? She went on to win the game in the next few moves.
Tejaswini scored an important victory in the penultimate round against Arshiya Das (TRI, 1640). It allowed her to have a half point lead 9/10, heading into the final round.
Tejaswini - Arshiya, Round 10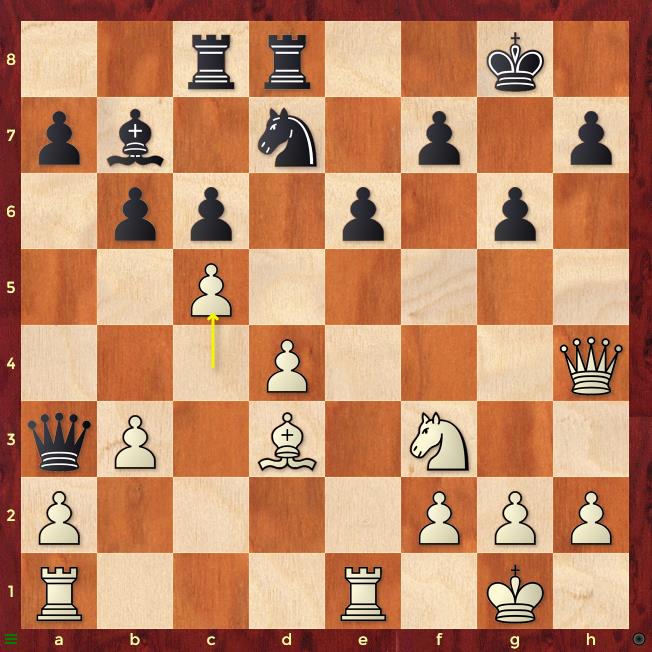 Black deciding on not bringing the queen in time 17...Qd6, allowed White to shut the queen's return after 17...Rfd8. 18.c5 Nxc5 19.dxc5 Rxd3 20.Qe7 Ba6 21.Ne5 and the game is beyond the point of saving for Black.
Photo Gallery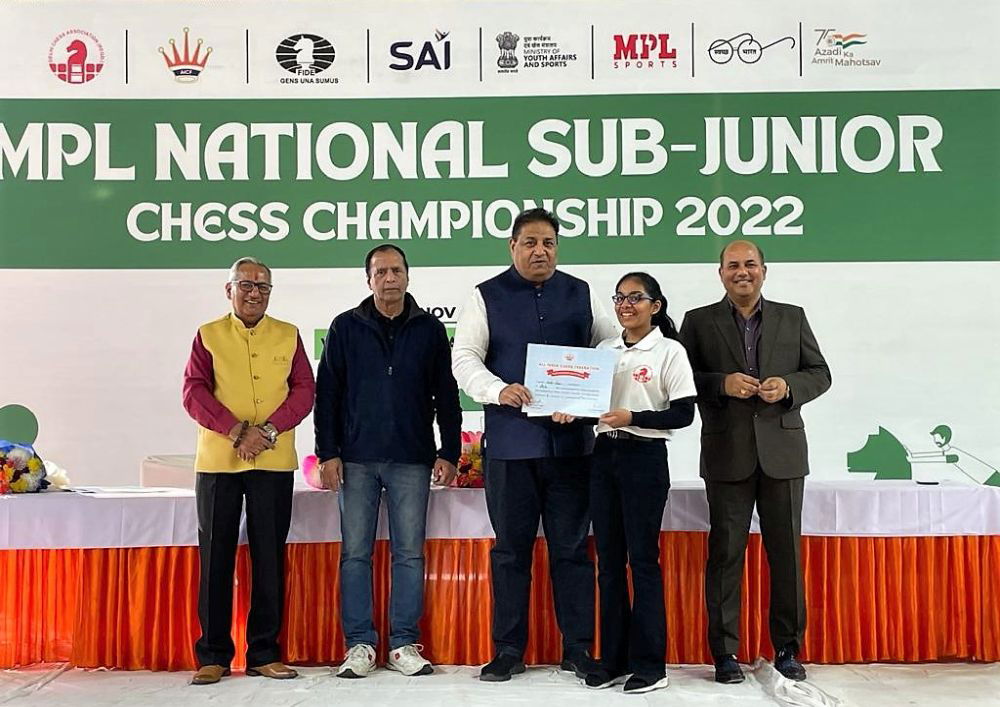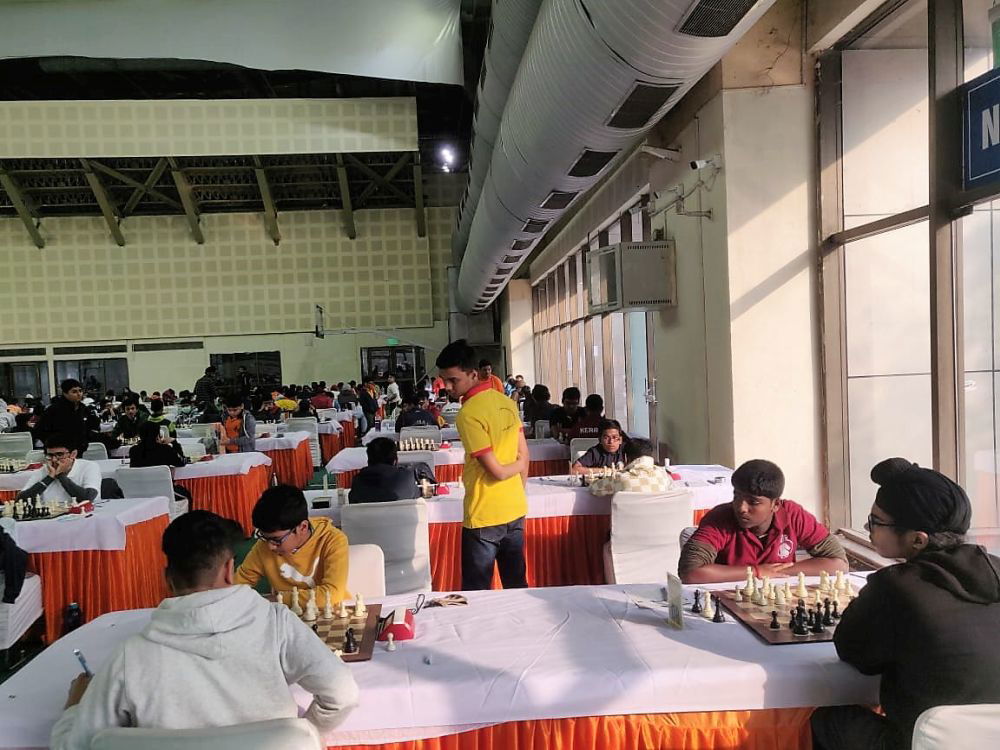 A total of 248 players including an IM in the Open and 123 players in the Girls tournament took part. It was organized by Delhi Chess Association at Indira Gandhi Sports Complex, Delhi from 28th November to 6th December 2022. The eleven-round Swiss league tournament had a time control of 90 minutes + 30 seconds increment from move no.1.
Replay Open Round 1-11 games
Replay Girls Round 1-11 games
Open Round 11 results
Final standings
| | | | | | | | | | | |
| --- | --- | --- | --- | --- | --- | --- | --- | --- | --- | --- |
| Rk. | SNo | | Name | FED | Rtg | Club/City | Pts. | TB1 | TB2 | TB3 |
| 1 | 4 | | Aswath S | IND | 2186 | Tamil Nadu | 9,5 | 73,5 | 79,5 | 67,75 |
| 2 | 15 | | Adireddy Arjun | IND | 1980 | Telangana | 9 | 70,5 | 75 | 61,50 |
| 3 | 2 | FM | Harsh Suresh | IND | 2280 | Tamil Nadu | 8,5 | 73,5 | 79 | 59,25 |
| 4 | 19 | | Swayham P Das | IND | 1930 | Gujarat | 8,5 | 72,5 | 77,5 | 58,25 |
| 5 | 9 | | Nagare Kaivalya Sandip | IND | 2124 | Maharashtra | 8,5 | 71 | 75,5 | 56,25 |
| 6 | 11 | AFM | Pawar Harshit | IND | 2110 | Delhi | 8,5 | 70,5 | 74,5 | 56,50 |
| 7 | 13 | | Vrashank Chouhan | IND | 2041 | Rajasthan | 8,5 | 70 | 75,5 | 56,75 |
| 8 | 12 | AIM | Vaz Ethan | IND | 2049 | Goa | 8,5 | 68,5 | 74,5 | 57,75 |
| 9 | 18 | CM | Bagwe Gaurang | IND | 1965 | Maharashtra | 8 | 73 | 77,5 | 54,00 |
| 10 | 14 | | Arpith S Bijoy | IND | 2019 | Kerala | 8 | 71,5 | 76 | 52,25 |
| 11 | 33 | | Aashman Gupta | IND | 1776 | Delhi | 8 | 70 | 75 | 51,75 |
| 12 | 7 | FM | Sreyas Payyappat | IND | 2145 | Kerala | 8 | 68 | 72,5 | 52,25 |
| 13 | 23 | | Jihan Tejas Shah | IND | 1860 | Gujarat | 8 | 65,5 | 71 | 51,00 |
| 14 | 36 | | Vengatesh Krishnan C | IND | 1759 | Tamil Nadu | 7,5 | 73 | 78 | 49,50 |
| 15 | 20 | | Dhyey Agarwal | IND | 1903 | Gujarat | 7,5 | 72,5 | 77 | 47,50 |
| 16 | 35 | | Abhash Roimya Saikia | IND | 1760 | Assam | 7,5 | 72 | 77 | 50,25 |
| 17 | 24 | | Aarav Sinha | IND | 1854 | Delhi | 7,5 | 71,5 | 76,5 | 48,00 |
| 18 | 34 | | Kartik Kumar Singh | IND | 1769 | Maharashtra | 7,5 | 70,5 | 76 | 50,00 |
| 19 | 1 | IM | Shahil Dey | IND | 2395 | Assam | 7,5 | 70 | 75 | 48,75 |
| 20 | 32 | | Daaevik Wadhawan | IND | 1780 | Delhi | 7,5 | 69,5 | 75 | 48,25 |
Girls Round 11 results
Final standings
| | | | | | | | | | | |
| --- | --- | --- | --- | --- | --- | --- | --- | --- | --- | --- |
| Rk. | SNo | | Name | FED | Rtg | Club/City | Pts. | TB1 | TB2 | TB3 |
| 1 | 4 | | Tejaswini G | IND | 1859 | Tamil Nadu | 9,5 | 76,5 | 81,5 | 69,00 |
| 2 | 12 | WCM | Kheerthi Ganta | IND | 1675 | Telangana | 9 | 77,5 | 81,5 | 64,75 |
| 3 | 6 | AFM | Shubhi Gupta | IND | 1815 | Uttar Pradesh | 8,5 | 75,5 | 80,5 | 58,50 |
| 4 | 30 | | Debapriya Manna | IND | 1507 | West Bengal | 8 | 73 | 76,5 | 51,00 |
| 5 | 21 | | Saparya Ghosh | IND | 1595 | West Bengal | 8 | 69 | 74,5 | 51,25 |
| 6 | 23 | | Sachi Jain | IND | 1581 | Delhi | 8 | 69 | 73,5 | 50,50 |
| 7 | 14 | | Arshiya Das | IND | 1640 | Tripura | 8 | 68 | 72,5 | 49,75 |
| 8 | 27 | | Vakcheri Mohitha | IND | 1535 | Andhra Pradesh | 8 | 63,5 | 67,5 | 47,25 |
| 9 | 1 | WFM | Shivika Rohilla | IND | 2057 | Delhi | 7,5 | 75 | 80 | 49,75 |
| 10 | 3 | | Mrittika Mallick | IND | 1867 | West Bengal | 7,5 | 71 | 76,5 | 49,00 |
| 11 | 17 | | Sneha Halder | IND | 1628 | West Bengal | 7,5 | 71 | 76 | 46,25 |
| 12 | 10 | | Khairmode Dhanashree | IND | 1728 | Maharashtra | 7,5 | 67,5 | 72 | 47,25 |
| 13 | 15 | | Pragnya H G | IND | 1640 | Tamil Nadu | 7,5 | 62,5 | 67,5 | 45,00 |
| 14 | 45 | | Asmita Avijit Ray | IND | 1413 | Goa | 7,5 | 62 | 65,5 | 38,50 |
| 15 | 40 | | Jeevika S | IND | 1438 | Puducherry | 7,5 | 61,5 | 65 | 42,00 |
| 16 | 16 | | Dakshita Kumawat | IND | 1628 | Rajasthan | 7,5 | 56 | 60,5 | 40,75 |
| 17 | 24 | | Sai Mahati A | IND | 1575 | Telangana | 7 | 68 | 73 | 43,00 |
| 18 | 18 | | Rajanya Datta | IND | 1627 | West Bengal | 7 | 67 | 71,5 | 41,75 |
| 19 | 51 | | Pranavasri S | IND | 1366 | Tamil Nadu | 7 | 65,5 | 70 | 39,50 |
| 20 | 32 | | Aashi Upadhyay | IND | 1496 | Rajasthan | 7 | 64,5 | 68,5 | 38,25 |
---