Vishy Anand inaugurates GM Vishnu's Chess Club in Anna Nagar
GM Vishnu Prasanna is well-known in the entire world of chess for having trained D. Gukesh to become a top chess player at just the age of 16 years. But the GM from Chennai has many more students who have achieved many things in chess. In order that his training reaches more people, Vishnu and his better half WIM Raghavi have launched GMVCC (GM Vishnu's Chess Club), a physical setup in Anna Nagar Chennai. Why did they decide to launch a chess club? What is the idea behind it? And how was the opening day of the club where we have the legend and five-time World Champion Vishy Anand visiting to inaugurate the premises? Check out the article to know more.
GM Vishnu Prasanna and WIM Raghavi launch chess academy in Chennai
I have known Vishnu and Raghavi for over a decade now. The duo were in a relationship since 2013 and got married to each other in 2017.
What makes Raghavi and Vishnu truly a dream couple is the fact how both of them have grown over the last five years of their marriage. Apart from being a WIM and a strong chess player, Raghavi is also a doctor, an MS in ENT. Now that might have been enough for some to stop right there, but Raghavi decided to take it one step further. She studied specialization in laryngology (larynx is the voice box). She is one of the very few experts in the country in this field and is quickly becoming the best by working day in and out with patients who have issues with their voice, throat and the larynx.
Vishnu, on the other hand, started becoming more and more involved in his chess training. His student D. Gukesh is now one of the best players in the world and has reached an Elo of 2725 in classical chess! Vishnu has been with him ever since he was rated 2200 and has helped him climb the ladder.
Raghavi and Vishnu are now parents to a two year old daughter. An amazing doctor, a world class trainer, parents - you would imagine them to slow down at some point, wouldn't you? Well, not really! The couple is moving forward full steam and have now opened their first physical branch of GM Vishnu's Chess Club (GMVCC) in Anna Nagar, Chennai.
The day of launch of GMVCC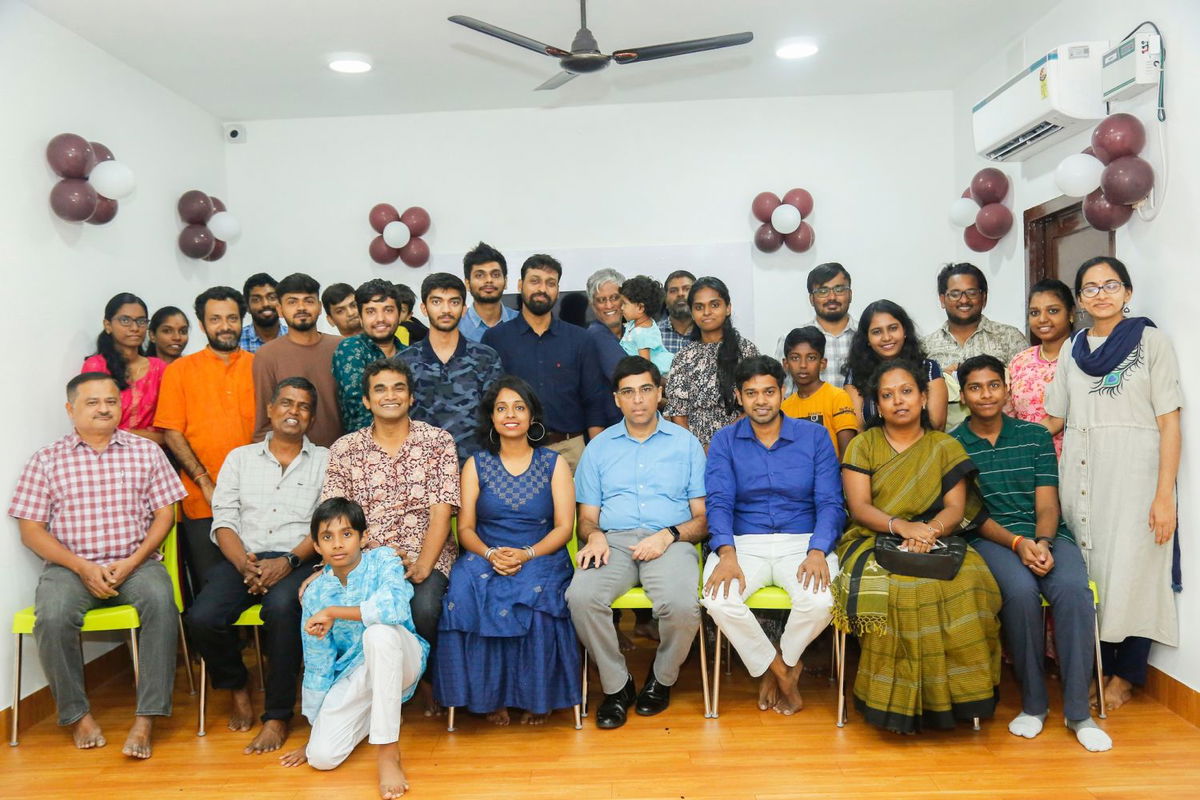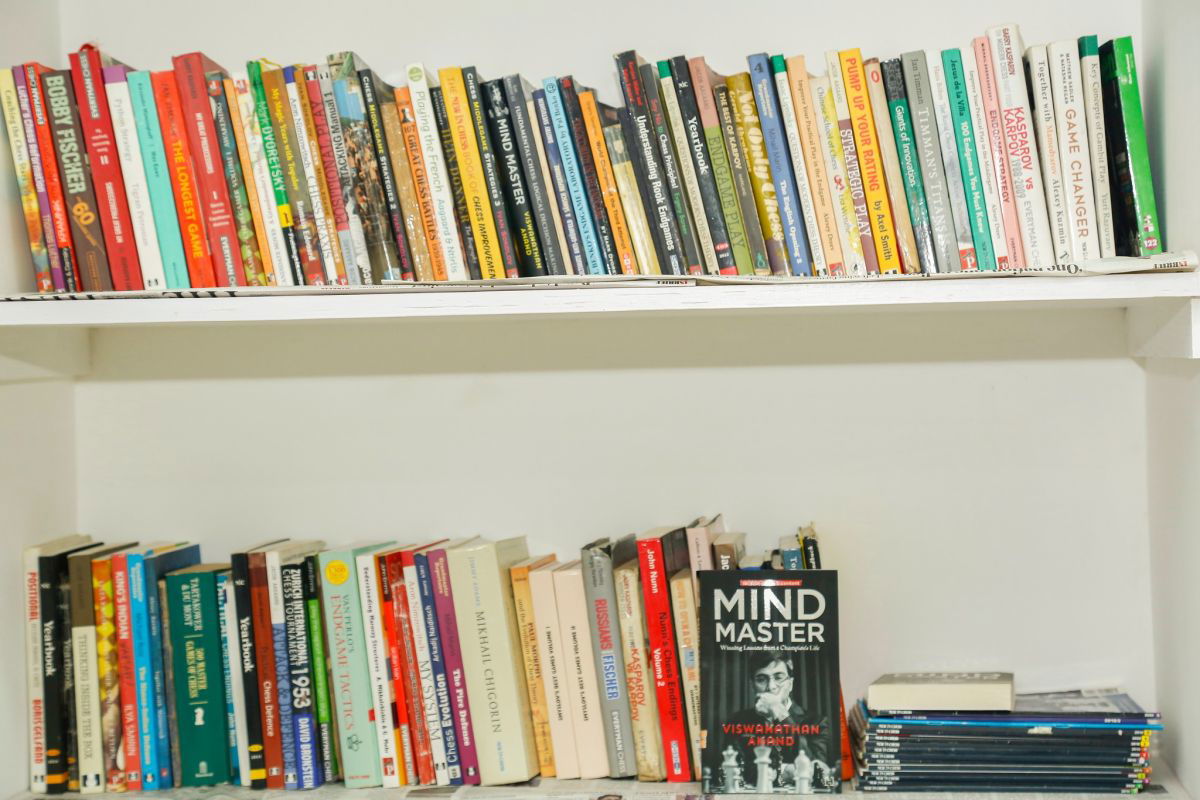 Apart from normal training, in order to ensure that the brightest talents of the academy can improve faster, Vishnu has decided to launch GMVCC Prodigy Program.
Interview with WIM N. Raghavi
Sagar Shah (SS): What was the idea behind opening a physical academy?
N. Raghavi (NR): Since a few years ago, we have had the online academy. We received numerous enquiries for in person coaching. Previously classes were conducted at our house. After the academy was formally established, we realised we need a physical location to accommodate players of different skill level. We also intend to use the same area in the near future for chess club events like guest lectures, simultaneous displays, blitz events, bug house, etc
SS: What are the level of students that the academy caters to?
NR: We cater to all levels from absolute beginners, post beginners, rated players, title aspirants to titled players, both online and offline, individual and group. For upcoming young kids, we run the online Prodigy programme, and we have many more offline and online programmes planned. We'll soon be launching a membership package for adults featuring Sunday events. The Tal Chess Club at the Russian Cultural Centre in Chennai, where several players (including the Lightning Kid Viswanathan Anand) used to spend a lot of time playing blitz, served as the inspiration for this notion. We aim to borrow some of those ideas and add some of our own concepts to revive the chess culture.
SS: How can one enroll and be a part of Vishnu's chess Academy?
NR: Contacting us over WhatsApp at +919840403376 or +917305053376 is the simplest method. You can also mail us on gmvishnuschessclub@gmail.com or message on our Facebook page.
SS: With Vishnu being busy with Gukesh, will he also dedicate time to the academy?
NR: Yes, Gukesh has been the centre of Vishnu's attention for a while now. Additionally, he collaborates mostly in camps, with a number of other titled players and title aspirants. He also trains at the Hatsun Chess Academy in Thiruthangal, Sivakasi, to foster potential in rural areas at the grassroot level. Therefore, to best channelize and utilize the time he has we have the prodigy program along with GM G. Akash and IM V. Saravanan. In addition to this, selected classes he takes for the lower rated group batches. He is currently working on developing a curriculum for all the lower level batches and teaching the coaches so that uniformity is maintained across the classes. To accommodate different levels of students, we also have about 15 other trainers working with us, both offline and online, ranging from rated to titled players. Additionally, we are currently hiring and training more personnel.
SS: What would be your role at the academy, considering you are also pursuing your career as a doctor?
NR: Initially I used to take quite a number of classes since I really enjoy teaching. But, with time, amidst my specialization course and raising a kid, I realised my time is very limited. Through the academy, I always wish to be in touch with chess. Rather than usual classes, I intend on springing the occasional special class. However, I make an effort to monitor the student's performance, be it individual or group.
SS: How was the opening ceremony of the academy and how was it to have Vishy Anand at the opening?
NR: On November 7, the Launch Tea Party took place. Most of the arrangements were made with the aid of Srikanth Govindaseshan and V. Saravanan. The majority of the titled players in and around our area of Chennai attended the small, informal gathering. The highlight was Vishy coming all the way and spending a lot of time with us there. He cut the ribbon and officially launched our academy. It was a closed informal gathering of about 30 people, most of the titled players in and around our area in Chennai. It included GM D Gukesh and his father Rajinikanth, GM V Pranav and his father, GM Adhiban and his father, GM G Akash, GM M Shyam Sundar, GM Sundarrajan Kidambi, GM MR Venkatesh, IM V. Saravanan, his wife Sanchitha and son Nandhan, IM T.S Ravi and his wife WIM Sai Meera Ravi, WGM V.Varshini and Her sister Rindhya , FM Senthil Maran, FM Sekar and his wife, N Surendran and his wife, our mentor G Srikanth, Vishnu's old trainer Sakthi Prabhakar and his wife and my close friends WIM P. Priya and her sister P Malarselvi. Surendran brought his 3 month old child outside his house for the first time so that she could get to meet Vishy. With Srikanth's assistance, we put up several positions in the academy from which the players could guess the game and analyse it as well. We arranged a chessboard designed cake with edible chocolate pieces. We got a copy of Mind Master autographed by the Master himself for one of our students, Adarsh K, who was placed second in the Nationals Under 11 Championship. For our logo board, we also got the players' signatures. Overall we had a very pleasant time with our chess family.
Important links:
---