"It's the biggest win of my career" - Vidit Gujrathi on winning FIDE Grand Swiss 2023
At the age of 29 years, Vidit Gujrathi has done something very special. He won the FIDE Grand Swiss and made a spot for himself at the FIDE Candidates 2024. After he landed in India, Vidit was in the city of Mumbai for a couple of days, just spending some time with his friend Samay Raina. Sagar Shah went to meet Vidit and did this podcast with him. It is an intimate conversation where Vidit speaks about what the title means to him, the role of his family and parents, reveals his trainers, how his Guru Om Swami has motivated him and much more. This Podcast gives an insight not into Vidit Gujrathi the chess player, but rather the personal side of this world class GM.
Vidit 2.0!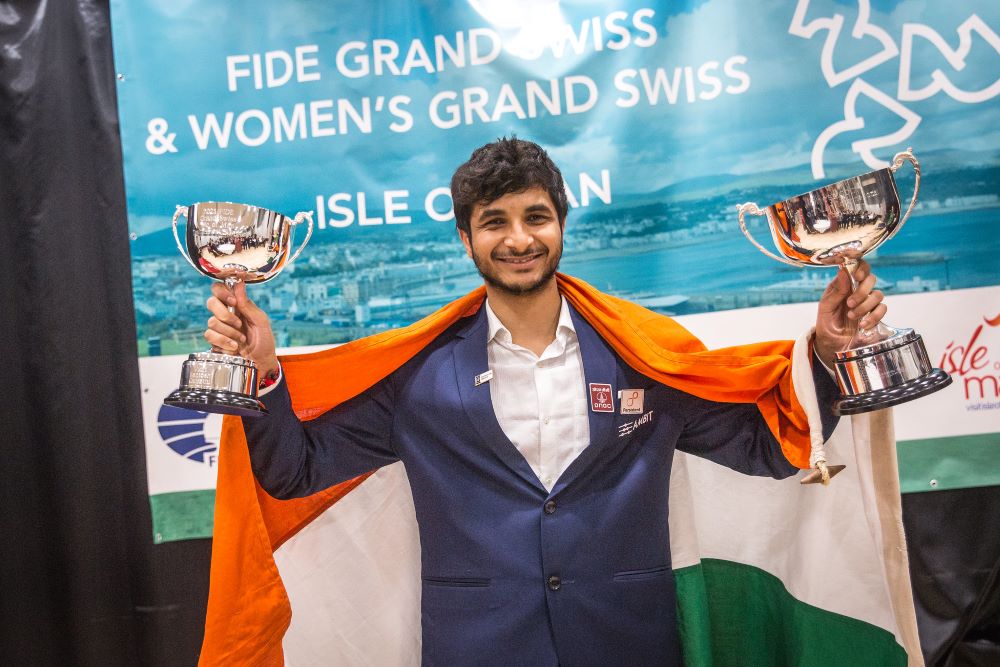 When Vidit Gujrathi won the FIDE Grand Swiss 2023 and booked himself a spot in the Candidates 2024, we decided to do a podcast that same evening in the Isle of Man. The idea of this podcast was to bring out the personal story of Vidit, without focussing too much on chess. Unfortunately, I was careless with the camera and forgot to put it on flight mode. I had a call in between and the recording was stopped without the knowledge of both Vidit and me. Although, we had another two angles recorded, the main one was lost. I asked Vidit if we could do the podcast again in Mumbai when he was back in India and magnanimous, like he always is, he agreed. So, as I landed in India on the 8th of November 2023, I made my way to Samay Raina's place, where Vidit was staying for a couple of days in the city, and we setup the entire podcast. This time the production was better than what we had at the Isle of Man and the result is the video below.
The Transcript of the interview
Sagar Shah: Hello, welcome, Vidit! It's been two days since you won the Grand Swiss. How has life been?
Vidit Gujrathi: Mainly, it was traveling after winning the event. But I was reliving it, you know? Now that I've won, I wanted to enjoy it for a couple of days and that's what I did. No stress, just trying to live the moment and have fun, honestly.
SS: And you came to Mumbai, met some friends at Samay's place. It was very nice that he didn't call you during the entire tournament.
VG: Our friendship was on the brink if he did call. It's a running joke now! Because every time he has called me in the middle of the tournament, I have slumped to a defeat in the next round.
SS: Vidit, what does this win mean to you? Is it the biggest win of your career to date?
VG: Yeah, there's no comparison. Just before this tournament, I was thinking, when was the last time I actually won a tournament? I had to go back to 2019. It felt like something was off. I definitely know that my strength was more than the results have shown. So, winning this event, which is like the strongest open, that gives a lot of confidence.
SS: Did you at any point in the tournament start to feel that you were in your best form?
VG: Definitely! The three wins after losing the first round gave me a lot of confidence. The way it happened, the Gupta game was a little bit shaky in that sense that I gave him some chances in the opening but then later on I played well and next game I won with black pieces against Kollars. As you know, it's very difficult to win games with black. And then Shirov, it was a dramatic style victory, flamboyant victory and then I was in the leader's pack. So already I felt like certain recovery was done. Of course, the job was not finished until the last round, but it gave me confidence that you know I'm playing good chess. Even at that point, I was not thinking about tournament victory or something like this.
SS: And you were handling stress and anxiety in a better way. I remember in the death match (against Anish Giri in 2022), your heart rate would go to 160, 170 in those critical moments.
VG: Even in this tournament, I did not really feel that amount of anxiety or stress. Probably the penultimate game I felt like I'm so close now, then these thoughts came but until then I was relaxed and despite having these thoughts, I managed to play well. So that's a learning for me. I wouldn't say I did something different for this tournament, I was just doing my routine, here it clicked.
SS: There was a period around 2020-21 when you had started to vlog and stream, and there were a lot of negative comments related to it and your performance. Did that impact you?
VG: Initially, yes. It did impact me. Then, you know, it gets more normalized. In fact, even if you look at it after I lost to Erwin, there were again negative comments. So, it didn't go away.
SS: Did you go and read it?
VG: Yeah, now I was going back and watching the tournament, like how it was, I was checking those moments and then I read. Of course, for vlogging, yeah, many comments like, you know, I've not seen him win anything, blah blah blah. Of course, even after I've won, there were some comments which just made me laugh that despite this victory there'll always be questions. And it's just not me, I would say it's for everyone. Even legends who have become world champions and then they don't have a good event or they have a bad patch, everybody questions them, not just chess, every sport. Nadal doesn't do well, let's say, for six months or something, they'll be like, you know, now his prime time is gone, you know, he was always overrated. And then he wins and then everyone is like, ah no, of course, he was a champion. So, as Hans Niemann would say, results speak for itself! [laughs]
SS: With all the young talents coming up in the chess world, did that ever put you under pressure?
VG: Initially, yes. I was India number two and then fell to number five. It took time for me to adjust to the new thing that okay, there is now competition, of course. But it's not easily accepted, you know, you'll feel like why and just question everything. Then you have fewer events to play, lesser tournaments because there are only limited super events. And they have to invite limited Indians and they go with many times the youngsters, of course. And you just feel that everything is going wrong. You start to question - am I too old for this now? But as time passes by things normalize. Now the youngsters have a good performance, it's also normal because now they are at the top. But first, when they're upcoming, it was sensationalized because they are playing way above their rating strength. So now that pressure is less. But personally, for me, it was important to win. Because at the age of 29 or something, I was thinking that am I old because the age gap is like 10 years or more. You can feel the difference. But then you have players like Anand and he wins even at the age of 50, some great games and tournaments. So inspiring. But until you actually do it, you experience it for yourself, you still have questions.
SS: I think when Vishy played really well at the Global Chess League, you had congratulated him, saying that some great games, right?
VG: Yes, yes. And also at the Norway Chess when he defeated Magnus Carlsen in the Armageddon and he had like three or four minutes extra on the clock and he was just playing with hand and I am like - What a legend! You just learn and take inspiration from this!
SS: So right from a 12-year-old boy, I remember the story you said about meeting Vishy till now 29, he has always been able to inspire you.
VG: I also asked him, I think, somewhere after World Cup - how does he do it? Because at the World Cup I felt a lot of anxiety during the tournament. Every day it could be a knockout and you're all on the brink. I asked him - how did you play five World Championships? He won five, maybe played more. Like, how did you do this? I don't remember his answer, but we just had a chuckle on it. I can't even imagine how much mental strength that requires to go through that high-pressure situations.
SS: Brilliant. One thing, Vidit, I have felt, this is my observation, is that you have reinvented yourself as a player, not just in terms of results but your playing style which was quite positional. But now you are ready to attack, you are ready to many times go into the unknown zone, even in your World Cup match with Etienne Bacrot when you just needed a draw, you sacrificed a piece. Is this something that you have tried to consciously change within you?
VG: Yeah, I think in some of the interviews when they asked me, I said it's Vidit 2.0 and then it became a thing whenever I had such a game. But some of it is conscious that you work on your game, and you work on your weaknesses. But it was not like I was not able to play such games. I had games before. I think any top player, they have a tendency towards one kind of game, but they can play well, if not equally, in all types of positions. Most of the top players are versatile and I thought it's not like I can only play one kind of chess. But sometimes a tendency overpowers. And you steer the game into certain kind of positions. But I'm glad that I was able to play all kinds of chess. That's one of the things I was thinking in the tournament, when I was winning, what can make this better? Maybe if Garry tweets that he liked my games! Because there were some Sicilians, some g5-g4s. That would be nice![Laughs]
SS: I remember when you were young, you had read through all of Garry Kasparov's My Great Predecessors book series. You were in love with those books, right? You read them cover to cover.
VG: The thing is I was in love with his books and games, but I was not able to play like him! That's the reason why here when I played some aggressive games, I thought if he tweets, it would make my day. [Laughs]
SS: At your level, this shift in play, do you think it is more psychological than chess oriented?
VG: It's both. It's so subtle that you don't even know when it is happening. It's never overnight. You are playing chess for so many years, so it's not like you learn something dramatically new and you are able to apply. You have to keep making subtle changes and it all adds up. I don't even know what caused the change. It's like an avalanche. It's like a small mass of snow is rolling down and then keeps gathering speed and momentum.
SS: But in order to bring about such changes you need to be constantly motivated. Was it that you were motivated by processes more than the results?
VG: During the tournament I watched a video of Mahendra Singh Dhoni on Tanmay Bhat's channel where he speaks about how he focused on processes and not on the results. But you know these things have been spoken many times. It's known. It's not like some brand new information. It's about applying it. Here, I think I applied it. I have tried doing it before as well but have not got the results. As Dhoni said in the video, thinking about the result does no good. This is a known information. But why it creates an impact when Dhoni says it is because he has lived through it. Probably that is the reason why it connected more.
SS: It also helps to have a very nice team of people around you, right? Your family - your parents, Vedika. What was their reaction when they got to know about this result?
VG: They were very excited. Because for them it was like something new is happening! [Laughs]. It's not the same narrative - I was winning and it didn't work out and then would console me - next tournament, don't worry and so on! I haven't met them yet in person. But I am sure they are very happy. Because I when I don't do well I feel a pain. And when they see me in that pain, they also feel bad. So they have also lived my chess career along with me. Sometimes they feel quite helpless because they want to fix my problems, but they don't know how to fix it.
SS: That's a very interesting point you mentioned. Because beyond a certain point parents cannot make an impact, even if they wish to in your chess career. What was it that they said...
VG: They always said one thing - spend more time with them! They never said work hard. They would say work less and spend more time with them. But I don't do that enough. So maybe that's one thing I have to work on.
SS: Maybe now when you go back!
VG: You know, I came back to India after this event and my mom called me. You are now in India and you don't even call once! They are parent! [Smiles]. So success has its place, but why is the boy not talking to us! [Laughs]
SS: You also have a team of trainers now and they have been very supportive. Could you tell us a bit about them?
VG: For such a win, you need support from your trainers or seconds, and I was lucky to have that. So, like a year ago or so, probably I started working with Surya Ganguly, and he has been a trainer for me since then. And we have been working very closely. And in this tournament and some other tournaments as well, I was helped by Daniel Vocaturo, he's from Italy, a very strong Grandmaster. And they both were helping me for a long period already. So, I was very lucky that I found a training team who believes in me and believes in what I'm setting out for. And they are such amazing people and also extremely skilled at what they do.
SS: Surya Ganguly has helped Vishy Anand win three World Championship matches and Vocaturo is Italy no.1. So it is amazing that you were able to get such skilled people together with you on the team!
VG: Yes, I am glad that they decided to come for this mission. They work really really hard. So I am very grateful for that. Without them it would not have been same. So their role cannot be underplayed.
SS: And with it, one more thing which I have seen is a very big part of your life, and you kind of live through it - when you talk about Black Lotus or when you talk about Wildr, which is the new social media platform where we see you uploading your recaps. All of these things that you do are connected with one person, Om Swami Ji. Can you tell us about him. What has been his role in your life?
VG: Yeah, so Om Swami Ji [touching his ear], I mean, I consider him as my Guru, and my life has changed since I have been lucky to be in close proximity to him. How it has changed is indescribable. I usually think and also say that whatever I've learned in recent times is through his life or his teachings or his wisdom. And whenever I'm questioning something or I'm having a tough moment, I just read his books, watch his videos, and I get so much strength. I draw a lot of strength from him. And his guidance, his mentorship has helped. Often I know that I don't have the wisdom to know what is right from wrong. And his blessings, his grace really changed my life. I would say it's the biggest part of my life, actually. One of the biggest parts of my life is him and his teachings and everything about him.
SS: Talking about his books, there's also a book on chess that he has written, right? The Last Gambit?
VG: Yes, yes. It's a fiction book, where a kid has chess as his hobby, then he meets a coach, and the coach kind of ignites a spark in the boy and helps him. And throughout that journey, the coach gives a lot of wisdom to the kid. The kid is set out to become world champion. And there's a lot of learnings, not only about chess but about life. So, it's a guru-disciple bond in a way and through chess and the stories, it's narrated beautifully.
SS: And now that you've qualified for the Candidates, how do you see your life changing in the next few months?
VG: One good thing is that I have a lot of tournaments coming up. So, I was just thinking in the flight, that's when I had some time without internet and without any disturbance, I was thinking, 'oh, what tournament should I play in, you know, how to manage it.' I have not really given it a concrete thought, it's been two days, so, but it's there in the back of my mind, the six months. I have a couple of events in December, then in probably in January. ..I'll also have to think about how to do the training session. So, the one clear thing which has changed is like there's a clear goal now - candidates and you have to win it, and so on. So, you align all your actions accordingly.
SS: Do you feel like now becoming a world champion is not too far away? Earlier, we would all talk about it, but you had to first qualify to the candidates, which was, I think, a very tough part, but now you are just one step away!
VG: Yeah, it's still far but closer than what it was. Winning the Candidates is no easy task, but at least I have a shot at it.
SS: And do you think Magnus, not being part of the cycle, right now....
VG: We don't know, Magnus can change his mind at any moment. So, Magnus, I don't know if he'll play or not. He can even play, who knows.
SS: Oh, that's true because if the candidates' lineup is interesting for him, he finds that okay, there are new players, new faces, now Prag is there, maybe Hikaru is there, you are there.
VG: If I knew how Magnus's mind worked, I would have already figured many things out, but I don't know how he takes these decisions. And so anything can happen with him.
SS: True, true, yeah, we don't know. That's a very important thing. But Ding is the world champion, and you both share the same birth date. It will be epic.
VG: It will be such an amazing matchup if that happens. But of course, Candidates is a big stepping stone.
SS: Tell us a bit about your sponsors, who have helped you in this journey.
VG: Yes, I'm very lucky that way, that there were people who believed in me and my vision. And without their help, it would be very difficult to arrange all the training sessions. So, I'm very grateful. For example, Persistent Systems, they have been supporting me for the last two years. And I was able to build a training team accordingly. Ambit, they are the new sponsors. In my journey towards the Candidates, they are going prove to be a big support. ONGC - 2008 was the first time I got a scholarship from them. And since then, they have been supporting. Many others, like Black Lotus, the meditation app which I use, everybody knows about it. Then Lakshya and Bharat Forge, they helped me when I was struggling to become a Grandmaster, back in 2013, that was the time. And the main thing is, there were many moments where I had a downfall or the performance stagnated. And even despite that, to keep supporting is a big thing. Because they have other opportunities, there are more upcoming players, but they still believed in me. So, I'm very grateful to them. And as I said to everyone, like finally something for them also to feel good about.
SS: You made a lot of people happy.
VG: Yeah, Immortal game as well, they came on board last year. So many people like this who believed in me.
SS: What do you think are the chances of any other Indians making it to the candidates? Right now, we already have two, you and Praggnanandhaa, in the open candidates. Who else do you think?
VG: I think Arjun was playing really well. He came very close. But I don't see how he can make it because there's only a rating spot left, and the FIDE circuit, and Gukesh is ahead of Arjun. So, the best chance, if anybody has from Indians, is Gukesh. But mathematically, I don't know the odds. It looked like Anish is very well set. He has a lot of things working out well for him. He has also some tournaments lined up, and one more good performance, and then he would seal it. So, it's tough, but if anybody has a chance, it's Gukesh right now.
SS: To end this, we, you know, there was this running joke that we had during the streaming years, that was GF reveal, GF reveal. Are you right now in a relationship? How do you balance your personal and professional life in that sense?
VG: [Pauses for a bit] No, I'm not in a relationship. To give a very short answer. And there is no way to balance both professional and personal life, according to me yet. I have not figured that out how to have it both balanced. So, I'm still learning.
SS: Do you think it's impossible to do so?
VG: No, no, there must be people who have done it. But everything you do comes at a cost. I have not figured that out, how to have that balance of personal and professional life yet. Something which is so delicate. It's possible, I would say, but then you need to be very good at switching on and switching off. Like, okay, now you are in work mode, then you are back in this personal mode. And when you are there, you are present there and when you are here, you are present here. There are people who have managed it, so I don't think it's impossible.
SS: And Vidit, there are so many of your fans who have supported you through ups and downs. They have been by your side. What would you tell them after this success?
VG: Thanks for believing. [Laughs] They had many occasions to say, we made a mistake! We were supporting someone not so ideal.And they were very emotionally invested, many of them. And they also felt the pain which I felt when things did not go well. So, thanks for being there, always believing in it. And I'm glad that I could give them something to finally cheer for. Hopefully, one of many to come.
SS: There was one very nice comment which I read, "I always defend Vidit when he doesn't play well, and when there are trolls, today that he has won, I will not comment because he has done it well, and now I can be at peace!
VG: It's a closure. [Smiles]
SS: Thank you Vidit for your time for this podcast.
VG: Well, thank you, Sagar, for your time, and also, I would say that thanks for being in Isle of Man. Because many of these moments which we had during dinner, it helped me be in such a positive mindset for the games. And I learn a lot from you because you are also very philosophical, and we have these nice discussions. And in general, it helps to go in with positive energy to the game.
---