Vidit Gujrathi's big announcement - it was an April Fool's Day Prank!
Tears rolled down the eyes of many readers, many finished the article laughing knowing that it was a prank, some were just confused! Such a plethora of emotions reading the same article is not normal, but it happened when we published the article of India no.2 Vidit Gujrathi making a big announcement! It was about retiring from chess at the age of just 27 years. Of course, it was an April Fool's Day prank! India no.2 and world no.23, Vidit Gujrathi is nowhere close to quitting chess. In fact we bring to you an exclusive video of him solving 5 quite tough positions blindfolded.
Yesterday we published an article entitled India no.2 Vidit Gujrathi makes a big announcement. In it we mentioned that the India no.2 was retiring! This, dear friends, was ChessBase India's April Fool's Day Prank!
April Fool's Day pranks are very difficult to make these days. Armed with online searches, the readers are very well aware of all that is happening in the world. This time we decided to try a slightly different kind of April Fool's Day prank, a slightly dark one. A few of the things that made me think in this direction were:
1. Vidit visiting my place on 31st of March. He wanted to go to Himachal Pradesh to his Guru's ashram and had his flight from Mumbai.
2. Vidit's slightly dejected feeling on 22nd of March after drawing his winning game against Magnus Carlsen and coming to ChessBase India stream and then sharing his thoughts in the most unfiltered way that you would see a top athlete do.
I discussed this idea of retirement with Vidit and he was a wonderful sport. To clarify - this article was written as an April Fool's Day Prank! The article was written elaborately by me to make the article more believable and to prank the viewers. (The quotes mentioned weren't by Vidit) The readers of ChessBase India are aware that every 1st of April we do a April Fool's Day prank since many years. This years prank was about Vidit's retirement, which is not at all true! Vidit is just 27 years old and has a very bright future ahead of him. This article was just intended as a prank.
On 1st of April Vidit left my house to catch his flight to Himachal Pradesh and I started writing the article. When I published the prank, Vidit was travelling from the airport to the ashram. We received many comments on social media and there were three sets of people. The first one instantly understood that it was an April Fool's Prank and they didn't let this news affect them. The second set of people were those who got fooled by the article and started feeling uneasy, but then they read the comments and understood that everything was fine with the world. The third set of people were the ones who believed the article and were completely heartbroken. Here are some of the reactions from our readers:
Last year on 1st April, Samay started to pursue chess as a career and this year on 1st April, Vidit decided to leave chess as a career..I feel something's wrong with the date! - Anonymous
Almost Dropped my phone reading the article. Sagar giving heart attack to all VD fans.VD OP - Manan Shah
That was a pretty good April's Fool Sagar, this caught me off guard! - Aniket Saxena
OMG I legit Fell for it to the last line of the article damn....i Was soo tense while reading it .... While reading I had aslo made-up my mind to DM Vidit a Heartfelt Message #FacePalm Sagar 1 Chat 3000 #Respect - Uni Bro
Not me crying. I discovered this awesome community recently and VD was my favorite player to just watch. Anyways, VD always OP. If this is a prank, this is definitely not fair. Thoda zyada nhi hogya Sagar bhai? On side notes I don't think such a huge thing can be said as a prank. So yeah... - Khushi Gupta
Last year Magnus Carlsen retired on same day and today Vidit what a shocker and coincidence !! By the way Happy April fools day everyone !! - Arins 01
I almost had tears in my eyes reading the article. Please tell me, it's a joke. - Shobhan Bhattacharjee
Happy April Fool's Day, Sagar...... And I didn't even have to check the article xD.... You've got a long time reader of ChessBase India ryt here - Mystical musings
WTH! It's an April fools day prank for sure..lol - Prachura P.
Vidit bhai please tell me this is a joke, I am seriously about to cry, the only reason I watched chess is you and supporting your journey - Eshan Kulkarni
Happy April Fool to all those who thought it's real - Nubairshah Shaikh
You can read many more comments on Facebook, Instagram, Twitter, YouTube and our website. One thing which you can gauge from these comments is how much the chess community loves Vidit as a player. His fans are very keen that he keeps playing and keeps moving up the rating ladder!
To all the people who fell for this and genuinely felt bad, my apologies! ChessBase India indulges in high quality and 100% authentic news on 364 days of the year. On this remaining one day of the year, we have a bit of fun with our readers! And this is not just a ChessBase India tradition since 2018, it is a ChessBase tradition since several decades as its co-founder Frederic Friedel wrote some of the best April Fool's Day pranks! You can find links to some of his ultra-creative pranks below.
Here are the ChessBase India pranks over the last five years:
The 2018 prank: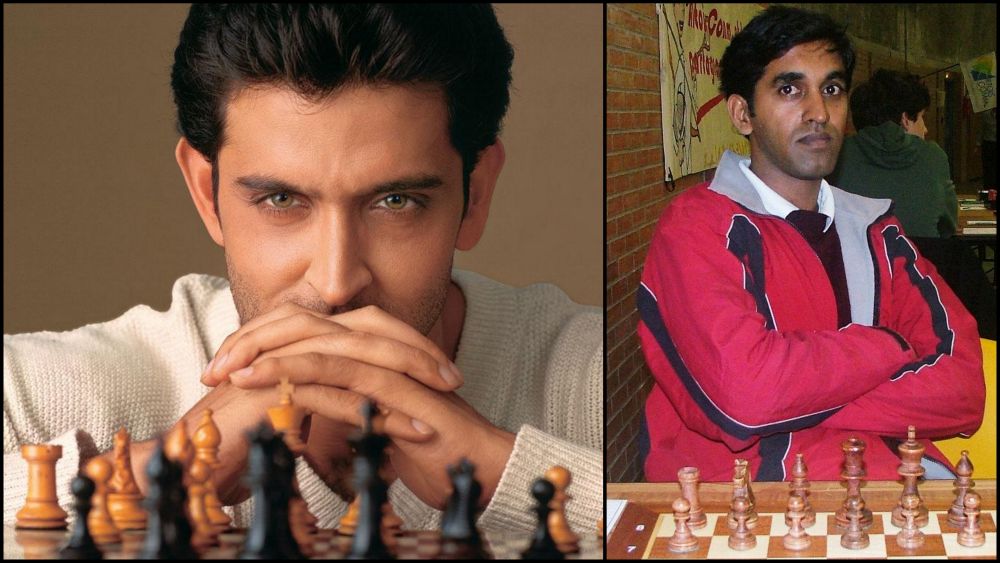 Hrithik Roshan will star in the movie "Thej" which is based on the life of India's 50th GM M.S. Thejkumar was our first April Fool's Day Prank. A lot of our readers were fooled because not only was the story well thought out and we had taken care of some minute details but also because it was the first time that ChessBase India had sprung the April Fool's Day prank on its readers. You can read the entire story here. A couple of days later we published an article explaining how the idea came into being.
The 2019 prank:
In 2019 we came up with the ChessBase India Matrimony portal. The idea was to create a portal on the ChessBase India website where players with a valid FIDE ID could find their life partners! There were so many people who fell for this trick that year! I also received a call from a well-known journalist who wanted to write about it in his esteemed periodical! He said, "We usually have caste based matrimony portals, this is the first time I am seeing a profession based marriage portal!" Read more about the 2018 prank here and also more about the idea here.
The 2020 prank:
I have always been in awe of Adhiban's flambouyance. The way he always speaks his mind is something that I greatly admire. It's a very rare quality in chess players these days. As a journalist who has been interviewing chess players for over four years now, most of the times I know exactly how the interviewee will respond when a question is asked to him. However, with Adhiban, I never know what his reply would be. Sometimes he is brutally truthful, sometimes hilarious, and sometimes fearlessly aggressive! He almost seems like a misfit in the world of chess, or should I say a very welcome change of pace! You can read more about the prank here and how the idea came about here.
The 2021 Prank:
Samay Raina, a popular stand-up comedian, who started streaming chess in the pandemic became a catalyst for the growth of chess in the country! In 2021, after he won the COB All stars, we wrote the April Fool's Day prank where we mentioned that he was going to quit comedy and become a full-time chess professional. Check out the prank here.
Dear readers, please enjoy our authentic chess news for the next 364 days, and be ready on the 1st of April 2023 for another prank!
April Fool's articles on ChessBase:
Kimo - an intelligent approach to chess
Bareev beats Anand in Kriegspiel
Magnus Carlsen's cousin in America
Large Hadron Collider goes online - Grandmasters are worried
Vasik Rajlich busts the King's Gambit, for sure
Changing the entire layout of ChessBase newspage!
April Fool's articles on ChessBase India:
Hritik Roshan to act in 'Thej' - a Bollywood biopic on the life of India's 50th GM
Hrithik in 'Thej' - It was an April Fool's Day Joke!
The ChessBase India Matrimony Portal
ChessBase India Matrimony Portal - That was an April Fool's Prank!
Adhiban - The Beast" to make his debut in reality TV show Bigg Boss
The Bigg Beast in Bigg Boss - it was an April Fool's Day Prank
Samay Raina to quit stand-up comedy
Vidit Gujrathi is nowhere near quitting!
If only the year 2022 is to be seen, Vidit Gujrathi has shown some phenomenal chess. His two victories against Dubov were both pretty amazing. Find that move a4!! against Fedoseev was brilliant. Vidit reached a career high rating of 2740 in the live rating list. He is world no.23 and I would not be surprised if we find him closer to the top 10 in the world before this year ends! It goes without saying that Vidit would be one of the most important assets for the Indian team at the World Chess Olympiad that will be held in Chennai later this year. Just so that you are satisfied that Vidit is very much in touch with chess, I recorded one of our blindfold solving videos with him! I have recorded several fascinating blindfold solving sessions with Vidit on ChessBase India. This time we looked at some extremely tough positions from Dvoretsky's book (Recognizing opponent's resources).
Try your hand at the positions given below (with your eyes, if blindfold is too difficult for you) and then check out the video at the end to see how you fared in comparison to the India no.2!
Position no.1 - Smyslov vs Botvinnik, 1957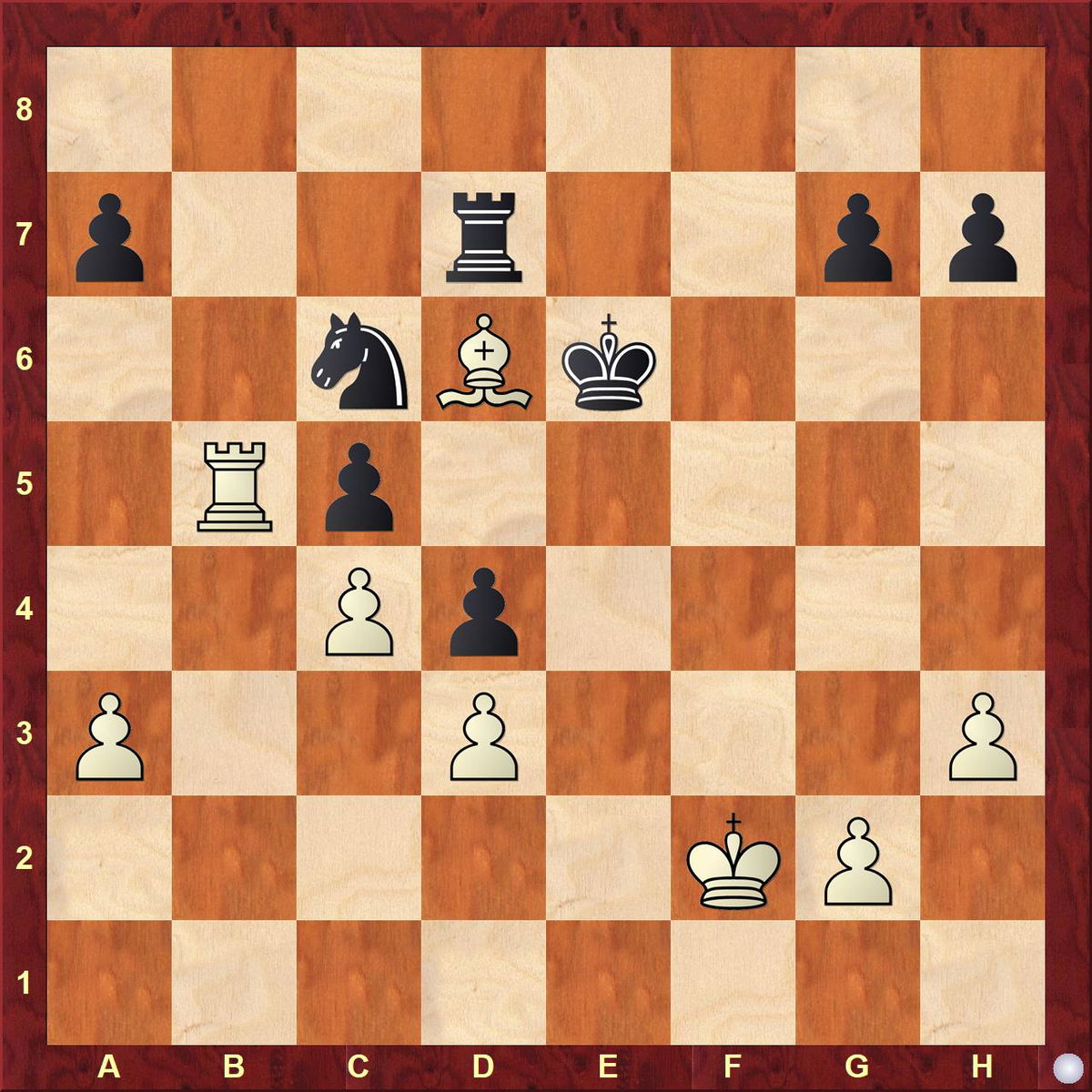 Position no.2 - Popov vs Savchenko, 2009
Position no.3 - Liburkin, 1947
Position no.4 - Yusupov vs Spraggett, 1989
Position no.5 - Kotov and Mitrofanov, 1978
---