Series of tournaments in Serbia
Lately Serbia has been frequented by Indians for various round robin tournaments to increase rating and gain norms. Saptarshi Roy became India's 51st GM and Leon Mendonca Luke scored three IM-norms in 17 days early this year at Serbia. This has inspired players from all over the world to flock to Serbia. One of the the many reasons why these tournaments are successful is because it is organized by a chess player GM Sinisa Drazic himself. Drazic sends us a pictorial report of three amateur tournaments held in Serbia where two of them were Scheveningen tournaments and a mini open tournament where you can catch a glimpse of the playing hall and the players. Photo: GM Sinisa Drazic
October Chess Festival in Serbia
Two Scheveningen Tournaments and one Mini Open tournament took place in Novi Sad, Serbia from 2nd to 9th October 2019. All these tournaments are organized by GM Sinisa Drazic who is also the General Secretary of International Physically Disabled Chess Association (IPCA).
Both Scheveningen tournaments were amateur tournaments where mostly Serbian team faced Chinese players.
Miroslav Pantic of Team B was the highest scorer as scored 9.5/10. In Team A, Lazar Davidov of Serbia was the highest scorer with 5.5/10. He gained 74 Elo rating points.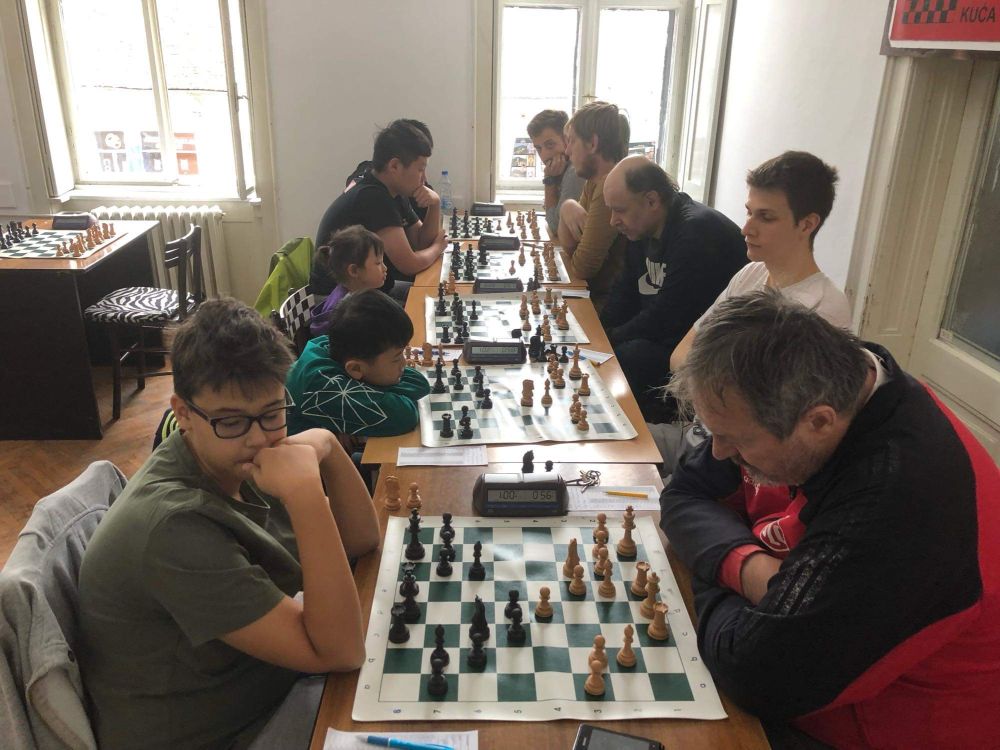 Indians at Serbia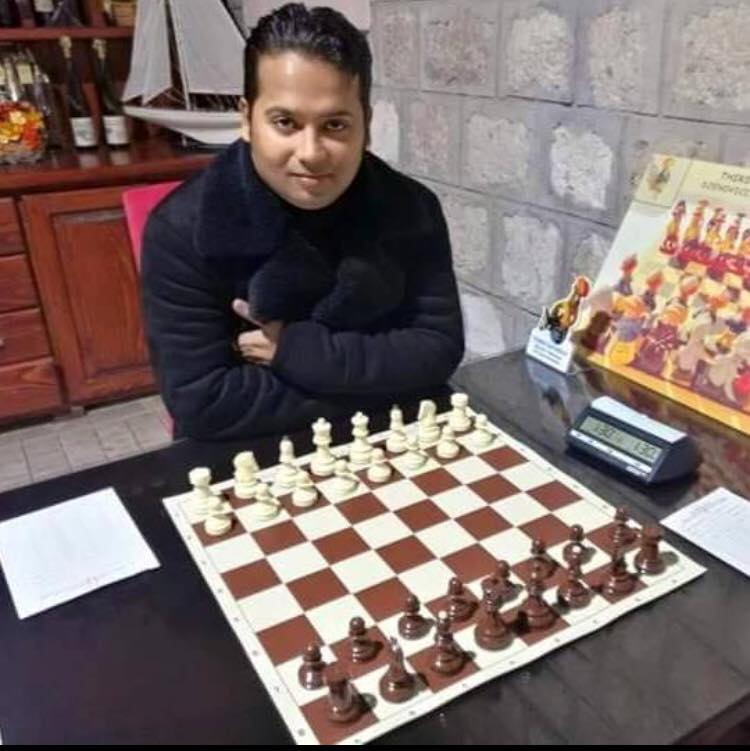 Find details of all upcoming Third Saturday tournaments in Serbia in our Calendar here.
Scheveningen Third Saturday 127 results
1. Team B (RtgAvg:1647, TB1: 35,5 / TB2: 20)
Bo.
Name
Rtg
FED
FideID
1
2
3
4
5
6
7
8
9
10
Pts.
Games
RtgAvg
n
w
we
K
rtg+/-
1
Milosevic Danijel
1645
SRB
990418
1
0
0
1
½
½
½
½
½
1
5,5
10
1106
2
1
1,32
40
-12,8
2
Rajsli Andor
1677
SRB
953504
1
1
1
1
0
½
1
1
1
1
8,5
10
1106
2
0,5
1,40
20
-18,0
3
Sijakov Neven
1535
SRB
977195
0
1
0
0
1
1
½
0
0
½
4,0
10
1106
2
0,5
1,02
20
-10,4
4
Pantic Miroslav
1931
SRB
918342
1
1
1
1
½
+
1
1
1
1
9,5
10
1118
2
2
1,84
20
3,2
5
Stakic Aleksandar
1445
SRB
997170
0
½
1
1
1
1
1
½
1
1
8,0
10
1106
2
0,5
0,76
40
-10,4
2. Team A (RtgAvg:1106, TB1: 14,5 / TB2: 0)
Bo.
Name
Rtg
FED
FideID
1
2
3
4
5
6
7
8
9
10
Pts.
Games
RtgAvg
n
w
we
K
rtg+/-
1
Huang Ruixuan
0
CHN
8636494
0
1
0
0
0
0
0
0
0
0
1,0
10
1647
10
1
2
Qian Xiangyu
0
CHN
8636478
0
0
1
1
½
-
0
½
½
0
3,5
10
1615
9
3,5
3
Li Tianyi
0
CHN
8636486
1
0
0
0
0
0
½
½
0
0
2,0
10
1647
10
2
4
Wang Zixiao
0
CHN
8636460
0
0
0
0
½
½
0
0
1
½
2,5
10
1647
10
2,5
5
Davidov Lazar
1529
SRB
974234
1
½
1
0
1
½
½
1
0
0
5,5
10
1647
10
5,5
3,66
40
73,6
Mini Open Third Saturday 128 standings
| | | | | | | | | | | | | | | | | |
| --- | --- | --- | --- | --- | --- | --- | --- | --- | --- | --- | --- | --- | --- | --- | --- | --- |
| Rk. | SNo | | | Name | sex | FED | Rtg | Pts. | TB1 | TB2 | TB3 | n | w | we | K | rtg+/- |
| 1 | 10 | | | Wang Yiru | w | CHN | 1603 | 4,0 | 0,0 | 3 | 13,0 | 3 | 2 | 0,53 | 40 | 58,8 |
| 2 | 8 | | | Ljepic Andrej | | SRB | 1812 | 3,5 | 0,0 | 3 | 15,5 | 3 | 1,5 | 1,58 | 40 | -3,2 |
| 3 | 2 | | FM | Savolainen Lev P. | | RUS | 2077 | 3,5 | 0,0 | 3 | 12,0 | 5 | 3,5 | 3,47 | 20 | 0,6 |
| 4 | 9 | | | Gong Yibin | w | CHN | 1714 | 3,5 | 0,0 | 3 | 12,0 | 3 | 1,5 | 0,56 | 40 | 37,6 |
| 5 | 6 | | | Ratic Zoran | | SRB | 1827 | 3,0 | 0,0 | 2 | 14,0 | 4 | 2,5 | 2,92 | 20 | -8,4 |
| 6 | 4 | | | Panic Nikola I | | SRB | 1869 | 3,0 | 0,0 | 2 | 11,5 | 3 | 2,5 | 1,72 | 20 | 15,6 |
| 7 | 3 | | | Dokic Zoran | | SRB | 2068 | 3,0 | 0,0 | 1 | 15,5 | 4 | 2,5 | 3,06 | 20 | -11,2 |
| 8 | 1 | | FM | Jovic Stevan | | SRB | 2143 | 2,5 | 0,0 | 2 | 15,5 | 4 | 1,5 | 3,30 | 20 | -36,0 |
| 9 | 7 | | | Yang Yingxia | w | CHN | 1821 | 2,5 | 0,0 | 2 | 12,5 | 2 | 0,5 | 0,32 | 40 | 7,2 |
| 10 | 13 | | | Duvnjak Nedeljko | | SRB | 1497 | 2,5 | 0,0 | 2 | 12,5 | 3 | 1 | 0,61 | 40 | 15,6 |
Scheveningen Third Saturday 129 results
1. Team B (RtgAvg:1973, TB1: 28 / TB2: 16)
Bo.
Name
Rtg
FED
FideID
1
2
3
4
5
6
7
8
9
10
Pts.
Games
RtgAvg
n
w
we
K
rtg+/-
1
Dokic Zoran
2068
SRB
922013
1
½
½
½
0
½
½
1
½
½
5,5
10
1609
8
4,5
6,68
20
-43,6
2
Milicevic Petar
1958
SRB
941166
0
0
1
0
½
1
½
½
½
½
4,5
10
1609
8
3
5,88
20
-57,6
3
FM
Jovic Stevan
2143
SRB
923206
1
1
½
½
1
½
½
½
½
½
6,5
10
1609
8
5,5
7,02
20
-30,4
4
Panic Nikola I
1869
SRB
953997
0
1
1
0
0
0
1
1
1
1
6,0
10
1609
8
4
5,10
20
-22,0
5
Ratic Zoran
1827
SRB
943223
1
1
0
0
1
½
½
½
½
½
5,5
10
1609
8
3,5
4,66
20
-23,2
2. Team A (RtgAvg:1609, TB1: 22 / TB2: 4)
Bo.
Name
Rtg
FED
FideID
1
2
3
4
5
6
7
8
9
10
Pts.
Games
RtgAvg
n
w
we
K
rtg+/-
1
Yang Yingxia
1821
CHN
8609837
0
½
0
1
0
½
0
0
½
½
3,0
10
1973
10
3
3,12
40
-4,8
2
Gong Yibin
1714
CHN
8623430
1
1
½
½
1
1
½
½
½
½
7,0
10
1973
10
7
2,06
40
197,6
3
Wang Yiru
1603
CHN
8620105
0
0
0
1
0
½
½
0
½
½
3,0
10
1973
10
3
1,34
40
66,4
4
Hart Alexander
1905
SWE
1735829
1
0
1
1
1
½
½
½
½
½
6,5
10
1973
10
6,5
4,14
20
47,2
5
Feng Yuanbo
0
CHN
8624054
0
0
½
½
½
0
½
½
0
0
2,5
10
1973
10
2,5
---